Below are sample jury verdicts from Montgomery County. You can get more verdicts in Rockville, and our thoughts on the caveats when using these verdicts, here.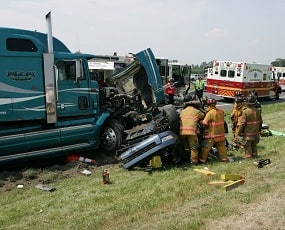 November 2018, $1.3 Million Verdict: Emergency room doctor sued for failure to diagnose a myocardial infarction.
May 2013, $21,000 Settlement: A 7-year-old boy was playing flashlight tag with his friends one evening on the playground at a local childcare center. While playing, he ran into a metal pole and fractured his nose. His father sued the child care center for premises liability, claiming that the playground was not appropriately lit and should not have allowed the children on the playground. Plaintiff also claimed the playground was unsafe for its intended use. Defendant denied liability, claiming the child was not properly supervised. Defendant also denied that there was anything wrong with the playground. The parties agreed to settle before trial for $21,000.
May 2013, $374,000 Verdict: A 45-year-old woman was attempting to make a left turn from Veirs Mill Road onto northbound Connecticut Avenue when she was broadsided. She suffered a shattered pelvis and ankle fracture, which ultimately kept her bedridden for seven months. She sued the driver of the vehicle and the underinsured motorist carrier, Allstate, for motor vehicle negligence. Plaintiff settled with the driver before trial for $25,000 and the case proceeded against Allstate only. Plaintiff claimed she entered the intersection on the green light and had the right of way when the at-fault driver failed to stop at a red light. Defendant denied liability, claiming it was the Plaintiff who ran the red light. A Rockville jury awarded the Plaintiff $374,000.
February 2013, $22,776 Verdict: A 64-year-old man was driving his vehicle in heavy traffic on I-495 when he was rear-ended by another vehicle. He suffered soft tissue cervical and lumbar injuries. Defendant admitted responsibility for the accident. Plaintiff sued the Defendant for economic and non-economic damages. Defendant disputed the extent of the Plaintiff's injuries, claiming Plaintiff suffered from pre-existing degenerative disc disease. A Montgomery County jury returned a $22,766 verdict for the Plaintiff.
February 2013, Maryland: $33,000 Verdict: A 56-year-old retiree was driving northbound on Muddy Branch Road when she noticed a vehicle attempting to exit a parking lot in front of her oncoming vehicle. She swerved to avoid a collision, but was unsuccessful and forced off the roadway and into a pole. She suffered a torn rotator cuff on her shoulder, but unfortunately had no health insurance and was unable to undergo a recommended surgical procedure. The at-fault driver's liability carrier, MAIF, offered its $20,000 policy limit. Plaintiff then sued State Farm for underinsured motorist benefits. Plaintiff claimed she made every attempt to avoid the accident, and the other driver was 100% at fault. Defendant State Farm agreed with Plaintiff on the identification of the at-fault party but disputed injury causation, claiming that Plaintiff's shoulder complaints pre-existed the accident. A Rockville jury found for the Plaintiff for $33,000, which was reduced by the prior settlement with MAIF. This win was really a loss for the plaintiff.
January 2013, Maryland: $20,537 Verdict: A 40-year-old woman was stopped at the intersection of New Hampshire Avenue and Lockwood Drive when she was rear-ended. She suffered lumbar and neck injuries from the accident that required two years of physical therapy and other treatments. She sued the driver for economic and non-economic damages. Defendant admitted liability but disputed the extent of Plaintiff's injuries. Defendant claimed that emergency treatment and four to six months of physical therapy was reasonable for the injuries she sustained, but any treatment following was unnecessary. A Montgomery County jury awarded the Plaintiff $20,537.
2012 Car Crash Verdict. $55,365. A 40-year-old surgical nurse is driving on a major thoroughfare when the Defendant enters from a side street, resulting in a collision. Plaintiff suffers nerve impingement of the arm/shoulder requiring a surgical release. Plaintiff claims ongoing pain and surgical scarring, as well as difficulty performing her job due to the injury. Defendant maintains that the plaintiff's damages are limited as the surgery was successful. Defendant further claims that snow had accumulated at the intersection of the side street and major thoroughfare, and claims he is entitled to an exception of the Boulevard Rule. Plaintiff asked the jury for $120,000. Defendant's insurer is State Farm and the UIM carrier is GEICO.
2012 Truck Accident Verdict, $2 Million. An elderly couple are pedestrians walking in a closed traffic lane near a construction site. A dump truck backs up over them, killing them both. Plaintiffs' attorneys alleged that the contractors did not provide an alternative path for walkers and that they knew walkers would be passing through and, either way, the dump truck has a duty to make sure it is not running over people while backing up. The truck driver argued the couple was contributorily negligent and made no settlement offer.
Hiring a Lawyer for Your Montgomery County Case
Our attorneys handle personal injury accident and malpractice cases in cases in Montgomery County. If you have been hurt or a loved one has been killed by someone's mistake, call us at 800-553-8082 or get a free online consultation.
Montgomery County Information of Interest