The purpose of this page is to help Maryland commercial truck accident victims better understand what to expect in their clams and to better understand what their compensation payout might look like. But it is also a job interview. We want you to conclude that the attorneys at Miller & Zois are the best truck accident lawyers in Maryland for your case.
On This Page
Handling Truck Accident Cases: Details Matter
Some truck accidents— pickup truck, sport utility vehicles (SUV), or small truck accidents—may be handled just like any other car accident. But 18-wheeler truck and tractor-trailer accident cases are different.
Maryland has specific laws designed largely to help victims. Accordingly, lawyers handling trucking cases need to be familiar with the finer details of Maryland commercial vehicle state law and know how to handle these specific claims. If they don't know the law and the nuances of trucks, the defense lawyers have a huge advantage. We know every truck accident lawyer who defends these companies in Maryland and they all know the intricacies of these claims. So your truck accident attorney had better know them.
In addition to these legal considerations, lawyers must consider factors unique to commercial truck accidents. For example, most big rig trucks maintain "black boxes" that measure various parameters that assist in determining how the truck accident occurred. Also, because there is extensive federal regulation applicable to the trucking industry, there are intricate regulations covering the use and maintenance of commercial trucks. This gives plaintiffs a treasure trove of information about the driver and their vehicle that is not available in passenger car accident cases.
Another important consideration is the preservation of critical evidence, such as the black box information discussed above. Drivers and trucking companies have an incentive to destroy evidence that does not support their version of the accident's facts. Parties in a truck accident case have a duty to retain evidence that could be relevant to the crash if they believe it could be the subject of litigation. In order to ensure that valuable evidence is not destroyed, the plaintiff must send correspondence to the potential defendants as soon as possible to put the defendants on notice of a potential claim.
In Maryland, the destruction or alteration of evidence by a party gives rise to inferences or presumptions unfavorable to the spoliator. In other words, if a company destroys evidence, the victim might seek and receive from the judge a spoliation instruction which says to assume that the destroyed evidence contained information most favorable to the Plaintiff.
Counsel should also consider whether the company that hired the driver may also be responsible under the theory of negligent entrustment or negligent supervision. This may be the case if the company failed to properly screen or train the driver. It is amazing how many operators of large trucks, particularly big rig trucks, are improperly trained or have unacceptable driving records. There can also be a claim for negligent maintenance, a related legal theory trucking accident lawyers pursue in these cases when the company and/or driver failed to properly maintain the truck.
Legal considerations specific to truck accidents include evidence from black boxes, spoliation of evidence, and negligent entrustment or supervision.
In fatal truck accidents, 97% of fatalities are the people in passenger vehicles, not the at-fault drivers of commercial trucks. Regardless, the trucking industry is a $600 billion business and these companies have qualified counsel at their disposal to vigorously fight suits from those that have been hurt or the families left behind in death cases.
Causes of Truck Accidents
Four main risks lead to truck accidents that are not present with passenger cars. This is important because, to win against the defense as a lawyer, you have to know the mechanisms behind each case and the defenses you can expect.
The first risk is simply that big rigs have a difficult time stopping, which leads to a significant number of rear-end crashes.
The second is jackknifing, when a tractor-trailer comes to a sudden stop causing the trailer to whip around sideways. This can lead to the trailer flipping
over and rolling. Speeds over 55 mph, a light trailer, poor weather, or a curved road significantly increases the risk of a jackknife.
Invariably, the defense counsel will claim that the truck jackknifed because the road was slippery or because the tractor-trailer was required to make an emergency stop, often claiming that a made-up vehicle caused the accident. After we have made a full investigation with the help of an accident reconstructionist, our Baltimore truck accident attorneys usually find that there is no evidence of slippery road conditions or the alleged vehicle that caused the truck accident.
The third cause is the difficulty drivers have when turning big rig trucks. It is often necessary for the driver to use more than one lane of traffic when turning right to keep the rear wheels from hitting parked vehicles or the sidewalk. When these big rig drivers swing wide to complete a right turn, they often collide with unsuspecting passenger cars.
"They worked effectively with my medical providers to ensure all the medical documentation accurately told my story of physical and emotional injuries from having been rear-ended by a tractor-trailer on the Capital Beltway [in Prince George's County] on my way to work."
– T.R.
The final and arguably the most important cause is driver fatigue. The FHA's Driver Fatigue and Alertness Study underscored how fatigue exacerbates the problems that cause truck crashes. The study showed that the average truck driver only gets 4.8 hours of sleep. That is hard to fathom. Do you do anything well on 5 hours of sleep?
Additionally, the National Transportation Safety Board and The National Institute on Drug Abuse found that one or more drugs were detected in 67% of fatally injured truck drivers and that 33% of these drivers had detectable blood concentrations of psychoactive drugs or alcohol.
The Maximum Settlement Value of Your Truck Accident Claim
If you have a serious injury or wrongful death claim, settlement money can be life-changing for you and your family. The question that is most likely at the front of your mind is, how much will my truck accident case be worth?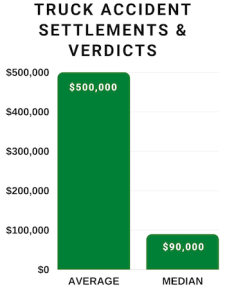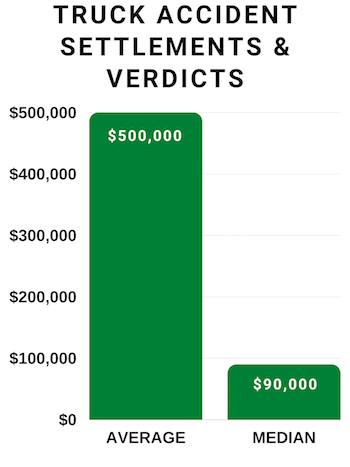 For reference, the average jury award in an 18-wheeler accident case is a little over $500,000. The median award, however, is $90,000. The average is driven up by a small number of large cases, such as the 3% that are worth over $5 million.
One way to start the process of looking at settlement value is figuring out how much money a jury could potentially award you. In other words, how much money could recover on the best possible day in court? A less commonly understand reality is that even if a jury comes back with a $20 million verdict, the victim cannot usually collect a great amount of money.
This is because there are caps on the amount of non-economic damages that can be collected in civil cases. For example, the cap on noneconomic damages in Maryland for truck accident cases was between $875,000 and $2,187,500 in 2020. The cap was $845,000 for any living plaintiff, $1,267,500 million for a single wrongful death beneficiary, and $2,187,500 if the victim had more than one wrongful death beneficiary. (The cap will increase again on October 1, 2020.)
Keep in mind that this cap is for noneconomic damages, which is another way of saying "pain and suffering." There is no cap, however, on economic damages, which include future medical care, future lost wages, and loss of household services. This is why the highest value cases typically involve a victim who made a good salary and would have contributed to their family for many years.
Should I Settle My Truck Accident Case or Go to Trial?
In cases where the battle is over damages, filing a lawsuit is sometimes the only way to prove to the trucking company you will not back down without a fair settlement.
Trucking insurance companies rarely pay the maximum value of claims that are in the millions. Knowing this, the first step is to figure out what your best-case scenario recovery would be. Then, determine a settlement lower than that number that you would be willing to take. Your goal should be to get a settlement higher than that number. However, if that minimum number is not reached, the next step is to file a lawsuit or go to trial, depending on where you are in the process.
The largest reductions in case values occur when there are issues of liability. When these cases go to trial, there is a risk of losing and getting no money if the court decides the trucking company was not at fault. A simple formula to calculate case value is to multiply the maximum value of the case by the estimated chance of success a trial. This calculus hinges on a reasonable evaluation of the likelihood of success at trial.
Most of our truck accident cases at Miller & Zois are not battles over liability but the value of the damages. The difficulty in getting good settlements in these cases is that trucking companies and their insurers want to get the best deal possible for themselves.
For example, we settled three of these cases recently that totaled $4 million—the combined pre-lawsuit settlement offers from those cases only totaled $725,000. You typically have to show these companies you are serious to get a good settlement. This usually means filing a truck accident lawsuit.
Value of your case by type of injury (the suffering and medical bills associated with different injuries greatly impacts case value)
Settlement calculator
Truck Accident Settlements and Verdicts
Another way to value specific cases is to look at settlements and verdicts in other trucking cases. It gives you some idea of how lawyers, insurance companies, and juries have valued claims that are similar to yours. This does not mean you can use these examples to predict the value of your case. They are, however, a useful tool.
$2,530,000 Verdict (Pennsylvania 2023): A 50-year-old man was pinned and crushed by a Schneider tractor trailer delivery truck outside of a Family Dollar store. He suffered very serious crushing injuries to his pelvis and sacrum and filed suit against both the driver and Schneider trucking.

$4,500,000 Verdict (Florida 2023): A 17-year-old girl was sideswiped by a box truck while riding as a passenger in her family's vehicle. The severe collision resulted in her suffering a disc herniation, a torn labrum, and a Bankart lesion in her shoulder, necessitating two surgeries. The insurance company denied that these medical procedures were related to the crash. A Jacksonville jury disagreed, awarding the young woman a nearly $4.5 million payout.

$1,462,500 Settlement (Texas 2022): A 32-year-old female suffered fatal injuries after the vehicle she was a passenger in, traveling eastbound on an interstate in rainy conditions, was struck by a tractor-trailer owned and controlled by defendant Danny Herman Trucking Inc. The accident happened, in part, because the truck driver was following too closely behind the traffic ahead of him.

$247,875 Verdict (Maryland 2022): The defendant was operating a work truck and trailer for the City of Baltimore when he attempted to jump a traffic light turning from red to green to make a left turn in front of the plaintiff, causing the front end of the plaintiff's vehicle to collide with the truck. There was no green arrow at the intersection. The plaintiff suffered permanent injuries to his back. The verdict included $33,875 for past medical expenses, $60,000 for future medical expenses and $150,000 for pain & suffering. Anytime the City of Baltimore is a defendant it usually drives the verdict up.

$295,733 Verdict (Minnesota 2022): The decedent was going through an intersection on a greenlight when the defendant ran a red light with his tractor-trailer and struck him from the side resulting in fatal injuries. Liability was admitted but the case went to trial on damages. Decedent was survived only by his mother.

$70,638 Bench Verdict (Maryland 2022): The driver of a U.S. Postal Service tractor trailer truck became distracted by another vehicle and struck the plaintiff's vehicle on the highway. The plaintiff suffered a concussion and laceration to his scalp, requiring staples, along with neck and lumbar sprains, post-traumatic headaches and injuries to his neck, back and left ankle.

$10,000,000 Verdict (Kentucky 2021): The plaintiff, 44-year-old male and father of 2 minor children, suffered fatal injuries when his pickup truck, traveling westbound on an interstate, left the roadway and struck a tree after it collided with an eastbound tractor-trailer, owned by codefendant Marvin Keller Trucking Inc., that had lost control, crossed the median and entered the path of westbound traffic.
$161,000 Verdict (California 2021): The plaintiff allegedly suffered neck and back injuries requiring lumbar decompression surgery when her stopped vehicle was rear-ended by a vehicle that had been rear-ended by a tractor-trailer driven by the defendant truck driver. The verdict included $20,000 for future medical expenses and $140,000 for pain and suffering.

$250,000 Verdict (Tennessee 2021): The plaintiff claimed to suffer post-concussion syndrome and neck and back pain as well as mental and emotional injuries when his vehicle, traveling eastbound on an interstate and slowing for traffic, was rear-ended by a Heartland Express tractor-trailer driven by the defendant.
$12,682 Verdict (Maryland 2020): The plaintiff reportedly suffered a fractured right eye socket and unspecified injuries to her head, neck, shoulders and back, when the defendant, driving a tractor-trailer for his employer, codefendant ALTL, Inc., south on an interstate highway behind the plaintiff's vehicle, struck the rear of the plaintiff's vehicle. The verdict did not include any pain and suffering damages.
Miller & Zois Truck Accident Verdicts and Settlements
All these cases were handled by our Maryland truck accident lawyers. These are actual settlement amounts in truck accident cases. Most involve 18-wheel trucks and tractor-trailers. Are these all of our million dollar truck accident settlements and verdicts? No. These are the cases in which the language of the settlement agreement allows us to provide this limited information about the case. Many of our trucking case settlements have iron tight prohibitions against any information in any context.
2019, Virginia: $1 Million Settlement: Our clients' 79-year-old mother is a passenger driving with her sister heading to a wedding on a highway in Roanoke, Virginia. Her vehicle is struck by the tractor-trailer behind t
hem. She suffers a T2 vertebra fracture and dies the next day. Miller & Zois represented the victim's five children. (Our wrongful death and attorneys often handle truck accident cases involving death or catastrophic injury outside of the Baltimore-Washington area.)
2019, Maryland: $1.7 Million Settlement: Our clients' daughter/sister was killed when a truck parked on the wrong side of the street crossed in front of her, killing her instantly. Miller & Zois represented the victim's parents and siblings.
2018, Maryland: $1 Million Settlement: A four-year-old boy is riding his bike in an alley in Dundalk. A tow truck driver parked his vehicle in the alley and exits the vehicle. He gets back in this truck, and as he exits, he hits the boy's handlebars, causing him to lose his balance and fall under the back tires of the truck. He is killed instantly. The trucking company argued the accident was the boy's fault but paid the entire $1 million policy after eight months of litigation. Miller & Zois represented the boy's family.
2016, Maryland: $1.55 Million Settlement: A young man runs out of gas on the side of the road and a friend comes to give him a can of gasoline. Then, a truck driver who simply is not paying attention drives his 18-wheeler off the roadway and kills him. The defendant offered $725,000 at a pretrial mediation, forcing a lawsuit. Miller & Zois represented this young man's family.
2016, Maryland: $1,500,000 Settlement: A young man has car trouble and pulls to the side of the road to make repairs. A 18-wheeler veers off the road and kills him. Miller & Zois represented the victim's mother.
2016, Maryland: $1,000,000 Settlement: A 52-year-old man is killed after getting hit by a truck that ran a stop sign. No settlement offer was made on the case, so we filed a lawsuit in Worcester County. The case settled before the pretrial conference. Miller & Zois represented the victim's family in the claim.
Common Truck Defendants
Our law firm has dealt with almost all the major trucking companies in these cases. We know the companies and we know their lawyers.
Frequently Asked Questions
How does Maryland determine who was at fault for a truck accident? Can I still win if the trucking company claims I was at fault or if I was partially at fault?
Responsibility for an accident lies with the driver who made the mistake that caused the crash. Maryland law defines what car or truck drivers, may do on the roadway. There are specifics particular to truck accident cases that make determining liability more nuanced.
You cannot recover anything in Maryland if you are partially to blame for the accident. This is called contributory negligence. In many other jurisdictions, under a legal theory called comparative negligence, the amount of truck driver and the trucking company would be liable for the percentage of fault a jury attributes to their negligence.
Usually, the more significant battle in truck accident cases is over damages. Trucking companies and their insurance companies and lawyers want to pay you far less than your claim is worth.
I was rear ended by a truck, but the company is claiming I caused the accident. How does Maryland determine fault in rear end cases?
In Maryland, there is presumption of negligence in rear end accidents. In other words, the law assumes the rear-ending truck was negligent unless the truck driver's attorney can proffer evidence that shows otherwise.
Who will pay my medical bills after a truck accident?
There are many sources for payments for your medical bills. Your health insurance and your own car insurance will likely pay some of the bills if you are fortunate enough to have coverage. Ultimately, your remaining medical bills will be paid out of the settlement or verdict that you receive.
The problem for victims is that your bills are owed long before your case is ripe for a settlement. What do you do? Our lawyers use our contacts and ability to persuade healthcare providers to wait to get compensated out of any settlement. This tactic can be challenging and tedious to implement. But it works far more often than not.
Will I get a larger settlement in a truck accident case than I would for the same injuries in a car accident
case?
The average settlement for the same injuries is higher in a Maryland truck accident case than in a car accident case. There are three reasons why this is so. First, trucking company insurers do not typically have in-house counsel to defend claims. They pay more to avoid having to engage in prolonged litigation and trial. Second, trucking companies and their insurance companies are more just used to large settlement costs than auto insurers. Finally, trucking companies are often embarrassed by the accident. They know it reflects on their business. This is particularly true if the driver was not properly trained or did not comply with state and federal trucking safety regulations.
How do attorneys handle truck accidents differently than other motor vehicle accident cases?
There are several factors unique to truck cases in the Baltimore-Washington area: (1) Maryland and federal regulations that apply, (2) the types of claims that can be brought against trucking companies, (3) the nature of the investigation required by lawyers, (4) the tactical jurisdiction issues regarding the most appropriate venue for the injury victim, and (5) how many truck crashes occur, such as the problems associated with turning. Hiring an attorney who is well versed in these issues is essential.
Can I sue the truck driver's trucking company in Maryland for my injuries from the crash?
In most truck accident cases in Maryland, yes. It depends on the relationship between the truck driver and the trucking company. If such a relationship is demonstrated, the company can be held legally liable for the truck driver's negligence under a legal theory known as respondeat superior, which means that the agent is responsible for the principal. The trucking company may also be liable under the theories of negligent entrustment or negligent supervision if they failed to adequately screen drivers they knew or had reason to know were untrained or unsafe truck drivers. There can also be a claim for negligent maintenance of the truck itself.
I was injured in a truck crash where a big-rig truck jackknifed. Does this mean the truck driver was negligent?
Usually, a truck jackknifes due to the truck driver's negligence, often because the driver locked up the breaks. Because a truck driver could theoretically jackknife without driver error, the defendant's counsel will seek to avoid liability by arguing that the truck jackknifed due to unforeseeable slipperiness of the road or an emergency turn to avoid another vehicle. We have found that this argument can usually be defeated after a full investigation of the physical evidence.
The accident was the truck driver's fault, but my injuries were made worse by the fact that I was not wearing a seatbelt. Does this hurt my case?
My accident occurred in Washington, D.C. but I live in Baltimore, Maryland. Should I hire a truck accident lawyer in Maryland or a truck accident lawyer in Washington D.C.?
There are many potential places to file a lawsuit in this type of situation. You must consider the best venue given all the factors, such as which jurisdiction has a cap on damages, the reputation of the juries in a particular jurisdiction, convenience of the injured party, the attorney's subpoena power over the witnesses, and a whole host of other factors. Your case may be filed where the trucking company is incorporated or does regular business, or where the trucking accident occurred.
Are trucks required by the law in Maryland to carry insurance?
Yes. The Federal Motor Safety Administration requires that commercial vehicles traveling in interstate commerce must carry $750,000 of insurance for bodily injury and property damage. Maryland also imposes the same limit for trucks traveling within Maryland.
The minimum liability insurance allowed by trucking companies depends upon their freight:
$ 750,000 for vehicles over 10,000 pounds carrying non-hazardous freight
$1,000,000 for those hauling hazardous materials and oil
$5,000,000 for trucks operating portable tanks, capacity over 3,500 gallons, passenger trucks
Is it more difficult for trucks to brake?
Compared to cars, the stopping distances for trucks are much longer, particularly for 18-wheel trucks. There is a correlation between the size of a truck and the likelihood of a rear-end truck accident. On roads that are wet and slippery, there is an even greater disparity between the braking capabilities of passenger vehicles or motorcycles and large trucks. Failure of trucking companies to properly maintain their brakes aggravates the problem. Over 53% of trucks that cause wrecks have at least one brake safety violation. The main culprit is brakes that are not adjusted.
Do I need an attorney in every truck case?
In truck cases, you almost invariably want to engage an experienced lawyer. This is because the value of cases varies wildly and because there are so many things that need to be done to secure evidence.
More Information on Fighting Back in Truck
ing Cases
How to Get the Best Maryland Truck Accident Lawyer
Our attorneys believe you should do your research to find the best Maryland truck accident attorney that you can. Because if your path is getting the maximum compensation, the law firm you select will be the most important choice you make in your case.
At Miller & Zois, we have had cases referred to us by inexperienced lawyers where the offer was multiplied by ten after we entered the case. There is a small world of lawyers who regularly handle truck cases; just like there is a small world of lawyers defending these claims. We all know each other. If your lawyer has the respect of the trucking company and its lawyers, that will have an impact on how they value your claim. There is no question that the best truck accident lawyers will get more for their clients.
The Maryland truck accident attorneys at Miller & Zois handle a large number of truck personal injury cases. The majority of our serious injury and death case cases come from other lawyers who seek out our firm as co-counsel because we have the experience and the resources to maximize the value of these claims. For a free consultation, call our truck accident lawyers at 800-553-8082 or go online. Our office is located in Baltimore, Maryland.