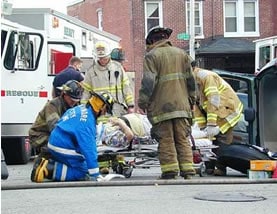 The purpose of this Help Center is to give malpractice and accident victims a detailed understanding of what to expect in accident and malpractice cases. We provide more real information here on Maryland personal injury cases from the victim's perspective than you will find anywhere on the Internet. Sure, you can find it elsewhere on our website, but you will not find us here bragging about million dollar verdicts or our satisfied clients here. Instead, you will find volumes of information about how the system works in Maryland to handle accident and medical error claims.
We provide a full explanation of what you can expect at trial in each county (and Baltimore City) and give detailed knowledge on what to expect from almost every insurance company handling traffic collision and medical error claims. We also provide information for lawyers on our Lawyer Help Center.
If you were serious hurt in an accident, you are almost invariably going to be confused about what to do. Yes, there is a rush to move your case forward. There is much to be done. But take a deep breath, relax, and spend some time trying to figure out the best path forward for you. This is important. You want to measure twice and cut once. We think this page will both educate you and point you in the right direction.
Information on Personal Injury Claims Generally
Maryland Auto and Truck Accident Information
Tips on Each Insurance Company
Medical Malpractice Information
Information on Specific Jurisdictions in Maryland
Contacting Miller & Zois: Free Consultation
If you are injured in a serious accident or are the victim of medical malpractice, contact our team of lawyers to discuss your case. If you have any questions for us, you can reach us at 800-553-8082. You can also get a free on-line consultation/case evaluation.
The content on this page was drafted by Ronald V. Miller, Jr. at Miller & Zois