More Case Value Information
The following is a list of suggestions from our lawyers regarding what you should do after a Maryland motor vehicle crash.
Of course, most of this advice assumes that you are reading this before you are injured in an auto accident. Of course, the reality is that the vast majority of people reviewing this site are looking for help after an auto accident. Moreover, because of the severity of the injuries suffered, many of our clients would be unable to do many of the suggestions on this list because they are physically or mentally unable to do so after an accident. Many of these things our attorneys can uncover through an appropriate investigation. Still, under the theory of doing the best you can, this is a checklist of the optimal things our auto accident lawyers suggest you would want to do after a personal injury car accident.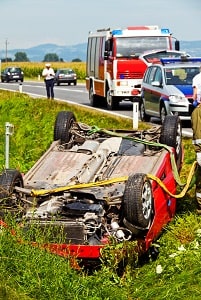 Be safe. Ultimately, this is the most important thing to do. Stop your car after the auto accident and turn off your engine. Make sure that it is safe to exit your car. You would be amazed at the number of personal injury cases our lawyers are currently handling involving injuries suffered after an accident occurred. When you are a pedestrian, you are that much more at risk. You are usually best off not moving the vehicles until the police have arrived. However, if a car poses a safety threat to other traffic after an auto accident, you should move it if the car can be moved and you are in a condition to move it.
Alert help. Call 911 and inform them of the situation. You may need both the police and an ambulance, and they will arrange for both.
Be informed. Identify the driver or drivers of the autos involved in the auto collision. Be sure that you get the other driver's: (1) name, address and home telephone phone number, (2) employer and work phone, (3) Make, model and year of his or her car, (4) registered owner's name, (5) insurance company name, agent name and policy number, (6) driver's injuries or pain complaints, and (7) any statements the driver makes to you about the accident.
Lock in any witnesses. Identify any witnesses to the auto accident. As soon as possible, get the names, addresses and/or phone numbers from any witnesses to the crash. Often, and it says a great deal about our country, witnesses will stop at the accident scene to see if they can be of assistance. When they understand that the police and ambulance have been called, they have a tendency to leave the accident scene without leaving their names or phone numbers, and critical witnesses are lost forever.
Be precise. Note below the date and time of the accident. Write down the location (street intersection or landmark).
Get details. While you are waiting for the police or health care providers to arrive and before you leave the scene of the accident that day, there are things you should do if your medical condition allows. Write down the time and place, the weather and road conditions and even a diagram showing the relative positions of the vehicles and the directions from which they were coming or located at the time of the happening of the accident. This type of information or any writing that you create is for the purpose of potential litigation and should not be given to anyone other than your personal injury attorney.
Keep quiet. It is hard. You are upset or mad or feeling one of the thousand emotions you feel when you are in an accident. But do not make any comments at the crash scene as to how the accident happened, estimates of speeds or any other comments concerning the matter. Comments by you at the scene of the accident will never be helpful to you.   They may involve speculation and will always be used against when your lawyer seeks to settle the case or at the trial of your personal injury case.
Be vigilant. Remain at the scene until help arrives. They may not arrive right away, but it is important that you wait for the ambulance or police.
Seek help. If you are not removed from the scene of the accident by ambulance, make sure that you go to an emergency room or a physician for an evaluation immediately. Even though you may think you are not hurt in the accident, you may actually be hurt. Seek medical attention as soon as possible. Do not be surprised if you feel fine at the crash scene but develop pain later. Sometimes the adrenaline that is released from the stress caused by the accident can hide the full extent of injuries. Do not wait to seek medical attention in the hope that your pain will resolve on its own. To the insurance company, injured people seek medical care. If you do not seek care, the insurance company will use that against you to claim that you were not injured. When you arrive at the emergency room or when you see a physician, tell them that you have been involved in an auto accident and describe anything that you feel that you think is unusual no matter how minor you think it is. Doctors may recognize your complaints as a symptom of a more serious problem. Be sure also to let physicians and nurses know of any older injuries that you might have that may have been aggravated by the trauma of the accident. With all of this said, however, if you are confident that you have not suffered an injury – particularly in a low impact accident – do not get treatment. Emergency rooms are busy in Maryland (particularly in Baltimore City and Prince George's County (learn more about these jurisdictions here and here) where emergency rooms are just overflowing), the Maryland courts are busy and so are the lawyers handling personal injury cases. If you insist on getting treatment because you want to settle a personal injury claim, please call another lawyer.
Listen and remember. Listen carefully while at the scene of the accident. Listen to anything and everything that the other drivers or witnesses say. What they say can be of information to you, might help you ultimately in any lawsuit. If they admit they are at fault to the accident in words such as "they did not see you", "they were driving too fast" or just a simple apology for being at fault, make sure you make a written notation of that as soon as practically possible. Memories are funny things: you forget more than you ever think you will.
Take pictures. Photographs of the damage to vehicles are often a tremendous help in preparing your personal injury case. If possible, have someone from your family take photographs of your auto and the areas of damage to your car. Take photographs from some different angles, close up, and from a distance. There is no such thing as using too much film to document the damage to your auto. Take photos of all parts and all sides of the vehicle and if necessary, use up an entire roll of film. If possible, take pictures
of the accident scene. As soon as practical, you or your loved ones should go back to the accident scene and take photographs if traffic conditions make it safe to do so. Be sure to include landmarks such as signs or buildings so that it can easily discern what the pictures show later. If there are skid marks, damages to trees or shrubberies or if there are any parts of the car that is still left on the ground, take photographs of all of these areas. Also, take pictures of the other driver's car. Most of the time, the police accident report will identify the destination to which both cars have been towed. If both cars have been towed and if they are at a body and fender shop or towing shop, if possible, take photographs of the autos.
Make a report. Report the auto accident to your insurance company. Call your insurance company about the crash even if you think the other driver is at fault. To protect your rights to insurance coverage, your insurance company is entitled to be notified by you of the happening of the accident, about the extent of injuries to you or your passengers and the damage to the auto. It may be advisable that you speak with a Maryland injury attorney before you provide your insurance company with recorded statements or written statements. When necessary, our lawyers often speak with the insurance company with our personal injury client in a conference call so that our attorneys can ascertain that the client has met its contractual obligations with the insurance company while also not saying anything misleading that could jeopardize their potential personal injury case.
Do not give a recorded statement to the other party's insurance company. Never give a recorded statement to the insurance company that insures the other driver's car. Do not give a recorded statement to employees, representatives, investigators for the insurance company that insures the car that collided with you. If your insurance company and the at-fault driver's insurance company are the same, you need to give a statement to the adjuster handling the claim on your behalf, not the other driver. Suffice to say, this is confusing, and you need to discuss with a lawyer how to best approach this problem.
Seek counsel. Contact a personal injury attorney. Some personal injury claims can be settled without attorney representation, particularly, soft tissue injury cases with moderate property damage. But laws related to accident injuries are complex and change frequently. Insurance companies are well aware of the rules, but most car accident victims are not. The insurance company will not explain anything to you that helps you. An attorney represents your interests, not those of the other driver or any stockholders. He or she will research and analyze the facts regarding your claim, work with your healthcare providers, prepare legal documents, and negotiate a fair settlement. Call us at 1-800-553-8082 (or call another lawyer). But make sure you at least talk to someone to best understand your rights. There are too many trap doors.
Know your case. In Maryland, the statute of limitations for an auto accident (negligence) claims is three years. This means that your case must be concluded, or a lawsuit must be filed within three years of the date of the accident or you will lose all right to make a claim. (For minors, the three-year period begins once the child reaches his or her eighteenth birthday.) We get calls at that minute when it is too late to help. If you were involved in an accident in Maryland and a defendant is a local government or the State of Maryland, there may be certain formal notice requirements to bring a personal injury claim. It is best to consult a Maryland lawyer as early as early to determine the time limit in your case.
Get More Information