Our lawyers have won at trial and settlement millions of dollars for our clients against Erie Insurance in car accident claims by settlement and at trial. This page discusses dealing with Erie in car accident claims and looks at your personal injury claim's expected settlement compensation payout.
Erie Insurance
Erie Insurance Group was founded in 1925 in, not surprisingly, Erie, Pennsylvania. Initially, the company focused on auto insurance, but over time, it expanded its product offerings to include home, business, and life insurance policies.
Today, Erie Insurance is a well-established and highly respected insurance provider in the United States. The company is known for its commitment to excellent customer service and its comprehensive range of insurance products. Some of their main offerings include:
Auto Insurance: Erie covers cars, motorcycles, and other types of vehicles. They offer various coverage options, including liability, collision, comprehensive, and uninsured/underinsured motorist coverage.
Home Insurance: Erie offers homeowners insurance policies that protect against damages to the home and personal property due to events like fires, storms, theft, or vandalism. They also provide liability coverage in case someone gets injured on the property.
Renters Insurance: For those who rent their homes, Erie provides renters insurance, which covers personal belongings and offers liability protection similar to homeowners insurance.
Life Insurance: Erie offers various life insurance products, such as term life, whole life, and universal life, to help provide financial security for the policyholder's family in the event of their death.
Business Insurance: Erie provides business coverage, including property, liability, and workers' compensation insurance, as well as specialized policies for different industries.
Erie Insurance in Maryland
Erie Insurance has been serving customers and frustrating personal injury lawyers in Maryland for many years.  Erie is Maryland's 5th largest auto insurer in Maryland with 7.89% of the market share. In Maryland, as we discuss below, Erie Insurance usually writes larger than typical car accident policies, especially when providing business coverage.
What is it like to settle with Erie Insurance?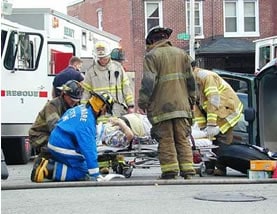 Erie Insurance is certainly not the worst insurance company for victims to go up against in personal injury auto accident cases. Erie settles the lion's share of its cases and is often very reasonable about settlement value after a lawsuit is filed.
More than some other companies, this insurer writes larger insurance policies, at least in Maryland. With so many insurance companies competing for business in a world where more people than ever are price shopping online, insurance companies are writing more minor insurance policies in exchange for lower premiums. Erie, on the other hand, still seems to write decently sized-policies.
However, in significant cases when the Erie insurance policy is worth millions of dollars, Erie agents still make settlement offers closer to the size of their midsized policies. Our Erie claims lawyers recently received a pretrial offer of $800,000 from Erie when the case was sure to be worth $2 million at trial, even considering Maryland's cap on non-economic damages. We are unsure why Erie offered $800,000 in this wrongful death case that involved significant pain and suffering and two wrongful death beneficiaries. Erie may have needed to see a lawsuit actually be filed or have more time to figure out the case.
Like most insurance companies, Erie will dramatically increase its settlement offer after a lawsuit has been filed. This applies in particular in Baltimore City and Prince George's County, Maryland's two best jurisdictions for victims. This insurer is often motivated to settle after a lawsuit is filed because it cares more than most insurance companies about its litigation costs.
Erie is not a bad insurance company to have as an adversary compared to many other insurance companies. But, this insurer has undoubtedly had its fair share of ridiculous coverage denials. The good news is that Erie puts more money on the table after a suit is filed.
Erie will also surprise us with a reasonable settlement offer before a lawsuit is filed. The take-home message is that knowing what Erie will offer is hard in any given case.
How does Erie go about valuing claims for settlement purposes?
Like some other insurance companies, an Erie insurance adjuster will use a computer-based program called Colossus to assist in valuing accident claims. The computer tries to evaluate how much someone has suffered and has had to endure due to the crash—an impossible task for a computer that tries to be a personal injury settlement calculator.
This is another reason why lawsuits are usually the best path to maximize the value of your lawsuit with Erie. An Erie adjuster, to their credit, will look at claims with a different and less computerized eye after a lawsuit is filed.
Who are Erie's lawyers?
Erie Insurance Group does not have in-house counsel in Maryland or Washington, D.C. The company pays lawyers by the hour, or sometimes with a flat rate, to defend cases in Maryland.
Erie often relies on Rollins Smalkin in the Baltimore area and McCarthy Wilson in Baltimore and much of the rest of Maryland. These are not in-house company employee lawyers. They have also used Wilson-Forte, a breakoff of McCarthy Wilson. These attorneys bill by the hour. Unlike State Farm or Allstate, Erie considers this when a lawsuit is filed. Because the attorneys' fees they incur are very real to Erie.
Though Erie Insurance claims are not handled all that differently from other insurance companies once they go into suit, Erie is somewhat more receptive to settling cases for a reasonable number after their lawyers get involved. This is probably because the lawyers who have to try the case are more realistic about the claim's settlement value. Avoiding higher legal bills also likely has something to do with this.
Erie's attorneys have told us that "Erie Insurance Group" is a tradename and that they should be sued as "Erie Insurance Exchange." Erie's claims support phone number is (800) 367-3743. After you file a claim, an insurance adjuster will contact you.
When you sue Erie in Maryland, you serve:
Al Redmer, Jr.
Maryland Insurance Commission
200 St. Paul Place
Baltimore, Maryland 21202
Erie Insurance Settlements and Verdicts
Below are reported settlements and verdicts in which Erie Insurance was the insurance carrier or defendant. We think jury awards and settlement data in specific cases help attorneys and victims understand what a specific case is worth. It is also helpful to show these verdicts to claims adjusters to ensure they are educated on how other similar cases have fared.

That said, keep these awards in perspective. Our attorneys have not included every verdict we have had or that we have uncovered involving Erie. Instead, these are a selection of cases won by plaintiffs. One thing to notice: Erie does not try many cases, at least not in Maryland.
Maryland Verdicts and Settlements Involving Erie Insurance
Why are there no more recent Erie personal injury cases in Maryland?  This was updated in 2023.  Erie does not let a lot of cases go to trial.
2020, Baltimore City: $145,000 Verdict A woman was struck by an unknown driver (phantom vehicle). She suffered cervical, thoracic, and lumbar strains, sciatica, and cervical radiculopathy. The woman also sustained post-traumatic stress disorder. She filed suit against Erie after they refused to pay her uninsured motorist benefits. Erie disputed the woman's claims. They argued that she only sustained soft-tissue injuries. A Baltimore City jury disagreed and awarded her $145,000.
2019, Baltimore City: $43,905 Verdict The plaintiff was driving with several passengers northbound on Edgecombe Circle when another driver in the opposite direction ran a stop sign and struck the plaintiff's vehicle. The at-fault driver fled the scene of the accident and was never identified. The plaintiff and the passengers in his car alleged injuries from the accident. Plaintiff and his passengers filed suit against his auto insurer, Erie Insurance, seeking damages under the uninsured motorist collision coverage on the policy. Erie denied the UIM claim and took the case to trial in Baltimore City, where a jury awarded the plaintiffs $53,905 in damages.
2018, Baltimore City: $52,060 Verdict Plaintiff was a pedestrian crossing the street at a crosswalk in Baltimore City when a hit-and-run driver struck him. The plaintiff sought damage under the uninsured motorist collision coverage of his policy with Erie Insurance. Erie denied the plaintiff's UIM claim, and the case went to trial. A jury in Baltimore City awarded $52,060 in total damages.
2017, Prince George's County: $20,000 Verdict Plaintiff, a 51-year-old male, was driving on Brandywine Road in Clinton. When crossing through an intersection, another driver failed to yield on a left turn from a stop sign and hit the plaintiff, pushing his vehicle into another vehicle. The plaintiff suffered neck and back injuries, including lumbar disc bulges, and sought $38,000 in medical expenses, lost wages, and pain and suffering. Erie Insurance insured the defendant. Erie refused to settle, and the case went to trial, where a jury awarded $20,000, significantly less than the plaintiff's seeking.
2016, Prince George's County: $101,557 Verdict Plaintiff, a 57-year-old female, was driving on the DC Beltway (I-495) near the Route 50 Exit when she stopped for traffic and was violently rear-ended by the defendant in his Jeep Wrangler. The rear-end impact caused the plaintiff's vehicle to roll over several times. The vehicle was a total loss. The plaintiff suffered a cervical strain, a complex forearm laceration with degloving, and an open left middle finger fracture with permanent damage. The defendant denied liability for the accident and claimed he was struck from behind by another driver who fled the scene. Following a 2-day trial, the jury found in favor of the plaintiff and awarded her a total of $101,557 in damages. Erie Insurance insured the defendant.
2015, Baltimore County: $350,000 Verdict Plaintiff was driving east on Maryland Route 175 near the Lowe's in Columbia. The plaintiff came to a stop for a red traffic light when he was rear-ended the front of a multi-car pileup. The plaintiff suffered cervical and lumbar spine injuries due to the collision. The plaintiff settled his claim for policy limits with the at-fault driver and then pursued a claim for additional UIM damages under his policy with Erie Insurance. Erie refused to pay any UIM benefits, and the case went to trial where the jury awarded $350,000 in damages.
2012, Baltimore County: $135,000 Settlement Plaintiff is traveling northbound on Kays Mill Road in Baltimore County. He stops at a stop sign but is rear-ended by the defendant. Plaintiff undergoes a C5-6 cervical spine fusion. The big issue in the case is that the client was disabled with prior similar injuries and had three recent traffic accidents. Also, the car is not a total loss; there is only $1,200 in property damage to the plaintiff's vehicle. Still, Erie sought fit to settle the case for $135,000. Our law firm handled this case.
2012, Baltimore County: $36,500 Verdict Plaintiff and his passenger are approaching the intersection at Raphael Road and Mt. Vista Drive when the defendant driver speeds through a stop sign and runs into them. The plaintiff and his passenger receive injuries and sue the defendant driver and the car's owner. Later, the plaintiff's insurance carrier, Erie is sued for breach of contract when they fail to honor the plaintiff's underinsured claim. Plaintiff contends that the defendant driver was negligent by failing to drive at a safe speed and ignoring the stop sign and right of way. Defendants claim the plaintiff may have contributed to the crash by illegally heading through the intersection. The case is transferred from a Baltimore City Circuit Court to a Baltimore County court, and a jury awards a verdict against the driver and Erie, granting $36,500 in total damages.
2012, Frederick County: $35,000 Settlement Plaintiff is driving down New Design Road in Frederick. The defendant runs a stop sign and broadsides him. The plaintiff's car has minor damage, but his doctor told us before we filed suit – and before his deposition – that his disc injuries were related to the car crash. At the doctor's deposition, he refuses to testify that the accident caused the plaintiff's injuries. The case settled shortly after that for obviously much less than we would have liked (our firm handled the case).
2011, Washington County: $300,000 Settlement A young woman is driving through Hagerstown when another woman cuts her off. She was taken to Maryland Shock Trauma and diagnosed with spinal cord injuries. Erie tendered the policy limits in the case of $300,000. Our law firm handled the case. The woman had hundreds of thousands of dollars in medical liens, but, thankfully, we negotiated these liens to pennies on the dollar. The plaintiff recovered well (although she would have gotten much more if the policy had been larger than $300,000).
Erie Car Crash Settlements and Verdicts Outside of Maryland
2022, New York, $750,000 Settlement Three sisters, ages 7, 8, and 10, were unbelted rear-seated passengers in a truck driven by their father when he lost control and drove off the road, striking a mailbox and utility pole. One of the sisters died and the other two were seriously injured in the car accident. The truck was owned by their grandfather's business and had a commercial auto insurance policy through Erie. Erie eventually agreed to settle the claims. The settlement included $100,000 to the deceased sister's estate and the purchase of $432,000 in annuities for the surviving sisters. The remainder went to attorneys' fees and costs.
2021, Alabama: $66,269 Settlement A minor suffered unspecified injuries when she was a passenger in a vehicle that was involved in an accident. The at-fault driver was allegedly underinsured, and the plaintiff sought damages from Erie Insurance under UIM coverage. Erie eventually agreed to settle the claim.
2021, New York: $8,000 Settlement A 2-year-old male vehicle passenger suffered abrasions and scarring when involved in an accident caused by the defendant. The defendant's insurance company was Erie, which settled the claim for $8,000.
2020, Wisconsin $22,500 Settlement The plaintiff was operating a vehicle on West College Avenue at or near North Division Street when her vehicle was struck by a vehicle operated by the defendant who Erie insured. The plaintiff sought compensation for her personal injuries, medical expenses, inability to maintain her employment, and pain & suffering. The settlement included $8,414 to the plaintiff's worker's comp carrier.
2018, Pennsylvania: $36,500 Verdict A woman suffered multiple disc herniations after a collision at an intersection. The driver tendered his $15,000 policy to the woman. She sued her insurer, Erie, seeking her $50,000 UIM policy. The defense expert testified that she suffered no injuries from the accident. The jury ruled in favor of the woman, awarding her $36,500. However, this was reduced to $21,500 based on the previously tendered policy.
2012, Pennsylvania: $396,280 Settlement The sixteen-year-old plaintiff is riding through a light-controlled intersection when an Erie-insured defendant driver broadsides him. The young boy sustains facial, pelvic, thumb, and femur fractures – all requiring surgery – tears to the bladder and rectum, and lacerations to the face and scrotum, leaving him with permanent disfigurement. Plaintiff argues that he entered the intersection on a green light and that the defendant was negligent in failing to yield the right of way. The driver claims that an intense sun glare caused him to believe the red light was green. In Lancaster County, Erie Insurance Company agrees to pay a $396,280 settlement to the injured plaintiff.
2012, Virginia: $487,867 Verdict The defendant is driving next to the plaintiff on a highway when he slowly drifts into the adjoining lane. The defendant runs into the plaintiff's side, then overcorrects and slams into the plaintiff again. Both vehicles spin out of control and end up on top of each other in a ditch. Plaintiff suffers extensive back injuries and is permanently disabled from working. He acknowledges a prior back injury and operation twenty years ago but states that he had no further complaints. Plaintiff additionally sues his carrier, Erie Insurance Company, to recover UM/UIM benefits. The defendant contests the severity of the victim's injuries and argues that the future lost wage claim was too speculative. A Spotsylvania County judge finds for the plaintiff and awards $487,867.
2012, Pennsylvania: $32,000 Settlement An eight and nine-year-old are riding in the back of their parent's car when a driver with Erie collision coverage strikes them. The accident causes several injuries, including thoracic strains, myofasciitis, and emotional fear of driving in cars. The plaintiffs claim that the defendant failed to keep a proper lookout and to keep a safe difference between vehicles. The defendant denies liability but settles for $32,000 in Bucks County.
2011, Virginia: $275,000 Settlement A seventeen-year-old was killed in a single-vehicle crash when a car went off the road and overturned. The victim was a passenger in his friend's vehicle. Defendant claims that the plaintiff was goofing off and grabbing the steering wheel. Plaintiff counters there were no fingerprints on the steering wheel and that skid marks on the scene indicated a gradual turn, not a sharp right turn. Plaintiff also sues Erie, who provided his insurance coverage, for UM/UIM benefits. During the trial, evidence of the deceased grabbing the steering wheel was ruled inadmissible. A Brunswick County jury initially returned a defense verdict, but an examination revealed that the banned evidence had made it to the jury's deliberation anyway. A judge set aside the verdict and later ruled as a matter of law that Erie was liable for the crash.
Hire a lawyer to fight Erie Insurance
Our car crash attorneys have fought and won millions of dollars in insurance claims against Erie. We are experts in every step of the claims process. If you need an experienced advocate to fight for you after a severe car wreck injury case, call our attorneys at 800-553-8082 or get a free online case evaluation.
More required reading to understand Erie and your claim's value