Our Maryland accident lawyers have recovered millions of dollars for victims specifically in foot and ankle cases.  We have handled a ton of these cases and our attorneys have won millions both at trial and at the settlement table.
The purpose of this page is to help you better understand expected settlement compensation payouts in foot and ankle injury cases in Maryland. But this settlement information is mostly transferrable to any foot and ankle injury lawsuit in the country.
The one thing our lawyers have repeatedly learned over the last 25 years handling these lawsuits is foot and ankle injuries are complex. We put severe demands on our feet and ankles, and the structure of bones in this area of the body is like a Ferrari. The engine has to be hitting on all cylinders, or the car will misfire.
The key in these cases is to convince an insurance adjuster or a jury of the severity of these injuries. There is no question that you need lawyers who are experienced in handling these kinds of injuries.
Average  Settlements and Verdicts in Foot and Ankle Cases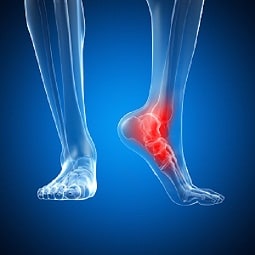 The average verdict in foot injury cases is a little over $700,000. The median award is just less than $100,000. What does this tell us? It teaches us that the severity of injury to these 26 bones, 56 ligaments, and 38 muscles in the foot varies wildly. The verdict in 13% of these cases went beyond $1,000,000. Smaller cases pull the median and the average down.
The median ankle injury compensation payout in Maryland is $88,000.The average ankle injury verdict nationally is just under $30,000.
Ankle verdicts ranged from $1 to over $5 million. This is higher than other broken bone injury claims.
Why the disparity between the average ankle and the average foot injury when the medians are so similar? Ankle injuries are more frequently caused by slip and fall cases where liability might be a greater challenge.
Sometimes, juries give smaller payouts when they are less sure the defendant was liable. If there is no liability dispute, the average probably gets much closer to the foot verdict average.
The take-home message is that the compensation payouts for ankle injuries will vary wildly, mostly depending on the severity of the injury. The one common thread out foot and ankle attorneys see is the average payout for ankle injuries with surgery is higher than those without surgery.
Get foot and angle verdicts and settlements outside of Maryland.
Get settlements and verdict in heel fracture cases
Look at a sample malpractice case involving foot surgery gone wrong in Towson, Maryland
How Much Settlement Compensation for a Broken Ankle Case?
The average value of an ankle injury lawsuit in Maryland is around $40,000 to $100,000, depending on the severity. However, the most serious ankle injury cases can have a settlement value of $1 million or more.
Workers' comp foot and ankle settlements in Maryland will be much lower on average than third-party negligence claims.
What Impacts the Value of Ankle Injury Cases?
The single factor that has the greatest impact on case value is the severity of the ankle injury. Minor injuries such as ankle sprains are worth much less. Major injuries such as ankle fractures or ligament tears have a higher value, especially if the injury has some permanent life impact.
Can a Broken Ankle Lead to an Amputation?
In very rare cases a broken ankle can lead to complications that may require amputation. These include bone infections and nerve damage.
Are Ankle Injuries Common In Auto Accident Cases?
Injuries to the ankle and foot are very common in auto accident lawsuits. In fact, physical trauma to the ankle or foot is the second most common class of injury in car accidents according to the NHTSA.
Ankle Injury Settlements and Verdicts in Maryland
To give you a better idea of your case's value, our ankle injury lawyers have provided below some sample verdicts in foot and ankle lawsuits.
Keep in mind that someone's else verdict that seems to have similar facts might have very different relevant facts because there are just too many variables to list that dictate the success of a lawsuit.
Still, we include these verdicts and settlements because we believe that taken with the proper grain of salt, they do shed light on the value of these claims. Our accident lawyers certainly use other verdicts and settlements to argue for higher compensation payouts in our cases during settlement talks.
2022 Missouri: $150,000 Settlement: A man was sideswiped. He fractured his foot. The man underwent several foot repairs. He wore a medical boot and used crutches for several months. The man alleged that the at-fault driver made a dangerous left turn and failed to yield the right-of-way. The parties agreed to settle for $150,000.
2019 Maryland $61,969 Verdict: The woman her mid-60s goes to Sinclair Lane Elementary in Baltimore City to chaperone a school field trip for her granddaughter. As she is walking up the exterior stairs, the concrete step crumbles underneath her foot and she fractures her ankle and sprains her knee. She sues Baltimore City for failing to maintain and repair the crumbling steps and a jury awards $61,000 in damages.
2019 Maryland $18,408 Verdict: A woman is a passenger in car heading east through a green light on MD Route 100 where it intersects Magothy Bridge Road in Pasadena. The defendant is driving north on Magothy and runs a red light causing a collision. Plaintiff suffers badly sprained ankle and other injuries to her leg and chest. Damages are disputed and jury in Anne Arundel County awards only $18,000.
2018 Maryland $235,000 Settlement: A woman was serving as a volunteer at the National Aquarium in Baltimore when she slips and falls on a damp, wet floor. Plaintiff fractures her ankle and also suffers permanent ligament injuries to her leg and foot. She sues the Aquarium alleging that it was aware of the wet floor and did nothing to correct it or warn of the hazard. The case eventually leads to a $235,000 settlement payout after a back and forth dispute over which corporate entity was liable.
2017 Maryland $25,000 Verdict: Plaintiff is driving his vehicle through an intersection without a traffic light when defendant fails to yield and strikes plaintiff's vehicle on the side. Plaintiff suffers a right ankle injury with damage to his anterior tibiofibular ligament, causing him to miss nearly a month of work. The case goes to trial on damages and an Anne Arundel County jury awards $25,000 which includes $8,000 in economic and $17,000 in pain and suffering damages.
2016, Maryland: $375,000 Settlement. Plaintiff, dressed in all black, crossed Georgia Avenue from west to east, at its T-intersection with Dexter Avenue in Silver Spring, MD, when she was struck by a vehicle traveling in the southbound lane of Georgia Avenue. Unfortunately, our client did not recall the crash and a witness claimed she was in the middle of the street. She also speaks very little English. But her injuries were real. Her left ankle fracture which was also repaired with hardware. Despite the challenges of proving our client was not contributorily negligent, Miller & Zois was able to settle this case at mediation.
2014, Maryland: $315,000 Settlement. Plaintiff is a fifty-five-year-old who and frequently travels as part of his job. He is riding to BWI Airport in a limousine in Anne Arundel County. The driver of his car swerved to avoid contact with debris and lost control of the vehicle. The limousine skidded across all lanes of traffic and slammed into the barrier on the right shoulder. Plaintiff's elbow, hip, and knee were affected, and his right foot and ankle became lodged under the front seat. An MRI revealed stress fractures in the right ankle and multiple torn ligaments. This Miller & Zois case settled after a failed pre-suit mediation and protracted litigation.
2012, Maryland: $88,657 Verdict. A plaintiff is riding an electric scooter when he is struck from behind by a police officer in an unmarked rental car. After the plaintiff attempts to flee, the officer again swerves into him, running over his left foot. Just crazy facts. His foot requires surgery to repair. Plaintiff claims false arrest and battery. The officer attests that the plaintiff was operating an illegal mini scooter without a driver's license and that his injuries occurred when he initially ran into the back of the unmarked car and another vehicle when he attempted to flee. The Baltimore City jury awarded $88,657.
2013, Maryland $928,000 Verdict. A mother with four kids is hit when a woman pulls into traffic while looking in her purse for her parking pass. Her ankle was fractured. Allstate offered a typically pathetic $70,000 before we filed suit and $140,000 before we went to trial. The jury awarded $928,000.Miller & Zois handled this woman's case.
2012, Maryland: $60,000 Verdict. A woman is walking one winter day when she slips and falls on defendant's porch stairs. She suffers a severe ankle fracture that requires open reduction and internal fixation surgery. The injured files a slip and fall lawsuit, arguing that the defendants were reckless and allowed their steps and railing to be covered in snow and failed to shovel and salt the area. The defendants deny liability and claim the plaintiff assumed the risk and was comparatively negligent. An Annapolis jury awarded $60,000. The defendants were insured by Allstate.
2012, Maryland: $1,350,000 Verdict. Plaintiff injures his ankle when he fell from a ski lift. He began seeing a doctor who allegedly negligently treated his ankle. Eventually, the plaintiff suffered a fatigued fractural screw and slight obliquity of a tibial shaft fracture that permanently impaired his walking. After only thirty minutes of deliberation, a Baltimore County jury awards the victim $1,350,000.
2011, Maryland: $537,365 Verdict. A middle school janitor is working the night shift when the electricity goes out. She calls her supervisor, who instructs her to go to the power room to restore the lights. Unfortunately, defendant's construction team had been working on a trench in the floor. Anticipating returning to it tomorrow, they left it uncovered. Unable to see, the plaintiff trips and falls into the ditch and suffers a severe ankle fracture. Plaintiff argues that the company was negligent in not covering the trench. Defendant counters that our client was at fault for knowingly entering a dark room that she had never been in before and that it was a known construction site. Although the plaintiff made a great recovery and was able to return to work, she suffered from a complex open right ankle fracture and dislocation that required surgery with hardware. The Baltimore jury awards $537,365 to the injured plaintiff. Miller & Zois handled this case.
2011, Maryland: $3,064,000 Verdict. This is a medical malpractice case. Plaintiff goes to her primary care physician claiming foot pain. She is referred to the Defendant podiatrist who examines her injury and recommends surgery without discussing the risks or alternative options. Only a month after the operation, the plaintiff is brought back to the hospital where her foot is amputated due to a gangrenous infection. Plaintiff sues the defendant alleging that his failure to adequately perform pre and post-op examinations, his failure to diagnose the patient's peripheral artery disease, and his failure to properly use tourniquet techniques during the surgery led to her injuries. A Towson jury returns a verdict for $3,064,000, but it is later reduced to $714,000.
2011, Maryland: $1,682,752 Verdict. A 67-year-old man decides to get knee replacement surgery. After the first few days of the knee replacement operation, the patient shows signs of problems with blood flow to the affected leg. Due to the defendant doctor's misdiagnosis, the post-operative complications resulted in an above-knee amputation of the leg. Plaintiff claims that if the doctor had performed the standard of care treatment, the inconsistency would have been noticed and a vascular surgeon could have removed the clot. Defendants contend that any symptoms of the clot were actually due to a nerve injury caused by the surgery and that the clot did not manifest until day 5. A Cecil County jury awarded the victim patient $1,682,752. (Yes, this is a knee case but we thought it was worth including.)
2010, Maryland: Settlement of $400,000. On the morning of January 31, 2005, Plaintiff is traveling southbound on Route 170 in P.G. County. Defendant, traveling on Grimm Road at its intersection with Telegraph Road, fails to obey the stop sign and pulled into the intersection to make a left turn, causing the plaintiff to strike his vehicle. Plaintiff's right ankle is broken and requires surgical intervention with hardware. Plaintiff's doctors opine that the condition of her right ankle will deteriorate with time and that she may require a fusion of her ankle in the future. The case settled just before trial, and our client was very pleased with the outcome and the work Miller & Zois did for her.
Hiring a Maryland Lawyer to Fight Your Foot and Ankle Injury Claim
If you have broken your leg in a motor vehicle accident, our Maryland foot and ankle injury lawyers can help you get the compensation you deserve for this painful and challenging injury. Call our attorneys at 800-553-8082 or get a free claim evaluation.