Our law firm handles herniated disc accident cases in Maryland and around the country. Our lawyers have handled hundreds of herniated disc cases and have received national attention for our verdicts. Our attorneys know the science and the medicine of these cases very well.
Below are commonly asked questions about herniated disc injuries caused by car accidents and other trauma. We provide examples of settlements and jury verdicts where the primary injury was a herniated disc as well as sample MRI reports and operative notes. Follow the links below if you have a specific area of interest.

What is a Herniated Disc and How Do Car Accidents Cause Spinal Injuries?
Spinal discs are circles of tissue in between the vertebrae of the spinal column. These discs hold the vertebrae together, assist in motion, and act as shock absorbers between the vertebrae. Structurally, the discs are made up of a tough outer shell that surrounds a liquid center. A metaphor we often use with juries in personal injury cases is that the discs are like jelly donuts. If a disc is injured as the result of trauma in an auto accident, the center may leak out of the disc. This rupture is known as a herniated disc. These are serious injuries that can result in chronic pain or weakness.
If the inner core of the disc extrudes into the spinal canal, it may put pressure on nerve roots, causing pain to radiate throughout the person's body. The pain is not felt in the back, but rather in the areas of the body whose nerves are connected to the area of the spine where the disc herniation is located. Typically, this radicular pain is described as a shooting pain that goes to one area of the body. Where the pain radiates in the body depends on where the disc herniation occurs. It occurs in the leg if the herniation is in the lumbar spine, or lower back, or in the arm if the herniation is in the cervical spine, or neck.
Herniated disc injuries are rarely diagnosed in the emergency room after a motor vehicle accident. This is because the spinal discs are invisible on an x-ray. Accordingly, a patient typically needs a CT scan or magnetic resonance imaging (MRI) test in order to be properly diagnosed. Discography, myelography, and electromyography are also used to diagnose compromised discs.
However, medical experts agree that these diagnostic tests cannot diagnose the amount of pain that the victim is experiencing. Due to the complexity of the spinal column and nervous system, there is no clear-cut correlation between the degree of the herniation and the patient's pain symptoms.
What is the Most Common Type of Herniated Disc Injury from Car Accidents?
The neck, or cervical spine, is the most common location to find a herniated disc as a result of a car accident. In a car accident, most of the body is restrained by the seatbelt. The neck, however, is not restrained, and can whip forward, backward, or sideways, resulting in injury. Specifically, the most commonly injured vertebrae are the C4-C5 and C5-C6 pairs.
Patients who have a C4-C5 injury primarily complain of weakness or pain in the shoulders or deltoids. The C4 and C5 nerves provide motor function to the muscles of the arm and shoulder. A herniated disc in this area often results in nerve root impingement, and when these nerves are compromised, the result is often muscle weakness.
This weakness in the arm and shoulders does not usually cause numbness and tingling. However, some patients do experience these sensations. If the client complains of numbness and tingling with a C4-C5 injury, the doctor evaluating the claim for the insurance company will cite this as evidence that the client is not being forthright and is possibly exaggerating her injuries.
"The cervical spine, or the neck, is the most common place to find a herniated disc after a car accident."
C4-C5 cases have greater value when the victim has a physically demanding job since the injury will affect their ability to work. Good lawyers should be able to position cases well for any victim who has muscle weakness.
In contrast, a C5-C6 injury often causes numbness, tingling, and radiating pain down to or near the patient's thumb. Other symptoms include generalized pain, stiffness, and a restricted range of motion. A C5-C6 injury may also cause weakness in the biceps and the wrist extensor muscles.
With C5-C6 disc injuries, insurance companies will try to minimize the severity of the plaintiff's injury by citing range of motion and foraminal closure, or Spurling, tests. These tests attempt, with various bodily movements, to intentionally provoke the patient's symptoms. A physician may try applying pressure on the top of the head, turning the neck to one side or the other, rotating the neck and pushing down, or applying pressure targeting the bones.
How are Herniated Discs Treated?
The course of treatment for a herniated disc typically begins with a combination of medication to limit inflammation and physical therapy. Sometimes steroid injections are administered to help with swelling and healing. If this initial line of treatment is not successful, there are a variety of surgical options available to treat disc herniation. As a patient receives more expensive and invasive treatment, the value of their case will likely increase.
How Does Having a Pre-Existing Spinal Injury Affect my Herniated Disc Claim?
Pre-existing injuries make these cases more complicated. Pointing a finger at pre-existing degenerative problems with a patient's spine is a favorite tactic of lawyers defending personal injury cases on behalf of insurance companies. Pre-existing spinal conditions include problems such as spinal stenosis, osteoarthritis, and spondylolisthesis. These conditions begin to manifest in many people in their early 30s. Therefore, it must be established that the patient's injuries and pain are not due to the degenerative condition, but to the trauma sustained in the accident.
"Having a pre-existing condition makes it harder, but not impossible, to win a fair personal injury settlement."
Sometimes, plaintiffs have a pre-existing herniated disc or degenerative changes. But, before the accident, their condition was asymptotic, that is, it did not cause any pain, weakness, or other symptoms. In Maryland, there are two jury instructions that apply to this situation, the susceptibility instruction (Maryland Pattern Jury Instruction 10:3) and aggravation of preexisting condition instruction (Maryland Pattern Jury Instruction 10:4). The former says that the fact that an injury would have been less severe if it happened to someone else should not affect the amount of damages a victim is awarded. The latter says that a person with a pre-existing condition is allowed to be awarded damages for the aggravation of that condition. In other words, your condition would have been less severe, and may not have even caused you any pain, if not for the accident.
Most importantly, you must be able to clearly articulate the difference between your condition before the auto accident and your current condition. If there is no difference in your condition after the accident, your chances of getting a substantial recovery diminish dramatically. On the other hand, if there is a notable difference in your pain, way of life, and treatment after the motor vehicle collision that would not have occurred in the absence of the accident, the odds of a quality settlement increase dramatically.
What Does an MRI Reveal and not Reveal About Disc Injuries?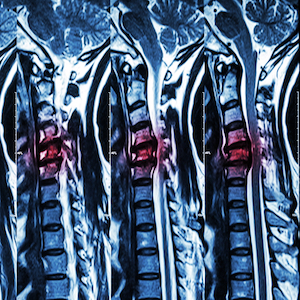 The results of your MRI will be crucial to the settlement value or trial value of your case. Insurance adjusters and defense lawyers will likely spend more time debating the significance of your MRI than any other part of your case. The problem is that two patients with identical MRIs can have completely different symptoms. One may experience little to no pain at all while the other is suffering severe, debilitating pain.
An MRI, which stands for magnetic resonance imaging, is a type of medical imaging that utilizes digital magnetic fields to produce a detailed computer image of the inside of the body. Whereas a traditional x-ray can only show outlines of bone structures, an MRI uses magnets and radio waves to produce a multi-dimensional cross-section of soft tissue. The ability to see soft tissue is critically important to diagnosing a herniated disc.
If you start to experience pain or discomfort after being in a car accident, getting an MRI is a good idea. The first step is to see your primary care doctor or go to an urgent care clinic. If the doctor believes that an MRI might be necessary to diagnose your condition, he or she will write a lab order and refer you to an MRI imaging lab to have the scan done. MRIs are expensive, but the cost should be fully covered if you have health insurance.
"An MRI is critical in the diagnosis of a herniated disc."
If you are young with no prior history of back issues and you start experiencing symptoms right after a car accident, your doctor will have little difficulty concluding that the accident caused your injuries. In cases where this conclusion is less obvious, the results of an MRI scan can sometimes provide definitive evidence that your disc herniation was the result of acute trauma, consistent with a car accident, as opposed to chronic deterioration over time.
If you are looking at your own MRI and see the terms "degenerative," "arthritis," or "spondylosis," the films are showing that your spinal injury occurred over time. Importantly, that does not mean that the symptoms of your injury are not related to the crash. Often, a patient has an asymptomatic herniated disc that becomes symptomatic due to the trauma of the car accident. If you can prove that this is the case by showing the difference in your symptoms before and after the accident, it does not matter if the MRI shows a pre-existing injury.
If someone has experienced multiple traumatic events, it can be a challenge to determine which accident in particular caused the herniated disc injury. Experts cannot determine within a reasonable degree of medical certainty how or when a disc herniation originated solely on the basis of an MRI scan finding. The only way to determine when a disc herniation occurred is by listening to the patient and reading their medical records.
What is the value of These Cases in Maryland Jurisdictions?
Our lawyers have handled hundreds of herniated disc injury cases in Maryland, and we have a good idea of the value of these cases. The average jury verdict in disc cases nationally over the last three years is around $360,000. This average is driven up by a small number of large cases, and the median, middle of the road jury verdict is closer to $80,000.
This video breaks down how herniated disc cases are valued in Maryland by looking not only at the injury, but the specific jurisdictions in Maryland and how that impacts settlement value.
How Much Compensation Will I Get For A Herniated Disc Case?
The median value of a herniated disc injury case in Maryland is around $70,000 to $100,000, depending on the severity. However, the most serious herniated disc injuries can have a typical value in the $250,000 to $350,000 range.
What Impacts The Value Of Herniated Disc Cases?
One of the primary factors that drives the settlement value of herniated disc cases is the severity of the disc injury and level of treatment it requires. There are 3 basic levels of treatment for herniated discs: (1) physical therapy + pain medication; (2) epidural steroid injections; and (3) back surgery. The high the level of treatment the more the injury is worth. Another factor which significantly impacts case value is the age of the plaintiff and whether they had pre-existing back issues. Younger plaintiffs with no history of degenerative back problems tend to get higher settlements.
Is A Herniated Disc Injury Hard To Prove In A Lawsuit?
No. A herniated disc is something that can be accurately diagnosed through either a physical examination or by an MRI. In most cases, whether the plaintiff has a herniated disc is not disputed. The focus is usually on whether the disc herniation was caused by the accident or pre-existing, degenerative conditions.
Herniated Disc Verdicts & Settlements
Below is a list of herniated disc verdicts and settlements. We provide these examples so that victims and lawyers can compare their cases in order to figure out a range of values. Keep in mind that it is hard for anyone to ascertain the value of an individual case without reading and understanding all of the nuances contained in medical records and learning all of the details of the case.
Additional Information and Resources
Hire a Lawyer to Fight for You
At our law firm, we have handled hundreds of herniated disc cases. If you or a loved one were injured in a car, truck, or motorcycle accident, we can help you receive financial compensation. Get a free consultation with our experienced accident injury lawyers by calling 800-553-8082 or by filling out this brief online form.