Our lawyers handle serious herniated disc injury lawsuits in all 50 states. Our attorneys have spent a great deal of time breaking down the expected settlement amount in herniated disc injury lawsuits. We know the science and medicine in disc injury claims and the worth insurance companies and juries place on these cases.
If you have a herniated disc from a car accident, you want to know how much settlement compensation will you receive.
Our herniated disc injury attorneys provide information here to give you a better understanding of the trial payouts and settlement compensation amounts victims receive in car accidents that cause a herniated disc (or make an existing herniated disc worse).
Focus on Compensation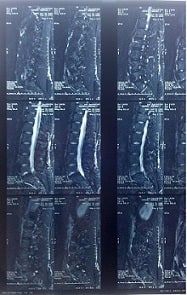 The "compensation payout for my case" question is the most important question victims have. Justice under our system is about money.
No one can take away your injury and your pain. The only compensation you can get for the harms you have endured is money. This country was founded incorporating that very idea. Victims understandably focus their energies on how much money they will get for their suffering.
You will not find the exact value of your claim online. Any personal injury attorney that suggests there is a herniated disc settlement calculator or formula… is all nonsense. There are just too many factors involved to make that prediction. How would you plug in permanent, intense pain in an equation?
Four Factors That Drive Disc Injury Compensation
There are, however, there are four huge variables that drive settlement amounts and jury payouts:
jurisdiction,
insurance company,
the severity of the impact of the crash (property damage),
the strength of the objective injuries.
You use these factors to try to get a range. But there are just too many variables to say that there is some formula you can use to calculate the value of a herniated disc injury case. Again, if you came to the Internet to find a herniated disc settlement calculator that will compute the exact value of your case… it is not happening.
But what our herniated disc injury lawyers can do is give you information to better understand the settlement range of your case. There are two ways to do this: statistics and average jury verdicts and settlements.
Herniated Disc Jury Payout Statistics
The average verdict nationally in herniated disc injury cases is approximately $360,000.
Settlement value often depends on the severity of a victim's symptoms.
There it is. The average payout. But it does virtually nothing for you, particularly in herniated disc cases. Why? Saying you have a herniated disc from an accident can mean a lot of different things. It might tweak you a little bit when you lift something heavy. It also might be a debilitating injury that destroys your life. Those different claims have different settlement amounts.
The take-home message is that two herniated disc injuries that look identical on an MRI may impact victims' lives in completely different ways.
So the average values, which are never particularly instructive anyway, lose almost all meaning. Why do our disc injury lawyers provide it in the first place? People want to see the statistics, even with the caveat that puts the usefulness of the statistic in context. Below are more accurate settlement values that slice the numbers further.
Did/does COVID-19 impact the settlement value of herniated disc injury cases? Our lawyers have anecdotal evidence from other attorneys that insurance companies offered smaller settlement amounts after COVID hit. Because that is what insurance companies do – take advantage. But it is now 2023. Our lawyers have not seen much of a change in how insurance companies value disc injury claims compared to before COVID.
Herniated Disc Settlements Amounts and Jury Payouts
These are settlements and verdicts in herniated disc injury cases around the country.  This is a lot of settlement amounts and jury awards, but you need to review many of these cases to get a better feel for the range of settlement amounts for your case.
Is this a perfect guide for ascertaining your claim's expected settlement compensation payout? Of course not. This does not give you a compensation calculator. But in conjunction with other settlement amount tools, it does help victims and attorneys better understand the range of values for out-of-court resolutions and trials.
It is also important to remember if you have a worker's comp case, the settlement values are different and much likely lower than what you would expect in a personal injury claim.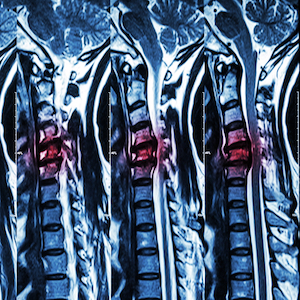 January 2023, California $2,900,000 Verdict The plaintiff was driving south on the freeway when a tractor-trailer driven by the defendant spun out and struck the plaintiff's vehicle. The plaintiff suffered multiple lumbar disc herniations which required surgery. She also presented evidence suggesting that further surgery was recommended in the future. The jury awarded $200,000 for past medical expenses, $1,300,000 for future medical expenses, and $1,400,000 for pain and suffering.
December 2022, Oregon $350,000 Verdict The plaintiff, a 25-year-old female, was stopped at a red light when she was rear-ended. The plaintiff's injuries included a herniated disc in the lumbar spine requiring surgery. Neck and back injuries with myofascitis and muscle spasms, and post-traumatic headaches. She got a policy limit settlement from the at-fault driver, then pursued UIM damages. The jury award included $135,000 in economic damages and $215,000 in non-economic damages.
December 2022, New Jersey $2.6 Million Verdict A Middlesex man suffered a C5-C6 herniated disc. His pickup truck was hit by a wheel that came loose from another vehicle. He turned down a $475,000 pretrial settlement offer and received a $2.6 million verdict.
December 2020, Missouri: $435,849 Settlement A 34-year-old woman was in a transit bus that was rear-ended by another transit bus. She suffered C4-5 and C5-6 herniations with radiculopathy. She underwent physical therapy and pain management for two years. Finally, she turned to surgery. She underwent a cervical discectomy and fusion. Ultimately, her lawyers got her what seems to be a reasonable cervical spine injury settlement.
November 2020, Mississippi: $639,000 Verdict A 70-year-old man was broadsided by a tractor-trailer on a highway. He suffered a C4-5 herniation, a torn rotator cuff, and chest wall bruising. He received relatively conservative treatment: physical therapy and steroid injections when PT did not provide relief. His neurosurgeon testified at trial that he would need a cervical fusion and a shoulder repair in the future, which clearly helped drive the verdict.
October 2020, New York: $50,000 Verdict A 29-year-old vehicle passenger was involved in a T-bone collision. He suffered cervical and lumbar herniations with impingement, radiculopathy, lumbar disc bulges, and right quadriceps tendon tear. He was out of work for nine months. But this case and the last case underscore the challenges in valuing these cases just based on a few facts. This case with a younger plaintiff – which usually helps push settlement values higher – had less than one-tenth of the result.
October 2020, New York: $20,000 Verdict A 53-year-old pedestrian was struck at a crosswalk. He suffered multiple disc herniations, a disc bulge, and a right foot fracture. He underwent chiropractic and physical therapy for five months. He said his pain continued after treatment, but the jury was not buying it.
October 2020, New York: $2,000,000 Bench Verdict A taxi passenger was involved in a single-vehicle accident. She suffered cervical disc herniations with radiculopathy, annular tears, and stage 4 kidney failure. The woman alleged that the taxi driver's negligent control of his vehicle caused her injuries. She made a vicarious liability claim against the taxi company. The woman received a $2,000,000 bench verdict (a bench verdict is an award from the judge instead of a jury). We hesitated to include this case because the most significant injury was stage 4 kidney failure.
May 2020, California: $1,250,000 Settlement A man was broadsided by an on-duty police officer who had turned left out of a school parking lot. He suffered a sternum fracture, cervical disc herniations, an L5-S1 herniation, and shoulder impingements. The man underwent a cervical discectomy and a lumbar spinal fusion.
March 2020, Illinois: $1,000,000 Settlement. Plaintiff is a front-seat passenger hit on his side by the defendant, who did not see the stop sign. An untrimmed brush blocked the defendant's view. He suffered an annular tear and herniated disc that led to two surgeries. The defendant settled for $895,000, and the municipality that did not trim the brush chipped in $105,000.
November 2019, New York: $13,920,850.74 Verdict. This story is about how an appellate court can steal a fair, honest verdict. The plaintiff is pulled over and given a ticket. After he gets the ticket, he is hit from behind by a bus while still on the shoulder of the road. The plaintiff suffers from multiple neck and back herniated discs with radiculopathy and myelopathy. He gets an anterior cervical discectomy and fusion surgery. A few years later, he needs a laminectomy to place a spinal cord stimulator. None of this solved his chronic and severe pain. His doctor testified that he would require yet another procedure requiring inserting a plate and screws in his spine. Still, a New York appellate court – who, of course, did not see the trial – decided the verdict was excessive and sent it back to the trial court.
April 2019, Texas: $247,464 Verdict Defendant fails to yield the right-of-way at a traffic circle and causes a collision with the plaintiff, who was already driving in the circle. Plaintiff driver claims injuries to his neck and back, including C4-5 cervical disc herniation, T7- 8 lumbar disc herniation, and lumbar disc herniation at L4-5. His female passenger also sues, alleging disc herniations in her neck. The jury awards the plaintiff driver $25,000 in past pain and suffering and $23,652.87 in past medicals. The passenger was awarded $140,000 in past and future pain and suffering and $58,810.65 in past medical expenses. The total verdict was $247,463.
March 2019, Florida: $266,839 Verdict A man is driving through a busy intersection when another motorist strikes him. He herniates a disc at C3-C4 as a result of the accident. The defendant denies liability, and his lawyers put on the "he is not hurt that bad" defense. The case goes to trial, and the jury finds the defendant 61% at fault for the accident and awards $156k for past medicals and $110k for future medicals and total damages of $266,000.  Another example of an insurance company's herniated disc settlement calculator going awry.
January 2018, Florida: $660,000 Verdict Plaintiff gets broadsided by a delivery truck at a busy intersection in Jacksonville. An MRI shows cervical herniations which require anterior discectomy fusion and plating (ACDF) at two levels of his cervical spine. This surgery requires the surgeon to enter through the throat to operate on multiple discs. This is an important element of compensation in these cases. Like most motor vehicle accident cases, the defendant accepts responsibility for the crash. The fight is over the extent of the plaintiff's injuries. There always is a doctor the insurance company can find who will tell the jury that the victim is fine now or the neck and back pain is from another cause. Thankfully, the jury does not buy this defense. They find the plaintiff's injuries are permanent and award $660,000 in damages.
August 2017, Florida: $70,000 Verdict The plaintiff is violently rear-ended by the defendant after coming to a stop at an intersection in Broward County. She suffers various neck and back injuries including a cervical disc herniation with continuing neck pain and bilateral hand numbness and tingling. Defendant claims that the disc herniation pain and numbness were instead from a degenerative condition. (This is another very common defense argument. Because so many of us have degenerative changes in our disc that we do not even know we have.) The case goes to trial. In this case, the jury seems to buy the defendant's argument and awards only $40,000 in damages.
May 2017, Michigan: $329,000 Verdict Plaintiff collides with Defendant at an intersection and suffers disc herniations and annular tears. He undergoes facet rhizotomy (a procedure that uses a radiofrequency probe to destroy some of the nearby nerve fibers along the vertebra causing severe pain) to both his lumbar and cervical spine. The defense claims that his injuries are non-permanent. The jury clearly views the injuries as permanent and awards damages of $329,000.
April 2017, Florida $16,000 Verdict Plaintiff is hit in a side-impact collision after the defendant fails to yield in downtown Miami. Alleged injuries include a herniated cervical disc and a fractured rib. Defendant admits fault but disputes the extent of the damages and claims they are attributable to pre-existing conditions. The jury finds the injuries are non-permanent and only awards $16,0oo.
January 2016, Florida: $581,458 Verdict Defendant takes a left-hand turn in front of the plaintiff. He herniates two cervical discs at C5-6 and C6-7 in the crash. He receives physical therapy, and chiropractic treatment and is expected to need future surgery. The jury awarded $232,000 for pain and suffering. The rest of the damages were for his past and future medical bills and lost wages. Looking through the prism of economic losses versus pain and suffering, it is surprising the jury did not award more money.
January 2016, Illinois: $421,456 Verdict A 50-year-old male slipped and fell on a wet floor at a Ford dealer. He tore the meniscus in his knee and herniated the disc at C5-C6. The jury found the Plaintiff 5% at fault for his injuries. This reduced the award to $400,353.
February 2015, Missouri: $143,000 Verdict A woman was hit by an uninsured driver and suffered a herniated disc. She hires a herniated disc injury lawyer and brings an uninsured motorist claim against Cornerstone National Insurance. She also brought a claim of vexatious refusal to pay (a cause of action our attorneys wish we had in Maryland). The jury awarded $100,000 on her claim for her injury claim and also awarded $33,000 in attorneys' fees and $10,000 for Cornerstone's failure to make payment when they should have.
June 2014, New Jersey: $800,000 Settlement A man slipped and fell in a food court in Edgewater. He injured his knee and his lower back. He was treated and discharged from a local ER. The man then sought treatment with an orthopedist shortly after that. He was treated for a torn right knee meniscus and disc herniation in his back. He underwent arthroscopic surgery three months later and then a lumbar fusion for the disc herniation the following year. He sued the market owner and the company responsible for cleaning and maintaining the market. The victim claimed that accumulated water created a dangerous condition that the defendants should have known about. The parties agreed to settle during mediation for $800,000.
April 2014, New York: $1,500,000 Settlement A 51-year-old pedestrian was crossing the street and was struck by a vehicle making a left turn. Despite the pain in her knees, back, neck, and shoulder, she waited two days to see a doctor. (Insurance company lawyers will bang you over the head with delays in seeking treatment.) She was diagnosed with two cervical avulsion fractures, ligament tears in her knee and shoulder, lumbar and cervical disc herniations, and lumbar disc bulges. Her injuries required months of physical therapy as well as a cervical fusion. She filed a lawsuit against the driver for negligence and failure to maintain proper caution while turning. The defendant had fled the scene when a fire truck arrived because she said she did not hit the plaintiff. Her insurance company apparently disagreed and settled the case for $1.5 million.
March 2014, New York: $1,350,000 Settlement A 30-year-old man entered an elevator of his apartment building in Queens when the ceiling hatch door fell on him. He was taken by ambulance and treated for pain in his back, head, and neck. He was diagnosed with neck and back disc herniations that required over 18 months of physical therapy as well as a spinal fusion. He sued the premises' manager and the elevator company for negligent care and maintenance of the elevator. The plaintiff's lawyers argued the defendants created a dangerous condition by not properly securing the hatch door after recent repair work. The defendants both denied negligence, claiming the repairman did not do anything that would have caused the door to fall. The parties settled before trial for $1,350,000.
January 2014, Florida: $1,300,000 Settlement A 50-year-old woman was driving on a perimeter road near the parking lot at Palm Beach Gardens Mall when a driver attempting to leave the lot struck the front, driver's side of her vehicle. She was taken by ambulance to a local hospital where she was treated for pain in her left shoulder, neck, back, and both wrists. She was referred to an orthopedist. Diagnostic tests revealed herniated lumbar and cervical discs, a torn rotator cuff in her left shoulder, and aggravation of pre-existing carpal tunnel. She underwent 16 months of physical therapy. She sued the driver for negligence, claiming that he failed to maintain a proper lookout while attempting to exit the parking lot. The defendant's attorney argued the accident victim had a kidney transplant operation before the accident and that some of her physical problems were related to her long-standing kidney failure issues. The insurance company eventually caved and paid $1.3 million.
January 2014, Georgia: $100,000 Settlement A 45-year-old woman was attempting to make a left turn from Georgia Highway 154 onto Highway 34 one evening when a vehicle traveling in the opposite direction collided with her vehicle. She sought treatment for back and neck pain and was diagnosed with cervical disc herniations that required three epidural injections. Her treating doctors recommended fusion surgery, but she did not have any insurance. She sued the driver of the vehicle for negligence as well as her insurance carrier, AMICA Mutual Insurance, for underinsured motorist benefits. Plaintiff claimed the at-fault driver did not have his headlights activated before the collision and had sped up to the intersection after exiting at a nearby gas station. A police officer who witnessed the collision corroborated the victim's account. Defendant AMICA argued the extent of the plaintiff's injuries, claiming the plaintiff suffered from pre-existing degenerative conditions that were unrelated to the accident. Both parties agreed to settle with the plaintiff for a combined $100,000 recovery.
January 2014, New Jersey: $1,625,000 Settlement A tractor-trailer on Interstate 80 rear-ended a 40-year-old delivery truck driver. He was taken by ambulance to Hackettstown Regional Medical Center where he received medical attention for back and neck pain. He was referred to an orthopedist who diagnosed him with cervical and lumbar disc herniations. He underwent months of pain management, a total of six epidural injections, and a bi-level decompression fusion surgery. He sued the driver of the tractor-trailer and his employer for negligence, claiming that due to the driver's negligence, he is unable to work. The trucking company had no real defense and agreed to a pre-trial settlement of $1.625 million.
January 2014, New York: $60,000 A 55-year-old hairstylist was a passenger in a vehicle that was rear-ended on the Bronx River Parkway. She was treated for intervertebral disc herniation, cervical bulges, and a tendon tear in her right shoulder. She underwent arthroscopic surgery on her right shoulder and over eight months of chiropractic treatment. She sued the driver for negligence, claiming that due to her injuries, she was unable to work for ten weeks, and consistently suffers residual pain and limitations. The defendants did not deny liability but argued that this was a minimum-impact case. Plaintiff obviously believed there was some merit to the argument because the case settled for only $60,000.

Frequently Asked Herniated Disc Injury Value Questions
Our attorneys get a lot of questions from victims and other attorneys about the settlement value of herniated disc injury cases. Here are some of those questions.
What Are the Most Contentious Issues in a Herniated Disc Injury Claim?
The litigation battlefield in a disc injury case typically involves two issues. The first is whether the herniated disc is the direct result of the motor vehicle crash at issue. The second is the amount of pain and limitation that the herniated disc injury causes the plaintiff.
Can I Still Get a Settlement If the Crash Made My Preexisting Herniated Disc Injury Worse?
Even if the plaintiff's medical experts concede that the patient suffered a herniated disc before the crash, the plaintiff is still entitled to recovery if the crash made the injury worse.
The best exacerbation of injury lawsuits usually involves the plaintiff's treating doctor offering this opinion and giving a well-articulated explanation for why the crash dramatically changed the plaintiff's pain and mobility. That is a common theme in the disc injury cases our personal injury lawyers often take on for victims.
What Is the Most Money Your Law Firm has Ever Recovered in a Case Where the Primary Injury Was a Herniated Disc?
The most our law firm has recovered in a primary injury herniated disc injury case was a $1.35 million settlement in a truck accident case.
What Is the Average Compensation Payout for a Herniated Disc Injury?
The median compensation payout for a herniated disc injury is between $80,000 to $150,000. Very serious herniated disc injuries (involving major complications) can be worth more than twice this amount.
Remember, we are talking about civil personal injury claims. Victims can expect the average settlement for a workers comp disc injury to be much lower. Most states do not allow for pain and suffering damages in a worker's compensation claim which is the bigger harm to our clients in most claims.
What Are the Most Common Disc Injuries?
Our disc injury cases our lawyers most commonly see in accident cases are the same ones that are most commonly seen in the general population. Most lumbar disc injuries are at L4-L5 or L5-S1 and most cervical disc injuries are at C5 and C6 and C6 and C7.
Is There a Difference Between a Bulging Disc and a Herniated Disc?
A bulging disc and a herniated disc are two similar but different types of spinal disc injuries that can cause pain and discomfort. A bulging disc occurs when the outer layer of the disc weakens or degenerates, causing it to bulge outward. This can result in pressure on the spinal cord or nerves, leading to pain, tingling, or numbness. A bulging disc can be thought of as a "protrusion" or "bulge" in the disc.
A herniated disc is different because the injury when the inner layer of the disc ruptures through the outer layer and protrudes into the spinal canal. This can put severe pressure on the spinal cord or nerves, leading to more intense pain, weakness, or loss of sensation. A herniated disc can be thought of as a "rupture" or "tear" in the disc.
Herniated Disc Injury Medical Literature
Herniated disc cases rely on experts who, in turn, rely on the best medical literature. Here are some of the key journal articles dealing with spinal disc herniations:
Required Reading on the Settlement Value of Herniated Disc Cases
Hiring a Herniated Disc Injury Attorney
Our lawyers handle herniated disc injury claims throughout the country, working with the best lawyers in your state to maximize the compensation our client receives. We are pay-for-performance lawyers. Our law firm only gets paid if we earn compensation for you.  When we hire lawyers in your jurisdiction to support us, we pay their attorneys' fees.  So you do not pay more money for having two firms represent you.
If you have a disc injury claim and are looking for the best team of lawyers to increase your compensation, call our attorneys at 800-553-8082 or get a free consultation.