Annular Tear Injury Claims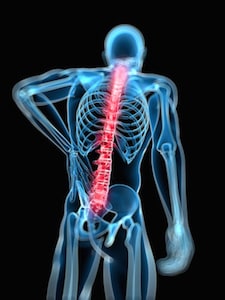 Back and neck injuries are incredibly common in car accident cases. you have heard of plenty of car accident cases involving whiplash, herniated discs, and pinched nerves.
One of the lesser-known injuries is an annular tear. While still somewhat common, the annular tear is often more serious than some of the injuries mentioned above, typically producing more pain than your "average" disc injury. Our car accident lawyers handle annular tear personal injury cases.
Understanding an Annular Tear
To fully appreciate the science behind an annular tear, we need a recap of some basic spinal anatomy. The spinal cord is made up of circular bones called vertebrae. Between each vertebra, there is a ligament called the intervertebral disc.
This ligament has a tissue center known as the nucleus pulposus, which is covered by annulus fibrosis. Think of this as the shield that protects the soft inner core of the disc, which also happens to connect the vertebrae above and below the disc.
An annular tear develops when the annulus fibrosis ruptures or rips. When a puncture in the annulus fibrosis occurs, the material that it encases leaks out into the spine and comes into contact with nearby nerves. So an annular tear is a tear in the tough outer coating of the disk, the lamellae (the rings of the disc), and its passageway for the gelatinous materials in the center of the disc.
This produces extreme pain around the back that causes a condition known as Internal Disc Disruption. The amount of material that escapes is typically determinative of how painful and serious the resulting injury will be. If the internal nucleus breaks all the way through, a disc herniation is the usual result.
Annular tears are painful because they elicit an inflammatory response and stimulate the pain fibers that are attached to the annulus. Annular tears are also known to release chemical factors. There is also a protein that's released with an annular tear. That protein can cause a chemical irritation of those nerve fibers.
But that is the rub with annular tears that sometimes makes annular tears lawsuits challenging. Our lawyers have also had clients who suffered a tear that had no pain. So as painful as these injuries can be, some people have no pain on complications whatsoever. This requires educating the insurance adjuster, defense lawyers, and sometimes juries on how some annular tears are extremely painful.
An annular tear can also progress to a herniated disc. That statement makes it seem that an annular tear is a less painful and problematic version of a herniated disc.
But an annular tear can be far more challenging to a patient that some herniated disc can be. The big problem with annular tears is that while they can heal, that area of the disc is not well vascularized. This lack of blood and oxygenation makes healing more of a challenge.
Diagnosing and Treating and Annular Tear
After a car accident, back pain is fairly common, so it is difficult to tell the extent and scope of the injuries. One of the main signs pointing to an annular tear is back pain without leg pain that only gets worse when sitting. But an annular tear is just a possibility.
A discogram is typically utilized to confirm whether an annular tear is indeed the cause of the pain. While typical MRIs and other imaging tests can prove inconclusive, a discogram is much more focused. Instead of relying upon imaging alone, a discogram actually utilizes dye injected into the disc to see whether there is any seepage from a tear. This is far more conclusive, enabling doctors to more easily identify a tear.
But here is the thing: it is still hard to diagnose even when you have an MRI and a discogram. It is really hard to see and experienced radiologists and orthopedic surgeons just miss them. Dr. Michael Brown wrote an article on the challenges in dealing with annular tears. He says: "The annular tear or fissure represents one of the most misunderstood conditions and under-diagnosed conditions in low back pain patients."
When doctors are sure that patients have suffered an annular tear, surgery is an option. But it is typically not the first option. Nonsurgical means such as physical therapy and pain management are first employed. Steroids and hydrotherapy can also be effective when treating an annular tear, but should those options fail, surgery may be the only option.
How Annular Tears Happen and What To Do After an Injury?
Annular tears stem from a number of causes, including sitting for prolonged periods and contact sports. But you are far more likely to receive such an injury in a car crash. Violent car crashes often produce serious back injuries. It is also not unusual for people to have a preexisting annular tear that is exacerbated by a motor vehicle accident.
An annular tear, while uncommon, can produce debilitating pain and a mountain of medical bills. If you think that you received an annular tear in a car accident, it is vital to seek medical treatment immediately. Only a doctor can tell for sure whether you actually suffered such an injury.
If the accident in which you suffered the tear resulted from the negligence of someone else, you might be able to pursue a claim against the negligent party to recoup the costs of your medical bills, pain, and missed work.
What is the Average Settlement Value for an Annular Tear Injury?
The average settlement value for an annular tear injury in Maryland is around $30,000 to $70,000, depending on the severity. However, the most serious annular tear cases can have a settlement value three times higher or even more.
What Impacts the Value of Annular Tear Cases?
The factors that have the greatest impact on case value are the severity of the annular tear injury and the credibility of the plaintiff. More severe annular tear injuries can involve chronic pain and extensive medical treatment. These cases always have a higher value. However, the level of pain and discomfort is somewhat subjective. So the credibility of the plaintiff plays a large role in how much the case may be worth.
Are Annular Tear Injuries Common in Auto Accident Cases?
An annular tear is not a common type of injury in any setting. However, auto accidents are probably one of the leading causes of all annular tear injuries. The impact force of a car accident can cause the annulus fibrosis in the spine to rupture which is what leads to annular tear injuries.
Sample Annular Tear Cases
We took a look at some sample verdicts for annular tear cases to give you an idea of how juries react to these injuries. Remember, these are just sample verdicts that try to summarize a million variables in a short paragraph. So even a perfect match with your case will not predict the value of your claim. Still, these are instructive.
2020, New York: $1.1 Million Verdict: A woman was rear-ended by an ambulette. She suffered a C6-7 annular tear and C3-4, C4-5, C5-6, and C6-7 herniations and bulges. The woman alleged that the ambulette driver's negligent driving caused her injuries. A jury awarded her $1.1 million.
2020, Florida: $516,905 Verdict: A 58-year-old woman was rear-ended. She suffered lumbar disc bulges, herniations, and annular tears. The woman alleged that the other driver's negligence caused these injuries. The other driver admitted liability but disputed the severity of her injuries A jury awarded $516,905.
2020, Illinois: $125,732 Verdict: A man was rear-ended on an interstate highway. He suffered a right annular tear, C5-6 and C6-7 bulges, cervical and lumbar radiculopathy. The man also suffered post-concussion syndrome, headaches, blurred vision, and anxiety. He claimed the other driver excessively sped and failed to watch for other vehicles. The defense admitted causing the man's injuries but disputed the severity. A jury awarded $125,732.
2020, Washington: $100,000 Arbitration Award: A 64-year-old woman was rear-ended. She suffered a right lumbar annular tear and cervical and lumbar strains. The woman claimed permanent injuries. She underwent 10 months of medical treatment. Following arbitration, the woman received $100,000.
2019, New Jersey: $75,000 Verdict: A man was sideswiped. He suffered a C4-5 herniation and annular tear and the aggravation of her pre-existing C5-6 herniation. The man alleged that the other driver's negligent lane change caused his injuries. A jury awarded $75,000.
2019, Louisiana: $801,872 Verdict: A woman was T-boned at an uncontrolled intersection. She suffered a displaced lumbar disc, cervical spondylosis, cervical radiculopathy, a lumbar annular tear, and lumbar radiculopathy. The woman alleged that the other driver's failure to yield the right-of-way caused her injuries. The defense disputed the claimed injuries. A jury awarded $801,872.
2019, Maryland: $1.1 Million Verdict: The plaintiff is driving home from work on Route 925 in Waldorf. The defendant takes a left-hand turn into her driveway in front of the plaintiff. At trial, the plaintiff's attorney called an expert who described the victim's L4-L5 annular tear a "pain generator." The expert explained, like we talked about above, the problem of the limited blood supply in heal the tear in that area. The plaintiff's lawyer did not put on evidence of plaintiff's medical bills, probably because they were not particularly high.
2018, Oregon: $104,501 Verdict: A woman was T-boned. She suffered a cervical annular tear, a protruding cervical disc, C4-7 impingement, cervical radiculopathy, and soft-tissue cervical and lumbar injuries. The woman alleged that the other driver's failure to yield the right-of-way caused her injuries. The defense admitted liability but claimed comparative negligence. A jury found the woman 25 percent at fault and the tortfeasor 75 percent at fault. They awarded $104,501.
2017, Indiana: $2.75 Million Verdict: A 23-year-old man was rear-ended. He suffered an annular tear, a S1 disc bulge, and emotional distress. The man claimed permanent injuries. He alleged that the other driver's negligent driving caused them. The defense admitted liability but disputed the claimed injuries. They argued he had pre-existing spinal problems. A jury awarded the man $2.75 million.
2016, California: $350,000 Settlement: Two pedestrians, a pregnant woman, and her 2-year-old son, were struck at a crosswalk. The incident resulted in a premature delivery. The woman also suffered an L4-5 annular tear, lumbar desiccation, L5-S1 bulging, neuropathic pain, and anxiety. Her premature newborn sustained tachypnea and developed asthma. The 2-year-old boy suffered emotional distress. The woman alleged that the other driver's negligent driving caused her and her children's injuries. She also made a vicarious liability claim against the other driver's employer, a school district. This case settled for $350,000.
2015, Maryland: $560,000. This was a left turn accident case where our client did not have immediate back problems after the crash. Classic annular tear case because no one could find the source of the woman's pain until after the lawsuit was filed. An annular tear can be hard to read. It also is hard to get insurance companies to buy into the case until they have sifted through all of the evidence. The insurance company made no offer until 10 days before the trial. The take-home message: it is going to be really hard to settle an annular tear case before trial. Sure, you see a $1.25 million settlement below. But that is an annular tear where the client had surgeries. In this case, our client just had conservative treatment. Miller & Zois handled this case.
2015, Pennsylvania: $75,000 Verdict. A 27-year-old woman is driving in Southwest Philadelphia. She pulls up to a red light and stops when she is suddenly struck from behind. She presents to the emergency room, complaining of pain in her back and neck. Soon after, she is diagnosed with various disc herniations and an annular tear. Her course of care is fairly limited considering that she has a high-risk pregnancy. But the annular tear is so severe that surgery is really the only option to adequately address the issue. The driver that caused the crash is uninsured, so the woman makes a claim against her uninsured carrier. They contest the extent of the injuries, claiming that the woman's course of treatment was dragged out and unnecessary at times. Still, the jury disagrees and awards the woman $75,000. That number is reduced to $15,000 to reflect the limits of her policy. The lesson here is that you can get in trouble if you are badly hurt and do not have a good uninsured motorist policy.
2014, Maryland: $59,758 Verdict. A corporate bid contractor is driving in Prince George's County. She drives through an intersection when a car making a right turn suddenly pulls out in front of her. She cannot avoid the car and strikes it. It was a moderate impact, but the woman goes to the ER for back pain. She is diagnosed with an annular tear, which requires physical therapy and epidurals. She sues the other driver after missing a week of work. After admitting liability, the defendant contests the degree of treatment that the woman received, claiming that it was unnecessary. The jury ends up awarding the plaintiff $59,758 ($32,000 of which was medical expenses).
2012, Maryland:$70,389 Verdict. While pulling off the exit ramp of Route 50 in Anne Arundel County, a woman is rear-ended by another vehicle. She suffers from a myriad of lumbar injuries, including an annular tear. She seeks emergency treatment and undergoes a round of epidurals. After the first accident, the woman then gets into another accident, which allegedly aggravates the injuries. She sues the driver who rear-ended her in the first accident and settles for his policy limits. She then sues her underinsured carrier, State Farm, who suggests that she does not actually have an annular tear. They also suggest that the treatment sought after the second accident was unrelated to the first. After claiming $40,000 in medicals, the jury awards her $70,389.
2012, Virginia: $1,250,000 Settlement. Two drivers are both approaching an intersection from perpendicular streets. The plaintiff in the case is driving approximately ten miles an hour over the speed limit, but the defendant fails to stop at the stop sign and collides with the speeding plaintiff. The collision is substantial, and it leads to annular tearing and aggravation of a previous spinal condition for the plaintiff. He has to receive diskectomies and multiple spinal fusions to address his conditions. He sues the other driver, who admits liability, but contests whether the annular tear was actually a result of this accident. The plaintiff's surgeon opines that the tear resulted from this accident, while the defense expert suggests otherwise. The plaintiff also claims that he is now disabled and cannot obtain employment as a result of the crash. Before trial, the parties settle for $1,250,000.
Remember that these are all personal injury car accident cases involving a negligent driver backed by insurance. A workers' comp settlement for a similar case will not look like these numbers because comp claims rarely pay as much as you would get in a car accident case.
Contact Us
If you or a loved one was in a car accident and sustained an annular tear, we understand these injuries and how to fight for victims who have suffered this injury in a motor vehicle crash. Call 800-553-8082 or get a free online consultation and talk to a lawyer today.
Our law practice is based in Maryland and the majority of our claims are in Maryland. In disability injury cases, we sometimes take cases outside of Maryland.
Annular Tear Medical Literature
Langlais, T, et. al (2019) Biomechanics and Modeling in Mechanobiology volume 18, pages 1979–86(2019). This article discusses a new non-evasive way using an ultrasound to assess for the structural alterations of annular tears. This 2018 article has a similar finding.
Jin L, et. al (2014): Annulus fibrosus cell characteristics are a potential source of intervertebral disc pathogenesis, PLoS One 2014; 9: e96519. This study looked at possible future therapies that include the targeting of progenitor cell stabilization or by maintaining the capability for undifferentiated self-renewal (a challenge given the lack of blood).
Osti OL, et. al (1992): Annular tears and disc degeneration in the lumbar spine. A post-mortem study of 135 discs. J Bone Joint Surg Br 1992;74:678–82. This often-cited article on annular tears has been relied upon by medical experts for years in annular tear cases. This study found that annular tears can often accelerate the degeneration of a disc which can cause discogenic pain in the patient.