Our Maryland surgical malpractice lawyers handle surgery error lawsuits against Maryland hospitals and Maryland surgeons who have negligently caused injury to a patient during surgery.
Maryland has many great surgeons. Some of the best surgeons in the world perform surgery every day in Maryland hospitals. But some exceptions often lead to exceptional surgical errors. If you have been a victim of surgical malpractice, you can seek compensation for the harm that was caused.
Surgical Malpractice Lawsuits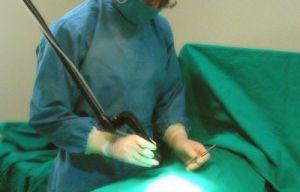 Nearly one half of medical malpractice lawsuits involve surgical malpractice. The statistics bear this out. The Agency for Healthcare Research and Quality found in a study last year that surgical errors cost our country approximately 41.5 billion every year and that 1 in 10 patients who die within 90 days of surgery did so the result of a medical error that could have been prevented.
The Institute of Medicine estimate was even higher: $2 billion. More importantly, the IOM report estimated 7,000 surgical deaths annually in the United States.
How Bad Does the Mistake Have to Be for a Surgical Malpractice Lawsuit?
Surgeons, like any doctor, must exercise the degree of care and skill that a surgeon of the same medical specialty should use given the circumstances. In other words, doctors have to do what a reasonable doctor should do.
It is also important that the mistake is related to the patient's injuries. Surgeons make many insignificant errors during an operation that cause no real harm. But if you have a mistake that should not have been made and that error causes a surgical malpractice accident that leads to serious injury or death, you have a viable malpractice claim.
What Are My Chances of Winning a Surgical Error Malpractice Suit in Maryland?
Somewhere between 75% and 85% of surgical error malpractice cases get resolved in a pre-trial settlement. This is a slightly higher average than medical malpractice cases in general. It means that 3 out of every 4 plaintiffs who file a surgical error case, end up getting money.
If your surgical malpractice case goes all the way to trial, your chances of winning drop down to about 30%. (The success rate for our surgical malpractice lawyers is much higher.)
The take-home message? Most viable surgical malpractice cases settle before trial.
What Is the Average Settlement for a Surgical Malpractice Lawsuit in Maryland?
Nationally, the average settlement payout (settlements and verdicts) in a surgical malpractice lawsuit is around $280,000. Our Maryland malpractice lawyers believe the average compensation in surgical error malpractice cases in Maryland (particularly in Baltimore City or P.G. County) is higher than the national average.
What Is the Maryland Statute of Limitations on Surgical Malpractice?
Maryland's statute of limitations on a claim for surgical malpractice is generally 3 years. The 3 year period begins to run from the date that the plaintiff discovered (or should have discovered) the injury resulting from the malpractice. See Md. Code Ann., Cts. & Jud. Proc. § 5-109. In most surgical error cases, the statute of limitations begins to run from the date of the surgery.
How Do You Prove Surgical Malpractice in Maryland?
A claim of medical malpractice must be proven by presenting expert opinion testimony from other doctors. The plaintiff in a medical malpractice case needs to find another doctor that is willing to testify that the defendant was negligent and breached the standard of medical care.
How to Find Out If You Have a Surgical Malpractice Lawsuit
If you or someone you love has been the victim of a surgical accident on the operating table, you need a lawyer you can trust to fight for you. If you call our law firm, we will investigate your case. If our lawyers find that you have a viable malpractice case, we will retain the medical experts required to testify on your behalf to put you in a position for success either by settlement or at trial.
There are many different types of surgical error cases in Maryland. Some errors are painfully obvious: if the surgeon is supposed to operate on the patient's left leg and the surgeon operates on the right leg, that is pretty clear. But not every case is as facile as a wrong-site surgery case.
Regrettably, for surgical error lawyers representing victims, most cases are far more nuanced. Not every mistake is medical malpractice. Our malpractice lawyers' job to sort through these claims to determine whether there is a possible malpractice case associated with the injury.
The most common surgical mistakes include:
Surgical Malpractice Settlements and Verdicts
Below are settlements and verdicts in surgical medical malpractice cases in Maryland in recent years. These verdicts can help you in your effort to compute the money damages you might receive for your case in a settlement or verdict.
But they are just one weapon in your toolbox to better understand the value of you or your client's claim. You cannot use similar cases to calculate the exact settlement or trial value of your case. Jurisdictional differences, caps on non-economic damages, and a host of other factors make it impossible to compare one case to another and calculate the true settlement value of a claim.
2022: District of Maryland (Federal) $14,200,000 Verdict: An infant had surgery to place ear tubes to reduce infections and to remove his adenoid glands to improve breathing problems.  During the procedure, the child's heart rate rose and was struggling to breathe.  The doctors continued forward and the child suffered an 11-minute cardiac arrest which led to a lack of oxygen in his brain.  As a result, he is largely nonverbal and needs a wheelchair.  He requires round-the-clock nursing care. His life expectancy is reduced to 21 years. A federal judge awarded the family $14.2 million.
2019: Montgomery County, Maryland $2,000,000 Verdict: An orthopedic surgeon performed double-sided spinal fusion surgery on plaintiff, a 64-year-old female. Surgery resulted in serious complications due to scar tissue on the right side of the plaintiff's back leftover from similar surgery the year before. The post-surgical complications left the plaintiff unable to walk and permanently partially disabled. She sued the defendant. Her surgical malpractice suit alleged that he should have never performed the double-sided procedure in light of the plaintiff's prior surgery the year before. The defendant insisted that his decision to perform the procedure was medically appropriate based on the circumstances. The suit went to trial in Montgomery County and the jury awarded $2 million in damages.
2019: Baltimore City, Maryland: $3,636,000 Verdict: A 54-year-old man had a bowel obstruction and underwent laparoscopic bowel resection at Bon Secours Hospital in Baltimore. The surgery went very badly and left the plaintiff bedridden for months. He developed bed sores that led to serious complications including sepsis, hypotension, and hypoxemia eventually resulting in the amputation of several of his toes. He sued the hospital and the general surgeon alleging that they were negligent in proceeding with the surgery even after the nasogastric (NG) tube became dislodged. The surgical malpractice lawsuit also alleged they should have known that contraindicated doses of lactulose and magnesium citrate had been administered to the before surgery. Defendants denied any wrongdoing and accused the plaintiff of pulling the NG tube out himself. A jury in Baltimore City dismissed that defense and awarded $3.6 million in damages.
2018: Baltimore County, Maryland $500,000 Verdict: Miller & Zois client was undergoing gallbladder surgery to have stones removed. During the procedure defendant surgeon inadvertently cut into our client's bile duct. His perforated bile duct had to be surgically reconstructed. We argued that the surgery was not medically necessary and was performed negligently. Defense counsel insisted that the surgery was done properly and suggested that our client's injury occurred after the operation. They also implictly argued he was not that badly hurt. How much could the case be worth if he made such a full recovery? The jury in Baltimore County awarded our client $500,000.
2018: Baltimore City, Maryland $800,000 Verdict: plaintiff had previously had lap band system surgically implanted to help with weight control. She went to defendant surgeon to have lap band surgically removed but he botched the procedure and accidentally left six inches of tubing inside of her body. As a result of the mistake, the plaintiff suffered severe abdominal pain, bowel obstruction and had to undergo further surgery. Defendant denied negligence and claimed that plaintiff suffered little or no injuries as a result. The jury returned a verdict of $800,000.
2016: Baltimore County, Maryland $1.5 Million Verdict. A doctor fails to get informed consent for an ERCP, telling her that she needs the procedure to see if she has cancer when it is unlikely she has cancer or that the test would even assist in making a diagnosis. Our 72 year-old client has the surgery and then develops pancreatitis which clearly is a known risk of the procedure. She has a pretty good recovery. She is able to go bowling and engage in other recreational activities. But she now needs to take digestive enzymes and insulin injections as a result of the surgeon's unwillingness to give the client the information to make a choice about what procedure is best for her. The doctor's insurance company refused to make any settlement offer. The jury deliberated late into a Friday evening and came back with a $1.5 million verdict. Our law firm, Miller & Zois, handled this case.
2015, Charles County, Maryland: $400,000 Verdict. An 81-year-old woman is having a basal cell carcinoma on her nose removed. The surgery is complete, and the doctor tells her that he removed the cancer and would observe her every three to six months, even though the pathology report is unclear about the margins of the carcinoma. After 18 months, the doctor starts to notice redness and a biopsy is done. This biopsy indicates that skin cancer is still there, so the woman has a six-stage Mohs micrographic surgery done to remove that cancer. This involves taking the skin off of her nose and reconstructive surgeries to rebuild her nose. She brings a claim against the doctor for medical malpractice, alleging that he should have paid closer attention to the pathology report and recommended surgery. A jury finds the doctor negligent and awards the plaintiff $400,000.
2014, Baltimore County, Maryland: $2,134,339. An adult female presents to the doctor with a hiatal hernia and a raised left portion of her diaphragm. The doctor performs a Belsey Mark IV hiatal herniorrhaphy, which fails. A CT scan shows a level IV paraesohpegeal hernia. A month later, a reoperative thoracotomy with Prolene mesh is done, even though this type of surgery is contraindicated for the type of hernia the patient has. After this second surgery, the patient experiences dehydration, weakness, and is unable to keep food down. The doctor suspects an esophageal rupture. Another thoracotomy is done, and the doctor notices the patient has an esophageal leak so he provides chest tube drainage and parenteral nutrition. Seven months later, the woman has a new physician, who is attempting to repair the hernia when he notices Prolene mesh extruding into her esophagus. This causes many injuries, including vagal nerve injury, pneumonia, and wound infections. She alleges that the doctor had failed to evaluate her need for the specific type of surgery and failed to counsel her that the procedure had risks and was elective. The doctor claims the surgery failed due to her obesity and that there were consequential risks to the procedures due to the size of the hernia and the plaintiff's weight. Jurors agreed with the Plaintiff and awarded her $634,339 in economic damages and $1,500,000 in non-economic damages along with damages for loss of consortium. The non-economic damages amount is later reduced to the statutory cap of $655,000. (You can take a look at another hernia related lawsuit and the issues that present in some of these cases here.)
2014, Baltimore, Maryland: $958,426 Verdict. An adult female patient is having a gastrostomy tube placed due to her multiple sclerosis complications with swallowing. During the surgery, a gastroenterologist negligently attempts to re-insert a gastrostomy tube numerous times over nine hours. It is alleged that he used "moderate force" to get the tube through the fistula and into the stomach, that he should have known that the gastrostomy tube tract can narrow and close within 2-3 hours after removing the tube. As a result, she suffers a perforated viscus, peritonitis, and sepsis syndrome. She also contends that the doctor failed to secure informed consent from her husband. A jury awards her $958,426, which breaks down into $208,426 for medical expenses, $500,000 for non-economic damages, and $250,000 to her husband for loss of consortium.
2014, Anne Arundel County, Maryland:$66,583 Verdict. A 75-year-old female is having a laparoscopic sigmoid resection done. During the procedure, she sustains a severed left ureter which causes urine to leak into her abdominal cavity. She brings a suit against the doctor, alleging that he negligently failed to use appropriate treatment and surgery and failed to evaluate her condition and monitor it. She further alleges that he continued with the surgery without having adequate visualization of the organs. The doctor claims that the injury is a known risk of the procedure, but a jury finds him negligent and awards the plaintiff $35,000 in pain and suffering and $31,583 in past medical expenses.
2013, Prince George's County: $5,505,000 Verdict. A patient is having open heart surgery when she goes into cardiac arrest and dies. Her estate brings a suit, alleging that the doctors improperly placed and then removed pacing wires during the surgery which resulted in a laceration of the victim's heart graft, which led to bleeding into her chest, cardiac arrest, and death. A jury awards the estate $5,505,000. The non-economic award was reduced per state cap, with a judgment of $695,000 and $5,000 for funeral expenses. Our law firm, Miller & Zois, handled this case.
2013, Baltimore County: $1,420,000 Verdict. A 32-year old student has a confirmed cyst on her left ovary. After three years, her ob/gyn recommends that it be removed, and she agrees. During the procedure, her doctor removes her right ovary and fallopian tube, even though previous studies reveal a healthy right ovary. The doctor fraudulently alters her pre-surgical medical records, to reflect that the patient had complained of right-sided pelvic pain, in an attempt to justify removing the wrong ovary. The doctor never tells her that her right ovary was removed, or that the dermoid cyst is still in her left ovary. The plaintiff alleges that the doctor was negligent by failing to obtain consent to remove her right ovary, negligently removing a healthy ovary, and by not informing her of the error. After a four-day trial, a jury awards the plaintiff $1,420,000.
2013, Baltimore City: $841,987 Verdict. A 71-year-old woman has a history of recurrent chest pain and abnormal ECG studies. She is having a transforminal coronary angioplasty and stent procedure done, when her cardiologist pierces the left circumflex artery. Her estate brings a claim alleging the cardiologists aggressively pushed and guided the wire through the artery and caused damage such as poor blood flow, leading to her cardiac arrest and death. Her estate is awarded $841,987.
Getting a Maryland Surgical Lawyer for Your Lawsuit
If you have been injured as the result of medical or hospital malpractice, call our Maryland hospital malpractice lawyers at 800-553-8082 or get a free consultation.
Other Maryland Malpractice Resources for Malpractice Lawyers and Victims