Today, removing a patient's gallbladder is much easier than it used to be. In the old days, gallbladder removal meant significant surgery requiring a hospital stay and an extended recovery. Now, it is a much simpler surgery and recovery because the procedure, a cholecystectomy, can be performed laparoscopically. This procedure is called a laparoscopic cholecystectomy which has been shortened to lap chole. You can find an overview of the science of lap chole medical malpractice cases here and a video to help determine whether you have a case here. To comply with the standard of care, the surgeon must identify the structures within what they call the Triangle of Calot: the common duct junction, the cystic duct's intersection with the gallbladder, and the cystic artery. The problem is that lap chole is an expensive procedure that has led to surgeons tripping over themselves to perform these surgeries. In 1989, when the lap chole procedure became the new standard operating procedure, surgeons hurried to learn how to perform this procedure. Regrettably, this consisted of taking weekend crash lap chole classes where the doctors practiced on animals for a few days and then off to people. Even today, mistakes during a lap chole are common. To properly remove a patient's gallbladder, the surgeon must know where he is cutting and dividing two structures – the cystic duct and the cystic artery. Too often, mistakes happen while cutting. Often, the surgeon believes they have identified and divided the cystic duct; when they have cut into the bile duct. Sometimes, this mistake is not medical malpractice. But it quickly becomes medical malpractice when the doctor either fails to realize the error or tries to ignore the mistake (more common than you would think) and fails to convert the lap chole into traditional open surgery.
Common Doctor Defenses in a Lap Chole Medical Malpractice Lawsuit
No matter how egregious the surgeon performed the laparoscopic cholecystectomy and how severe the injuries, the doctor's lawyer almost invariably defends these cases by arguing that the doctor did nothing wrong.
Assumption of the Risk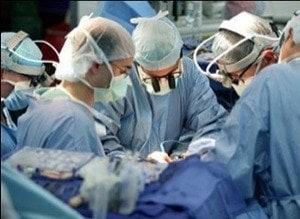 The first line of defense is incredibly disingenuous: assumption of the risk. Offensively, the doctor's attorney argues that errors in cutting are a "known risk." Sure, some errors during a lap chole are on the informed consent. But, ultimately, what matters is whether the patient's injury would have occurred if the procedure had been performed competently. There is a risk every time we get behind the wheel of a car. When a driver comes across the center line on the highway and hits you head-on, will the negligent driver use the defense that accidents are a known risk when you drive a car? Is the phrase "known risk" an automatic get-out-of-jail-free card that means the driver is not obligated to take personal responsibility for the injuries they cause? Of course not. It is overly simplistic and just plain ridiculous… and regrettably, it can work, especially when plaintiffs' malpractice lawyers do not frame the issue properly for the jury. But we can get across to the jury that the patient never consented to the doctor's failure to properly recognize the patient's anatomy before cutting or the doctor's refusal to convert the procedure to an open surgery when things began to go wrong.
Patient's Anatomy Was Abnormal
Another defense our lawyers see in lap chole cases is the "aberrant anatomy" or the "patient had abnormal anatomy" defense. Surgeons of all stripes use this defense in cutting error surgery cases, but you see this defense with even higher frequency in lap chole cases. Common claims are the gallbladder was contracted, intra-hepatic (gallbladder partially wrapped around the liver), the cystic duct was unusually shot, excessive inflammation, and the patient had so much fat tissue it was hard to figure out what was where. The reality in most gallbladders are not healthy when they are being removed. If the gallbladder was healthy, the patient would not be having it removed. So surgeons should expect adhesions, inflammation, swelling, and unclear or distorted anatomy or anatomic variations. One study showed that 30% of gallbladder removal patients have abnormal anatomy. So this cannot be an excuse for misidentifying the biliary tree during a lap chole procedure. Usually, this defense can be handled by a simple argument every juror can understand: a doctor should know where she is cutting before she cuts. Pretty simple. How do you know what you are cutting first? Doctors can always perform a cholangiogram before surgery if they need help correctly identifying the patient's anatomy. Ultimately, while it is true that some patients do have abnormal anatomy, it is never the wild west in there. There is a typical pattern of a few anatomic variants. Experienced surgeons know and anticipate these potential variations and plan – and cut – accordingly.
The "You Are Fine, Why Are You Complaining?" Defense
The Achilles Heel in lap chole cases is often the damages in the case. The defense argument is often that "she should be thanking us, not suing us" because the patient is fine and in the same condition as before the malpractice. Not they do not say this in these words, of course. But the gist is the same. If the patient has made a remarkable recovery, this defense has some teeth. There is no question we have a pain and suffering hurdle that must be climbed before our lawyers will take a lap chole case. If you did not have to get a Roux-en-Y procedure after gallbladder removal and you do not have permanent injuries, our malpractice firm is unlikely to take your case. But one key to solving this damages problem is focusing the jurors is more about what was going on inside the head of the patient during that time as opposed to just his physical injuries. Thinking you might die, waiting for such a serious surgery, and all that comes with that fear will be valued by a jury at a much higher level than a few months of physical pain and suffering. Peace of mind being transformed into abject fear (and pain) is something jurors understand.
Getting a Lawyer for Your Cut Bile Duct Lawsuit
In the first half of this year, we have already recovered over $3.5 million in settlement and verdicts for lap chole malpractice victims. Our malpractice lawyers regularly handle cases where the bile duct is cut or damaged during surgery when serious injury is caused to the patient. If you or a loved one sustained a severe injury due to an error or mistake during gallbladder surgery, call our malpractice lawyers at 800-553-8082 or get a free online consultation.
An overview of lap chole claims [learn more]
Read a sample expert report by a plaintiff's expert in a lap chole case [read it]
$1 Million Verdict Miller & Zois Verdict (news article on a lap chole win for our firm)