This page is about wrong prescription lawsuits. Too many people get the wrong prescription every day in Maryland.  Most patients getting the wrong medication do not suffer severe injuries. Yet up to 9,000 people die every year from medication errors nationwide.
This page is about medication mistake lawsuits and the settlement amounts and jury payouts victims receive in these claims.  Our lawyers provide information on the average settlement compensation for a wrong prescription lawsuit and look at example cases and their outcomes.
Background
Our law office gets a lot of calls involving pharmacy and anesthesia errors involving either the administration of improper medication or the failure to administer medication. It is not surprising, given that an astronomical 1.5 million people are victims of medication errors every year, according to a report by The Institute of Medicine of the National Academies.
According to the National Coordinating Council for Medication Error Reporting and Prevention, more people die annually from medication errors than from on-the-job injuries.
Fortunately, most of these injuries – particularly the pharmacy misfills – are benign, but pharmaceutical medication errors still account for almost a quarter of medical malpractice cases.
Who is making these mistakes? There is a lot of blame to go around. Doctors, nurses, and pharmacists are all frequent defendants in these cases.
The Prescription Error Cases Our Attorneys Regularly See
The most common types of drug medication lawsuits our lawyers see are:
Improper medication combinations – There are many prescription error cases where the drugs would be prescribed appropriately alone but cause severe or fatal injuries together. These problems can be resolved by reading the package inserts, and some hospitals and pharmacies have computer programs to assist in avoiding errors. Yet there are still thousands of injuries from improper prescription combinations every year.
Wrong medication – The pharmacy simply gives the patient the wrong medication because of a pharmacy misfill. According to Jury Verdict Research, plaintiffs prevail at trial in 31% of these pharmacy misfill cases. The most common wrong medication cases involve antibiotics.  There are close to 6,800 prescription medications, and doctors often get the type of medication wrong
Handwriting errors – Our lawyers still commonly see the failure to administer the proper dosage from handwriting transcription errors. In the fortunate cases, handwriting error will only delay the time until patients receive their prescribed drug. At worst, a misread order can lead to severe injury or death.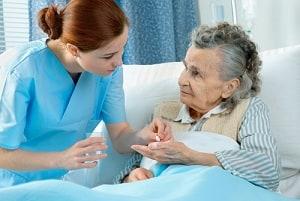 Drug name mix-ups – Many prescription drugs have similar-sounding names. The physician and pharmacist must ensure they are not negligent in prescribing or dispensing the wrong medication. You would think this would be rare, but name confusion is among the most common causes of prescription errors. A prime example is the confusion between the epilepsy drug Lamictal and the antifungal drug Lamisil. Years ago, scores of pharmacies were interchangeably filling prescriptions for Lamictal and Lamisil to the point where the FDA and Glaxo were required to send "Dear Doctor" letters advising of the confusion. Usually, there is no significant injury., Still, with the wrong drug or the wrong patient, the injuries can be catastrophic or fatal. With the Lamictal/Lamisil confusion, the possible consequences of this mix-up were severe, primarily for epileptic patients receiving Lamisil who could not control seizures, which is obviously a big deal. Patients receiving Lamictal by mistake were at risk for less serious side effects such as blood pressure problems, rashes, and other troubling but not severe side effects.
Adverse effects of medication – Many prescription drugs have side effects that have severe and fatal consequences. Sometimes, these injuries are the regrettable side effects of the medication. In other cases, the doctor knew or should have known that the drug's risks outweigh the benefits. Often, doctors are given a huge heads-up of the possible risk with a black box warning. The central issue in these medical malpractice cases is whether the doctor was reasonable in prescribing the medication in light of the patient's medical history, physical condition, and all relevant diagnostic imaging or laboratory data. Another big issue in these cases is informed consent. Did the physician apprise the patient of the risks?
Allergic reaction to medication – A subset of adverse effects, allergic reactions are usually challenging to detect. But if the prescribing doctor knows or has reason to know of the allergic reaction, often because the allergy is documented, it is a medical mistake that is medical malpractice.
Statistics on Medication Error Lawsuits
The first thing to remember in these cases is that improper medication cases in this country that go to trial are often challenging cases of either negligence or causation. The best cases for the plaintiffs are improper dosage cases in which, according to Jury Verdict Research, the injury victim prevails 40% of the time at trial. The most difficult cases for plaintiff's medication error lawyers to prevail are inappropriate medication cases; plaintiffs prevail in 23% of these cases.
With respect to verdicts, the median verdict in medication error cases is $250,000. But this underscores that many prescription error lawyers are willing to take smaller cases (our law firm only handles severe injury and death cases). Average settlement for medication errors are pretty misleading.  A much different way to look at these numbers is that 60% of medication error cases result in a jury verdict over $1,000,000.
Get more medication error statistics here.
These are typical medication error stories, along with the results the victim obtained for the harm done to them at the settlement table or at trial.
2020, Pennsylvania: $1,150,000 Settlement. A 27-year-old man presented to a hospital for substance abuse disorder. The staff prescribed medication that caused central nervous system depression. A couple of days later, he was found dead. The man's family alleged that the hospital's negligent administering of medication caused his death. They claimed it failed to appreciate his medical history of asthma and sleep apnea. The case settled for $1,150,000.
2020, Illinois: $600,906 Verdict. A woman took Simvastatin for high cholesterol. She visited her physician with a sore throat and productive cough complaints. The physician suspected an infection. He prescribed Clarithromycin. Three weeks later, the woman experienced leg soreness and was bedridden. She was subsequently diagnosed with statin toxicity and rhabdomyolysis. The woman claimed her physician failed to appreciate Clarithromycin's contraindication with Simvastatin. The physician denied negligence. A jury awarded the woman a$600,906 payout.
2019, Florida: $4,962,000 Verdict. A physician prescribed a woman a 20mg/ml dose of testosterone cypionate. The mail-order pharmacy filled a 200mg/ml dose instead. They labeled it as 20mg/ml. The woman injected the medication, unaware she was taking the wrong dose. Two months later, she received a letter from the pharmacy admitting the error. Because of this error, the woman
suffered clitoral enlargement, clitoral adhesion, and pelvic floor pain. Her pharmacy error lawsuit alleged that the pharmacy's failure to fill the correct dose caused her permanent injuries. A jury awarded her $4,962,000.
2019, Texas: $684,000 Verdict. A 74-year-old woman took Pradaxa for atrial fibrillation. Her physician changed her prescription to Warfarin. One month later, she suffered an ischemic stroke. The woman died the following day. Her family claimed the physician failed to test her anticoagulation levels before prescribing the drug. A jury awarded them $684,000.
2019, New York: $4,000 Settlement. A minor boy suffered an earache and a fever. He was prescribed antibiotics. His mother picked the prescription up at Walgreens. Despite taking the medication, the boy's symptoms worsened. He also experienced dizziness, lightheadedness, and grogginess. The boy also sustained a rash. His mother then realized he was wrongly taking beta-blockers. His mother alleged that Walgreens's negligent prescription filling caused her son's injuries. This case settled for $4,000. (Is this the kind of case our law firm would handle? It is not.)
2019, Pennsylvania: $900,000 Settlement. A 50-year-old came under a hospital's care. Its staff administered Morphine, Methadone, Oxycontin, Oxycodone, and Xanax. This drug combination caused the man's death. His family claimed the hospital failed to appreciate his extensive medical history, monitor him, warn of side effects, and recognize his intoxication. This case settled for $900,000.
2019, New Jersey: $75,000 Settlement. A newborn received Rocuronium. However, she was supposed to receive a Hepatitis B vaccine. Because of this error, she suffered temporary paralysis. After five hours, her movements resumed. The baby's mother alleged that the administering nurse's negligence caused her injuries. The defense denied liability. This case settled for $75,000.
2018, Pennsylvania: $1,000,000 Settlement. This wrongful death and survival action was the result of the death of a woman after she suffered respiratory distress after an emergency C-section of her twins. The woman had preeclampsia and pulmonary edema and was given two drugs that increase the risk of respiratory complications issues.
2018 Wisconsin: $325,000 Settlement. A man was allegedly prescribed 5 mg of methadone and the pharmacy 10 mg tablets. The pharmacy's defense was that the overdose did not cause his death. Its lawyers argued that the man would have died anyway from a multiple medication overdose. This was likely a viable defense, or the settlement would not have been this low.
2016, New York: $287,500 Settlement. During birth, an infant male suffers permanent neurological and physical injuries, global developmental delays, brain damage, and the inability to live independently, allegedly due to medical care provided to him and his mother. The mother claims that the hospital staff was negligent in using Oxytocin (a drug commonly used to induce labor), contraindicated vaginal delivery, and improper use of tools during delivery. The parties settle for $287,500.
2015, California: $700,000 Settlement. A 28-year-old male is being treated for Lyme disease with two medications, Malarone and Larium, known to cause psychotic events in some patients. He subsequently suffers a neuropsychiatric adverse event with delusions threatens and terrorizes his girlfriend for hours, until his arrest and commitment to a mental facility. He suffers from PTSD as a result. He brings a prescription error lawsuit against the doctor, alleging that he negligently prescribed the drugs with known psychological side effects to a patient such as the plaintiff, who had documented mood swings and depression. He further claims the doctor did not advise him of the risks and failed to monitor him. The parties settle for $700,000.
2015, Oregon: $12,195,500 Verdict: A 51-year-old male has an aortic valve replacement surgery at the hospital when the surgeon orders 150 mg of Amiodarone. 150 mg of this drug is the standard dose, however, the anesthesiologist administers 2,700 mg to the patient. This results in an anoxic brain injury from an overdose, leaving the man unable to work or walk independently, requiring 24/7 care. He claims that the hospital was negligent in stocking multi-dose vials in an operating room, as it makes it more likely a medication error will occur. He also claims that the doctor administering the overdose was negligent and caused the heart to develop irregular rhythms and a loss of blood and oxygen to the brain. A jury awards him $12,195,500.
2015, Louisiana, $1,262,409 Verdict.  This is a classic wrong prescription lawsuit. A 49-year-old male has a prescription for Tambocor (treats irregular heartbeat) filled but is actually given Nortriptyline (an anti-depressant believed to cause atrial arrhythmia). He takes the medication for four months before discovering the error and begins to experience worsening of his irregular heartbeat condition. He suffers permanent damage to his heart, fatigue, depression, and neurological damage. His wrong prescription lawyer brings a claim against the pharmacist, claiming he was negligent in failing to properly inspect the medication before dispensing it and ensuring that the correct medications were placed in appropriate containers. He also alleges that the pharmacist should have realized he mistakenly filled the prescription for Tambocor with Nortriptyline on the day it happened, but he did not correct the mistake. He admits liability for the misfiled prescription but disputes the nature of the damages and claims that the condition worsened due to the progression of the disease rather than the medication error. A jury awards the man $1,262,409.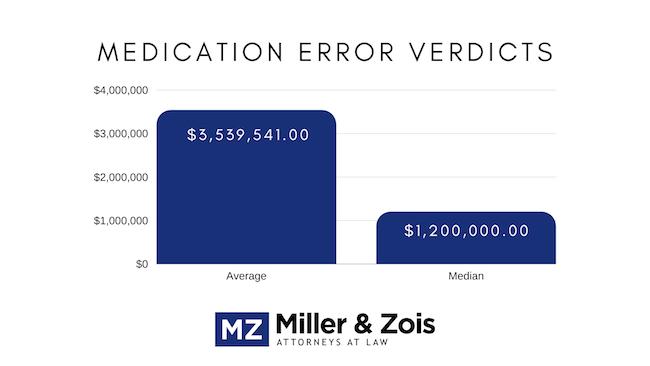 2014, Massachusetts: $1,500,000 Settlement. After giving birth to her second child, a woman with a history of congestive heart failure has high blood pressure. The obstetrician administers Labetalol, although this drug should not be given to patients with a history of congestive heart failure. After the drug is administered, the woman dies. Her estate brings a claim alleging negligence in administering a clearly contraindicated drug. That claim is not settled, and she then brings suit against the insurance company, claiming they failed to properly investigate and settle. The defendants dispute liability and damages, and one month before trial, the case settles for $1,500,000 on the insurer's actions.
2014, California: $375,000 Settlement. The plaintiff is having surgery at the hospital. It goes well, and she is transferred to the ICU and then to a private room as she appears fine. Three hours later, she is found unresponsive when the hospital staff comes to draw her blood. They try to resuscitate her but are unsuccessful, and she dies five days later. Her estate brings a claim alleging that she was overmedicated and that her alarms were not working, which would have alerted the hospital staff earlier. The parties settle for $375,000.
2014, Pennsylvania: $450,000 Settlement. A 39-year-old man, a Chief of Detectives, is on anti-anxiety medication to treat work-related anxiety, prescribed by his family physician. While in the police station one day, he fatally shoots himself. His wife brings a claim, alleging the doctor negligently prescribed very high doses of the medication (Xanax), failed to establish a diagnosis consistent with the criteria for the drug Xanax, and prescribed reckless dosages to a patient known to have suicidal thoughts. The doctor also allegedly fails to consider the effects of prescribing Xanax while the man is on Ambien, which can cause addictive central nervous system effects. The doctor denies liability but agrees to settle for $450,000.
2013, Wisconsin: $12,000 Settlement. A 3-year-old child is administered Valium instead of Decadron (to treat croup) at the Children's Hospital of Wisconsin. He falls, suffers a head injury resulting in a concussion, and brings a claim alleging that the pharmacy drew up the wrong medication. After the fall, the hospital admits him overnight for observation and treatment for a medication error. The parties settle for $12,000.
2013, Virginia: $240,000 Verdict. A 5-year-old is diagnosed with ADHD and prescribed clonidine. The pill can be compounded into a liquid for children's ease in taking the medicine. The plaintiff's mother obtained the prescription from the pharmacy and gave her daughter the dose. Within a half hour, the child lost consciousness and had a seizure. She fully recovered after an 11-day hospital stay. An analysis of the medication revealed that it contained more than ten times the concentration of the active drug. A suit was filed against the pharmacy for the compound error resulting in an overdose. Plaintiff was awarded $240,000.
2012, Massachusetts: $100,000 Verdict. A 56-year-old woman with a long history of mental illness presents to her physician for treatment of anxiety and depression. She is prescribed 800 mg of Seroquel and 400 mg of Lamictal. Several months later, a nurse mistakenly notes on the woman's chart that she takes 800 mg of each, resulting in an over-prescription of the Lamictal. The error is discovered after months of her repeated complaints of dizziness, forgetfulness, and increased anxiety. She files a wrong medication suit alleging that the dosage error resulted in months of being overmedicated. Damages were the central issue in this case, as the Plaintiff was unemployed and incurred no additional medical expenses due to the error. Plaintiff is awarded $100,000.
2010, Virginia: $125,000 Verdict. The plaintiff files suit against his local supermarket pharmacy for negligently providing him with the wrong medication. After months of deteriorating health, despite taking a prescribed thyroid replacement hormone medication, Plaintiff is hospitalized for three days. It is discovered that he is taking the wrong medication. His hospital stay is followed by months of medication to stabilize his thyroid condition. The Defendant maintains that the prescription was filled correctly but that Plaintiff was not taking it as directed. Defendant further claimed that Plaintiff was contributorily negligent for failing to obtain the correct prescription when he noticed the pills he was given were a different color than prior prescriptions. The plaintiff claims $14,021 in past medical expenses. Plaintiff is awarded $125,000.
2006, Ohio: $200,000 Verdict. The plaintiff, a 30-year-old man, files suit after a pharmacy incorrectly fills a pain medicine prescription, causing the man to overdose. After receiving a prescription for 10mg pills, Plaintiff's prescription is incorrectly filled with 100mg pills, to be taken on an as-needed basis. The plaintiff claimed he did not realize the wrong strength had been given to him as he had never taken the medicine before. The defendant pharmacy did not dispute that the medication was not properly filled but claimed that the Plaintiff took more than he was prescribed. A urinalysis at the ER indicated the presence of other, non-prescribed medication. The jury awarded $200,000, reduced to $120,000 due to 40% comparative negligence on the Plaintiff's behalf.
2003, Maryland: $2,000,000 Settlement. A 32-year-old man dies as a result of narcotic intoxication. After being fitted for a prosthetic leg, the man is taken to the recovery room, receiving morphine and two doses of Demerol. He is then started on a PCA pump to administer morphine at scheduled intervals. After receiving multiple doses of morphine over time, he is orally given OxyContin without being assessed by a physician. His blood pressure steadily decreases over the next several hours until he cannot void urine and requires catheterization. Within a few hours, he is found without a pulse. An autopsy reveals that he died as a result of narcotic intoxication. A suit is filed in Baltimore City on behalf of the man's estate, alleging that the Defendants failed to evaluate and appropriately monitor the decedent's vital signs. The defendants agreed to a $2,000,000 settlement.
You are probably wondering where the Maryland verdicts are. These cases do not seem to go to verdict in Maryland, at least not in recent years.
Keep in mind that while these verdicts are great tools for understanding the value of these cases, they are just one tool that, used alone, is relatively meaningless. Too many variables go into a jury's thinking on these claims, and these short summaries – that picked over a lot of defense verdicts – cannot provide.
Example Medication Error Lawsuits in Maryland
Below are examples of recently filed medication error malpractice lawsuits in Maryland with the story behind the claim.
How Much are Medication Error Malpractice Lawsuits Worth?
The average jury verdict for medical malpractice cases involving a medication error is $3.5 million. The median jury award in medication error cases is $1.2 million.
The median amount is the more accurate estimate of how much these cases are worth if you win at trial. The average settlement value for medication error cases is somewhere in the $400,000 to $600,000 range.
What Is the Most Common Type of Medication Error Malpractice?
The most common types of medication errors in malpractice cases include dosage mistakes (too much or too little medication is prescribed), administration errors (the medication or the wrong amount of medicine is administered to the patient), and harmful medicine combinations (medicine combinations cause adverse results).
Here's a chart from a 2023 study detailing the most common harms associated with medication errors listed in order of percentage from greatest to least. At the bottom, our lawyers explain some of the nonobvious terms.
| Rank | Associated Harm (Medication Error Type) | Percentage of Operations |
| --- | --- | --- |
| 1 | Untreated postoperative pain >4/10 | 18.9% |
| 2 | Other | 13.0% |
| 3 | Potential for bacterial contamination due to expired medication syringes | 8.3% |
| 4 | Prolonged hemodynamic swings | 7.6% |
| 5 | Medication documentation errors | 7.6% |
| 6 | Syringe swaps | 5.8% |
| 7 | Residual neuromuscular blockade | 2.9% |
| 8 | Presumed hypotension with inability to obtain a blood pressure reading | 2.2% |
| 9 | Oxygen saturation <90% due to ME | 1.8% |
| 10 | Delayed or missed required perioperative antibiotic | 1.4% |
| 11 | Delayed emergence | 1.1% |
| 12 | Untreated bradycardia <40 beats/min | 1.1% |
| 13 | Untreated new onset intraoperative cardiac arrhythmia | 0.72% |
Explanations:
Untreated postoperative pain >4/10: Pain after surgery that is greater than 4 out of 10 on a pain scale, where 10 is the most pain imaginable, and 0 is no pain. If not treated, it indicates an error.
Potential for bacterial contamination due to expired medication syringes: Using expired syringes for medications can increase the risk of bacterial contamination, leading to infections.
Prolonged hemodynamic swings: Hemodynamics refers to blood flow within the body. Prolonged swings mean long-lasting or dramatic changes in blood pressure, heart rate, or blood flow.
Residual neuromuscular blockade: After certain surgeries, drugs are used to relax the muscles (neuromuscular blocking agents). Residual means some effects of this drug remain, possibly causing weakness or breathing difficulties.
Presumed hypotension with inability to obtain a blood pressure reading: Hypotension means low blood pressure. This refers to instances where a blood pressure reading couldn't be obtained, but low blood pressure is suspected.
Oxygen saturation <90% due to ME: Oxygen saturation is the blood oxygen percentage. Normal levels are typically 95-100%. If it falls below 90% because of a medication error, it indicates a lack of oxygen delivered to the body's tissues.
Delayed emergence: This refers to patients taking longer than expected to wake up after anesthesia.
Untreated bradycardia <40 beats/min: Bradycardia is a slower-than-normal heart rate. A rate below 40 beats per minute is slow and may require medical intervention.
Untreated new onset intraoperative cardiac arrhythmia: Cardiac arrhythmia means an irregular heartbeat. If this starts during surgery (intraoperative) and isn't treated, it can be dangerous.
What Are My Chances of Winning a Medication Error Malpractice Case?
Medication error cases have a slightly higher success rate than general medical malpractice cases. Over 90% of medication error cases result in an out-of-court settlement, and less than 10% go to trial. For those that go to trial, plaintiffs win about 35% of the time.
Many of these losses at trial for victims are not because they cannot prove a medication or pharmacy error but because they cannot prove the harm that was done came from that medication mistake.  Still, this is about 15% better than the winning percentage at trial for plaintiffs in general medical malpractice cases.
Can I Sue My Pharmacy for Giving Me the Wrong Prescription?
Yes, but only if you were physically harmed by the mistake. Pharmacies can be sued for malpractice, just like doctors and hospitals. The most common type of medication error claims against pharmacies involves filling a prescription with the wrong medication or the wrong dosage.
But, as our lawyers have been underscoring throughout this page, you must show that you were hurt by the mistake of having a valid malpractice claim against a pharmacy for a prescription filling error. You need to show that the wrong prescription you received or failure to get the correct prescription was harmful.
What Is the Highest Settlement or Verdict Your Law Firm Has Obtained in a Medication Error Case?
The highest verdict our law firm has obtained for a client in a medication error case was $10 million. In that case, the doctor simply chose the wrong medication for the patient in light of his condition, and it caused his death.
Getting a Lawyer
If you have a prescription error case, call our medication error lawyers at 800-553-8082 or click here for a free Internet consultation. Our firm focuses on claims in the Baltimore-Washington area but handles catastrophic injury and wrongful death medical error lawsuits nationwide.
More Resources for Medication Error Lawsuits