This page is about medical malpractice settlement amounts in Maryland. Below we have listed verdicts and settlements in Maryland medical malpractice cases.
We have provided only the winners: the reality is that most medical malpractice cases tried to verdict are won by the doctors or other health care providers or there was a good settlement amount that was accepted.  This cannot be said, thankfully, for malpractice cases that Miller & Zois takes to trial.
On the other hand, the best malpractice cases usually settle before the jury reaches a verdict. Unfortunately, we cannot list all our settlements here for confidentiality purposes. These settlements have won our clients ten times more than verdicts over the years.
These cases cannot be used as the sole basis to determine the value of your claim. Even if your facts line up exactly with one of these cases, there are just too many other factors to compare your case to another without more information. That said, this is one tool in your toolkit to determine the range of values for your case.
You can get more malpractice verdicts and settlements based on the type of injury here. The county your case is tried in may also affect its value. We also provide sample demand letters in malpractice cases for those rare instances when a pre-suit settlement is possible.
2023
$3 Million Verdict: 70-year-old male, presented to the emergency room two days prior to his death with low blood pressure, vomiting blood and near fainting and was treated by the defendant internist. The man was diagnosed with an upper gastrointestinal bleed, was transfused with the first of five units of blood and an endoscopy was performed which failed to locate the source of the bleed. Wrongful death lawsuit alleged that the defendant was negligent in failing to timely diagnose and treat his patient and in failing to consult with specialists. Jury in Baltimore County awarded $3,000,000.
2022
$1.1 Million Verdict: This wrongful death and survival action was brought after a 51-year-old man committed suicide while taking Paxil to treat depression and anxiety/panic attacks, prescribed by the defendant internist. The lawsuit alleged that the defendant deviated from the standard of care in prescribing Paxil, known to have an adverse side effect of increasing the risk of suicide, without physically examining the decedent, without requiring him to come into the office for regular check-ups and without any required monitoring.
$13.3 Million Verdict: In 2004, a pregnant woman exhibiting high blood pressure was admitted to the Upper Chesapeake Medical Center for labor induction. Despite being administered Pitocin to trigger contractions and undergoing an extended labor period of over 17 hours, she wasn't timely recommended a cesarean section despite clear indicators of fetal distress, including irregularities on the fetal heart monitor. This unfortunate delay resulted in the newborn experiencing bleeding inside the skull, consequently leading to irreversible brain damage and intellectual disability. The awarded verdict covered anticipated future medical expenses, recompense for pain and suffering, and projected loss of future income. The trial found the attending physician and nursing staff guilty of negligence due to their failure to secure informed consent during labor and incorrect administration and interpretation of signs related to Pitocin-induced labor.
$5.8 Million Verdict: A female patient has heart valve replacement surgery at a University of Maryland Medical System healthcare facility. Regrettably, she suffers cardiac arrest three days post-operation, leading to a grave brain injury. Despite the best efforts of the medical team, she passes away six days later. The family, seeking justice, files a lawsuit in Baltimore accusing the hospital of medical negligence. They maintain that the hospital failed to identify and properly manage a cardiac tamponade, a potentially lethal complication of heart surgery where fluid builds up around the heart. Even though the hospital records frequently allude to cardiac tamponade, the defendants adamantly dispute the woman developed this complication. After a grueling trial, the jury finds in favor of the plaintiffs and grants them a $5.87 million award. The award breakdown includes $62,177 for economic damages, $9,972 for funeral expenses, and $5.8 million for noneconomic damages, which, following Maryland law, was reduced to $962,500 due to a cap on such damages.
2021
$510,000 Verdict: A 66-year-old woman died due to bilateral occlusive pulmonary thromboemboli which developed as a result of bilateral deep venous thrombosis while rehabilitating after discectomy and spinal fusion surgeries under the care and treatment of the defendant doctor. The estate contended the defendant physician was negligent in discontinuing her anticoagulation medication, Xarelto, without ordering any diagnostic tests to establish that her PE and DVT's had resolved, without referring her to a gastroenterologist and/or critical care specialist to evaluate the risk of discontinuing her Xarelto
2020
$5.8 Million Verdict: A 75-year-old heart surgery patient, died nine days after undergoing aortic valve replacement. The plaintiff estate contended the defendant hospital, individually and through its agents, was at fault under theories of vicarious liability and medical negligence for failing to appreciate the decedent's clear deterioration together with signs and symptoms of onset cardiac tamponade, failing to call for surgical assistance, causing and/or allowing a delay in surgical intervention, and failing to timely and appropriately resuscitate.
$1.3 Million Verdict: 68-year-old retired grandfather, died of left vertebral artery laceration two days after undergoing cervical discectomy and spinal fusion, performed by the defendant neurosurgeon, to correct canal stenosis. The lawsuit claimed that the defendant was negligent for improperly performing the procedures, severing the left vertebral artery, causing profuse bleeding and posterior circulation strokes.
2019
$2 Million Verdict: an adult female medical patient with a history of severe migraine headaches which she treated with Phenergan and Toradol injections, allegedly suffered a permanent sciatic nerve injury with radiating pain after the defendant nurse administered an intramuscular injection of Phenergan. The lawsuit claimed that the nurse was medically negligent, including Nurse Krausz, for improperly targeting/injecting a point at or near the sciatic nerve instead of the gluteal medius muscle.
$500,000 Verdict: Female plaintiff reportedly suffered recurrent bladder stone formation beginning in January 2016 after she presented to an emergency room in February 2013 with abdominal pain and came under the care of defendant general surgeon who recommended exploratory surgery and excision of an infected cyst. The plaintiff alleged the defendant deviated from the standard of care in using permanent sutures to repair the urinary tract as they are contraindicated and the stapler was not approved by the FDA for use on the bladder
$850,000 Verdict: A premature infant born at 23 weeks, reportedly suffered the amputation of all fingers on her left hand while she was a patient in the neonatal intensive care unit of a hospital operated by defendant University of Maryland Medical System Corp. A nurse at the hospital placed a peripheral IV line in the infant's left arm for a transfusion but it was placed in a brachial artery rather than a vein.
2018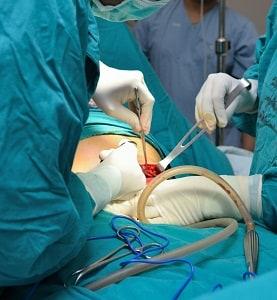 $1,400,000 Verdict: Our client, a young woman in her mid-thirties, uses a laparoscopic gastric band to lose weight. She wants it removed because she is having gastric reflux, a common complication of that procedure. To remove the band laparoscopically, the surgeon uses a "visiport trocar" tool to enter the abdomen. While inserting the device, the surgeon pushed too hard without visualizing the patient's anatomy. He punctured the abdominal wall and struck the patient's aorta, cutting the major blood vessel in two places. This caused hemorrhagic shock. Miller & Zois took this lawsuit to a Prince George's County jury on behalf of this woman's estate. The defendants offered no money. The jury, unfortunately, did not think much of the case and awarded $1.4 after only an hour of deliberation.
2017
$10,000,000 Verdict: Our client is a pastor from Baltimore City. He is admitted to the University of Maryland Medical Center in 2013 because of multiple medical issues. While admitted to the hospital, he suffers an elevated potassium level in his blood. Elevated potassium must be treated quickly before it interferes with a patient's heart rate. The doctor caring for our client is a critical care specialist. Once he realizes our client has elevated potassium, he orders Kayexalate to treat his condition. A severe side effect of Kayexalate, especially in patients with multiple medical problems such as our client, is intestinal necrosis or bowel death. Within hours of receiving Kayexalate, Mr. Allen suffered intestinal necrosis, quickly causing his death. According to the defendant doctor, he was unaware of these serious side effects even though the FDA required numerous labeling changes in 2009 and 2011 to warn about these fatal consequences. Moreover, the University of Maryland itself had policies that warned of bowel death with Kayexalate. Experts for the plaintiff argue that there was no reason to order Kayexalate when dialysis, a safer alternative, was available. Dialysis was readily available in the hospital, more effective than Kayexalate at treating elevated potassium, and does not carry the risk of bowel death. If the doctor had simply ordered dialysis, our client would not have died. Miller & Zois tried the case on behalf of our client's estate and the wrongful death beneficiaries of our client's family. After deliberations, the jury returned a 10 million-dollar verdict against the defendant doctor and the University of Maryland Medical Center.
2016
$1,500,000 Verdict: Our client has diagnostic testing that indicates a cancer risk. Her physician shows her a test result with the words "tumor" and "mass" on it. She is told to get an immediate ERCP but gets pancreatitis from the procedure. The insurance company goes to mediation but refuses to make any settlement offer to resolve the claim without a trial. The jury awards $1.5 million in damages.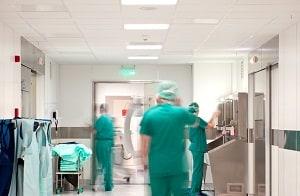 2014
$5,200,000 Verdict: Our client, a 49-year-old man, presents to the emergency room after his leg is severely injured. The knee is X-rayed, and he is discharged after being diagnosed with a sprain. He returns to the ER two days later. A missed injury to the popliteal artery is discovered, and he requires an above-the-knee amputation. He files suit, alleging a breach in the standard of care for failing to rule out the popliteal artery injury. Defendants deny the plaintiff's allegations and allege the injury to his popliteal artery occurred after he was discharged. The jury disagrees and awards the plaintiff $5.2 million.
$2,100,000 Verdict: A woman presents to Carroll Hospital Center in Westminster to repair a paraoesophageal hernia. The hernia occurred through the hole in the esophagus's diaphragm. Within weeks, a second surgery had to be performed as the hernia recurred. A surgical synthetic mesh is used to close the hole during this surgery. She returns to the hospital within a week and is diagnosed with an esophageal leak. She undergoes more than nine additional corrective surgeries, leaving her with a permanent hernia and unable to eat normally at one point. She files suit, alleging the surgeon was negligent in the use of mesh to repair the hole around her esophagus. She further claims that the wrong type of mesh was used in the wrong way. Defendants claim all protocols and procedures were within the accepted stands of medical practice. A Baltimore City jury disagrees and awards the woman and her husband $2.1 million.
2013
$5,500,000 Verdict: Our client's 53-year-old mother undergoes open-heart surgery. She has pacing wires placed in her chest to help regulate her heart rate after surgery. When the wires are removed, she bleeds to death internally. Her daughter files suit for the doctor's failure to place the wires, causing her mother's death properly. A Prince George's County jury awards $5.5 million.
$15,600,000 Verdict: An 11-year-old girl is born with brain damage in Prince George's County. The plaintiff's lawsuit alleges that a nurse midwife did not properly check a fetal monitor before delivery that would have made obvious that the baby was choking and not getting oxygen.
$1,400,000 Verdict:  An 11-year-old girl born at Prince George's Hospital Center is born with brain damage. The plaintiff's lawsuit alleges that a nurse midwife did not properly watch a fetal monitor before delivery that would have made obvious that the baby was choking and not getting oxygen.
$9,500,000 Verdict: A two-week-old infant is brought into the emergency room after her parents notice she is short of breath. Blood tests are conducted, and she is discharged home with instructions to follow up with a pediatrician. More than twenty-four hours pass before the parents are informed that the infant's test results indicate Group B streptococcus. The baby develops meningitis and suffers irreparable brain damage, resulting in cerebral palsy. The plaintiffs file suit, alleging that the defendants failed to inform them of the infant's test results promptly, resulting in a delay in treatment. The defendants claim their care was reasonable and appropriate. The plaintiffs are awarded $9,500,000 which was subsequently reduced to $7,150,000 by Maryland's non-economic damages cap.
2012
2011
$2,500,000 Verdict: Our client's husband is injured in a fall, breaking his hip. He receives treatment at Montgomery General Hospital. A simple recovery stay in the hospital turned into a wrongful death case and a nightmare for his family. Two days into his recovery, he suddenly experiences multiple organ failures and dies. The plaintiff's surviving family argues that the organ failures started with their father's kidney shutting down due to a lack of fluids. They produce evidence that nurses alerted the defendant doctor to the fact that the patient had not produced urine in twenty-four hours and that a bag of saline and a blood transfer could have saved his life. The family further argues that mental changes (such as the patient seeing dead relatives) and disorientation should have alerted doctors to the lack of blood flow to the brain. The defendant denies all the allegations and says the patient died due to aspiration of Kayexalate, a drug given to reduce potassium. The jury sides with the family. Miller & Zois tried this case. You can meet our client here.
$825,000 Settlement: The plaintiff visits her doctor seeking relief for chronic neck and back pain. The doctor diagnoses cervical radiculopathy, otherwise known as a pinched nerve, in her spine. The doctor decides to perform a cervical epidural steroid injection and branch nerve blocks at C7. Both procedures are completed the same day. Immediately after the injections, the patient experiences severe pain and numbness in her entire left arm. She develops a claw grip deformity and eventually loses the use of her arm. She brings suits against the doctor, arguing that he should have injected the steroid into the space around her spine, not directly into it. The doctor denies liability but agrees to an $825,000 settlement in Prince George's County.
$1,200,000 Verdict: A twenty-five-year-old kindergarten teacher seeks help for chest pains and a persistent cough. Her doctor performs an x-ray and diagnoses her with pneumonia. After thirteen months of treatment with no improvement, another scan is performed. It is discovered that she has terminal lung cancer. The teacher dies less than three years later. The plaintiff's estate claims that if the diagnosis were performed properly, the teacher would have had a 90% chance of survival. A Frederick County jury gives the young woman's family a $1,225,000 verdict against the Medical Group.
$5,500,000 Settlement: A baby is delivered at the defendant hospital when the mother is thirty weeks into her pregnancy. Despite weighing less than three pounds, her brain scans and umbilical cord pH are normal. As part of her intensive care, a venous catheter is placed through the umbilical cord into the baby. An initial x-ray shows a successful placement, but a follow-up x-ray performed five minutes later reveals that the catheter had extended into the baby's heart. The following day, a third x-ray shows the same problem. The baby soon afterward becomes hypotensive. By the time the incorrectly placed catheter is withdrawn the baby suffers a global and irreversible hypoxic brain injury. The plaintiff argues that defendants should have repositioned the catheter as soon as they had the initial x-ray evidence that it was misplaced. The defendant denies liability but offers five and a half million dollars in an out-of-court settlement.
$6,000,000 Verdict: A twenty-five-year-old husband dies after his doctors fail to diagnose a pulmonary embolism. After being rushed to the emergency room at Fort Washington Medical Center, the patient spends two days in the hospital with a temperature and hypoxia. Though a pulmonary embolism is the initial differential diagnosis, it is ruled out after an EKG, and the patient is transferred to Southern Maryland Hospital for pneumonia treatment. He is never seen by a house physician and collapses in front of his wife. He never regains consciousness and dies. An autopsy confirms the embolism as the cause of death. The plaintiffs allege wrongful death, claiming that the doctors were negligent in not timely diagnosing and treating the embolism. If it had been noticed earlier, the patient's cha
nce of survival would have been 95%. Defendants deny liability and claim that they acted in the standard of care at all times. A Prince George's County jury finds for the plaintiff, awarding his family a $6,116,000 verdict.
$405,000 Verdict: An elderly woman is taken advantage of by her dentist and is grossly over treated. To correct a mild rotation of two teeth, the dentist recommends six crowns and performs the operations without gaining informed consent. Eventually, the dentist places twenty crowns in total, and the patient cannot chew or even close her mouth fully. All the crowns are eventually removed, and the plaintiff undergoes several root canals. The plaintiff alleges the crowns were unnecessary and that they did not match each other in color and shape. The plaintiff's experts state that she might eventually have to lose many of her natural teeth. The defendant contends that all of the crowns were asked for and that the alleged future corrective treatment was overpriced. A Rockville jury awards the plaintiff $404,592.
$29,000,000 Verdict: The plaintiff is rushed to the emergency room complaining of severe abdominal pain. He is quickly diagnosed with acute appendicitis and is operated on by the defendant. The patient is sent home two days later. Soon afterward, the plaintiff is back in the emergency room complaining of a pain in the same location. A body scan reveals that an appendix is still present, revealing that the patient had a double appendix. Instead of promptly removing the second appendix, the patient is sent home two further times. Finally, another doctor removes the second appendix. The plaintiff sues the original surgeon alleging that he was negligent and breached the standard of care by not correctly reading the CT scan and for ignoring the patient's worsening condition. Defendants argue that the standard of care does not require the surgeon to suspect dual appendices. An Annapolis jury finds that the surgeon was negligent and awards the injured patient $28,874.85 for medical bills, pain, and suffering, and lost wages.
A Lawyer Who Fights for You
At Miller & Zois, We have earned millions of dollars for malpractice victims by fighting every single case like it was our last case. Can we help you? Call 800-553-8082 or get an online consultation.