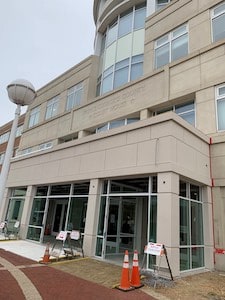 Prince George's County is the only jurisdiction in Maryland where both Circuit Court and District Court are favorable venues for Maryland personal injury lawyers fighting on behalf of injured clients. Juries in this county have historically given awards in civil tort cases that are fair considering the Plaintiff's injuries.
In the serious injury cases our law firm handles, personal injury victims typically have the best chance of success in Baltimore City and Prince George's County. Opinions differ from attorney to attorney as to which of these venues is more favorable. But there is some empirical data available that suggests that Prince George's County jurors give slightly higher compensation than Baltimore City jurors. So you can make the argument that P.G. is the best place for personal injury lawyers to try a case in all of Maryland.
Our Track Record in Prince George's County
Our firm handles birth injury and other medical malpractice cases in Prince George's County as well as other personal injury and wrongful death cases. Miller & Zois' lawyers have had a track record of amazing results in many of the cases we have tried in this jurisdiction, including an $8 million jury verdict in a wrongful death case and the verdicts listed above. (Go here to see what some of our clients have said about our results in Prince George's County cases.)
These are the last three Miller & Zois jury verdicts in Prince George's County:
$1.3 million (no settlement offer) (2018)
$1.7 million (settlement before trial) (2018)
$5.5 million (no settlement offer)
$938,000 ($140,000 offer)
We have recovered millions more for our clients in P.G County since these verdicts.
We are very comfortable asking P.G. County juries to compensate our clients fairly. Our lawyers find that insurance adjusters are more reasonable in these cases leading to more settlements without going to trial. These results are due to our track record of success and the history of fair monetary awards in this jurisdiction in general. So our settlements tend to have even higher values in Prince George's County than in other Maryland counties.
Prince George's County Demographics
As of the 2020 census, PG County had a population of 967,000. Demographically, this region is quite ethnically diverse. For people self-identifying as belonging to a single race, 2020 census results show the following breakdown:
White: 11.28%
African-American/Black: 59.13%
American Indian/Alaska Native: 0.20%
Asian: 4.28%
Native Hawaiian/Pacific Islander: 0.03%
Some other race: 0.59%
Two or more races: 3.25%
Hispanic: 21.24%
One of the biggest changes demographically for PG County recently has been the increase in the Hispanic population. It has tripled in the last 20 years, going from 7% in 2000 to 21% now. Diverse counties like PG tend to be, for whatever reason, generally more fair to plaintiffs.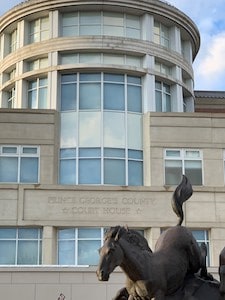 The American Community Survey data shows the highest levels of educational achievement for Prince George's County residents over 25 years old:
Less than 9th grade: 7.5%
9th to 12th grade, no diploma: 7.4%
High School graduate/GED: 26.3%
Some colleges, no degree: 22.5%
Associate's degree: 6.2%
Bachelor's degree: 17.9%
Graduate or Professional degree: 12.2%
High school graduate or higher: 85.1%
Bachelor's degree or higher: 30.1%
So what you have in this county is educational and cultural diversity. For us, the lesson from all of this is that P.G. County is ethnically, culturally, and educationally diverse. Juries that have diversity tend to be, in our opinion, fairer in compensating victims then homogenous juries.
P.G. County is one of the Best Maryland Venues for Plaintiffs
Prince George's County has undergone a major transformation over the last 2 or 3 generations. P.G. County has evolved from a largely rural, politically conservative enclave outside D.C., into an urbanized metropolitan zone that is racially diverse and politically liberal. As a result, P.G. County is now widely regarded as one of the most favorable counties in Maryland for personal injury plaintiffs. We currently have Prince George's ranked #2 (behind Baltimore City) on our list of the best plaintiff counties in Maryland. There is a very simple reason for this. Personal injury plaintiffs tend to win and win big when they bring their lawsuit in Prince George's County. A jury in a medical malpractice case or another type of personal injury case in P.G. County is far more likely to find in favor of the plaintiff and award significant damages compared to juries in other more conservative counties.
Guide to Prince George's County Circuit Court Building
The Circuit Court for Prince George's County is located in the County Seat of Upper Marlboro. Upper Marlboro is sort of an odd location mainly because it is a fairly isolated town tucked away in the rural western part of the County. It is not very accessible by highway or public transportation. Driving out there takes longer than you expect and once you finally get there parking is often a challenge. The one story parking garage right behind the building is almost always full. The alternative parking for the courthouse is over a mile down the road at the equestrian center. Parking at the equestrian center is free but you will either have to walk 10-15 minutes (in the sun) or wait for one of the shuttles that run back and forth. It should not be this hard to get access to the courthouse and it is extremely annoying for our lawyers.
Once you finally get to the courthouse, however, things get a lot easier. There is only one main entrance, but it has multiple well-staffed security checks which move high volumes of people through very efficiently. Once you get past the security checkpoint the court building itself is quite large but very easy to navigate. There is a big information desk in the center of an atrium with help navigation maps. Everything is laid out fairly well so don't expect to get lost trying to find your courtroom.
The Path to Trial in Prince George's County
The Circuit Court for Prince George's County does a good job getting civil injury cases to trial as scheduled. In almost every case, the trial takes place before the "try by" date set by the assignment office.
The Circuit Court does a good job identifying cases that may benefit from Alternative Dispute Resolution, such as mediation. The court will assign cases to its Mediation Program. The cases are sent to
one of several retired judges who will work hard to move the parties closer to settlement.
Currently, the court is running a pilot program where Pretrial Conferences are done by telephone conference with a judge. This makes the court more efficient by not requiring the attorneys and parties to appear in person for a scheduling conference that typically takes only a few minutes. Hopefully, this program will expand to the entire civil docket. Because it is hard to ask our clients to appear in court when they are clearly not needed.
Below are examples of a scheduling order and a pre-trial statement for a Prince George's County personal injury case.
Jury Verdicts & Settlements
Again, our lawyers love trying cases in Prince George's County. The jurors are not giving away money. But we have lost only one case in our history in P.G. County, a case we tried three times (2 deadlocked juries) and our client still got money because we entered into a high-low agreement that guaranteed our client compensation no matter what the jurors decided. Jurors in P.G. have awarded our clients over $20 million and, just as importantly, the fear of P.G. County jurors has led our firm to many millions more in out-of-court settlements.
What is the value of your case in Prince George's County? You are not going to find the answer to that question online. But below are some example jury verdicts and settlements and the story behind the case. Of course, this is not going to give you the exact settlement value of your case but it does give you a general idea of how juries in P.G. County value personal injury, wrongful death, and medical malpractice cases.
2022: $2.3 Million Verdict:  A Maryland woman visited a cosmetic surgeon in Virginia for liposuction and related treatment.  Post-surgery, she developed MRSA. She underwent five surgeries and suffered from intense bleeding and permanent scarring.  Her lawsuit alleged the doctor was negligent in several ways, including lack of experience, lack of informed consent, negligent performance of the liposuction, and negligent post-operative care. The jury awarded $1 million in pain and suffering.  The battle on appeal with be whether the Maryland malpractice cap on noneconomic damages will apply or whether Virginia law will control.
2019: $1 Million Verdict. Plaintiff, a woman in mid-50s, is driving on Silver Hill Road near Landover when a vehicle traveling the opposite direction crosses into oncoming traffic and hits her in a near head-on collision. Plaintiff does not go to the hospital but the day after the accident she goes to a doctor for pain in her back, and right knee. She is eventually diagnosed with soft tissue injuries to her back and knee and is given a 10% permanent impairment rating. The other driver is uninsured so plaintiff sues her insurer, State Farm, for UIM benefits. State Farm disputes her alleged injuries and only offers $12k to settle. Plaintiff rejects the lowball offer and after a 2-day trial in Upper Marlboro, a P.G. County jury awards her $1 million in damages.
2019: $500,000 Verdict: A 64-year-old retired female plaintiff is a passenger in a vehicle when it gets rear-ended on I-95 near Laurel. She is diagnosed with cervical spondylosis and undergoes cervical fusion surgery followed by physical therapy. Plaintiff quickly settles with the at-fault driver for policy limits and then pursues a UIM claim against her own insurer (Liberty Mutual) for additional damages. Liberty disputes whether her back problems are related to the accident. After a 3-day trial, the jury awards $500,000 in damages – most of which is for pain and suffering.
2018: $1.2 Million Miller & Zois Verdict. This was a wrongful death case. A 35-year-old woman needed surgery to take out a laparoscopic gastric band because it was causing gastric reflux. The doctor used a visiport trocar to cut into the patient's stomach. He violated a key rule of surgery: don't cut if you don't know where you are. He hit her aorta which put her into shock. She later died of unrelated causes. Miller & Zois sued the doctor on behalf of her husband and her children. We always assumed this case would easily settle. The doctor stunned us by making no settlement offer. So we went to trial. The jury awarded our clients $1.4 million. (This is the doctor's deposition if you are interested.)
2016: $171,452 Verdict. Plaintiff is driving his motorcycle when an unidentified vehicle attempts to turn left in front of him. The man suffers a fractured right tibia and fibula that requires surgery. He files a claim with his insurance company, State Farm, to recover from his uninsured motorist coverage. State Farm disputes liability and how the accident happened, also alleging the man's injuries did not correlate to how he described the accident. A jury found that an unidentified vehicle was negligent and caused the plaintiff's injuries, awarding him $171,452.
2016: $89,464 Verdict. A man is traveling in his car and preparing to execute a left turn. Defendant's vehicle runs through a red traffic signal and strikes the plaintiff's vehicle. Plaintiff suffers a blunt head injury and injuries to his neck, back, and knee. The defendant disputes the extent of the man's injuries, but a jury awards the plaintiff $89,464.
2016: $34,848 Verdict. A woman driving her vehicle when she is rear-ended by the defendant, who is uninsured. She suffers a herniated disc in her spine, a knee contusion, a cervical strain, and post-traumatic headaches. She files the claim to recover her uninsured motorist benefits, and her insurance company concedes liability. A jury awards the woman $34,848 in damages.
2015: $130,079 Verdict. A 68-year-old man stops his vehicle. The defendant, traveling behind him, fails to stop his car and rear-ends the man. The man suffers permanent neck injuries and memory loss, a herniated disc, and injuries to his shoulders and head. He files this claim alleging the defendant was negligent in traveling at an excessive rate of speed and failing to maintain control of his vehicle. The defendant argued that the plaintiff caused the accident by coming to a sudden stop, but a jury awarded the plaintiff $130,079.
2015: $100,000 Verdict. A woman in the front seat passenger is rear-ended. The part at fault is uninsured, so the woman seeks to recover from her uninsured motorist policy as she has injuries to her head, neck, back, and shoulders. A judge awarded the woman $24,679.68 for medical expenses and $76,320.32 for non-economic damages.
2015: $79,000 Verdict. Plaintiff is driving a vehicle with two passengers when a vehicle next to him loses control and spins into his lane. The vehicle struck both the vehicle in front of the plaintiff and the plaintiff's car. The three plaintiffs sustained injuries as a result and filed this claim against the defendant alleging the failure to maintain a reasonable speed and failure to avoid a collision. A judge found that the defendant was negligent and awarded the plaintiff's a total of $79,000.
2015: $42,381 Verdict. Plaintiff is driving her vehicle on the highway when the defendant merges i
nto her lane and collides with her. She claims permanent injuries due to the defendant's failure to yield the right of way and negligence. Defendant argues that the plaintiff came into his lane and caused the collision. A jury awarded the plaintiff $42,381.
2013: $5.5 Million Miller & Zois Verdict: A 54-year-old woman tragically bleeds to death when a nurse pulls the pacing wires out after her coronary bypass. The wires, placed to help regulate the heart rate after surgery, were improperly placed behind the woman's heart, causing a fatal injury when removed. She left behind a loving daughter who filed suit on her behalf. The defense was "this just happens" sometimes. This might be true. But it only happens when the surgeon makes a terrible mistake. The jury awarded the $5.5 million dollars.
2013: $928,000 Miller & Zois Verdict: Plaintiff, a 30-year-old mother of four, sustains a severe and permanent ankle injury when her vehicle is struck by a woman make a left-hand turn in front of her. The Defendant was admittedly distracted when the vehicle behind her honked its horn. Without observing the Plaintiff's vehicle approaching the intersection, the Defendant pulled forward, right into Plaintiff's path. Plaintiff's ankle was shattered, causing a life-altering injury. Allstate, the Defendant's insurance company, made a disconcerting pre-suit offer of $70,000 which they increased to $140,000 before trial. No negotiating. Just Allstate dictating the value of the case. As a defense lawyer told a reporter after the trial, we were confident in our case and had no interest in engaging Allstate in their effort to low-ball our client. Thankfully, our client saw it the same way and rejected these ridiculously low offers. We proceeded to trial where a Prince George's County jury awarded her $928,000 after deliberating less than an hour.
2012: $50,315 Verdict. Plaintiff is unemployed and in her 50s when she is rear-ended by the defendant at a traffic light. Plaintiff sustains soft tissue neck and back injuries, as well as aggravates a pre-existing neck and back injury. Plaintiff's vehicle sustained $700 in property damage. Defendant argues that the impact was minor and could not result in any injuries. The jury disagrees and awards the plaintiff $50,315 in past medical bills and pain and suffering.
2012: $20,881,082 Verdict. Plaintiff presents to Washington Adventist Hospital for a scheduled induction of labor. During the procedure, the baby's left shoulder becomes stuck and the obstetrician pulls down forcefully on the baby's head to get him out. The infant suffers from a left brachial plexus palsy as the nerves in his neck are irreparably damaged and require extensive therapy and surgical interventions. The infants left shoulder, arm, wrist, hand, and fingers remain permanently impaired. Plaintiff sues the obstetrician and her employer. The jury awards $53,720.17 in past medical expenses, $582,999 in future medical expenses, $244,363 in lost future earning capacity, and $20 million in non-economic damages for past and future pain and suffering. Maryland's non-economic damages' statutory cap reduces the award to $1,531,000. Medical Mutual was the insurance carrier.
2012: $170,467 Verdict. Plaintiff is 45 years old and owns an IT services company. Plaintiff's vehicle is struck subsequent to a collision between two other vehicles. Plaintiff suffers from cervical and lumbar pain and treats for a year and a half. Plaintiff sues both vehicles involved in the original accident, who both claim the other was at fault. Plaintiff claims $45,000 in past medical specials and $250,000 in lost wages. Plaintiff is awarded $170,467, with all damages apportioned to only one of the two defendants (the defendant represented by Erie Insurance).
2012: $32,742 Verdict. Plaintiff is a 50-year-old janitor and part-time deli clerk. Plaintiff's vehicle collides with a Washington Metropolitan Area Transit Authority bus. Plaintiff claims the bus driver failed to yield and squeezed her out of a merging lane. Defendant denies liability for the collision as the bus driver claims to witness the driver attempting to make a U-turn. Plaintiff sustains an aggravation of lower back radiculopathy and claims $6,842 in past medical bills and $25,900 for lost wages. The jury sided with the plaintiff and awards her what she claims.
2012: $90,992 Arbitration Award. A significant intersection collision involving two plaintiffs, a driver, and a passenger. Plaintiffs' claim defendant is the cause of this accident when she fails to stop at the intersection and yield the right of way to the plaintiffs. Sadly, a five-year-old from defendant's vehicle died as a result of her injuries. Plaintiffs allege serious injuries as the result of the impact. Plaintiff driver claims the death of the child causes a cardiac reaction while Plaintiff passenger claims a cervical disc injury. Defendant disputes causation and the extent of plaintiff passenger's injuries, and, understandably, frankly, Plaintiff driver's cardiac condition. Plaintiff driver claims $28,000 in medical bills and is awarded $55,992, while Plaintiff passenger claims $10,900 in medical costs and is awarded $35,000.
2012: 45,000 Verdict. Plaintiff, a 43-year-old barber, claims soft tissue cervical and lumbar injuries, as well as aggravation of a knee injury, as the result of a rear-end accident. The Defendant admits to falling asleep and contends that the neck and back injuries may be caused by the accident, but that the knee injury was unrelated to the collision due to the mild-to-moderate speed of the accident. Plaintiff seeks $200,000 including $5,200 in past medical bills, $40,000 in future expected medical costs, and $15,000 in lost wages from the defendant driver, as well as plaintiff's own insurance company. The jury awards $45,000. Western Union (25,000) and UIM (50,000 limits) is State Farm.
Get more PG County Verdicts and Settlements
Getting a Personal Injury Lawyer for Your Prince George's County Claim
Our lawyers handle a substantial number tort cases in P.G. County, including Bowie, Laurel, Greenbelt, Adelphi, Beltsville, Calverton, College Park, Cheverly, Landover, Lanham, Largo, Clinton, New Carrollton, Fort Washington, and Oxon Hill. We have recovered tens of millions of dollars in settlements and verdicts for our clients in these cases. If you have been injured, call to speak to one of our personal injury accident attorneys at 800-553-8082 or get a free online consultation.