The Calvert County personal injury lawyers at Miller & Zois are committed to getting maximum compensation for victims and their families. We regularly handle auto accidents, medical malpractice, and other types of personal injury cases in Calvert County and Lexington Park. Calvert County is, however, one of the fastest-growing counties in Maryland. In fact, according to Census Bureau's statistics, Calvert County is one of the 100 fastest-growing counties in the United States, showing a 16% population increase in only four years.
This growth is partially due to the County's location in the Greater Washington Area, the expansion of operations at the Patuxent River Naval Air Station (PAX River) in Lexington Park (St. Mary's County), and Calvert County's outstanding quality of life. It is also an affluent county that is among the highest in the country in median household income.
Calvert County has its share of motor vehicle accident cases. There also seems to be an inordinate amount of truck accident cases in the county, most on Route 4. Sadly, the county typically has about a dozen fatal accident cases each year. The beauty and open roads in the county also lead to a fair share of motorcycle accident deaths.
Calvert County as a Venue for Personal Injury Case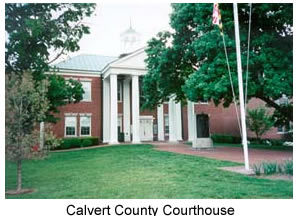 Situated in Southern Maryland, Calvert County is considered a conservative venue in which to try a personal injury lawsuit by most personal lawyers in Maryland. As Calvert County becomes more urbanized, the verdicts have slowly but steadily risen in motor vehicle accident cases. Realistically, it is still a tough place for medical malpractice plaintiffs. Calvert County juries still favor doctors. But, certainly, meritorious malpractice cases are winnable in Calvert County.
The Circuit Court for Calvert County has only three sitting judges, Judge Warren Krug, Judge Marjorie Clagett, and Judge Mark S. Chandlee. Cases filed in Calvert County typically take about 12 to 15 months to get to trial. The case management system established by the court is a "hands-off" approach, setting reasonable deadlines for the discovery in each case, which are agreed upon by counsel during an informal scheduling conference in the judge's chambers.
The trial will almost always go forward after a date is set because the court smartly does not over book itself. However, if the lawyers ask and get a postponement, the new trial date will most likely not be for another year.
The Circuit Court is growing with the county, finishing a large renovation in 2016. The court has built a much larger courtroom witness box, and they even made a lounge for attorneys. There have also been some cosmetic changes to restore this fine court.
The District Court for Calvert County is, naturally, also a smaller venue, usually having one or two judges hearing cases on any given day. The docket is light and the court operates three dockets per courtroom, per day, at 8:30, 10:30 and 1:30. The auto accident cases in Calvert County District Court are put on the 10:30 and 1:30 dockets.
Because Calvert County's docket is not very heavy, personal injury accident cases often take only 60 to 90 days to get assigned a trial date. When a case gets continued, sometimes the case will be reset as early as three weeks. Accordingly, lawyers filing in Calvert County must make sure they are fully prepared for trial when they file suit.
Personal Injury Lawyers in Lexington Park
There are very few personal injury lawyers in Lexington Park, MD. But if you have a personal injury case in Calvert or St. Mary's County, you don't need a lawyer with a local office in Lexington Park. Miller & Zois regularly handles major accident and malpractice cases in Calvert County. We handle a much higher volume of cases than any Lexington Park injury lawyers. We also have a track record of success getting top compensation for our clients in Calvert County.
Sample Calvert County Verdicts
2016, $560,000 Settlement. A 27-year-old man suffered a severe leg fracture after a head-on crash. This case reached an out-of-court settlement after protracted litigation. Miller & Zois handled this case.
2015: $13,642 Verdict. Plaintiff is rear-ended at a stop light, causing fairly significant property damage. Liability is admitted and the case goes forward on the issue of damages. Plaintiff sustains soft tissue injuries to her neck and back and claims the crash directly aggravated her psoriatic arthritis. The defendant, insured by State Farm, disputes the severity of Plaintiff's condition and argues that the injuries complained of are related to Plaintiff's pre-existing condition. The jury returns a $13,642.00 verdict for Plaintiff.
2012: $1,042,292 Verdict. Plaintiffs (husband & wife) are injured in their home when a house next to theirs collapses. Defendant, acting as his own contractor, spends several years building a house in proximity to the house where Plaintiffs reside. Defendant's house then collapses into the Plaintiffs' dwelling while the Plaintiffs are inside. The wife suffers serious lacerations around her eye (which she claims causes permanent disfigurement, although no loss of vision) and soft tissue injuries while the husband sustains a rotator cuff injury which requires surgery. Nationwide Mutual Insurance, who insured the home where the Plaintiffs lived, paid $335,639 to the owner of the home and then sought subrogation of that amount from the defendant. Defendant does not answer the complaint or show up for trial, and a jury awards $335,639 to the homeowner's insurance provider, $294,623 to the wife, and $412,030 to the husband.
2007: $3,497,000 Verdict. Plaintiff, in her mid 40's, presents to a physician with complaints of pelvic pain. After a sonogram reveals an ovarian cyst, Defendant recommends surgery to explore the source of her pain and possible removal of the cyst and ovaries. Plaintiff is subsequently diagnosed with a colon perforation. Plaintiff files suit and alleges that Defendant performed an unnecessary procedure and perforated her colon during the operation, leading to multiple physical ailments, including a colostomy, two additional surgeries, a bowel obstruction, colovaginal fistula, and scarring. Defendant maintains the care was reasonable and appropriate and the surgery was necessary to determine and address the etiology of her pain. He denies perforating the colon during the procedure and contends that Plaintiff's perforation was caused by her diverticulitis. Plaintiff submits $97,000 in past medical expenses, which the jury gives her along with another $3,400,000 for pain and suffering. The award is reduced to $702,000 under Maryland's cap on non-economic damages.
2006 $1,370,025 Verdict. Plaintiff, a 42-year-old operations manager, is driving on an unlined access road to pick her daughter up from high school when she is struck head-on. Plaintiff suffers serious injuries including a fractured tailbone, a torn meniscus in the right knee (requiring surgery), disc disruption and herniation at C6-7 requiring a discectomy, fusion, and refusion with the insertion of metal plating. While initially alleging Plaintiff was contributorily negligent, Defendant admits liability at trial and withdraws the co
ntributory negligence defense, but asserts that Plaintiff's continuing complaints and the need for surgeries are related to preexisting degenerative conditions. Plaintiff claims chronic pain from the tailbone and neck injuries, resulting in total disability from employment. She sought between $885,941 and $1,251,038 in past and future medicals, as well as past and future lost wages. The insurance company that was willing to try this case? It will come to the surprise of no one that it was State Farm. The jury sided with the plaintiff and awarded more than she was asking, at $1,370,025.
No one is suggesting these are average verdicts in Calvert County personal injury cases and you can expect a similar result in every case. What they do show is that in the right case, a jury in this county will give a fair award. Most insurance companies understand this and value cases for settlement accordingly.
Hiring a Calvert County Personal Injury Lawyer
Our attorneys handle accident and malpractice cases in Calvert County. If you need a Calvert County personal injury lawyer will fight to get you the results you deserve.
Are our malpractice and accident lawyers based in Calvert County or Lexington Park. We are not. If you have a small personal injury case, you would do well to hire a lawyer who practices locally. If you have a personal injury claim where the stakes are high and getting justice will have an impact on the quality of your life, compare our record against anyone in your area and call who you think would be the best personal injury lawyer.
If you have been injured in a car, truck, or motorcycle accident or by medical malpractice in or around Calvert County or southern Maryland, call to speak to one of our accident attorneys at 800-553-8082 or select here for a free consultation.
Calvert County Resources
Other Jurisdictions Near Calvert County