Can We Help You with Your Case?
Miller & Zois represents clients who are seriously injured in truck or auto accidents or by medical malpractice or a defective product. The majority of our cases come from referring lawyers.
We regularly enter into fee splitting relationships with referring lawyers. If you are thinking of referring your client's case to us, you need to know one thing: our firm will be relentless in maximizing the value of your client's case.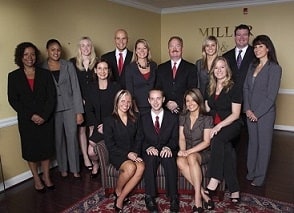 There are many different factors to consider when selecting co-counsel to assist with your client's personal injury case. Both you and your client have to be comfortable with co-counsel.
You have to decide who has the experience and ability to help you get the client the compensation the client deserves. Do they have the experience, resources and, just as importantly, the same commitment to the case that you have? Is the firm willing to put its money where its mouth is and front all of the costs and expenses in the case? Does the firm have lawyers who have lectured, published, and taught personal injury law? Does the firm have a history of getting seven figure settlements and verdicts? Does the firm have an established reputation that resonates with insurance companies and defense attorneys in Maryland?
Results
Miller & Zois has a proven record of achieving outstanding results for our clients and our referring lawyers in personal injury cases through settlement, arbitration and trial. Simply put, we have historically gotten results for our clients and our referring lawyers. We have settled some seven figure cases where the offer was zero. We take a lot of pride in that.
Our firm's work has received local and national acclaim. Lawyers Weekly USA wrote an in-depth article on the tactics and strategies Miller & Zois utilizes to maximize recoveries at trial. Ronald V. Miller, Jr. is the author of a two-volume treatise on maximizing the value of personal injury cases and has coauthored numerous articles with judges and other lawyers on how to make the greatest recovery possible in personal injury case.
The Lawyer's Lawyer
The majority of the firm's cases come by referral from other lawyers. Many of the referrals are from lawyers who do not handle personal injury or contingent fee cases, but the firm also receives referrals from other personal injury lawyers who do not have the time or resources to properly pursue catastrophic and/or complex cases. Difficult cases just do not deter us.
Keeping the Referring Lawyer Involved in the Case
Miller & Zois establishes a co-counsel relationship with its referring lawyers. The firm invites referring lawyers to remain involved as little or as much as they wish. While referring lawyers receive a smaller percentage of the recovery than if they handled the entire claim themselves, it is not uncommon for referring lawyers to earn a great deal more in co-counsel attorneys' fees than they would have collected if they had kept the case.
Most importantly, the lawyer comfortably knows that the client has been directed to counsel with the training and resources to maximize the value of their case.
The Legal Community and Our Community
The attorneys at Miller & Zois are committed to giving back to the community. Its website, www.millerandzois.com, is one of the leading resources in the country not only for injury victims but for lawyers handling injury cases.
Ron Miller is a professor at the University of Baltimore Law School, instructing students in Insurance Law, and a prolific writer on personal injury and insurance topics.
Laura Zois is on the Board of Governors and chairs committees of the Maryland Association for Justice (formerly the Maryland Trial Lawyers Association). Ms. Zois frequently lectures at seminars for lawyers in Maryland and around the country on handling personal injury cases.
Rod Gaston also regularly speaks to trial lawyers about insurance coverage issues and bad faith claims. Our lawyers founded the Miller & Zois Kids Foundation to help children in Maryland (and around the world) in need. The foundation has made donations to some nonprofits, including local area schools and research groups looking to conquer cancer.
Miller & Zois has experienced Maryland personal injury lawyers and a dedicated staff that works as a team to uncover every resource available to bring our medical malpractice and motor vehicle cases to the best possible conclusions.
Upon request from an attorney, we will provide a contact list of attorneys in Maryland and around the country who regularly refer their personal injury accident and medical malpractice clients to Miller & Zois and can speak to the remarkable success we have achieved for their clients.
Quick statement of the obvious that all of your understand. Each injury case is different. Our record of success is no guarantee of a favorable result in any future case.
Referring Your Case to Us
Our law practice is largely based on referrals from other lawyers who do not have either the experience or the resources our lawyers have to expend in every case. We also work with many out-of-state lawyers with clients in Maryland.
Our firm partners with other lawyers that refer serious injury cases (accident, malpractice and product liability) to our firm and splits co-counsel fees with referring lawyers consistent with Maryland Rule 1.5(e).
If you want our thoughts on your case, call Ron Miller or Laura Zois at 800-553-8082 or contact us online to discuss your case.