The Howard County personal injury lawyers at Miller & Zois have an unmatched record of success representing victims of medical malpractice and major auto & truck accidents in Howard County.
Howard County can be a challenging jurisdiction for personal injury plaintiffs with serious injury and malpractice lawsuits.  But our firm has been successful in this venue.
Our lawyers, two of which are Howard County residents, know how to get maximum compensation for accident victims in Howard County.
Personal Injury Cases in Howard County, MD
Geographically, Howard County is a very large county, but it has a small population relative to its size. It has a relatively small court system. To put its size in context, there are six times the number of Circuit Court judges in Baltimore City than there are in Howard County.
Many personal injury attorneys view Howard County as a difficult jurisdiction to try accident and medical malpractice cases on behalf of injury victims. Some personal injury lawyers try to avoid bringing cases in Howard County at all costs and will even prefer a bench trial over a jury in Ellicott City.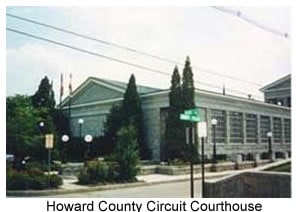 Our lawyers have a more moderate take. Our attorneys believe that this is a good jurisdiction if the plaintiff is severely hurt or it is a fatal accident claim.
But let's be honest: any personal injury lawyer would always prefer to try a tort case in Prince George's County or Baltimore City.
Typically, and obviously, this is a broad brush rule with many exceptions, plaintiffs prefer jurors from Columbia as opposed to the western part of the county. But Howard County has changed a lot, and this preference for Columbia jurors is not what it was 20 years ago.
But the better question is can you win a good lawsuit in Howard County?  With good facts and a good personal injury lawyer, you absolutely can.
All of this commentary relates to cases in Howard County Circuit Court.  For accident and malpractice attorneys handling smaller cases – we don't – district court judges in Ellicott City are known for giving fair compensation to accident victims.
Circuit Court Judges in Howard County
There are about 300 personal injury cases filed in Circuit Court in Howard County. So there is a significant volume of lawsuits. But it is still a very quaint, old courthouse that has a Mayberry feel to it. The Circuit Court building sits at its historic location on a hill overlooking old Ellicott City. The building itself is a combination of some original structures along with several modern additions all of which have been interconnected over the years.
Despite this disorganized layout finding your courtroom is always easy simply because Howard County Circuit court is just not that big compared to other counties.
The District Court is in a more modern office building located about a mile up the road.
The workload of Howard County's 5 Circuit Court judges is shared with 3 Magistrates: Elizabeth Case, Stephanie P. Porter, and Lara C. Weathersbee.
You can find the Howard County Circuit Court at 9250 Judicial Way, Ellicott City, 21043.
Howard County District Court Judges:
You can find Howard County District Court at  3451 Courthouse Drive, Ellicott City, MD 21043.
With one possible exception, these judges are mostly thought to be fairly reasonable to plaintiffs when awarding damages in personal injury cases in Howard County District Court.
Howard County Personal Injury Verdicts and Settlements
You cannot predict settlement compensation payouts in your case by looking at example settlements and verdicts in Howard County.  There are too many variables that go in any personal injury case that trying to compare one to the other and extrapolate a settlement amount is just impossible.  Still, along with other valuation tools like type of injury, you can get a better range of the settlement compensation payouts in cases similar to yours.
2023: $5,000,000 Verdict. A woman underwent a diagnostic procedure called ERCP in 2014, conducted by a gastroenterologist associated with a medical practice with offices in Elkridge and Columbia. After the procedure, she faced severe abdominal complications, leading to her diagnosis with post-ERCP pancreatitis and a nearly year-long hospitalization. The central contention in her lawsuit was the issue of informed consent, suggesting she wasn't adequately warned about the risks. A Howard County jury awarded her over $5 million in damages for her lifelong pancreatic damage. Her jury payout was broken down into $1 million for past medical costs, $1 million for lost income, $72,000 for expected future medical expenses, and $3 million for non-economic damages. However, due Maryland's cap on noneconomic damages, he non-economic damages were reduced to $740,000.
2020: $250,000 Settlement. Our client was rear-ended on Clarksville Road not far from River Hill Town Center.  She suffered a neck injury that ultimately required a fusion.  The issue was she had significant pre-existing injuries in her neck which forced us to file a lawsuit against State Farm who represented both the at-fault driver and carried uninsured motorist coverage up to $250,000.  Before trial, State Farm paid both policies.
2019: $56,000 Verdict.

Plaintiff, a mid-60s male, was driving a multi-passenger van at the intersection of Route 40 and 29 in Ellicott City when he was rear-ended by the defendant. Plaintiff alleged injuries included a partial tear and tendinitis in his right shoulder, neck impingement, and

herniated and bulging discs in his cervical and lumbar spine. Treatment was limited to physical therapy. Defendant admitted liability but argued that Plaintiff's injuries were t
he result of old age, not the car accident. After a 3 day trial,  the Ellicott City jury awarded plaintiff $56,000 in damages.
2019: $800,000 Verdict.

Plaintiff, a middle-aged female, was injured in side-impact car accident in Columbia. She allegedly suffered significant spinal injuries leaving her with chronic and permanent pain. Damages were disputed at trial. A Howard County jury awarded the plaintiff total damages of $800,000.

2016: $68,849 Verdict. Plaintiff is stopped at a red traffic signal when a vehicle rear-ends his vehicle. He injures his neck, back, ribs and shoulder in the collision. The driver of the vehicle at fault tendered their $30,000 policy limits, and the plaintiff files a claim against his insurer, State Farm, to recover underinsured motorist benefits. A jury awarded the plaintiff $68,849 from State Farm, which is later reduced to $38,849.
2015, $350,000 Verdict. Plaintiff is driving his vehicle when he comes to a red traffic signal at an intersection. He stops his vehicle but the defendant, traveling behind him, fails to stop his vehicle and collides with the back of Plaintiff's vehicle. The man suffers cervical and lumbar spine injuries in the collision. He seeks to recover underinsured motorist benefits from his insurer, Erie, but Erie refuses to pay and disputes the nature and extent of the plaintiff's injuries. A jury awarded the plaintiff $350,000, but the parties agreed to later reduce the award to $280,000.
2015: $32,389 Verdict. A 65-year-old man is stopped in his vehicle when the defendant fails to stop behind him. Both vehicles are totaled and the man suffers a right shoulder rotator cuff tear and injuries to his left wrist and his head. The man files this claim, arguing that the defendant was negligent and failed to keep a proper lookout. The defendant admitted liability but disputed the extent of the man's injuries. A jury awarded the plaintiff $32,389.
2012: $220,000 Settlement. Plaintiff is driving down Route 95. She notices a car lost control a half-mile ahead. Plaintiff pulls completely off the road on the left side to render assistance. She gets out of the car and is hit by another driver. Plaintiff has a concussion and requires a metal disc and pin in her arm. State Farm was the at-fault driver's insurer; Plaintiff had additional underinsured motorist insurance with USAA. Our law firm handled this accident claim.
2012: $19,241 Verdict. Plaintiff, a 27-year-old security guard, suffers a fractured nose that required surgery when Defendant attempted to make a left turn from the right lane (they were both traveling in the same direction). State Farm defended the case on liability in what was essentially a he said/she said case.
2012: $106,226 Verdict. Defendant makes a left-hand turn in front of Plaintiff. Plaintiff suffers a herniated disc. The two insurance companies, State Farm and Allstate, claim her pain is from another accident. Allstate represented the driver; State Farm had the underinsured motorist claim. The verdict was reduced to $100,000 under a high-low agreement.
2011: $36,000 Verdict. Plaintiff is walking down the sidewalk in Columbia and tripped and fell over an exposed cable line from Comcast, which she claimed should have been located underground. Plaintiff sustains a fractured kneecap that will require a total knee replacement. Plaintiff has $3,900 in past medical expenses and approximately $37,000 in future medical expenses. This case underscores how tough Howard County juries can be; the jury barely awards Plaintiff's past and future medical bills in a case where Comcast reportedly did not seriously contest liability.
2010: $83,000 Settlement. A young woman is traveling on I-70 near the interchange with Route 29 and is struck from behind and forced into the car in front of her. She is taken by ambulance to Howard County General Hospital where her biggest complaint was severe pain in her thighs. Our law firm handled this claim.
Hiring a Personal Injury Lawyer in Howard County
Our law firm handles a substantial number of our serious personal injury cases in Howard County, including Columbia, Ellicott City, Clarksville, Clarksville, Laurel, Glenelg, Jessup, and Sykesville, If you have been injured in a motor vehicle accident or by medical malpractice call us 800-553-8082 or select here for a free consultation.
Neighboring Jurisdictions
Related Information