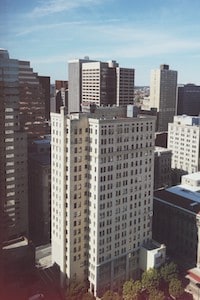 Below is a list of Baltimore City judges.  There is a perception among some people who are not familiar with the nuances of our justice system that judges in Baltimore City are not as impressive (for lack of a better word) that judges in the counties.
But actually the opposite is true: there are so many good candidates in Baltimore City, probably because there are so many lawyers here, that the quality of the judges is among the best in the state.  Most of these judges are very experienced jurists who have been handling personal injury jury trials in accident and medical malpractice cases in Baltimore City for many years, either as a judge or a lawyer.
Miller & Zois regularly handles cases in Baltimore City. Our last plaintiff's verdict in Baltimore Circuit Court was for $10 million.
Baltimore City Circuit Court
Baltimore City Circuit Court has 33 judges, including one current vacancy:
Our law firm has won tens of millions of dollars for our clients in Baltimore City and throughout Maryland by fighting every single case like it was our only case. We can help you. Call 800-553-8082 or get an online consultation.
Active:
Inactive:
What to Expect in District Court
Baltimore City District Court has 27 judges. While this is a great group of judges, it is worth keeping in mind that arguably the lowest district court verdicts in Maryland are in Baltimore City. Some would argue that this is a function of the quality of the cases that are filed in Baltimore City. There is surely truth to this.  Whatever the reason, it is something Maryland personal injury lawyers need to consider before filing suit in Baltimore City District Court.
Our law firm no longer handles District Court cases because our firm focuses on more significant injury and death cases that are beyond the District Court's $30,000 jurisdictional limit. But we still talk to other lawyers, and it sounds like 2021 is no different from 2011. In those days, we would ask for a jury trial before we would file a case in Baltimore City District Court (or find a way to weasel ourselves into District Court in one of the counties).
This concern about the trial value of a Baltimore City District Court case is even more pronounced in cases where the medical treatment was rendered by medical providers who regularly treat personal injury victims and — let's face it — work with plaintiffs' lawyers. Clearly, there are some cases
Active:
Inactive:
*Full disclosures: we still need to go back and update this list District Court judges.  This is current, we believe, as of 2019.
CIRCUIT COURT FOR BALTIMORE CITY
Courthouse East
111 N. Calvert Street
Baltimore, MD 21202
410-333-3722
Clarence M. Mitchell, Jr. Courthouse
100 N. Calvert Street
Baltimore, MD 21202
410-333-3722
Get More Information on Personal Injury Cases in Baltimore
Learn More About the Baltimore Bench