Knee Injury Settlements and Verdicts in Maryland
An estimated 2 million people in Maryland have suffered a knee injury. Many are from car, truck, and motorcycle accidents.
Our knee injury lawyers look at the average compensation payouts for a knee injury (knee fractures, ACL/MCL tears, etc.). Our attorneys focus on Maryland but many of these statistics, settlement amounts and jury payouts are national.
Average Compensation Payouts for Knee Injuries
Jury awards vary wildly in knee injury cases. There are two significant variables: (1) the severity of the injury, (2) whether there was a previous problem with the knee that contributed to the injury.
Here are some settlement value statistics of interest: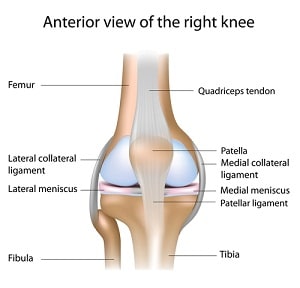 The average jury verdict is approximately $360,000
The median jury verdict is $110,000
One out of 12 knee injury verdicts is over $1 million
Rear-end accident verdicts have a median of under $10,000
The last statistic is not surprising: the mechanism of injury in these cases is such that you do not expect a severe leg injury in a rear-end accident. It happens, often from the client reflexively slamming the break or the knee hits the dashboard. Our attorneys have had many such cases. But they are less common.
How Much Compensation Will I Get For A Knee Injury Case?
The average compensation payout for a knee injury in a personal injury case is between $70,000 to $150,000. The more serious knee injuries can have much higher than average settlement values. One out of every 12 knee injury verdicts is over $1 million.
Our law firm's largest knee injury verdict is a $5.2 million award given by a Baltimore City jury.
What Impacts The Value of A Knee Injury Case?
Two primary factors that drive the settlement amounts for knee injuries in personal injury cases: (1) the severity of the knee injury, and (2) whether the plaintiff had pre-existing or degenerative knee problems before the accident.
Are Knee Injuries Hard To Prove In a Lawsuit?
No, a good knee injury lawyer in Maryland rarely has trouble proving a knee injury. Most typical traumatic injuries to the knee can be definitively diagnosed with medical imaging tests such as x-rays or an MRI. This makes knee injuries much easier for plaintiffs to prove in a personal injury case.
If there is a battle with defense lawyers, it often centers on whether it is a fresh knee injury or if the injury was preexisting before the car crash or slip and fall.
Expected Knee Replacement Settlement Amounts
When it comes to knee replacement settlement amounts, the compensation payout is contingent on whether the treating surgeon can bundle the need for the knee replacement to the accident. If a doctor can connect the dots, the average settlement amount of a knee replacement is at the high end of the averages we have been talking about.
Sample Knee Injury Verdicts and Settlements
How much are knee injury cases worth? The cases below — many of which are our law firm's cases — give a glimpse at the potential value of these cases.
But keep in mind that example payouts cannot give you the expected value of your claim. Every case is different. There are so many factors that go into the settlement compensation awarded in these claims. Generally, knee surgery claims have a higher settlement value than non-surgery claims and arthroscopic knee surgery settlements are less than open procedures. (But for all of the little rules like this, there is a bushel load of exceptions.)
There is no knee injury settlement calculator (as much as people search for online) for car accident cases. Still, combined with the verdict statistics above, you should have a better idea of the possible range of settlement values for your case.
2023: Maryland: $62,642 Verdict: The plaintiff suffered a moderate knee injury when the vehicle he was a passenger in was struck in a T-bone collision at an intersection. The at-fault driver was underinsured so after a policy-limit settlement the plaintiff sought additional damages under his UIM coverage with State Farm. Jury in Baltimore County awarded $62,000, which included $55,000 for pain and suffering.
2023: Maryland: $112,500 Verdict: The plaintiff was in a store parking lot loading groceries into his car when the defendant backed out of his parking spot, struck the plaintiff's shopping cart and pinned him into the back of his car. The plaintiff allegedly suffered injuries to his left elbow and left knee. The verdict was almost entirely pain and suffering damages.
2022: Virginia: $460,000 Verdict: A 40-something man was struck from behind. He tore his right knee. The man underwent knee surgery. His knee pain became permanent. The man's injuries affected his ability to walk for prolonged periods. He alleged that the at-fault driver's negligence caused his injuries. The jury awarded $460,000.
2022, New Jersey: $191,250 Settlement. A woman walked towards a train platform. She fell and broke her left knee. The woman underwent two knee surgeries. She underwent physical therapy. The woman could not work for over two months. She alleged negligence against the New Jersey Transit Corporation. The woman claimed it maintained unsafe premises. The parties agreed to settle for $191,250.
2019: Maryland: $16,000 Settlement: The is a failure to yield the right-of-way lawsuit. A woman was T-boned at the intersection of Edmondson Avenue and Swann Avenue in Baltimore. She and her two children suffered injuries to their head, neck, and limbs. The woman also suffered a right knee contusion and a strained thorax. She claimed the other driver excessively sped and failed to yield the right-of-way. This case settled for $16,000.
2019: Maryland: $3,000 Verdict: A woman was T-boned at an intersection. She claimed she suffered bilateral knee contusions, knee abrasions, spinal injuries, forehead injuries, and post-traumatic headaches. The woman claimed the other driver negligently ran a stop sign and failed to yield the right-of-way. Some lawyers, who are not personal injury attorneys in the trenches, say a Baltimore City jury will award any plaintiff whatever they ask for. It is nonsense. This Baltimore City jury measly award proves this point. Yes, Baltimore juries will be very fair to victims. But that is only if they are truly hurt.
2019: Maryland: $170,519 Verdict: A man was sideswiped in a multi-lane roadway. He suffered a traumatic left knee fracture and iliotibial band syndrome. The man underwent knee arthroscopy. He claimed residual knee pain, walking difficulties, and an inability to kneel. The man also claimed the other driver negligently changed lanes, failed to yield the right-of-way, and failed to follow traffic devices. A Baltimore County jury awarded $170,519. This is a reasonable outcome from a Baltimore County jury, a jurisdiction known for being relatively conservative. The average arthroscopic knee surgery settlement is typically less than other types of knee surgery because it is less invasive and the recovery time is typically shorter.
2019: Maryland: $50,000 Verdict: An underinsured motorist struck a man in a parking lot. The man suffered a right meniscus tear and right hip, leg, and foot injuries. He settled with the tortfeasor for $50,000. The man hired a Baltimore knee injury lawyer and filed a claim against his insurer, State Farm, for his underinsured motorist benefits. State Farm disputed the man's claim, arguing comparative negligence. This argument failed but a Baltimore County jury awarded only $50,000. This effectively means the victim gets no additional money from State Farm because the verdict did not exceed the policy limits.
2019: Maryland: $11,500 Verdict: A taxicab was rear-ended on Edmondson Avenue. Its two teenage passengers suffered personal injuries. The 14-year-old boy suffered left knee and leg injuries, while the 16-year-old girl suffered head and neck injuries. They alleged that the other driver's negligence caused their injuries. The two claimed he negligently tailgated them and negligently ran a red light. This case settled for $11,500.
2018: Maryland: $390,394 Verdict: A commercial vehicle struck a man loading a chassis onto a tractor-trailer. The man suffered a torn left meniscus, a left leg stress fracture, leg sprains, and soft tissue back, buttock, hip, right arm, right elbow injuries. He also suffered permanent vascular and nerve injuries, leg swelling, and post-traumatic stress disorder. The man underwent knee surgery. He alleged that the truck driver's negligence caused his injuries. The defense disputed the man's allegations, arguing comparative negligence. A Baltimore City jury awarded $390,394.
2018: Maryland: $1.6 Million Verdict: A man was T-boned at an intersection. He suffered a fractured right knee, knee pain, knee and leg radiculopathy, rib fractures, and a lacerated liver. The man claimed the other driver failed to pay attention to the road, failed to control his vehicle, failed to follow traffic devices, and failed to yield the right-of-way. The defense contested the man's claims. A Prince George's County judge awarded a $1.6 million verdict.
2017: Maryland: $1.1 Million Verdict: A man was T-boned at an intersection. He suffered right femur, right wrist, and scapula fractures. The man's injuries left him with permanent impairments to his right knee, leg, and shoulder. He also experienced challenges in walking, standing, and sitting difficulties. The man treated his pain with oxycodone and fentanyl. The defense lawyers jumped on this but it did not work. A Baltimore City jury awarded a $1.1 million verdict.
2017: Maryland: $87,000 Verdict: A taxicab was involved in an at-fault collision. Its female passenger suffered a knee contusion, spinal strains, and a sprained left thumb. She claimed her driver's negligence caused her injuries. The woman claimed she failed to yield the right-of-way and failed to follow traffic devices. A Baltimore City jury awarded an $87,000 verdict.
2014: Maryland: $5.2 Million Verdict: Plaintiff required a below-the-knee amputation after a knee dislocation was missed at St. Agnes Hospital in Baltimore. Miller & Zois handled this case. Here is a video animation we created of the knee that shows what the doctors missed and the day-in-the-life video our client has kindly allowed us to post online.
2014, Maryland: $135,000 Settlement. Plaintiff, a pedestrian, suffered a serious right knee fracture after being struck as she walked through a parking lot in Baltimore County. Plaintiff required minor surgery as a result of the fracture. The State Auto insured defendant claimed that she was able to stop her vehicle in time and that she didn't make contact with the plaintiff. She hired our Maryland knee injury lawyers and filed a lawsuit when State Auto continued to contend that she was contributorily negligent for walking through the parking lot with her head down. The case concluded at mediation, resulting in a $135,000 settlement. Miller & Zois handled this case.
2013, New York: $375,000 Settlement/Verdict. Plaintiff, a 29-year-old construction worker, is a passenger involved in a head-on collision with a vehicle while executing a left turn. Plaintiff presents to a hospital 12 hours later with complaints of neck, back, and left knee pain. After two weeks, Plaintiff complains about a painful condition in his right knee (the other knee, which is a concern). Plaintiff sues his driver, the owner of the vehicle, and the driver of the other vehicle claiming derangement of the cervical and lumbar spine, a tear in the posterior horn of each knees' lateral meniscus, and a bucket-handle tear of his right medial meniscus. Over two and a half years, Plaintiff has three knee surgeries, trigger-point injections, and physical therapy. Parties stipulated to $77,843.13 in medical bills.
2012, Maryland: $600,000 Settlement. Plaintiff, 27, is approaching a crossover when a dump truck pulls directly out in front of him, causing him to swerve to the right. Plaintiff is unable to avoid coming into contact with the rear of Defendant's vehicle, and after striking the dump truck, is further overturned when he is struck by a tractor-trailer. Plaintiff sustains a fracture/dislocation of the left hip, left knee, left leg, dislocation of the left foot, fracture of the left elbow, left eye laceration, and right wrist laceration. Plaintiff undergoes surgery for closed reduction of the left hip, closed reduction of the left fourth and fifth metatarsophalangeal joint dislocations, and open reduction internal fixation of the left elbow. Plaintiff contends permanency as well as a possible need for a total hip replacement in the case of avascular necrosis or post-traumatic arthritis. Plaintiff sues both drivers and the dump truck's employer. The case settles for $600,000, days before the trial. This was a Miller & Zois settlement.
2012, Maryland: $100,000 Arbitration Award. This is another arthroscopic knee injury lawsuit. The plaintiff, a delightful 19-year-old administrative assistant, is rear-ended while stopped at a red traffic light. She is struck with such force that her vehicle comes to rest on the opposite side of the intersection. Plaintiff suffers a left knee medial meniscal tear. Plaintiff undergoes arthroscopic surgery to her left knee. Thankfully, the arthroscopic surgery goes fantastic and she heals beautifully. The insurance company argues that an arthroscopic knee surgery settlement should be less than an open knee surgery that requires an incision. The case is arbitrated. The arbiter awards more than $100,000, but our client chose to accept a high/low agreement with a high of $100,000 given the insurance policy limits. Miller & Zois handled this claim.
2011, New York: $144,000 Verdict. Plaintiffs, husband and wife, are rear-ended by Defendant. Both claim back, neck, and knee injuries. Husband claims tears and sprains in both knees, as well as several disc herniations and bulges. Husband returns part-time to work after two days, but is unable to work full-time for eight months. He receives physical therapy for four months. Wife claims a medial meniscus tear, as well as several herniations with radiculopathy.

Knee injuries are often life-changing. Too many insurance companies — and lawyers — undervalue knee injury claims.

She undergoes an arthroscopic meniscectomy, two chondroplasties, and a synovectomy of the left knee and receives therapy two to three days a week for almost a year. Defendant's experts claim that both husband and wife's knee injuries are unrelated to the accident. Jury awards husband $43,000 and wife $101,000.

2011, New York: $20,000 Verdict. Plaintiff, a 55-year-old seamstress, is struck in the left knee by a car while trying to cross the street. Plaintiff claims a pedestrian traffic signal provided the right of way. The vehicle's driver did not stop and was never identified. Plaintiff receives minor treatment at the hospital. After being discharged immediately presents to a physiatrist complaining of knee pain. Plaintiff undergoes 16 weeks of therapy and claims residual pain with a reduction in the range of movement. Plaintiff sues the Motor Vehicle Accident Indemnification Corp. This entity compensates victims of motor vehicle accidents caused by uninsured or underinsured motorists. Jury finds the unidentified driver to be negligent but assigns Plaintiff 25% of the liability. They further find that she did not suffer a permanent limitation of the knee and award $20,000. The comparative-negligence reduction produced an unimpressive net recovery of $15,000.
2010, Virginia: $225,000 Verdict. Plaintiff, 58, is driving when she is struck by Defendant, causing her vehicle to spin. Her airbag deploys as a result of the accident. Plaintiff presents to the ER with facial burns from the airbag, as well as head, neck, and shoulder discomfort. Plaintiff presents to the ER again, ten days later, with complaints of swelling in both knees. Fluid is removed from the right knee, and she is diagnosed with a partial meniscus tear. She undergoes surgery within a month. Plaintiff claims $48,468 in past medicals and $32,800 in future medical bills. Plaintiff's expert testifies that her meniscus was weakened by her arthritis and age and that she was asymptomatic before the accident. Defendant argues that her injury was not as a result of the accident, as she did not complain of knee pain for ten days.
2010, New York: $10,000 Verdict. Plaintiff, 50, slows to a stop for an accident ahead while traveling on the parkway when he is rear-ended by the Defendant. Plaintiff sustains a torn medial and lateral meniscus in his right knee, requiring two surgeries, as well as a C5 avulsion fracture. Plaintiff claims he will need future surgery as well as a knee replacement on the opposite leg. He claims $6,700,000 for past and future pain and suffering and past and future medical treatment. Defendant alleges that the Plaintiff first struck the car in front of him before being rear-ended. Defendant's experts claim that the surgeries were not related to the accident and that any knee degeneration stemmed from preexisting diabetic neuropathy. The jury determines that Plaintiff's damages total $10,000 for past pain and suffering.
2010, Virginia: $396,000 Verdict/Interest. Plaintiff, a 50-year-old contract accountant, and part-time volunteer firefighter, claims a permanent knee injury after being rear-ended. Plaintiff previously underwent a knee replacement. Plaintiff claims she was required to have a revision of the prior surgery, leaving her with a 2% permanent partial disability, and an inability to continue as a volunteer firefighter. Defendant disputes causation and alleges that Plaintiff first struck the vehicle in front of her, and had no brake lights for him to notice. Plaintiff was awarded $336,000 for compensatory damages plus approximately $60,000 in pre-judgment interest.
Treating a Knee Injury
One of the most difficult things about making decisions on treating a knee injury is how often competent orthopedic doctors disagree as to the best path for treatment. Understanding the medical literature is a good way to educate yourself and bring into your discussion with your doctors. These are also articles you can expect medical experts to rely upon at trial.
Getting a Lawyer to Maximize the Value of Your Knee Injury Claim
Miller & Zois handles serious injury traffic collision cases involving knee injuries in the Baltimore-Washington area and throughout Maryland. If you or a loved one has suffered a severe leg injury as the result of the negligence, call us at 800-553-8082 or click here for a free Internet consultation. You can also text us your questions at 410-835-4103 (text line only).