A cesarean section (or C-section) is the surgical delivery of a baby through an incision in the mother's belly and uterus. A C-section is a necessary option when the risk of natural birth is significant to either the baby or the mother.
In many cases, the obstetrician will fail to schedule a C-section even though it is the best course. More commonly, medical malpractice cases result from the failure to order an emergency C-section when a complication arises during the birthing process.
There are many situations where the baby is in fetal distress, and there is a short window to prevent a tragic, irreversible brain injury. The safest path is often a C-section.
When is a C-Section Warranted?
The standard of care often mandates a scheduled C-section if
The mother has a history of prior C-sections
The mother had an active infection like HIV or herpes
There is placental abruption, placenta previa, or other complications with the baby getting food and oxygen from the placenta
Emergency C-Sections
Again, there are malpractice lawsuits for failing to schedule a C-section. But the more common lawsuits are when a baby is deprived of oxygen and needs to be delivered immediately. When there is evidence of fetal distress, fetal compromise, non-reassuring heart tones, or a rupture of membranes, often the only reasonable path is a C-section. An OB-GYN must be able to perform an emergency C-section as soon as fetal distress is apparent. There can also be material considerations for an emergency C-section.
Often, the answers are in the fetal monitoring strips. The OB and the labor and delivery nurses should be looking for late decelerations, variable decelerations with a slow return to baseline, atypical variable decelerations, prolonged bradycardia, prolonged tachycardia, and other signs of fetal distress to determine whether the baby is in trouble and needs to get out quickly.
Slow Assembly of C-Section Team
Sometimes, a C-section is ordered at the appropriate time, but the C-section is delayed by negligent healthcare providers or a poorly designed system to order and execute an immediate C-section. Time is of the essence so there must be a timely assembly of the team. The rest of the baby's life hinges on speed.
To give you some idea of the steps you need to skip when a baby is not getting oxygen, healthcare providers sometimes use prophylactic antibiotics and skip washing their hands just to get that extra 30 seconds. If you are taking 30 minutes to assemble that team, you are taking too long. A good hospital can get an emergency Caesarean section in under four minutes, particularly if the mother already has an epidural.
Informed Consent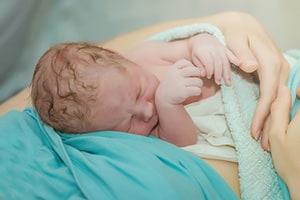 Another issue in C-section lawsuits is informed consent. Sometimes, reasonable minds can differ on whether a C-section is appropriate. So even when the standard of care does not require the OB to order a cesarean, the standard of care may require the physician to discuss with the patient the potential risks to the baby or the mother.
Injuries That Result From Failure to Perform a Caesarean Section
The common thread in all of these cases? A baby deprived of oxygen.
How the Obstetrician's Lawyer Defend These Cases
Almost every delayed C-section birth injury malpractice lawsuit is hotly contested, even those cases that ultimately settle for millions of dollars. There are common themes that run through all of these cases.
The fetal heart rate strips were reassuring. Defense lawyers can find an OB/GYN to testify that fetal heart rate strips that look awful look perfectly fine to an obstetrician. Jurors do not know how to read the strips so it becomes a battle of the experts. It is like a doctor telling a color-blind jury that something is red instead of blue.
C-sections are a last resort. One dispute we have with defense lawyers is on the question of whether a mother who has already begun labor is at greater risk for C-section complications than a scheduled C-section. Defense lawyers claim the risks associated with a C-section increase if labor has already begun. But there is no good science to support this theory.
C-sections are serious surgery. There is a kernel of truth to this argument. There probably are too many c-sections today. Defense lawyers trying to conflate this fact with the question of whether this relatively low-risk surgery is preferable to the risk of a lifelong brain injury to a child. C-sections do not come without risk but that risk is very small when compared to the risk of a child suffering a permanent birth injury.
The mother insisted on a vaginal birth. This is another argument that can distort a fact. Many mothers state a preference for a vaginal birth. Defense lawyers take this preference as a mother insisting on a vaginal birth. When properly informed of the risk to the child, few mothers are going to insist on natural birth.
Can I Sue My OG/GYN for Failing to Do a C-Section Delivery?
Yes. When complications arise during labor and delivery and the baby is under duress, doctors can usually avoid any harm to the baby by stepping in with an emergency C-section. Failure to intervene with a C-section in response to delivery room complications is one of the most common medical negligence claims in birth injury cases.
When Is an Emergency C-Section Called For?
Doctors should intervene with an emergency C-section whenever there is any indication or warning sign that the baby is not getting enough oxygen from the mother. There are a variety of complications that can arise during childbirth which can disrupt the supply of maternal oxygen. When these situations occur doctors must deliver the baby immediately or the baby can suffer permanent brain damage.
How Long Should an Emergency C-Section Take?
A C-section delivery procedure only takes a few minutes. The real question is how long should it take a hospital delivery team to be ready for an emergency C-section when signs of fetal distress occur. If a baby's oxygen supply is disrupted during delivery, every second counts.
A 5-minute delay in performing a C-section could literally mean the difference between a healthy baby and permanent brain damage. A delivery team should be able to perform an emergency C-section in less than 15 minutes.
Failure to Perform C-Section Settlements & Verdicts
What is the settlement value of a failure to perform a C-section lawsuit?  The biggest variable on settlement compensation is the scope and extent of the injuries and the economic cost to the child over his or her life.
Example settlements and verdicts will not give you the answer to the value of your child's case but they do help you better understand the range of potential values in these cases and some idea of the fact patterns that led to successful birth injury lawsuits over the years.
Estate of Hernandez v. United States (South Carolina 2023) $450,000 Settlement: A mother went to the hospital at 32 weeks pregnant with symptoms of preeclampsia and fetal distress, but instead of ordering an immediate emergency C-section, the hospital staff sent her home with minimal diagnostic work. It was later discovered that she had suffered a placental abruption. By that time, however, the baby had already suffered massive brain damage from oxygen loss. The baby eventually died two weeks after birth. The estate brought a wrongful death case alleging the defendant were negligent in not performing an emergency C-section.
Johnson v. Advocate Health and Hosp. (Illinois 2022) $20,000 Verdict: Plaintif's birth injury lawsuit alleged that the hospital delivery team negligently failed to recognize and timely respond to clear signs of fetal distress during delivery. Instead of performing an emergency C-section in response to alarming changes in the fetal heart rate patterns, the defendants continued the mother on Pitocin, increasing her contractions and further endangering the baby. The bay eventually suffered a serious brain injury. The verdict included $16.1 million in future medical expenses and $1.9 million for pain and suffering.
Lee v. United States (Michigan 2021) $3,900,000 Settlement: was born with a hypoxic brain injury resulting in permanent sensorineural hearing impairment, speech delay, delayed gross motor milestones and hypertonia of the trunk and all extremities and has been rendered permanently incapable of independent living. The defendant, a federal hospital, was allegedly negligent in failing to timely perform an emergency C-section in response to warning signs of fetal distress on the heart rate tracings. The indecision was partly due to the fact that the primary doctor did not tell the staff to move forward with a C-section rather than wait for his arrival.
R.D. v. Simonson (New York 2020) $810,300 Settlement: Infant suffered permanent neurological impairment and brain damage, resulting in developmental disabilities, speech deficits, motor delays and swallowing difficulties, during his delivery managed by the defendant OB/GYN. The infant plaintiff's mother alleged that the defendant departed from accepted standards of medical care in failing to timely perform a C-section, resulting in a prolonged second stage of labor lasting over 5 hours.

Anonymous v. Anonymous, (Pennsylvania 2018) $7,200,000 Settlement: Despite requiring an emergency C-section with her first child 2 years earlier, the mother was advised to attempted VBAC for her 2nd child. This is rarely a good idea and rarely is the thinking based in good medicine. Several hours of pushing, the baby was delivered but his airways were blocked with thick mucus and he was not breathing correctly. None of the doctors present at delivery were qualified in neonatal resuscitation and were not qualified to intubate the baby. An emergency resuscitation team was called but by the time they got there the baby had been getting restricted amounts of oxygen for 8 minutes. This prolonged asphyxia causes a hypoxic-ischemic encephalopathy brain injury. The baby was eventually diagnosed with cerebral palsy as a result of the brain injury.
Emmer v. Sidor (New York 2018) $2,500,000 Settlement: A mother alleged that a Southampton Hospital and her OB/GYN rendered negligent care during the delivery of her baby. Specifically, the plaintiff claimed that the defendants failed to properly manage her labor, which was complicated by an umbilical cord prolapse, and failed to perform a timely emergency C-section. The delay in performing the C-section delivery allegedly caused extended loss of blood and oxygen to the baby resulting in permanent developmental delays. Before trial, the hospital agreed to settle for $2.2 million and the doctor agreed to pay an additional $300,000 for a total of $2.5 million.
Infant Plaintiff v. Defendant OB/GYN (Massachusetts 2017) $7,700,000 Settlement: Mother's labor was normal until the last 90 minutes before delivery at which point the fetal monitoring equipment indicated that the baby was under acute distress. Doctors and hospital staff continued with the vaginal delivery but the baby suffered a hypoxic brain injury during the delivery. Plaintiff's birth injury lawsuit claimed that an emergency C-section delivery should have been done immediately after the fetal monitoring strips showed duress. The brain injury left the baby with very significant and permanent physical and mental disabilities.
AM Pro Ami v. New York City Health (New York 2017) $1,000,000 Settlement: IN this case doctors and hospital
allegedly misread sonogram results and misdiagnosed the fetal weight which led to a prolonged labor and delayed C-section delivery. The baby was born with brain damage causing significant developmental delays and spastic cerebral palsy. A settlement was reached with the New York State Medical Indemnity Fund for $1,000,000.
Garcia v. New York Presbyterian Hosp. (New York 2017) $599,139 Verdict: The fetal monitoring strips showed hyper-stimulated contractions and abnormal decelerations which became increasingly severe. Notwithstanding these warnings, doctors continued with the vaginal delivery. The baby suffered fetal hypoxia that left him mentally disabled. The plaintiff medical negligence suit alleged that the defendants should have recognized the warning signs of fetal distress and performed an emergency C-section delivery which would have avoided the injuries.
Kwak v. Sunrise Mountainview Hosp. (Nevada 2017) $12,500,000 Verdict: The mother had been pushing for a long time resulting in a uterine rupture. An emergency C-section was immediately ordered but there was a 21-minute delay between the rupture and the C-section delivery and the baby was not breathing at birth. Plaintiff claimed that the doctors and hospital were negligent in not being prepared for the emergency Cesarean section and mishandling it resulting in the 21-minute delay. The baby suffered anoxic brain damage and was eventually diagnosed with cerebral palsy. The defendants asserted that they responded appropriately to the uterine rupture. The jury sided with the plaintiff and awarded $7 million for pain & suffering + $5.5 million for future medical expenses.
ER Pro Ami v. United States (Florida 2017) $33,000,000 Verdict: Plaintiff claimed that doctors negligently mishandled her delivery by failing to perform a Cesarean section delivery in response to signs of duress. The failure to perform a C-section allegedly caused the baby to suffer extensive hypoxic-ischemic encephalopathy during birth. The baby's brain damage was very extensive and he required 24-hour nursing for the rest of his left. The case went to trial in federal court in Miami and the jury awarded $33 million in damages.
Arnaud v. Broussard (Louisiana 2017) $75,000 Settlement: Delivery was complicated by shoulder dystocia and the baby became stuck in the birth canal. Plaintiff claimed that the defendant doctor continued with the vaginal delivery instead of C-section because there were no operating rooms available at the time. Defendants denied liability and argued that once the shoulder dystocia was encountered they had only 5-10 minutes to deliver the baby to prevent brain damage. Overcoming the shoulder dystocia resulted in a nerve injury to the baby who was diagnosed with Erb's palsy.
RL Pro Ami v. Hearin (Georgia 2016) $30,500,000 Verdict: The OB/GYN was concerned by a lack of fetal movement and sent the mother to the hospital for delivery. When the mother arrived at the hospital, however, she waited 90 mins to be admitted then waited several hours before the on-call OB/GYN saw her. Then it took another 2 hours for a sonogram. An emergency Cesarean section was finally performed but not until 5 hours after the mother went to the hospital. The delay allegedly resulted in brain damage and the baby was born with severe cerebral palsy and required 24-hour medical assistance for the rest of her life. Defendant's denied that they did anything wrong and claimed that the mother was contributorily negligent by failing to have all the recommended testing done. The jury in Gwinnett County found the doctor 25% at fault and the hospital 75% at fault and awarded $33 million in damages.
Getting a Lawyer for Your Child's Birth Injury Claim
If your child has suffered a birth injury and you believe the failure to order a timely C-section was the case, call Ron Miller or Laura Zois today. We can talk about your options and what we can do for you. We have a track record of success in wrongful death and catastrophic injury medical malpractice cases. We are based in Maryland but we handle birth injury cases around the country, joining forces with lawyers in your area (and no additional cost to you.
Our Maryland birth injury lawyers can help you and your child obtain the compensation you need and deserve. We do not get a fee of any kind unless we obtain money damages for your family and your child. Call Miller & Zois today and speak to our Maryland birth injury medical malpractice attorneys at 800-553-8082 or get an online case evaluation.