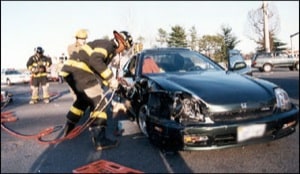 Amica Insurance is the oldest insurer of automobiles in the country, having been around since 1907. The company is headquartered in Rhode Island. In addition to automobile insurance, Amica offers home and life insurance policies.
For whatever reason, Amica does not have much market share in Maryland, ranking 32nd among private automobile insurance companies with a market share of 0.40% and $14,811,185 in premiums. Our law firm's experience would indicate either that Amica has some great drivers – which I think might be true – or that the Maryland Report overstates their market share. Of the literally thousands of car and truck accident claims we have handled in the last 10 years, our records only reflect 12 Amica cases.
Amica's Operating Territory
Amica has offices in 49 states and the District of Columbia (only Hawaii, of all places, appears to be missing).
Settlement of Amica Accident Claims
Looking back at our results with Amica and talking with other accident attorneys, it is fair to state that Amica's adjusters make fairly reasonable settlement offers. Most of our Amica cases were settled either before or shortly after filing a lawsuit. If a suit is filed, Amica is often defended by Niles, Barton & Wilmer. Amica is quick to suggest mediation in these cases which can be an effective way to resolve the case. Amica, by reputation, is willing to listen to most mediators, and these cases tend to settle quickly (often before the expense of depositions and, more significantly, before more detailed engagement of the medical experts).
We have dealt with local Amica adjusters in Columbia, Maryland, and adjusters in their home office in Providence, Rhode Island.
One More Point on Amica
Amica is not a bad company. But insurance companies are just bullies by nature, even the decent ones. Amica made the argument that someone who sees this Miller & Zois discussion of Amica might think we work with or for Amica. Seriously? Can you imagine reading this page and thinking that we are partnering with Amica? This is the last impression we are trying to leave. Shouldn't they feel ashamed making that argument? Here's Amica's letter to us. The take-home message, as always: these insurance companies will do anything to try to bully you into submitting to their will. If you have a serious injury case, the best thing to do is to hire the best lawyer you can to fight back for you.
Amica Settlements and Verdicts
Summarized below are verdicts and reported settlements from actual cases in which Amica was the responsible insurance company.
Zavala v Griffiths (Texas 2020) $175,000: A woman was driving her two children in Dallas. As they approached the intersection, another vehicle ran a red light and T-boned their vehicle. The three of them sustained undisclosed personal injuries. The woman, on behalf of herself and her children, sued the other driver for negligently causing the collision and their injuries. She alleged that she failed to keep a proper lookout and failed to timely brake to avoid impact. The woman also sued the vehicle's owner for negligently entrusting the vehicle to a careless driver. Both the other driver and vehicle's owner denied liability, contesting that it was the woman's negligence that caused the collision. The woman settled with Amica for $175,000.
O'Keefe v Abram (Michigan 2020) $490,000: A 78-year-old veteran sailor's boat was struck by another boat during a regatta. He sustained multiple rib fractures and a collapsed lung. The man underwent emergency surgery and treatment for a pulmonary contusion. Doctors surgically shortened his ribs and implanted a plate to stabilize the fractures. He sued the other boat's operator for the negligent operation of his vehicle under the United States Racing Rules of Sailing. BoatUS and Amica insured the operator. This case would settle for $490,000.
Delgado v Schmidt (Texas 2019) $25,000: A minor boy was struck by another vehicle as he ran into his mother's vehicle, which was pulling into the driveway of their home. He suffered unspecified personal injuries because of the accident. His father sued the driver, alleging that her negligence caused his son's injuries. He sought compensation for his son's injuries, pain and suffering, and medical expenses. The driver's insurer, Amica, agreed to settle for $25,000.
Gilson v McKeon (Connecticut 2019) $250,000: A man suffered multiple spinal injuries after another vehicle (insured by Amica) rear-ended him. He refused treatment at the scene. However, he experienced radiating pain from his back to his feet. He went to an urgent care center the next day, where staff diagnosed him with level three high-grade spinal stenosis at his L3-4, L4-5, and L5-S1. The man underwent epidural injections every six months, following the accident. He also underwent around 3 to 4 physical therapy visits two years after the accident. The man claimed that his injuries caused a 25 percent impairment to his spine. He also claimed that this affected his ability to be the breadwinner of his family and take care of his wife, who suffered from multiple sclerosis. The man briefly returned to work, but his injuries remained an issue. He was forced into early retirement. The parties settled for $250,000.
Allen v Zuke (Florida 2018) $100,000: A woman suffered undisclosed injuries when she was struck by a vehicle that was operated by an uninsured driver. She sued the other driver for negligence and brought UIM claims against Amica. The woman settled with the other driver for $100,000 and voluntarily dismissed her claims against Amica with prejudice.
Thompson v Amica (Texas 2018) $146,457: Plaintiff motorist with UIM insurance through Amica reportedly suffered cervical dystonia (spasmodic torticollis) and emotional distress as a result of an auto accident caused by an underinsured driver. Plaintiff settled with the at-fault driver for his policy limits of $50,000. She then sued Amica for UIM benefits to cover her additional damages over the $50k settlement. Amica disputed the plaintiff's alleged injury, arguing that cervical dystonia was an injury not known to be caused by impact trauma in car accidents. The jury disagreed and awarded $146k in damages which were almost all for past and future medical expenses.
Kostek v Thurston (Washington 2018) $322,500: Plaintiff, a 47-year-old female computer programmer, was merging onto a highway in Seattle when she was rear-ended by the defendant. Plaintiff allegedly suffered cervical neck strain and mild thoracic outlet syndrome and treatment consisted of over 12 months of physical therapy and steroid injections. Defendant at-fault driver was insured by Liberty Mutual with a $100k policy limit and the plaintiff has UIM coverage from Amica, both of whom eventually agree to a joint settlement.
Tropeano v Satterfield (Alabama 2017) $50,000: Minor plaintiff sustained a compression fracture of her thoracic spine and incurred medical bills totaling $32k. Amica was one of 2 insurance companies with liability for the accident. Both AMICA and the other insurers agreed to settle for their respective policy limits of $25k for a total settlement of $50k.
NC v Amica (New Jersey 2017) $50,000: A 4-year girl was walking across the street when she was allegedly struck by an unidentified vehicle that did not slow down or stop after the accident. She suffered various unspecified injuries. At the time of the accident, her father had auto insurance through Amica and he brought a claim for damages under the UIM coverage. Amica offered a policy limit settlement of $50k which was accepted and approved by the court.
AS v McGough Bus Co (New Jersey 2017) $40,000: Minor plaintiff was riding a school bus on 34th street in Philadelphia when the bus was hit by another unidentified vehicle that subsequently fled the scene of the accident. Plaintiff sued the bus company alleging negligence in the operation of the bus and negligent entrustment for hiring the bus driver. Bus Co was insured by Amica and eventually agreed to settle the case for $40k.
Our Lawyers Can Help You With Your Accident Claim Against Amica
If you've been involved in an automobile collision with an Amica driver, or if Amica is your insurance company and is denying your PIP claim or UM/UIM claim, contact us at 800-553-8082 or online for a free consultation. We can resolve your automobile accident claim one way or another, whether by settlement or lawsuit.
More Information on Automobile Claims and Lawsuits
How Do I Make a Claim with Amica Insurance?
You can contact Amica Insurance at 800-242-6422 to report your claim. The company also has a mobile app to report claims. There is usually great wisdom in contacting an attorney for a free consultation before contacting any insurer because you could potentially say or do something to harm your claim without getting good legal advice.
Is Amica an Easy Insurance Company to Deal with on Injury Claims?
Amica is a good insurance company by most accounts. Are they easy to deal with on personal injury claims? Our lawyers think they are about average when it comes to valuing personal injury claims.
How Does Amica Determine Who Is At Fault for a Car Accident?
Like every insurance company, Amica does an investigation of all of the relevant evidence, including the police report and witness statements. Amica will call witnesses themselves to get more information. If it is a remotely close call, Amica is likely to take trust the version of the accident it was given by its own insured.
Will Amica Take Cases to Trial in Maryland?
Amica is a very average insurance company to deal with on personal injury claims. As you can tell from the list of settlements and verdicts we provided on this insurance company above, Amica is not rushing to the courthouse steps to try cases. But this insurer often makes you fight in litigation before trial before it makes a reasonable settlement offer that fairly compensates the victim.
Who Defense Amica Insurance's Interest in Maryland?
Amica does not have in-house company lawyers in Maryland that defend personal injury lawsuits. In the past, Amica has used Niles Barton & Wilmer and Hartel DeSantis & Howie in lawsuits filed against Amica its insureds in Maryland.
Information on Our Personal Injury Law Firm