Maryland Personal Injury Protection (PIP) Insurance
Personal injury protection ("PIP') insurance coverage in Maryland is available more often than the insurance companies want you to believe.
What is PIP insurance and how can it help me? The purpose of this page is to explain how PIP coverage works in Maryland if you have been hurt in a motor vehicle accident and how to collect your PIP personal injury protection check as quickly as possible.
Most likely, you can get more out of your PIP claim than your insurance company — or the at-fault driver's insurance company — wants you to think.
If you are handling your own injury claim, understanding the counterintuitive way that PIP works will put you in a position to get more money from the at-fault insurance carrier.
What Exactly is PIP Insurance?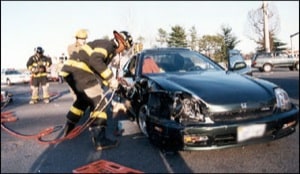 Personal Injury Protection (PIP) is auto insurance coverage for lost wages, medical bills, and other expenses that can result from personal injuries suffered in a Maryland auto accident.
One of the unique things about this insurance is that it is not fault-based (often called "no-fault insurance"). These benefits cover your out-of-pocket losses from your accident regardless of who caused the crash.
Maryland's highest court says the purpose of this coverage is assuring that "financial compensation to victims of motor vehicle accidents without regard to the fault of the named insured." So it compensates both innocent victims and the at-fault driver.
Seven Categories of PIP Coverage in Maryland
Under Maryland's statute – Maryland Insurance Code Section 19-505(a) – there are seven categories of coverage: the insured, guests in the insured vehicle, the insured's family members that live in the insured's household, permissive users, passengers in the car, and injured pedestrians may be covered by the insured vehicle's coverage.
Waiving PIP Coverage in Maryland
Our law firm assists our clients with their Personal Injury Protection application and property damage claims for our clients at no charge.
Maryland law does not require PIP coverage on auto policies, but insurance companies must offer this coverage when you buy an auto insurance policy. If you do not wish to have it, you can reject it in writing by executing a waiver.
The mere fact that you were not paying for this no-fault coverage does not constitute a waiver of the coverage. If the insurer indicates that your no-fault coverage was waived, make sure that you or your counsel requests a copy of the waiver. In 2022, you can waive this insurance electronically if that is how you signed your application but, otherwise, it must be in writing.
A waiver is not required for government-owned vehicles, taxi cabs, buses, and motorcycles.
Example of How PIP Coverage Works in Maryland
This no-fault coverage is very advantageous when you are injured in a car accident in Maryland because it essentially allows you to recover twice for your medical bills and lost wages.
For example, let's assume that you have $20,000 in medical bills and $20,000 in PIP insurance with GEICO as the result of the negligence of an Allstate driver. Your no-fault coverage with GEICO will pay all of your medical bills. Yet you can still collect from Allstate for the same medical bills (and of course for your pain and suffering). This double collection is possible under the collateral source rule.
The at-fault driver's insurance company will rarely lie to you about how this works. But they know you likely don't understand it and will take advantage of that lack of understanding to pay you less on your claim if you are trying to handle your claim without a lawyer.
Deadline in Maryland to File Personal Injury Protection Claim
It is important to remember that Maryland law (Insurance Code Section 19-508) allows insurers to set a one-year "statute of limitations" as the time in which a no-fault claim must be brought from the date of the accident. That is a hard deadline. If you make your claim on your behalf after 12 months, you may be ineligible for these benefits.
Questions and Answers About Maryland PIP
Question: I was a passenger in my friend's vehicle. He does not have PIP. I don't have any either. Can I still make a PIP claim on my friend's policy?
Answer: Yes. You can waive the coverage for yourself, others named or listed on the insurance policy, and resident relatives who are 16 years old or older. But your friend cannot waive it for other passengers, pedestrians, or kids under 16 years old.
Question: In a pedestrian accident, which PIP coverage is primary?
Answer: The striking driver's PIP coverage is primary. If two vehicles caused or contributed to the collision, the pedestrian can get PIP from both vehicles. The total amount of coverage is the largest no-fault policy of the two vehicles.
Question: Can my insurance company increase my premiums because I made a PIP claim if I was not the at-fault driver?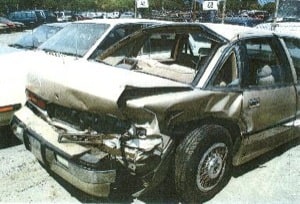 Answer: This is a very common concern. When we started our law firm, this was a problem. But for the last ten years, insurers can no longer add on surcharges or re-rate an insured because of a PIP claim for drivers who did not negligently cause the crash.
Question: How much PIP do I have?
Answer: The minimum PIP insurance in Maryland is $2,500. Sadly, that is the amount of no-fault coverage that most of us have. But some have personal injury protection policies as high as $20,000, and if you are insured in another state, your policy may provide even more. The amount will be listed on the insurance policy for the vehicle in the collision.
Question: What do I use first, my health insurance or my at-fault insurance?
Answer: PIP comes before health insurance. But, you are often better off, for many reasons, getting your lost wages paid to you first before you submit your medical bills. Why? If you are out of work, you need the money you have lost sooner rather than later.
Question: I have a PIP and an uninsured motorist claim. The insurer is telling me they don't have to pay the medical bills and lost wages twice. Is that true?
Answer: No. While some claims adjusters may believe this, it is not Maryland law.
Question: How long do I have to make a no-fault claim?
Answer: One year from the accident. You can get benefits for three years but you have to initiate a claim within one year.
Question: How do I appeal a denial of benefits?
Answer: You file a lawsuit against the insurer. You can also consider making a claim with the Maryland Insurance Administration. But our lawyers have found that making an MIA claim is not worth the effort in most cases. A PIP lawsuit gets the insurance company's attention faster.
Question: Assuming I make a timely claim, how long can I get the treatment that may be covered by my personal injury protection?
Answer: 3 years.
Question: Can an excluded driver make a PIP claim?
Answer: The excluded driver can make a claim as a passenger but not as the driver.
Question: How long does it take to get my PIP check?
Answer: A PIP check should come pretty quickly in Maryland. Adjusters will usually get your check in the mail in just a few days.
Question: Can I get lost wages if I was not working at the time of the crash but was looking for employment?
Answer: Generally, no. The law provides for lost wage benefits for victims who were "earning or producing income" at the time of the incident. If you are on a sabbatical, FMLA, or were looking for work, you are going to find a hard time getting paid for lost wages. That said, read the policy because every carrier is different.
Question: My car was smashed in Virginia, but I am a Maryland resident. Where do I make my claim for benefits?
Answers: PIP is contractual, so coverage generally follows the residency of the policyholder.
Question: Can I make a PIP claim without hiring a lawyer?
Answers: As a practical matter, it makes no sense to hire a lawyer to make these claims unless you have an enormous policy. If you are not culpable for the crash, most experienced attorneys will not charge any fee for helping you process your PIP application. You should be wary if a lawyer is charging you a contingency fee on your PIP claim.
Maryland PIP Appellate Cases
Our appellate courts interpret the major laws that govern no-fault insurance in Maryland. Here are some of the key Maryland PIP coverage cases:
What is Maryland PIP Insurance and Do I Have It?
Personal Injury Protection (PIP) is insurance coverage for medical and other expenses such as lost wages resulting from an auto accident, for people specified in the policy, regardless of who is at fault in the accident. PIP coverage is not required in Maryland so not everyone has it. Insurance companies are obligated to offer PIP, but insureds can decline by signing a waiver.
What Does PIP Cover?
PIP covers reasonable and necessary medical expenses for injuries sustained in an auto accident, up to three years from the date of the accident without payouts up to $10,000. PIP also offers income replacement coverage limited to a maximum of $200 per week for one year, after a person has been disabled for 14 days after the accident. Funeral expenses of $2,000 and loss of services (payment to others for work you can't do) of up to $5,000 are also included in the coverage.
What Is the Statute of Limitations on PIP Claims?
Maryland law allows insurers to include in their contracts a one-year "statute of limitations" for victims to make a PIP claim. Almost all PIP insurance clauses include this provision so if you don't make a PIP claim within 12 months of the accident you may lose your right to a PIP payout.
Will Does a PIP Claim Increase My Insurance Rate?
If you were not at fault for the accident, the insurance company is not allowed in Maryland to increase your rates or add on any surcharges if you make a PIP claim.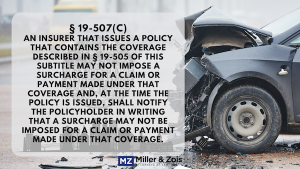 Get the Right Lawyer for Your Accident Case
If you are at fault for your accident, we hope we were able to help you make your personal injury protection claim with the information provided here. Our lawyers only represent victims who are not responsible for their own injuries.
If you are hurt and are suffering from a car crash and you were not responsible, our Baltimore car accident lawyers can help you. Call 800-553-8082 or get a free online consultation.
Personal Injury Protection (PIP) Application Forms
Note: State Farm no longer has personal injury protection applications, at least in Maryland. So there are no claims forms when you make a PIP claim with State Farm. But you can get more information on how to deal with this very unsympathetic company
More Information