You were in a car accident. You have back pain. Your doctor orders an MRI. She discovers multilevel degenerative disc disease. She tells you that you may have had this condition for years.
You are shocked. You have never had back pain before. You want to know what degenerative disc disease is and how it will affect my personal injury auto accident case. Will an insurance company offer less money because of this condition if I am in an accident? What if I had never had neck or back pain before the accident? Can you get compensation for the aggravation of a preexisting injury? How does degenerative disc disease affect the value of my personal injury case? This article answers these questions and examines these cases' trial and settlement value.
What Is Degenerative Disc Disease?
Before we can answer these questions, we must first look at the human spine's anatomy. The human spine comprises 33 individual bones stacked one on top of the other. Ligaments and muscles connect the bones and keep them aligned. Each vertebra in the spine is separated by a shock absorber called an intervertebral disc.
The discs comprise two layers, the annulus, a tough fibrous outer layer, and the nucleus, a gel-filled layer with high water content. When you move, the discs act like ball-bearing, with the outer layer providing stability and the inner layer allowing just the right amount of movement to stretch, bend over, and move from side to side.
Behind each disc is an additional space surrounded by bone. This is where the spinal canal is located. The hollow spinal canal contains the cal sac (housing of the spinal cord), the spinal cord, blood vessels, and exiting nerve roots that connect the brain and spinal cord to the extremities and other areas of the body.
Given the very narrow space in which the spinal canal is located, it is critical that nothing compress or impinge the thecal sac, spinal cord, or exiting nerve root, as this would cause pain (sometimes severe pain radiating into the extremities). Each vertebra is connected in the back by four facet joints allowing motion and stability.
Degenerative disc disease occurs due to age or following a recovery from a traumatic injury. The condition occurs in essentially two different ways. The first is when the disc's outer layer becomes cracked and rigid. When this occurs, the fluid in the inner nucleus may bulge out, compressing the thecal sac, spinal cord, or exiting nerve root. Often this condition might appear on an MRI as bulging discs, usually at multiple levels.
The second way degenerative disc disease can occur is with a loss of water molecules in the nucleus. This is called disc desiccation. This dehydration of your discs results in fibrocartilage replacing the disc's fluid. The result is reduced space between the vertebrae. This puts additional pressure on the facet joints and the spinal cord. Over time, the body may compensate for this additional pressure by developing bone spurs that compress or impinge the spinal cord or exiting nerve.
Can a car accident cause degenerative disc disease? No, a car accident cannot cause degenerative disc disease. Whiplash similarly cannot cause degenerative disc disease.
Why? By definition, degeneration happens over time, not in a traumatic accident. So degenerative disc disease is not caused by whiplash or other traumatic injuries. But this is semantics. You can still receive compensation for your injuries if the motor vehicle accident triggered symptoms (or increased symptoms) of your preexisting degenerative injury because degenerative disc disease is often aggravated by a car accident or other trauma.
How Is the Condition Diagnosed?
An X-ray or MRI can diagnose degenerative disc disease (spondylosis, disc desiccation, or spinal stenosis). Usually, an X-ray will clearly show a loss of disc height between the vertebra and bone spurs. Both of these are tell-tale signs of degenerative disc disease. In addition, an MRI can show whether the soft tissue of the disc itself is impinging or compressing the spinal cord or the exiting nerve root.
How Is Degenerative Disc Disease Treated?
The severity of the disc disease determines how it is treated. It is possible to have degenerative disc disease and have no symptoms. This commonly occurs when the degeneration of the disc and narrowing spinal canal has not become severe enough to cause impingement, compression, or facet joint pain. When symptoms do occur, the condition is usually first treated with physical therapy, followed by trigger point or facet injections.
If neither of those options work, surgery can be performed in the form of a microdiscectomy or a spinal fusion. If a bulging disc is the source of back pain, a facet injection, which focuses on a different part of the spine, may have limited utility.
It is not uncommon for a doctor to attempt facet injections following physical therapy but for the patient to experience little or no relief. This is because the facet injections are not treating the bulging disc impinging the nerve, which is the source of the pain.
How Does Degenerative Disc Disease Impact a Personal Injury Case?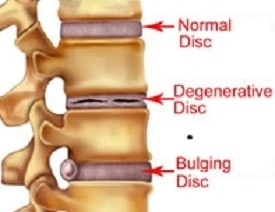 A common tale in the world of personal injury is a person gets into an accident, has back pain, and the doctor discovers degenerative disc disease after ordering an x-ray or MRI. The person usually never had back pain before.
For the insurance company, this diagnosis is usually a dream come true. They now have something to point to other than the accident as the source of the pain. And on many occasions, they can successfully convince the jury this pain was due to a pre-existing condition (degenerative disc disease). But this is only part of the story.
In reality, much more is happening here than just a pre-existing condition. While it is always true that a person could have pre-existing back pain due solely to degenerative disc disease, most people do not experience back pain until after the accident.
This is even more baffling when the person complains of severe back pain following a minor collision and the pain seems disproportionate to the intensity of the impact.
To understand this, one needs to go back to the anatomy of the human spine. Just imagine a situation in which a person has an age-related loss of water molecules in their disc. This causes narrowing of the disc space but no current compression on the spinal cord or the existing nerve root. The condition is there. But it is not currently causing any pain.
Taking it one step further, let's say our hypothetical person gets into an auto accident with minor property damage. A few days later, they are in excruciating pain with radiation down their leg. The doctor orders an MRI and finds a bulging disc compressing the nerve root at the same level as the old degenerative disc disease. Now, is the person's pain due to a preexisting condition?
The answer is "No. It is not." The preexisting condition was there, but that did not cause the pain. The accident caused the pain. The degenerative disc disease was aggravated by the car accident. This victim may be more susceptible to injury and pain in the same crash as someone else might. But that does not mean the responsible party escapes liability for the harm caused.
In Maryland, the law recognizes a person's susceptibility to injury and says, essentially, you take your plaintiff as you find them." Model Civil Pattern Jury Instruction 10:3 states as follows:
The effect of injury on a particular person depends upon the susceptibility to injury of the plaintiff. In other words, the fact that the injury would have been less severe if inflicted upon another person should not affect the amount of damages to which the plaintiff may be entitled.
Degenerative disc disease cases can be challenging to present to a jury. If you take one of these cases to trial without an experienced Maryland personal injury lawyer who knows these cases, you are making a huge mistake.
Degenerative disc disease is like liquid courage for many claims adjusters, particularly before a lawsuit is filed. Unchallenged, an experienced defense attorney can easily distort the facts to make the jury believe the accident didn't cause the injury (especially if low property damage is involved).
Your attorney must work with your doctor (preferably an orthopedic surgeon) to help present your case in the most convincing fashion possible.
This often comes down to explaining the anatomy. The jury has to understand that every person is different. We don't live in a vacuum. Because of life, age, experiences, genetic differences, etc., some people are more susceptible to injury or worsen a preexisting injury.
The differences have to be isolated and clarified for the jury. Once isolated, you will be in a better position to explain how the subsequent injury and pain occurred.
Make no mistake, the vast majority of these cases are winnable, and they should be. But these claims have to be presented carefully.
Maryland Settlements and Verdicts in Degenerative Disc Disease Cases

There is no average settlement for degenerative disc disease. Degenerative disc disease settlements and verdicts vary wildly. Our lawyers have settled preexisting disc injury cases for over $1 million. We have also turned down many degenerative injury cases because we thought the claims had little to no settlement value.
This makes sense, right? Because there are some cases where significant harm is caused by worsening a preexisting injury. In other cases, the claimant tries to unfairly park a preexisting injury at the doorstep of a new accident. A jury is going to reward the former but not the latter.
Below are a few results and the stories behind them that might give you a better idea of the value of these cases under specific fact patterns. Obviously, you cannot use these examples alone to compute the settlement compensation payout for your claim.
Maryland 2023 -$1.2 Million Verdict:  Our client was involved in a car accident with serious property damage. The accident exacerbated the client's pre-existing degenerative disc disease and chronic pain. Despite receiving extensive physical therapy and epidural steroid injections, she did not improve. The insurance company had three experts who said she was okay. The Baltimore County jury awarded a verdict of $1,282,000.
Maryland 2021 – $57,458 Verdict: The plaintiff suffered allegedly permanent injuries, including

disc

 bulging at C5-6, mild 

degenerative

 

disc

disease at C6-7, concussion, and back and neck sprains. She claimed that the defendant violated a stop sign and struck her from the side at an intersection. The defendant denied liability, and the case went to trial in Baltimore City. The verdict included $45,000 for pain and suffering and $12,458 for past medical expenses.
Maryland 2020 – $7,500 Verdict: The compensation in degenerative disc disease lawsuits can be low if you do not have good facts on your side. This is a good example. A 32-year-old woman was rear-ended on Russell Street in Baltimore. She suffered tethered cord syndrome with lower radiculopathy. The woman underwent physical therapy. Her injuries failed to resolve. The woman subsequently underwent a successful arthroscopic procedure. Following the surgery, she underwent rehabilitative therapy for several weeks. She alleged that the at-fault driver's negligence caused her injuries. Her neurosurgeon testified that the tethered cord syndrome was collision-related. The defense contested whether the collision caused tethered cord syndrome, an extremely severe injury to link to a crash. A Baltimore City jury awarded $7,500.
Maryland 2019 – $7,483,254 Verdict: A 48-year-old man was rear-ended at a gas station. He suffered the aggravation of his pre-existing degenerative disc diseases at C3-4, C5-6, and L5-S1. The man also suffered an L5-S1 herniation and cervical radiculopathy. He initially underwent pain management and physical therapy. The man then underwent a two-level fusion and a lumbar discectomy. His injuries failed to resolve. The man underwent a lumbar revision. It was also unsuccessful. He was left with permanent impairments and could no longer work. The man alleged that the at-fault driver's negligence caused his injuries. A Prince George's County awarded $7,483,254.
Maryland 2019 – $200,000 Verdict: A 56-year-old man sat in his parked car. He was rear-ended. The man suffered a knee contusion and soft-tissue neck and back injuries. He underwent physical therapy. During therapy sessions, the man was diagnosed with a soft-tissue back injury that aggravated his pre-existing degenerative disc disease. His neck and knee pain resolved. However, the man's back pain did not. He underwent chiropractic therapy for three months. The man alleged that the at-fault driver's negligence caused permanent injuries. The defense admitted liability. However, they disputed whether the man's injuries were collision-related. The defense argued that he did not suffer permanent injuries from the incident. A Prince George's County jury awarded $200,000.
Maryland 2019 – $500,000 Verdict: A 64-year-old passenger was rear-ended on I-95 in Howard County. She suffered neck trauma, bilateral arm radiculopathy, lumbar stenosis, L4-5 spondylosis with facet arthropathy, C5-6 spondylosis, and the aggravation of her degenerative disc issues. The woman underwent injections and physical therapy. She then underwent lumbar and cervical fusions. The woman alleged that the at-fault driver's negligence caused her injuries. The defense lawyer argued that the woman's sudden stops prevented the at-fault driver from timely braking. A sudden stop is a defense of desperation. The defendant's lawyer also argued that her injuries were pre-existing and degenerative. A Prince George's County jury ruled in the woman's favor. They awarded $500,000.
Maryland 2019 – $120,429 Verdict: A 71-year-old man was rear-ended on MD-355 in Clarksburg. He suffered a concussion, the aggravation of his pre-existing degenerative lumbar changes, and soft-tissue neck, shoulder, and rib injuries. He underwent steroid injections and physical therapy. His physiatrist testified that the man's injuries were collision-related and required future surgeries. His car accident lawsuit alleged that the at-fault driver's negligence caused these injuries. The defense argued his injuries were degenerative and pre-existing. The Montgomery County jury ruled in the man's favor. They awarded $120,429.
Maryland 2018 – $8,882 Verdict: Plaintiff, a middle-aged male truck driver, was operating a tractor-trailer in the left lane of a multi-lane road. The at-fault driver attempted to make a left turn from the middle lane, causing a collision with the plaintiff. Plaintiff claimed she suffered a strain/sprain of the cervicothoracic and thoracolumbar spines with an 8% permanent disability rating. The defense lawyer argued that Plaintiff's injuries were related to pre-existing degenerative disc disease in his middle back. A Baltimore City jury only awarded $8,882 in damages. Clearly, the jury believed that the car accident was not the cause of Plaintiff's ongoing complaints of pain.
Maryland 2016 – $76,583 Verdict: Plaintiff, female in her mid-40s, came to a stop for a traffic light and was rear-ended by Defendant. As a result of the accident, the plaintiff claimed that she suffered a significant injury to her cervical spine with radiculopathy and bilateral neural foraminal stenosis (narrowing of the openings between the vertebra) in her back. Defendant admitted liability but claimed that Plaintiff's back injuries were related to the neural foraminal stenosis. This argument did not convince the jury in Anne Arundel County but also did not dismiss it, either. It awarded $76,583 in damages, including $40,000 for pain and suffering. Many juries in these cases split the baby and award some, but not all, the damages the plaintiff would be entitled to receive if there had not been a preexisting injury.
October 2014, Maryland: $50,000 Settlement. The plaintiff, a 33-year-old teacher and coach, was broadsided in an intersection in Baltimore City when the defendant ran a red light. The plaintiff suffered a herniated disc and underwent a course of physical therapy as well as facet injections which offered little relief. Plaintiff resigned from his coaching position as he could not perform his duties due to the paint. The plaintiff filed suit against the Defendant driver, an Allstate insured. The defense contended that Plaintiff's pain was due to cervical degenerative disc disease. The case settled for the policy limits of $50,000 the day before trial. Miller & Zois handled this case.
May 2014: $11,900 Verdict. Plaintiff was stopped at a red light when he was rear-ended by the State Farm-insured Defendant. Plaintiff claimed a cervical disc herniation for which future surgery was a possibility and missed more than eight months of work. He filed suit seeking past and future medicals, lost wages, and damages for pain and suffering. Defendant denied liability and contended that even if she had caused the accident, she merely tapped the rear of Plaintiff's vehicle and could not have caused the severe injuries. Her defense lawyer further argued that Plaintiff had significant spondylosis, which was more than likely causing the ongoing complaints and need for surgery. While a Howard County jury found for Plaintiff on the issue of liability, they clearly believed that Plaintiff had a pre-existing condition causing Plaintiff's medical complaints. Plaintiff was awarded $11,900. The problem here is a preexisting injury and a very conservative country for personal injury awards.
May 2014, 2013: $291,000 Verdict. Plaintiff rear-ended our client in Frederick County, Maryland, on a busy highway. State Farm does what we referenced above: they hear lumbar degenerative disc disease, and they stuck their chest out, offering a measly $8,200. The jury heard the whole story, not just the preexisting injury story, and sent a message to State Farm. Miller & Zois handled this case.
May 2014: $113,618 Verdict. Plaintiff, a 69-year-old retiree (and part-time horse trainer), was operating his vehicle on a rural road in Wicomico when he was struck in an intersection by an uninsured motorist. Plaintiff filed suit against the defendant driver as well as State Farm, his UM carrier. Plaintiff sought treatment for lower back pain, with pain radiating into his left leg. He followed up with physical therapy and chiropractic treatment. He was assigned a 25% impairment rating and claimed he could not enjoy his post-retirement hobby of horse training. Defendants contended that he was not injured in the underlying accident and that any complaints were due to degenerative changes. Plaintiff argued that if he had lumbar degenerative disc disease, he was asymptomatic before the accident. A Wicomico jury sided with Plaintiff and awarded him $113,618. Plaintiff had claimed $13,618 in past medicals.
May 2013: $65,000 Verdict. Plaintiff, a 50-year-old generator repairman, was traveling on a rural road in Calvert County when he entered an intersection and was struck by a vehicle owned by a portable toilet and septic service business. The driver was in the course of employment at the time of the accident. Plaintiff claimed a cervical disc herniation and rotator cuff tear as a result of the accident, both of which he claimed surgery would be necessary. He filed suit against the driver and the driver's employer. Defendants not only denied liability but further denied the extent of Plaintiff's injuries. Defendant claimed Plaintiff had preexisting degenerative disc disease in his neck unrelated to this car accident. Plaintiff sought $8,600 in past medicals, $25,000 for future surgery, and future lost wages from the surgery and recovery period. A Calvert County jury awarded Plaintiff $65,000: $6,500 for past medicals; $23,000 for future medicals; $11,000 for future lost wages; and $24,500 for pain and suffering.
Getting a Maryland Car Accident Lawyer to Review Your Case
If you have suffered a back or neck injury and believe your injuries stem from a car accident or other trauma caused by someone else's negligence, call us at 800-553-8082 or 410-779-4600 or get a free online case review. There is no cost for the consultation and we receive no fee unless we recover money in a settlement or verdict for you.