Heel Fracture Accident Injuries | Expected Settlement Amounts
Our lawyer handle heel fracture motor vehicle accident lawsuits for victims. This page is about heel fracture injuries, why they cause so much pain and suffering, and expected settlement amounts for these injuries.
Calcaneus Fractures
The calcaneus is the bone is on your heel. It is bone we rarely significantly injure without trauma and spend little time thinking about outside of an anatomy class. But when our client suffers a calcaneus bone fracture, it is disabling and life-changing injury.
Calcaneus fracture symptoms include swelling and pain, bruising, and pain walking. But if you have a heel fracture, the biggest symptom is pain. It can be an excruciatingly painful injury.
Particularly problematic we have found are calcaneus injuries involving the subtalar joint. Because they always seem to lead to arthritis.
The most common type of heel fractures you see in personal injury cases is called intra-articular fracture. This is a fracture seen most commonly by serious falls and high impact car accidents. Interestingly, most calcaneus fractures from fall or when the injured person lands on two feet. This is why it is often called a lover's fracture. Because it conjures up an image of someone jumping out of a window after being caught by his lover's spouse.
Diagnosis of Calcaneus Fracture
Orthopedic doctors look for fracture lines where the bone has come apart. Doctors in these cases also look for something called a Bohler's angle that looks at the alignment of the bones in the foot. Another marker is the disruption of the cortex of the bone or of the trabecular pattern that is a fancy way of saying the foot is not lined up as it should be. The best way to diagnose the scope of the problem is an x-ray from three or four different angles.
Often, a stress heel fracture will show a negative x-ray in the first few days after a heel injury. But as bone tissue is deposited by the body into the crack or stress fracture location, that new osseous deposit is later revealed on an x-ray. So you cannot assume you do not have a heel fracture just because the x-ray in the emergency room was negative.
Treatment for Calcaneus Fractures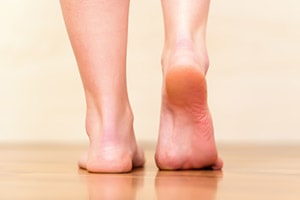 Calcaneal fractures can sometimes be effectively treated by casting. If this is all that is required, you got lucky. Your chances of a successful outcome are high.
But many of these heel fractures require surgery, typically a broken calcaneus has lost its alignment and contour. The surgery is a tough procedure. The surgeons often need to place a metal plate and screws in the heel bone to try to achieve proper alignment. You might be able to get by without the plate if you have a simple, clean break. But in car and truck accident cases we often comminuted displaced fractures which means the bone in several pieces and displaced from their proper position.
These cases are treated with anatomic reduction and fixation but it typically this kind of injury is going to leave residual pain. Many victims in these cases need bracing — specifically an ankle-foot orthosis or AFO — to walk and control functional pain. Even in the best of circumstances, it is rare after a significant heel fracture that the foot ever feels the same as the other foot.
Another thing we see frankly is poor results in patients who need surgery. They often do not get satisfactory results and succeed in eliminating the numerous complications that may plague people who suffer from a broken heel.
Verdicts and Settlement Amounts in Heel Fracture Lawsuits
Below are recent settlements amounts and jury payouts in claims involving heel fracture. These verdicts and out-of-court settlements help better understand the range of value in these cases. This is very helpful for many victims. But please don't think that sample cases can be used to precisely determine the value of your case. There are just too many variables to match up cases and every jury or settling insurance company is different.
2015, Pennsylvania: $23,000 Settlement. A young girl suffered a calcaneus Salter I fracture going down a pool slide. Her lawsuit alleged the waterslide should have gone into deep water. The guess here is that the argument was weak because a heel fracture case should not be settling for $23,000.
2015, Illinois: $15,228,068 Verdict. This forklift accident case involved degloving soft tissue injury of his left calcaneus and medial foot, along with fractures of the fifth metatarsal and cuboid bones of the left foot. This is an extremely brutal injury. The man had almost $1 in past and future medical bills. The jury was clearly agitated with the forklift driver's employer, awarding over $3 million in punitive damages (this would not be available as a remedy in Maryland.
2015, Washington: $2,595,622 Verdict. Plaintiff fell off a ladder. A subcontractor at the site erected the scaffolding ladders, which had no slip resistant material on the ladder rungs and the rungs were shaped in a fashion that was not up to code. The man, age 34, suffered would have been compliant with WISHA regulations. The victim suffered a leg crush injury which included a heel fracture and a host of other injuries. He had $187,782 in medical bills and lost wages of $62,780. Plaintiff demanded $1,000,000 to settle which was refused. The Plaintiff received virtually every penny his attorney asked the jury for in compensation. This is another case where the claim would be very different because Maryland has such challenging rules for claims against another contractor on a worksite.
2014, New York: $535,000 Settlement. Defendant pulls out on the victim from a parking lot. He suffered a comminuted fracture of his ankle and calcaneus, among other injuries.
Getting a Maryland Car Accident Lawyer for Your Case
If you have been in a car or truck or motorcycle accident in Maryland, you should contact an attorney as soon as possible. Why the rush? Your time is limited to get the medical and physical evidence you need to and because there are limitations on the time to bring a claim. To protect your rights, call us. We can help you and no cost or obligation. Fill out our free case review form today or call us at 800-553-8082.