Do I need a lawyer after a car accident? Here is the deal. There are personal injury car accident claims for which you do not need a lawyer. Most attorneys will not tell you this. We just did.
Mostly, we are talking about no injury and minor injury cases involving subjective injuries that resolve within a few months. Claims where the injuries are not substantial and medical treatment is insignificant are ripe for settling without an attorney.
This page is victims who want to know how to settle a car accident case without a lawyer.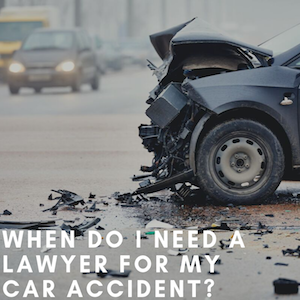 Some car accident claims can be handled without a lawyer. Why not hire an accident lawyer? Because you want to save on attorneys' fees. Our law firm charges a 33% contingency fee if your case settles before we file a lawsuit. Our attorneys' fees increase to 40% if our lawyers file a lawsuit. Lawyer fees for an accident settlement do not come directly out of your pocket. But it is still your money.
Are the attorneys' fees worth it? In a serious injury or wrongful death case, you absolutely need a lawyer. Our lawyers might get you more than ten times the money you would get for yourself. But in a smaller case or no injury case? Settling your own injury claim without a lawyer is worth at least exploring.
If you choose this path, you need to do research and get legal advice on the best way to get the highest possible settlement for the pain and suffering you have endured from the accident. You deserve that.
First, a word of caution. Severe injury and death car crash cases are completely another matter. Hiring a good car accident lawyer with a track record of success will almost invariably put more money in your pocket than you would handle the case yourself. This cannot be emphasized enough. You need the best car accident lawyer you can find in these cases.
Our lawyers handle car accident claims. So why teach victims how to win without hiring our lawyers? We put this section on our website because we know accident victims are going to try to handle their own auto accident cases.
So we provide here some food for thought (not legal advice) on how to settle with the auto insurance company after a car crash for those of you making that effort to try to resolve the case yourself.
The bottom line is insurance companies are ripping off millions of people. Most never know the car insurance lawyers and adjusters took advantage of them. Our attorneys sincerely don't want this to happen to you.
When to Get an Attorney for a Car Accident?
When do you need to call a lawyer? When you need to get an attorney depends on the size of the car accident case. In a wrongful death or catastrophic injury case, our attorneys are gathering evidence from day one. You do not leave any stones unturned in these cases. Because the stakes and the amount of money involved is too high. In those cases, the answer to when to call a lawyer is right now.
In these types of serious injury and wrongful death auto collision claims, our law firm is quickly gathering experts to reconstruct the accident, inspect the product, get witness statements, download the truck's black box, getting the medical records, or whatever else might be needed immediately.
But in small cases where your legal team will not be gathering evidence and getting experts immediately, there is more time for reflection as to whether you need a lawyer for your car accident claim. Measure twice and cut once.
Still, if you are going to hire a lawyer, it is always better to hire an attorney sooner rather than later because even a small case might need immediate action. (Most common immediate need: get witness statements.)
If you are going to take the risk and delay, do not talk to anyone about how the incident happened or the extent and scope of the injuries.
Ten Mistakes Accident Victims Make Without a Lawyer
Below are ten common mistakes victims make in handling their accident claim without a lawyer that hurts the settlement and trial value of their claims:

You Gave (or Will Give) a Recorded StatementMost insurance claims adjusters tell victims that they need a recorded statement before making a settlement offer. Nonsense.Insurance adjusters use anything you say to knock down your settlement offer, or they pass along the information to the insurance company's lawyers to give cross-examination fodder against you at trial.

Of course, there are exceptions to this rule. In some personal injury accident cases involving an uninsured or underinsured claim, the case is legally a breach of contract claim that may obligate the client to give a recorded statement.

When our attorneys do allow for these statements, we set them up under controlled conditions to limit any damage the client can do to the case.

Your Settlement Demand Is Too Much or Too LittleThe consequences of asking for too little is obvious. But just as damaging to your effort to maximize your settlement is demanding too much in your car accident settlement letter. "Too much" is not asking for more than the insurance company will pay. You want to ask for too much. But if your demand is beyond what the case is worth on its best day, you are sending a red flag you don't understand the value of your accident case. (Here's some information to help you understand case value.)Why is this a problem? When you signal you don't understand what the value could be, you are implicitly saying you may be willing to settle for less than the value of the case because you don't know the value. Let's say you demand $3 million to settle your case. But, under Maryland law, your maximum recovery for the case because of caps on non-economic damages is $2 million.

By demanding more than the value, you telegraph to the insurance company that you don't know the value of your claim. When your case does settle, there will be a good chance you left a lot of money on the table. Because an insurance company's response to a ridiculous demand is not to make a real se
ttlement offer.

The take-home message is that if you do not understand how personal injury accident claims are valued, you risk polluting the settlement negotiations.

Assuming the System Makes SenseMaryland accident law has evolved. Our rules are fashioned to meet very different objectives to achieve fairness. The result is a very Byzantine system that mostly works. But, in the micro, it is very counterintuitive. This complexity benefits those who best understand the system. So victims and inexperienced accident lawyers get the short end of the stick.This website contains a ton of information on what you need to know about personal injury cases. Read it. Do your homework. Understand what the law really is. Because if you show an adjuster that you do not understand the relevant issues, you are tossing a shark a bushel load of plasma.
Taking the Insurance Company's "Final" OfferInsurance companies often directly or indirectly present their proposal as a final offer. People representing themselves have no psychological leverage to push for a higher offer because the threat to sue – at least not in a serious case – is hollow without the means to do it. Many victims take the first offer and leave their money on the table. In our business, there is a final offer, and then there is a final, final, final, offer. Always keep asking for more money.
Settling the Car Accident Case Without Knowing the Scope of the InjuriesIf you have been seriously injured and are looking for a quick settlement, you are almost invariably going to get less than the value of your accident case. To give the insurance company a reason to make something approaching a reasonable offer, you need all of your medical bills and records and often a written analysis of your case from a doctor – either a treating doctor or "independent" medical expert – as to the extent and scope of your injuries. If you settle a case before you have all of the documentation you need for your claim, you have little chance of receiving fair value. Our law firm will not even consider taking a case if the client is trying to settle the case before her doctors understand the full scope of her injuries.
Assuming the Insurance Company Will Stand Behind Its Admission of LiabilityInsurance companies often claim that they know their insured was responsible for an accident and want to settle the case. Later in the settlement process, or if a lawsuit is filed, this can change. Fast. You have to proceed with the collection of witnesses and other facts as though the case will go to trial… even after the insurance company tells you that they will "take care of you" and compensate you for your costs and pain and suffering. Even if they stand by their claim, the details of the accident matter. What did the defendant say after the crash? Where was the defendant going to/from? Was the defendant on an errand? What was the extent and scope of the property damage? All of these things may seem moot after the defendant admits liability. But they matter. It is important to get the facts under control from the beginning.
Failing to Understand the Interplay with Insurance LiensVictims do not understand how to deal with health insurance or other healthcare liens. Sometimes, having a lawyer adept at understanding and resolving the lien problems with the case is more important to how much money the client recovers than how well the attorney negotiated the settlement.The ramification of the mistakes usually lies at two extremes: (1) paying the health insurer (or Medicare) far more than you are obligated to pay, and (2) jeopardizing your health insurance because you have failed to understand your lien obligations.

So not paying these liens can get you in trouble. But so can not getting these best possible reductions in those liens. This reason alone is why you may need legal advice to get the most amount of money possible for your claim. These lien issues are sometimes complicated and expertise is need to solve them.

Falling for the Notion that the Insurance Company Is Trying to Be FairIt's fun to mock insurance companies. We know because we do it all of the time. But insurance companies are not evil. The car insurance lawyers and claims adjusters we deal with are primarily good people. But their goal is not to be fair to you. Their goal is to pay you as little as possible.You don't need a lawyer in every car crash case. Arguably, in some accident cases with minor, soft tissue injuries you may very well be as well off without an attorney as you are with one. In severe injury cases, there is no question that you need a lawyer to protect your interests.
Delaying and Ignoring Time Limits to File a ClaimsThere is no time limit or deadline for getting a lawyer after an accident. Just because you don't get a lawyer to handle your accident case right away, you can always get a lawyer later. However, there is a time limit on filing claims related to the accident that you should be aware of. All states have a statute of limitations which imposes a strict deadline on how long you can wait before filing claims. Under Maryland's statute of limitations, you have to file your claims within 3 years after the accident.
Not Including All of Your Damages from the CrashYour damages are all of your medical bills, not just how much you owe or how much was paid by PIP or other no-fault insurance. Your damages are all of your lost wages, not just the money you lost out of pocket. What about your travel time to and from appointments? Make sure you know what Maryland law prescribes for damages and make a claim for every dollar.
Getting Help From a Maryland Car Accident Lawyer
Should you get a lawyer? Again, there are some motor vehicle accident claims when you do not need a lawyer to bring a claim for your pain and suffering damages. The best car accident lawyers have an obligation to apprise you of this.
If that is the case, digest our thoughts here. Then do some more research, and do the best that you can to get as much money for yourself possible.
If the injuries are more significant, moving forward without a lawyer is foolish, in our opinion, if your goal is to maximize the amount of money you put in your pocket. In these cases, notwithstanding the attorneys fees, you need to concede "I need a lawyer" and find the best auto accident attorney you can.
Our car accident lawyers believe our history and experience make us that law firm. We offer free case evaluations online. No matter what you do, you want to take advantage of free legal advice. You can call our attorneys at 800-553-8082 or text us at 410-835-4103.
Our lawyers handle only serious injury claims, primarily in Maryland and Washington, D.C. Call us and find out if we can be of assistance to you in maximizing the value of your personal injury case. (If you have a smaller claim but want a car crash attorney, you can call us and we can send you in the right direction.)