J.B. Hunt Transport is the fifth largest in annual mileage for for-hire shipping carriers in the U.S. This puts J.B. Hunt in the ranks of UPS, FedEx, Swift, Schneider, and other major shipping carriers. As of 2021, J.B. Hunt has over 18,000 vehicles in its fleet.
According to the J.B. Hunt website, safety is a top priority. They only hire the best drivers, provide training programs to strengthen drivers' skills, and facilitate an overall culture of safety.
But with over 20,000 drivers and over a billion miles a year on our roads, serious truck accidents are bound to happen. FMCSA crash reporting data from 2020 shows that J.B. Hunt currently averages about 20 fatal accidents every year. JB Hunt drivers are involved in about 275 accidents a year that result in serious injury.
The large number of vehicles on the road isn't the only potential reason for J.B. Hunt tractor-trailer accidents. The company's employment reviews are mixed at best, with some drivers reporting falsified documents, poor pay, and ineffectual management. J.B. Hunt drivers typically make around $43,500 per year, well below the national salary average of $61,000. Let's not pretend that this does not have an impact on safety.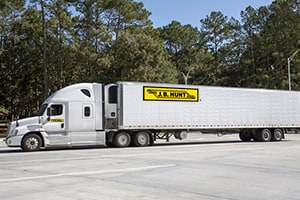 Unhappy drivers are more likely to make mistakes. This results in accidents, injuries, and death. The transportation industry is growing in the United States, with a projected shortage of nearly 50,000 drivers, according to the American Trucking Associations.  (That is a pre-Covid statistic. You can imagine what it is now.)With the high and growing demand for drivers, average trucker compensation has been increasing by an average of 8-12 percent per year.
Though J.B. Hunt has committed to "hiring the industry's best drivers," let's be honest. It is not possible to retain suitable drivers and contractors when they aren't paying enough to attract the best candidates.
Despite these shocking statistics and bad reviews, J.B. Hunt is not necessarily a bad company. It has a "Satisfactory" federal safety rating, actively recruits veterans, and provides drivers with good benefits and annual safety awards.
But trucking is a tough industry.  It has a stressful work schedule and a shrinking workforce in the aftermath of the Covid-19 pandemic. Despite J.B. Hunt's efforts to ensure safety on the road, if one of their drivers causes an injury or fatal accident in a truck wreck, then J.B. Hunt is responsible for the resulting pain, harm, and loss.
Why J.B. Hunt Accident Cases Have a Higher Settlement Value
In most car and truck accident cases, the settlement value of the injuries sustained is at the heart of the conflict, rather than a liability dispute.
In an ideal world, this would mean that the identity of the defendant is irrelevant. The jury would instead concentrate on determining the suitable amount of money necessary to help the victim become healthy and whole again.
Unfortunately, the reality is that the defendant does make a difference. A jury is more likely to feel sympathetic toward an individual driver, rather than a large company with deep pockets. We have talked to jurors after trials and often their biggest concern is whether the defendant driver has to pay the verdict themselves (jurors are not typically told the driver had car insurance in most jurisdictions).
So our lawyers find that the trial value of a trucking accident claim is typically higher with companies like J.B. Hunt. A higher trial value leads to a greater settlement amounts if the lawsuit does resolve.
In addition, J.B. Hunt big rigs are much bigger and heavier than the average vehicle on the road, and they are capable of causing more damage. Because J.B. Hunt claim adjusters are used to dealing with the larger dollar amounts involved in tractor-trailer accidents, this could be a contributing factor to the higher settlement value of claims against J.B. Hunt.
What Else is Different About a Claim Against J.B. Hunt?
A lawyer who specializes in car accident cases is not necessarily qualified to handle truck accident cases against J.B. Hunt. In tractor-trailer collisions, truck accident lawyers use tools that can used to determine the cause of the accident that requires specific knowledge about tractor-trailer cases. Commercial transport vehicles carry modern electronic equipment that collects and stores information about the speed, airbag deployment, braking, and many other data points from the time of a crash.
This data can help a jury decide whether or not J.B. Hunt was at fault for the crash. These tools, along with state and federal trucking regulations, offer a host of opportunities for helping victims of J.B. Hunt accidents, if you know where they are and how to use them.
Sample Settlements and Verdicts Against J.B. Hunt
On our website, you can find a number of tools to help you understand the potential J.B. Hunt settlement compensation number is or should be for your claim.
It is best to compare settlement values for types of injury, but it may also be helpful in some cases to look at the settlement values for different types of accidents. Our truck accident lawyers provide statistics for the average trial or settlement value for many of these different variables.
In very general and limited terms, looking at examples of settlements and verdicts involving J.B. Hunt may give you a sense of how the settlement value can change based on the jurisdiction, the severity of the injuries, and the economic loss caused by the injuries or death.
2019 – Texas, $24,400 Settlement: The plaintiff was rear-ended by a JB Hunt truck as he slowed down to merge onto highway traffic. Plaintiff suffered minor soft-tissue injuries to his neck and shoulder and the case was settled for $24,400.
2019 – Pennsylvania $15,570,000 Verdict: The plaintiff, a male in his mid-50s, was on the shoulder of a highway changing a tire when he was struck by the defendant JB Hunt driver. The driver was intoxicated at the time and was hired by JB Hunt despite a history of DUIs and failed drug tests. Plaintiff suffered massive injuries leaving him confined to a wheelchair. The jury awarded $15.5 million.
2017 – New Jersey $2,000,000 Settlement: In this wrongful death lawsuit, the decedent was in the basket of a bo
om arm truck repairing a traffic light when defendant JB Hunt driver stuck that truck. As a result, the plaintiff fell out of the basket and under the JB Hunt truck. JB Hunt claimed that the boom arm was negligently positioned in the intersection. So plaintiff hired a truck accident lawyer to file a lawsuit against JB Hunt.  Eventually, JB Hunt agreed to pay a settlement amount of $2 million.
2016 – Missouri $6,520 Settlement: Plaintiff was struck by JB Hunt truck at an intersection in St. Louis. She sustained minor injuries to her neck and back and settled her claim with JB Hunt for $6,520.
2015 – California $20,011,788 Verdict. The 47-year-old female plaintiff was legally entering an intersection when she was hit by a tractor-trailer driven by a J.B Hunt employee who had entered the intersection on a red light. The J.B. Hunt tractor-trailer hit the driver's side of the plaintiff's car, destroying the left side of her vehicle and pushing it through the intersection with such force that it left the roadway and slammed into a pole. The driver's door had to be removed by fire personnel to extract the plaintiff from the wreck. The J.B. Hunt driver fled the scene of the accident. The plaintiff was diagnosed with subarachnoid hemorrhage, concussion, and retrograde amnesia, and continued to suffer from serious cognitive impairments, chronic physical pain, depression, and other conditions as a result of her injuries. She has been unable to work since the accident and was required to move in with her cousin who helps care for her financially and physically.
2015 – Indiana, $32,500,000 Verdict. The 31-year-old female plaintiff was a passenger in a vehicle that struck an unlit J.B. Hunt semi-truck and trailer that had crashed into the median after losing control on a patch of ice. The J.B. Hunt truck driver had failed to follow state safety rules when he failed to turn on his truck and trailer flashers and failed to set out his reflective triangles as a warning of the existing accident scene. Due to the crash, the plaintiff suffered permanent brain damage and a month-long coma, resulting in her needing 24-hour care for her most basic needs, significant memory loss, and causing her to be wheelchair-bound. The jury awarded the plaintiff $32,500,000 in damages and apportioned 30 percent fault to J.B. Hunt, 30 percent fault to the J.B. Hunt truck driver, and 40 percent fault to the plaintiff's driver.
2014 – Illinois $753,000 Verdict. A J.B. Hunt semi-truck crossed the center line while driving, colliding with the plaintiffs' vehicle. The plaintiffs, spouses, sued on behalf of their four children who sustained unspecified personal injuries. The jury awarded the parents $550,000 and $128,000,000 for damages respectively, as well as $73,000 for their four children.
What is the Average Settlement Value for J.B. Hunt Truck Accident Cases?
The average settlement value in a serious truck accident case against J.B. Hunt is between $70,000 to $105,000. The average jury award in personal injury cases against large commercial trucking companies is $510,000. The potential settlement value of your specific case against J.B. Hunt will depend on how seriously you were injured in the accident.
Do J.B. Hunt Truck Drivers Have a Good Accident Rate?
J.B Hunt drivers have an average accident rate per mile compared to other commercial trucking companies of similar size. Each year, J.B. Hunt truck drivers average around 275 accidents resulting in serious injury and 20 accidents resulting in one or more fatalities.
How Much Insurance Do J.B. Hunt Trucks Have?
All J.B. Hunt trucks are covered by auto liability insurance policies with a limit of $1 million. The insurance carrier is ACE American Insurance Company. A copy of J.B. Hunt's current Certificate of Liability Insurance for this coverage is available for inspection on the company website.
How Does J.B. Hunt Handle Accident Claims?
Unlike many other commercial trucking companies, J.B. Hunt appears to handle their accident claims in-house and does not use any 3rd party claims adjusters. In our experience, this is usually a good thing for claimants because big trucking companies like J.B. Hunt are often easier to deal with and make better settlement offers.
What Maryland Lawyers Does J.B. Hunt Use?
J.B. Hunt gets named as a defendant in motor tort cases in Maryland at least 2 or 3 times a year. In all of these cases, J.B. Hunt is defended by the Baltimore insurance defense firm of Franklin & Prokopik. This firm handles most big truck accident defense cases in Maryland.
Does J.B. Hunt Have any Subsidiaries?
J.B. Hunt is a publicly-traded company that has several operating divisions within the company. However, all of J.B. Hunt's business divisions operate under the same brand so the company does not have any subsidiary entities doing business under a different brand or trade name.
Hiring a Personal Injury Lawyer to Help You
Our trucking accident law firm is based in Maryland. Most of the truck collision cases we handle are in the Baltimore-Washington area, but we handle significant injury cases throughout the entire country.
If you have been harmed in an accident with a J.B. Hunt truck and want to consider a lawsuit or a claim for an out-of-court settlement, call one of our lawyers at 800-553-8082 or click here for a free no-obligation Internet consultation.