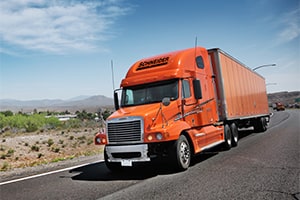 According to the Federal Motor Carrier Safety Administration's accident data, from April 2018 to April 2020 Schneider trucks have been involved in 970 accidents. 17 of those accidents resulted in fatalities and 264 caused serious injuries.
Schneider, along with UPS, FedEx, Swift, and J.B. Hunt, is one of the five largest trucking companies in North America. It is a publicly traded company with over $1 billion in revenue. Schneider vehicles are responsible for moving a large percentage of the 10.5 billion tons of freight transported by trucks in the United States annually.
Schneider is not necessarily a bad company. But any organization with a fleet of 21,937 vehicles on the road will inevitably cause a few accidents. Particularly in an environment where truck drivers are pushed to cover more miles in less time, stress, fatigue, and distraction can cause any driver, regardless of their training or experience, to get into a collision.
The possibility for accidents is greater when a company, like this company, hires new drivers fresh out of their training classes. Of course, new drivers need to start somewhere. We get that. But the odds of stress, fatigue, and distraction can only increase with truck driver inexperience. Regardless of their hiring policy or training program, Schneider is responsible for the serious injuries its truck drivers causes. If you are our client, we are going to fight to get you compensation for all of the pain, harms, and losses resulting from the truck accidents caused by the drivers they employ.
Why Schneider Accident Cases Have a Higher Settlement Value
Schneider tractor-trailer accidents typically result in disputes over the settlement value of the injuries, not over who is liable for those injuries. This should mean that the defendant is of no consequence to the outcome of the case, but in reality, the defendant does make a difference. When suing a sympathetic individual who just happened to cause a single accident, like a Sunday school teacher or a young person who just got her license, this has an impact on jury awards. Although a jury should focus on finding a money award that would accommodate the victim with everything he or she needs to become whole again, sympathy toward the defendant can result in lesser jury awards. But few people feel sympathetic toward big companies even if they respect the company or appreciate its services. As such, the trial value of a personal injury claim can be higher against a trucking company. This higher trial value in the courtroom leads to a higher settlement value.
Even more directly, Schneider tractor-trailers are capable of causing more damage than a standard passenger car because of their large size and weight. Because Schneider claims adjusters are accustomed to dealing with these greater damages and their corresponding greater dollar amounts, they can have a positive impact on settlement value.
What Else is Different About a Claim Against Schneider?
Although many lawyers regularly handle car accident cases, they are not always qualified to handle commercial truck accident cases against Schneider. There are many more tools, like state and federal regulations specifically applying to tractor-trailers or specialized equipment carried onboard big rigs, that can be used to help victims if you know where they are and how to use them. Many commercial vehicles are required to collect and save data about their speed, airbag deployment, braking, and a host of other information from the time of an accident. Plaintiff attorneys can find and utilize data from these modern electronic instruments as long as they know where to find them.
Sample Settlements and Verdicts Against Schneider
There are a number of tools on our website that can be used to help victims determine the potential range of settlement value for their claim. We find it helpful to look at the settlement value for the same type of accident, or even more predictive, the same type of injury. Our website provides statistics for the average trial or settlement value for many of these different factors. Listed below, you can also find examples of verdicts and settlements that have involved Schneider in the past. Although these examples are more limited in their usefulness, they can give you a better understanding of how settlement value can vary depending on the jurisdiction, the severity of injuries, or the economic loss caused by those injuries or death.
2023, Pennsylvania, $2,530,000 Verdict:  A 50-year-old truck driver was crushed by a tractor-trailer at a Family Dollar store on South Sixth Street, Reading, which resulted in fractures to his pelvis and sacrum. The incident occurred when the truck driver, attempting to assist another driver whose tractor-trailer was blocking the road, was pinned against a fence by the moving vehicle. The man was hospitalized, undergoing multiple surgeries and suffering from numerous severe injuries, including fractures, a bladder/urethra rupture, ligamentous injuries, a kidney contusion, lumbar radiculopathy, depression, and post-traumatic stress disorder. He claimed, not surprisingly, continuous pain, challenges with daily tasks, altered bodily functions, and sexual dysfunction. He filed a truck accident lawsuit against several entities, including the driver of the tractor-trailer and his employer, Schneider National Inc.  The jury awarded $4.6 million, but this was reduced to $2,530,000 due to comparative negligence.
2019, Chicago, $300,000 Settlement: Plaintiff, security guard in his mid-40s, was stopped in traffic when a Schneider truck slammed into a postal truck causing a pile-up and causing plaintiff to suffer a serious PCL knee sprain along with neck and back injuries. Plaintiff also claimed re-aggravation of his pre-existing back condition. Schneider eventually agreed to settle his claim for $300,000.
2017, New Jersey, $1,450,000 Settlement. A 58-year-old female vehicle driver suffered fatal injuries after she was rear-ended by another vehicle, and propelled through her windshield into the oncoming lane where she was struck by a Schneider tractor-trailer. The woman was not wearing a seatbelt, and was survived by a husband and two adult children. The case settled before trial for $1,450,000, including $1,400,000 from the trucking company and $35,000 from the rear striking driver.
2015, Pennsylvania, $38,000 Settlement. The 64-year-old male plaintiff pulled over on the shoulder of a highway due to inclement weather, and was struck by a Schneider tractor-trailer. The plaintiff suffered fractured teeth, post traumatic headaches with vertigo, aggravation of a preexisting lumbar condition, cervical and thoracic strains, and died unexpectedly from unrelated causes before the case concluded.
2012, California, $37,845,883 Verdict. The plaintiffs were a married couple who were passengers in a vehicle driven by a relative when a collision occurred with a Schneider big-rig. The plaintiffs claimed that the Schneider tractor-trailer improperly attempted to pass their car, crossed over into the plaintiff's lane, hit their vehicle, and caused their vehicle to spin out of control across the freeway where it hit the median barrier and was struck by another vehicle. The large jury verdict is because of the catastrophic injuries. One plaintiff suffered a C5-C6 fracture, spinal fracture and spinal cord injury. The other plaintiff suffered minor physical injuries and had a claim for loss of consortium.
2010, Indiana, $2,100,000 Verdict. A Schneider tractor-trailer rear-ended the plaintiff's vehicle while it was stopped behind other vehicles for a traffic signal. The vehicle driver suffered fatal injuries, and the passenger, the decedent's mother, sustained a fractured tibia and suffered emot
ional distress as a result of witnessing the death of her daughter.
2008, Georgia, $2,850,000 Settlement. The 37-year-old male plaintiff suffered bilateral leg fractures and fractures to his left elbow and tibial when his vehicle was struck broadside by a Schneider tractor-trailer at a controlled intersection. The plaintiff contended that the Schneider driver failed to keep a proper lookout, drove at an excessive rate of speed, and failed to yield the right-of-way.
2005, Alabama, $12,500,000 Verdict. A 51-year-old man died when his vehicle was struck broadside by a Schneider tractor-trailer after the driver blacked out while operating the truck. The plaintiff contended that Schneider knew their driver was subject to fainting spells and negligently entrusted their truck to him anyway.
2004, Massachusetts, $410,000 Verdict. At a controlled intersection, a Schneider tractor-trailer struck the 28-year-old male plaintiff's vehicle broadside. As a result of the accident, the plaintiff suffered a traumatic brain injury, headaches, multiple tooth fractures, head lacerations, and a loss in his quality of life.
What is the Average Settlement Value for Schneider Transportation Truck Accident Cases?
The average value of a settlement in a serious truck accident case involving a big trucking company like Schneider Transportation is around $75,000 to $110,000. The average jury award in accident cases against commercial trucking companies is $500,000. The settlement value of your specific case will depend largely on how seriously you were injured.
Do Schneider Truck Drivers Have a Bad Accident Record?
No. Schneider truck drivers have a slightly lower accident rate per mile compared to other trucking companies of similar size. Schneider Transportation truck drivers average about 130 serious injury accidents and 8 fatality accidents each year.
How Much Insurance Do Schneider Trucks Have?
All Schneider trucks are covered by auto liability insurance policies with a limit of $1 million per accident. The insurance carrier is General Insurance Company of America. A copy of Schneider's current Certificate of Liability Insurance for this coverage is available for inspection on the company website.
What Lawyers Does Schneider Transportation Use in Maryland?
Schneider Transportation occasionally gets sued in Maryland in motor tor cases, but not on a regular basis. When Schneider does get sued in Maryland, the company has been defended by the Annapolis firm of Ryan, Drewniak & Upshaw LLC.
What Other Companies Does Schneider Own or Operate?
Schneider is a publicly traded company and one of the largest players in the commercial trucking and transport business. Like all big companies, Schneider owns a lot of corporate subsidiaries. However, all of the company's subsidiary units operate under the "Schneider" name and are not separately branded.
Hiring a Personal Injury Lawyer to Help You
Our law firm is based in Maryland. Most of the truck collision cases we handle are in the Baltimore-Washington area, but our law firm handles significant injury cases throughout the entire country. If you have been harmed in an accident or have a potential wrongful death claim involving a Schneider truck and want to consider a lawsuit or a claim for an out-of-court settlement, call one of our lawyers at 800-553-8082 for a free case evaluation or click here for a free no obligation Internet consultation.