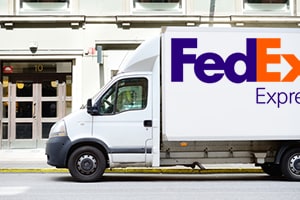 FedEx is the second-largest package delivery company in the United States after the United Parcel Service (UPS). FedEx is also second in the size of their commercial fleet.
You might not expect to hear this from truck accident lawyers. But FedEx is a good company that largely does thing the right way. The company makes a real effort to keep its drivers and everyone else on the road safe. Although FedEx does not require prior commercial driving experience, applicants who apply to FedEx are thoroughly screened with background checks and strength tests.
Sure, the company makes mistakes in their selection of drivers and independent contractors and there are lawsuits alleging that those mistakes caused harm. But FedEx truck accident accident settlements and lawsuits involving FedEx are largely a byproduct of the sheer volume of its fleet. As of 2020, this extremely larger corporation has more than 20,000 delivery trucks and other vehicles and over a quarter of a million employees.
In 2020 it moved over 18 billion tons of goods worth over $19.2 trillion. With this volume of shipping there are bound to be a lot of motor vehicle accidents. According to Federal Motor Carrier Safety Administration ("FMSCA") accident data, from 2018 thru 2019 Federal Express drivers were involved in 58 fatal accidents and 660 accidents resulting in serious injury.
Frequent accidents also inherently co-travel with the model that delivering faster is better than delivering slow. FedEx has tried mightily to reduce the hazards that come from this model. But there is only so much a freight and delivery company can do. The company has a lot of awful drivers and that leads to awful truck accidents.
Why FedEx Accident Cases Have a Higher Settlement Value
Most car and truck accident cases do not involve a significant liability dispute. The battlefield is over determining the settlement value of the injuries.
Cases against FedEx are going to have a higher settlement value against than your typical car accident case involving the exact same injuries? Why? The reason a case against FedEx has a higher settlement value is that a jury fully understands that FedEx has plenty of money to pay off a verdict.
In Maryland, and in most states, the jury in a legal action is not told if the defendant has car insurance. Usually someone in the jury figures out that the defendant must have insurance and spills the beans to the rest of the jury.
But it still has a chilling effect on the compensation number the jury reaches. We have had cases where the juror's first question after the trial was whether the nice defendant will have to pay any portion of the big verdict they just awarded. In these cases, this is not a problem and that increase the settlement and trial values of these cases.
The jury often also feels sympathy for the driver and does not want to hit them with a large verdict. Often, when suing FedEx and other defendants driving a commercial vehicle, our lawyers will often not even name the driver as a defendant. This allows the jury to focus exclusively on the big pocket.
What Else is Different About a Claim Against FedEx?
The other big difference about a lawsuit with FedEx is that if there is a liability dispute, there are a host of weapons you have to investigate whether the company was at fault for the collision. These vehicles are loaded with all of the latest technology and have an electronic mobile communication (EMC or black box) device which can give you vital information on the vehicle during the crash. This information includes speed, the braking system, the vehicle's mechanical system, and a host of other pieces of information that an accident reconstructionist can use to retrace the vehicle's steps.
There is also important information available about a driver's compliance with hours-of-service regulations. There is just a wealth of information that are real weapons in litigation if your accident lawyer knows where to look. But the idea that any car accident attorney can find their way through this maze is just plain wrong.
Unlike UPS, for example, most FedEx drivers are independent contractors. So if you wait until just before that statute of limitations to file a lawsuit against a FedEx driver, you might find out you are missing a crucial defendant with insurance coverage and giving up a ton of evidence you could have used at trial. For any problems, that it has, FedEx generally does things the right way. But its' independent contractors? They often do not do things in a first class way putting safety first and this can be powerful evidence in front of a jury at trial.
Sample Settlements and Verdicts Against FedEx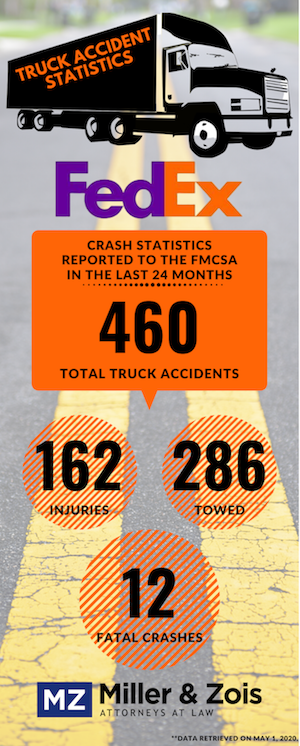 Our website has a lot of weapons to help you better understand the settlement value of your case. You can look at the settlement value for the type of accident or, better, the type of injury. For many of these, we have statistics for the average and mean trial or settlement value of these kinds of cases.
Another limited but helpful tool is examples of settlement and verdicts involving the defendant. In very general and limited terms, it gives you an idea of how the value of these case vary with the severity of the injuries and the economic loss caused by the injuries or death.
2019 – North Carolina $550,000 Settlement: FedEx delivery driver delivering a shipment struck the victim in broadside collision while driving through a bust intersection. Plaintiff, and elderly female, suffered fairly serious injuries to his head, neck and back as well as a broken arm. FedEx agreed to settle the case for $550,000.
2017 – Pennsylvania $21,700 Verdict: FedEx Ground truck driver rear-ended the victim while he was stopped at a red light. Plaintiff claimed whiplash and soft tissue injuries to his neck and back but the injuries were comparatively minor. This shipper took the case to trial and the jury awarded $21,700.
2017 – Missouri 2017) $1,200,000 Verdict: In this case, a vehicle owned by FedEx Group Package Systems collided with the plaintiff's pickup truck. He suffered two kneecap fractures and a fractured leg. The plaintiff claimed the defendant driver ignored a stop sign before the collision. He returned to work as a mechanic, however, he experienced pain on the job.
2016 – New Mexico $5,425,000 Verdict: The plaintiff is decedent's spouse. A 48-year-old man is a co-driver in a FedEx truck. The defendant FedEx truck driver allegedly falls asleep behind the wheel. The truck rear ends another tractor trailer causing the passenger to be ejected f
rom the FedEx truck. Unfortunately, the passenger passes away from the result of the collision. As a result of this fatal crash, the family members brought wrongful death lawsuit contending that the collision is a result of the negligence of the Federal Express driver falling asleep behind the wheel. A jury awards the plaintiff $5,425,000 damages. The gross damages were $7,300,000. The jury found 25% liability in the other tractor trailer.
2015 – New Mexico 2015: $163,933,000 Verdict: A man was tragically killed after a FedEx tractor-trailer struck her pickup truck. The plaintiff sued FedEx and two other trucking companies that retained and paid the truck driver. The victims' families lawyer alleged that the FedEx truck driver took medication for sleeping problems. They also contended that FedEx did not have safety programs or a safety driving manual for late-night hours. The defense contended that FedEx complied with Federal Motor Carrier Safety Administration standards. The jury found FedEx 65 percent liable, the two other trucking companies and the driver 10 percent liable each, and the decedent 10 percent liable (comparative negligence).
2015 – Alabama $4,000 Settlement: Plaintiffs file a negligence claim on behalf of their minor grandchild. The minor is a passenger in a vehicle that is struck by a FedEx tractor-trailer. The minor is diagnosed with bilateral back pain. The claim is settled for $4,000. Obviously, the injuries were probably not particularly serious.
2014 – California $7,500,000 Verdict: A 22-year-old female is riding her bicycle when she is struck and killed by a FedEx delivery truck. FedEx admitted liability and the jury trial proceeds to determine the amount of non-economic damages. The plaintiff states that she had a unique and extraordinary relationship with her daughter and therefore should receive non-economic damages loss of her daughter's love, companionship, comfort, care, assistance, protection, affection, society, and moral support. The jury award the plaintiff $2,500,000 for past pain and suffering $5,000,000 for future pain and suffering for the loss of her child.
2013 – California $125,000 Settlement: Plaintiff is driving his vehicle on the highway when he is cut off by a FedEx delivery truck that collided on the right, front corner of his vehicle. Plaintiff's vehicle runs off the road and the driver suffers injuries to his neck, lower back, and left hip. After the accident, the plaintiff visits a chiropractor and is diagnosed with a lumbar disc herniation at the L4-L5 level, bursitis of the left hip, and a soft-tissue strain of his neck. The plaintiff receives four months of chiropractic care and several epidural injections of his left hip and lower back. Plaintiff had $59,000 in past medical costs. The parties negotiated and agreed to a $125,000 settlement.
2012 – Texas $2,160,000 Verdict: Plaintiff is a woman who is driving on a highway when defendant truck skids across several lanes of traffic due to wet conditions and collides with Plaintiff's vehicle. Plaintiff suffers a multitude of injuries including a ruptured spleen, a compound fracture to the femur, substantial damage to her knee, a closed head injury, rib fractures, transverse process fracture, herniation at L4-5, and lacerations to her face, head, arms, and body.
What is the Average Settlement in Truck Accident Cases Against FedEx?
The average settlement amount in a serious truck accident case against FedEx is around $75,000 to $110,000. The average jury verdict amount in big commercial trucking companies is $510,000 and the average verdict in FedEx cases seems to be slightly higher. The potential value of a specific case against FedEx will depend largely on how badly the plaintiff is injured in the accident.  In Maryland, you can also expect higher compensation payouts in Baltimore and Prince George's County, the two jurisdictions most favorable to victims.
Do FedEx Drivers Have a Bad Accident Record?
Based on the number of trucks in their fleet and the mileage driven on an annual basis, FedEx drivers actually have a pretty good accident rate. FedEx drivers average 330 serious injury accidents and 30 fatal accidents a year.
Are All FedEx Drivers Company Employees?
No. In contrast to UPS, most FedEx delivery drivers are actually independent contractors and not company employees. This can be significant in an accident case because it means the independent driver may have primary liability and separate insurance coverage. FedEx may or may not have liability for the accident.
What Maryland Lawyers Does Federal Express Use in Auto Tort Cases?
Not surprisingly, FedEx gets sued in motor tort cases in Maryland at least half a dozen times a year. Defense counsel for FedEx in these Maryland accident cases is always the insurance defense firm Franklin & Prokopik.  These are arguably the best truck accident lawyers in Maryland.  But our personal injury lawyers have handled many cases against this firm and received outstanding compensation for our clients.
Hiring a Personal Injury Lawyer to Help You
Our law firm is based in Maryland and most of the cases we handle are in the Baltimore-Washington area.  But our legal team handles significant injury cases throughout the entire country.  Our personal injury lawyers know how to sue Fedex, we promise you that.
If you have been harmed in an accident with a FedEx truck and want to consider a lawsuit or a claim for an out-of-court settlement, call one of our lawyers at 800-553-8082 or click here for a free no obligation Internet consultation.