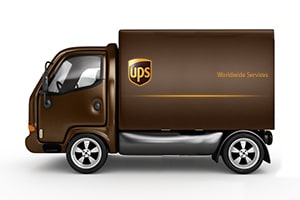 Delivery company United Parcel Service (UPS) is the largest for-hire shipping carrier in the United States. The other well-known delivery company FedEx is in a distant second place. As of 2020, UPS has over 125,000 UPS trucks and vehicles in their fleet according to FMCSA data. In 2019 UPS drivers traveled a staggering 3 billion miles on U.S roads. Incredibly, 118,498 UPS truck drivers deliver over 20 million packages globally every day. With so many vehicles on the road, truck accidents are inevitable. UPS trucks currently average about 26 fatal accidents a year and around 450 accidents resulting in serious injury.
Despite of these mind-boggling statistics, UPS is not a bad company. It has a "Satisfactory" safety rating with the Federal Motor Carrier Safety Administration. That is nothing to brag about, to be sure. But the reason for the large volume of crashes and serious injuries caused by UPS truck accidents is the sheer size of UPS.
Sure, UPS, like any company, has bad drivers. Sometimes, this is the fault of UPS because they make mistakes in choosing suitable drivers and contractors (which is also a function of not paying their drivers enough to attract the best candidates). Truck drivers for UPS are also stressed by a system that demands speed in making deliveries. This causes excessive speed and driver fatigue. But in most UPS truck accident lawsuits, the real fault lies with the driver. UPS is responsible for the pain, medical bills, and losses from those accidents because they are employing the drivers.
Why UPS Accident Cases Have a Higher Settlement Value
Most commercial vehicle and truck accident cases do not involve a significant liability dispute. The conflict is regarding the settlement value of the injuries. In theory, this means who the defendant is should be of no consequence. The jury should focus on determining the appropriate amount of money damages to make the victim whole.
But in the real world, it makes a difference who the defendant is. When we are suing a sympathetic grandmother of 11, this has an impact on jury awards. Conversely, few people have warm and fuzzy feelings about UPS, even among those that know and respect the company. So the trial value of a personal injury claim is higher with UPS and this higher trial value leads to a greater settlement value.
As a practical matter, because UPS trucks cause more damage than passenger cars, UPS claims adjusters are used to dealing with larger dollar amounts. This also has a productive impact on settlement value.
Also, like many large companies, UPS is mainly self-insured so there is no separate insurance company to negotiate with. Having a separate insurance company handling personal injury claims always drives settlement values down.
What Else is Different About a Claim Against UPS?
Personal injury attorneys who regularly handle car accident cases are not always qualified to handle truck accident cases against UPS. In large truck accidents, there are so many more weapons to determining how the accident occurred that specialized knowledge is often required when handling these cases.
Commercial trucking companies like UPS collect accident-related data that may be stored and accessible. UPS vehicles are equipped with modern electronic information that can give you information on speed, airbag deployment, braking and a host of other data points at the time of the accident to help ascertain whether UPS was at fault for the crash and prove negligence. There are also scores of state and federal regulations that might be relevant. There is an absolute arsenal of tools to help truck accident lawyers establish negligence if if they know where they are and how to use them.
Sample Settlements and Verdicts Against UPS
Our website has a number of tools to help victims and personal injury attorneys understand the potential ranges of settlement value of their claim. We look at the settlement value for the type of accident or, even more telling, the type of injury.
For many of these different variables, we provide statistics for the median or average trial or settlement value. Another helpful, albeit limited, tool is samples of settlement and verdicts involving the defendant. In very general and limited terms, it gives you a feel for how the settlement value of these cases depends on the jurisdiction, the severity of the injuries, and the economic loss caused by the severe injury or death.
There is one thing that victims and accident lawyers should know that is specific to a UPS settlement. The ultimate settlement value of a case against UPS is higher than it is in a passenger car negligence case with the exact same injuries. Why? There are many reasons, not the least of which is that UPS is an easier target for a jury than an individual.
2020, Nevada: $82,000 Settlement. Two minor passengers were struck by a UPS truck. They suffered personal injuries. Their mother alleged that the UPS truck driver's failure to yield to a stop sign caused their injuries. She also made a vicarious liability claim against UPS for failing to properly hire and train its employee. This case settled for $82,000.
2019, New Jersey: $2,075,000 Settlement. The plaintiff's attorney files a lawsuit contending that a UPS driver negligently double parked on the roadway containing one lane in each direction. As a result, another driver — and co-defendant — crosses over into the oncoming lane and hits him head-on. In a case like this, the plaintiff's attorney is going to focus on UPS because they have the deeper pocket to pay a settlement or judgment. The injuries are significant — a closed head injury and a diffuse axonal injury. The plaintiff maintained that he will permanently suffer extensive cognitive deficits and a personality change. The plaintiff also contended that he suffered a lumbar herniation that will cause permanent symptoms. The case settled before trial for $2,075,000, including $2,000,000 from the delivery service, the $50,000 policy of the defendant driver and $25,000 from the plaintiff's UIM carrier.
2019, Texas: $27,700,000 Verdict. Two men traveling together are stopped in traffic when a UPS 18-wheeler slams into their vehicle. Both suffer catastrophic injuries. The driver needs a fusion of both his cervical and lumbar spine. The other receives neck surgery. The driver — and his wife who filed a loss of consortium claim — receive over $20 million from the jury. The balance is awarded to the passenger.
2019, California: $65,500 Verdict. A plaintiff with spondylosis at L5-SI and cervical disc bulges at C4-C5 disc replacement AND a C5-C6 fusion is stopped at a stop sign and hit by a truck coming the other way. as he drove southbound, stopped at an intersection and is hit by one vehicle than another. He sues both vehicle; one is a UPS driver. T
he jury found both responsible but attributed only 20% of the fault to the UPS driver. It also seems pretty clear the jury was unable to look past the preexisting injuries when valuing the claim.
2017, Alabama: $115,000 Settlement. A grandmother is a front-seat passenger who is hit by a UPS Ground Freight driver. Regrettably, we have no other details about this case.
2015, Florida: $5,000,000 Verdict. Plaintiff is sitting at a stoplight when a UPS truck made a left turn and crossed into the plaintiff's lane, crashing head-on into the vehicle. The 28-year-old plaintiff is transported to a local hospital and diagnosed with a closed head injury, torn labrum of his left shoulder, and a lumbar disc herniation at the L5-S1 region. According to the plaintiff's neurologist, he had suffered permanent neurological injuries. The jury awards the plaintiff $5,000,000 in compensatory damages.
2015, New York: $2,760,000 Settlement. Plaintiff is a 60-year-old man and a passenger in the front-seat of a vehicle. While double-parked, the plaintiff's vehicle is struck by the defendant UPS truck. The plaintiff is transported to a nearby hospital and diagnosed with several herniations, the impingement of spinal nerves, and resultant radiculopathy. The plaintiff undergoes chiropractic manipulations, physical therapy, and five epidural injections of steroid-based painkillers. The man eventually has spinal cord fusion surgery. The case is settled pre-trial for $2,760,000.
2015, Connecticut: $3,476,025 Verdict. The plaintiff is a 25-year-old male traveling northbound on his motorcycle. The defendant UPS truck attempts to make a left-hand turn, and the plaintiff collides with the UPS truck. The plaintiff is taken to a nearby hospital where he is diagnosed with multiple facial and spinal fractures, severe road rash, and partial dismemberment of one of his ears. He undergoes surgical repair to reattach the ear and to repair the fractured bone around his eye. The plaintiff is unable to work for six months. After the trial, the jury awards the man $121,723 in past medical costs, $30,000 in future medical costs, $24,302 in past lost earnings, $300,000 in past non-economic damages, and $3,000,000 in future non-economic damages.
2013, Connecticut: $3,883,132 Verdict. The plaintiffs' family member dies after involvement in a vehicle accident with a UPS driver. The plaintiffs bring a wrongful death lawsuit against the driver and UPS for vehicular liability. After a trial, the jury awards the plaintiffs $3,883,132.
How Much are UPS Truck Accident Lawsuits Worth?
The typical settlement value for a serious truck accident case against UPS is around $75,000 to $110,000. The average jury award amount in accident cases against big commercial trucking companies is $510,000 and the average verdict in UPS cases seems to be slightly higher. The value of a specific case against UPS will depend on how badly the plaintiff is injured in the accident.
Do UPS Truck Drivers Have a Bad Accident Record?
UPS delivery drivers have a pretty good accident record based on the number of trucks in their fleet and the millions in mileage driven on an annual basis. UPS drivers average 450 serious injury accidents and 26 fatal accidents a year.
Are All UPS Drivers Company Employees?
Yes. UPS does not use independent contractors so all UPS delivery truck drivers are company employees. This is different from FedEx. Many FedEx drivers are independent owner-operators who are not company employees. This matters in an accident case because when the driver is a company employee (not a contractor), UPS is fully and directly liable for all accidents.
What Maryland Lawyers Does UPS Use in Auto Tort Cases?
UPS regularly gets sued in a handful of auto tort cases in Maryland every year. In most of these cases, defense counsel for UPS has been the firm of Bonner, Kiernan, Trebach & Crociata, LLP in Washington, DC.
Hiring a Personal Injury Lawyer to Help You
Our law firm is based in Maryland. Most of the truck collision cases we handle are in the Baltimore-Washington area, but we handle significant injury cases throughout the entire country. If you have been harmed in an accident with a UPS truck and want to consider a lawsuit or a claim for an out-of-court settlement, call one of our personal injury attorneys at 800-553-8082 or click here for a free no-obligation Internet consultation.