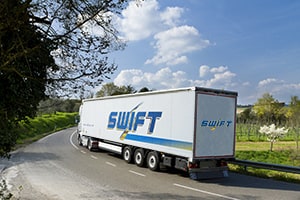 As of 2022, Swift Transportation has 15,000 vehicles and 20,000 drivers in its fleet. This ranks this publicly traded company among the top five largest motor carriers in the nation.
Among the ranks of UPS, FedEx, Schneider, and J.B. Hunt, Swift tractor-trailers deliver cargo all over North America. With so many drivers logging so many miles, truck accidents are bound to happen.
Let's take a look at Swift Transportation's accident statistics to get a feel for their safety record. Between February 2020 and February 2022, Swift Trucking drivers were involved in 31 fatal accidents and 299 accidents resulting in serious injury.
Why are these crash statistics so high? In part, accidents are inevitable when a company owns such a high percentage of tractor-trailers on the road.
But another reason for the frequent crashes could be Swift Transport's hiring and training practices. Knight-Swift has a reputation as a "training company" for new drivers. Many other trucking companies will only hire experienced drivers with a minimum level of driving experience under their belts.
Swift, on the other hand, will often hire new drivers directly from their driving school. They are marketing to inexperienced drivers.  The end result is injuries and death. Having to make endless payouts in truck accident cases does not help Swift's profitability either.
Sure, truck drivers have to start somewhere, and most reviews of Swift's training program are positive, but inexperienced drivers are logically more likely to cause accidents. We get that. But Swift also has a high rate of driver turnover which comes with taking drivers out of trucking school.
This means that Swift not only hires brand new drivers. But those new, inexperienced drivers make up a vast majority of their workforce. Because Swift offers its drivers infrequent and unreliable home time, after a few years with the company, drivers tend to move on to other trucking opportunities with more favorable soft benefits.
Some Swift truck drivers report spending only one day at home after months on the road, even after they were promised a one day minimum of home time per week.
The news on Swift and safety is not all bad.  Swift trucks have the latest collision avoidance and lane departure systems, vehicle stability control, and they have windshield-mounted cameras that record when a critical event occurs. The latter helps both truck accident lawyers and Swift get to the truth when there is a crash, so there is less he said/she said.  No one is suggesting Swift is criminally unsafe.  But it hiring of inexperienced drivers is a real issue.
Why Swift Accident Cases Have a Higher Settlement Value
In truck accident cases, the liability of the driver and transportation company is usually not at issue.
Rather, the key issue in these truck accident lawsuits is the extent of the injuries and the appropriate settlement value. Who the defendant is and how much money they have tends to have a big impact on the settlement value of truck accident claims.
Legally the identity of the defendant should make no difference. But in reality, who the defendant is makes a huge difference. If the defendant is a little old lady or a volunteer worker, the jury is going to be much more sympathetic than they would toward a big company like Swift. And a jury's sympathy, consciously or not, tends to have an impact on how much money they award. So the trial value of a personal injury claim is much more likely to be higher with a defendant like Swift, and this higher trial value leads to a greater settlement value.
Additionally, because tractor-trailers are larger than passenger cars and can therefore cause more damage, Swift claims adjusters are used to dealing with big dollar amounts. This bias can also have a productive impact on settlement value. Is that fair? On some level, no. But the deck is often stacked against accident victims. They deserve a break.
What Else is Different About a Claim Against Swift?
Because of the specialized data and equipment of large trucks, not every lawyer who regularly handles car accident cases is qualified to handle litigation against Swift.
There are many state and federal regulations that apply to trucking accidents, as well as accident-related data storage devices that are kept on-board tractor-trailers.
Commercial vehicles, such as tractor-trailers, are equipped with modern electronic instruments that record information about the vehicle's speed, airbag deployment, braking, and a host of other data points at the time of a crash.
This data can help your attorney to prove whether Swift was at fault for the crash if they know where to look and how to use it.
What is the Average Settlement in Truck Accident Cases Against Swift Transportation?
An average settlement amount in a serious truck accident claim against Swift Transportation is around $70,000 to $105,000. The average jury verdict amount in injury cases against big commercial trucking companies is $510,000. The potential value of an individual case against Swift will depend on the severity of the plaintiff's physical injuries.
Do Swift Transportation Truck Drivers Have a Bad Accident Record?
Swift Transportation truck drivers have a slightly higher accident rate per mile compared to other major trucking companies. Swift drivers average 206 serious injury accidents and 20 fatal accidents a year. Swift tends to hire new, less experienced drivers right out of training school.
Does Swift Use Independent Contractor Drivers?
Yes. The majority of Swift Transportation truck drivers are company employees. However, Swift also uses "independent owner operators" to fill out its driver needs. These drivers are not company employees but rather independent contractors who own their own rig and work for Swift on a full or regular basis. If you get in an accident with one of these drivers, Swift may not have direct liability.
What Maryland Lawyers Does Swift Transportation Use?
Swift Transportation gets sued in motor tort cases in Maryland on a regular basis. They are usually defended by lawyers from Franklin & Prokopik, an insurance defense firm in Baltimore with expertise in truck cases.
Does Swift Have Any Subsidiaries?
Knight-Swift Transportation is the largest trucking company in the world because it recently merged with Knight Transportation. So technically, Knight is a subsidiary of Swift, but the two companies are operated separately for the most part. Other subsidiaries include Barr-Nunn Transportation and Abilene Motor Express.
Sample Settlements and Verdicts Against Swift
On our website, you can find a number of tools to help victims understand the possible range of the settlement value for their claims. Looking at variables such as statistics for the average trial or settlement value for the same type of accident, or better yet, the same type of injury, may provide helpful examples.
Listed below are samples of settlements and verdicts involving Swift Trucking accidents. Although claims that have a similar injury type are typically more indicative of your potential settlement value, cases involving the same defendant may give you a feel for how settlement value can vary depending on the jurisdiction, the severity of the injuries, and the economic loss caused by the injuries or death.
2023, Arizona $10,700,000 Verdict.  This is different than the others below involving Swift/Knight-Swift.  In this case, a Swift truck driver was injured when the door of a refrigerated trailer came down on her head. The driver sued the transportation company and the store where the incident happened, alleging that the transportation company was negligent in failing to maintain the trailer properly, train her properly, and provide a reasonably safe workplace. The driver alleged that she received no training on how to use the trailer doors or how to deal with the doors when they were stuck, nor was she instructed to report such issues in writing. The jury found that the transportation company was liable for the incident, and the driver was awarded $10.7 million in damages.
2019, Kansas $23,500,000 Verdict: Swift driver was high on meth when she backed her truck out into oncoming traffic, causing a collision with another truck that severely injured the driver and killed a passenger. Discovery revealed that the Swift driver lacked the experience; qualifications, and training to safely operate her rig. The jury deliberated 6 hours and came back with one of the largest personal injury verdicts in Kansas history. The verdict was subsequently affirmed on appeal.
2015, Pennsylvania, $731,436 Verdict. A Swift delivery truck negligently and illegally traveled on a narrow, S-curved bridge prohibiting vehicles greater than 102 inches in length. The driver was unable to negotiate the S-curved bridge, and his trailer crossed over into the plaintiff's lane of traffic, striking the plaintiff's vehicle. As a result of the collision, the plaintiff suffered bilateral thoracic outlet syndrome with bilateral distal arm radiation, cervical sprain and strain, mechanical shoulder dysfunction and radicular symptoms in the upper right extremity.  The victim hired a truck accident lawyer and went to trial. The jury found that the defendants were negligent, and awarded the plaintiff $375,000 in pain and suffering and $356,436 in past and future wages and medical expenses.
2013, California, $10,800,000 Settlement. The 61-year-old male plaintiff was a pedestrian, struck and run over by a Swift vehicle as it made a right turn while the plaintiff was walking across the intersection. The plaintiff suffered a traumatic brain injury, class IV hemorrhagic shock and respiratory failure, bilateral subarachnoid hemorrhage, multiple skull fractures, multiple transverse process thoracic fractures, hemothorax and pneumothorax of the left lobe of the lung, occlusion of the right distal superficial saphenous artery, fractures of both legs, visual impairment, hearing loss, scaring, trauma-induced diabetes, MRSA, and other infections. The defendants agreed to pay $9,800,000 to settle the plaintiff's claim, with an additional $1,000,000 loss of consortium settlement for the plaintiff's spouse.
2011, Arizona, $1,100,000 Verdict. The plaintiff was sitting in the cab of his parked truck at a Costco warehouse when a Swift tractor-trailer collided with his vehicle. The plaintiff sustained unspecified personal injuries as a result of the collision. After determining the defendants were 60 percent at fault and the plaintiff was 40 percent at fault, the jury awarded the plaintiff $1,100,000 in damages.
2008, Missouri, $1,400,000 Settlement. A 65-year-old woman and her rescue dog were stopped due to traffic when the driver of a Swift tractor-trailer struck the rear of her car, drove on top of it, dragged it along the highway, crashed into three other vehicles, and then ran off the road. The woman and her dog, as well as the defendant's truck driver, died at the scene. The $1,400,000 settlement was awarded to the plaintiffs: the adult children and grandchildren of the deceased woman.
2008, Texas, $15,000,000 Settlement. The driver of a Swift tractor-trailer lost control of his rig and veered across the center median, striking the plaintiff's vehicle and killing his 9-year-old daughter and 49-year-old mother-in-law. The plaintiff's 28-year-old wife suffered serious injuries, including broken bones and a head injury. It was 4:00 am at the time of the crash, the Swift tractor-trailer driver had falsified his driver's log, and the tractor-trailer had a worn front tire and an alignment problem that caused the steering wheel to vibrate.
Hiring a Personal Injury Lawyer to Help You
Our law firm is based in Maryland. Most of the truck collision cases we handle are in the Baltimore-Washington area, but we handle significant injury cases throughout the entire country.
If you have been harmed in an accident with a Swift truck and want to consider a lawsuit or a claim for an out-of-court settlement, call one of our lawyers at 800-553-8082 or click here for a free no obligation Internet consultation.