Let's examine the legal doctrine of negligent entrustment of a motor vehicle in Maryland and how this rule gets applied in auto accident cases.
Negligent Entrustment of a Vehicle
Negligent entrustment is a tort law claim under which the owner of a motor vehicle can be held liable when they "entrust" that vehicle to another driver, and that driver gets in an accident and causes injuries. The doctrine of negligent entrustment can apply in any type of accident case involving the entrustment of a "dangerous instrumentality." However, negligent entrustment most frequently arises in the context of auto tort cases. Negligent entrustment claims are particularly common in big truck accident lawsuits.
The doctrine of negligent entrustment has been recognized under Maryland law since 1934, and it exists in similar form in all other states. The theory behind negligent entrustment is that the "entrustor" (i.e., the vehicle owner) should be liable for negligence when they loan their car out to a third person and that person uses the car to cause injuries to another.
The Law of Negligent Entrustment in Maryland
In Maryland, negligent entrustment was first recognized as a cause of action by the Maryland Court of Appeals over 80 years ago in Rounds v. Phillips, 166 Md. 151 (1934). Since its initial adoption in Rounds, the doctrine has gradually evolved and changed. Today, Maryland has formally adopted the version of negligent entrustment as expressed in the Restatement, which provides:
One who supplies directly or through a third person a chattel for use of another whom the supplier knows or has reason to know to be likely because of his youth, inexperience or otherwise, to use it in a manner involving unreasonable risk of physical harm to others whom the supplier should expect to share in or be endangered by its use, is subject to liability for physical harm ….
Restatement (Second) of Torts § 390.
Elements of Negligent Entrustment in Auto Accident Cases
Under the Restatement version of negligent entrustment now adopted in Maryland, there are three basic elements. To establish the tort of negligent entrustment in a Maryland auto accident case, a plaintiff must establish the following elements:
Entrustment: The defendant loaned, entrusted or otherwise made their vehicle available to the driver.
Knowledge: The defendant knows that the driver is likely to use the vehicle in a manner involving risk of harm to others.
Injury: The driver was negligent in his operation of the vehicle and caused harm to others.
The knowledge negligent entrustment element is always the most critical. The success of a negligent entrustment claim is usually dependent on this element. So what type of "knowledge" is required? There needs to be actual or constructive knowledge that the person entrusted with the vehicle is "likely" to use it in a way that will potentially harm others.
The question of "knowledge" can get very tricky in auto accident cases. Anytime you loan a motor vehicle to someone, you realize that there is a risk that they might get into an accident with it. Traffic accidents happen all the time, so any reasonable person would understand that this is a risk.
But this general knowledge that an accident "could" happen is not enough for negligent entrustment. To bring a negligent entrustment claim, you must show that the owner had knowledge that the driver was more likely to cause an accident than an ordinary driver. This can be based on the driver's past experiences with the driver or the driver's youth or inexperience. Knowledge that the driver is a higher risk for an accident can also be based on the fact that the driver has a bad driving record (e.g., numerous speeding violations, DUIs, accidents, etc.).
Negligent Entrustment Claims in Truck Accident Cases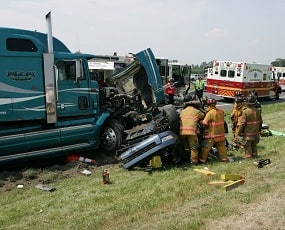 Negligent entrustment claims are very common in accident cases involving tractor-trailer trucks. The reason for this is because most commercial truck drivers are independent contractors rather than employees of the trucking company.
The absence of a formal employer-employee relationship means that if the truck driver causes an accident, the trucking company does not have direct liability. Asserting a negligent entrustment claim against the trucking company is often the only way around this. Is this searching for a deep pocket? You bet it is.
Not surprisingly, many truck accident lawyers in Maryland bring causes of action under the theory that the truck accident occurred because the trucking company negligently entrusted an extremely dangerous instrumentality, for example, a semi-truck, in the hands of someone they knew or should have known was not trustworthy. When negligent entrustment claims are made in truck accident cases, the plaintiff must show that the accident was foreseeable based on the driver's record, employment history, lack of training, etc.
Negligent Entrustment Example
Here is a common hypothetical example of how negligent entrustment might work in a big truck accident case:
Acme Trucking hires Joe in Maryland as an independent contract driver for long-haul, less-than-truckload runs on the east coast. Joe has a prior history of multiple DUI violations in Pennsylvania. Acme could have looked up Joe's out-of-state violations before they hired him, but only bothered to check in Maryland. After 2 months on the job Joe gets drunk and causes serious injuries to Susan in an accident.
In this negligent entrustment example, Susan has a valid negligent entrustment claim against Acme. A reasonable trucking company would have checked Joe's out-of-state record, so Acme can be charged with constructive knowledge of Joe's DUI history. Based on his prior DUIs, Acme clearly had knowledge that Joe was more likely to get drunk and cause an accident.
Negligent Entrustment Claims Against Parents
Because so many young people cause motor vehicle accidents, victims often want to know if the parents can be sued for negligent entrustment. Generally speaking, the answer is no in Maryland but there are a number of exceptions. In Broadwater v. Dorsey, the Maryland high court addressed this issue. The Maryland Court of Appeals held that the parents had no legal right to control their adult son at the time of his accident and had no right over his use of this car.
Woolridge v. Abrishami
Six years ago in 2017, in Woolridge v. Abrishami – the last appellate case that focused on negligent entrustment in Maryland – the court also found that an 18-year-old motorist's mother, who allowed her daughter to drive her car, did not know or have reason to know that the girl driving posed an unreasonable risk to other motorists and pedestrians. The plaintiffs argued to no avail that the girl had just had an accident in the car. But it was only one prior incident where the young woman was distracted by her dog in the car.
In both of these cases, the at-fault driver was an adult. What if the child was a minor? There is room for argument here. But the risk to the public has to be a specific risk that the parent knew of and others did not. Let's say the minor has two prior speeding tickets and an accident in a short period of time. We all know that kids should not be on the road. But if the state of Maryland allows her to maintain her license in spite of those infractions, it is hard to argue that the parent has to overrule the state of Maryland and deem the child unfit to drive.
Conversely, let's say the parent gives the kid the car keys knowing the child is intoxicated or otherwise unfit to drive (by illness, injury, etc.). In a case like this, the door is open to bring a claim against the parents for negligent entrustment.
The Vehicle Owner's Insurance Will Usually Cover an Accident Anyway
Keep in mind that in many cases, the liability of the owner is superfluous. Usually, the owner has insurance on the vehicle that is going to govern the coverage. So ask yourself if you really need it. Do you need discovery on a trucking company, and this claim is the only path to finding out what the company may have done? Certainly, the great advantage of these claims is that evidence of specific prior acts of negligence of the at-fault driver, and even evidence of reputation might be admissible. This might be a game changer if there is a serious liability dispute as to who was at fault.
There are also coverage issues. Does the vehicle's owner have other coverage that would apply that you need the ability to tap into to satisfy your claim on its best day?
These are good reasons to chase this issue. But if it really does not matter, and it does not if the coverage is there and there is no liability dispute, then just move on to the issues that really matter.
Related Resources
Hiring an Accident Lawyer
Our law firm has handles and has filed many lawsuits and settled and taken to verdict many cases where there is a claim of negligent entrustment, usually against a trucking company. These claims have brought our clients millions of dollars.
We can help you. Call 800-553-8082 to discuss your claim or get a free online consultation. We also offer fee splits with referring lawyers in and out of Maryland looking for help with catastrophic injury and wrongful death cases.