Our clergy abuse lawyers are handling sexual abuse cases by members of the clergy in all 50 states.
If you are a victim, our clergy abuse attorneys are compassionate and we are here to help.
Clergy Sexual Abuse Lawyers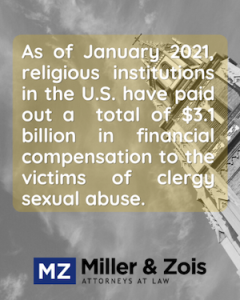 Recent estimates suggest that there may be thousands of individuals who were the victims of clergy sexual abuse during childhood. The sexual abuse lawyers at Miller & Zois represent victims who were abused by priests, clergymen, or other church officials. We help these victims hold predators liable and get financial compensation for their suffering. If you were sexually abused as a child by a member of your church or religious organization, we want to hear from you.
About Clergy Sexual Abuse
A wave of investigations over the last decade has uncovered the sad truth about clergy sexual abuse within the Catholic Church and other religious institutions. It is now apparent that the sexual abuse of children by clergymen was a frequent and pervasive problem. It is also evident that the Catholic Church was very much aware of this problem and did almost nothing to stop it.  Instead, the church hierarchy made an effort to clean it up.
Most victims were male and under 14 and the abuse was not a one-time thing.
Sexual abuse by a clergy member against young church members can have devastating long-term effects. Victims of clergy sexual abuse offer suffer emotional trauma for the rest of their lives. Until recently, these victims often had little or no effective recourse for this harm. Recently, however, the increased public attention and awareness has led to major legal changes designed to give victims the ability to hold their abusers accountable.
Sexual Abuse Lawsuits Against Religious Institutions
Until recently, victims of clergy sexual abuse had no effective legal recourse. Pursuing criminal charges was hit or miss and dependent on the interest and cooperation of state authorities. Bringing a civil lawsuit was often not possible either because the statute of limitations had expired or because the abuser had no assets to go after.
Things are different now. Many states have amended their laws to eliminate or expand the statute of limitations for sexual abuse claims in civil court. Some states, such as New York and New Jersey, have eliminated the statute of limitations in abuse lawsuits. The increasing amount of evidence showing that church authorities knew about the abuse and sought to cover it up has also made the churches themselves become viable defendants in these cases.
Most of the public attention and focus has been on sexual abuse claims involving the Roman Catholic Church. Although the Catholic Church has been the target of the largest number of sexual abuse lawsuits, clergy sexual abuse claims are not limited to catholic organizations.  Many other religious denominations and organizations have faced claims of clergy sexual abuse. Allegations of sexual abuse within the United Methodist Church and the Southern Baptist Convention have exposed similar problems within these institutions.
Victims of Clergy Sexual Abuse Can Sue the Church
Victims of clergy sexual abuse have every right to hold their abusers accountable. There are several different legal options available to victims. Our firm specializes in representing clergy abuse victims in bringing tort lawsuits against the individual(s) who abused them and the church or religious organization that allowed it to happen.
Victims of child sexual abuse can bring a civil case against their abuser and the church and get financial compensation for what happened to them. Monetary damages in a sexual abuse case typically include compensation for:
Past and future medical expenses incurred as a result of the abuse (e.g. mental health counseling, therapy, medications, etc.)
Emotional pain and suffering resulting from the abuse
Punitive damages (in some states)
In addition to monetary damages, victims of clergy abuse who bring civil actions can also get something called "injunctive relief." Injunctive relief is an order from the court commanding someone to do certain things. In church sexual abuse cases, injunctive relief usually takes the form of a court order instructing the church to take certain actions to prevent future sexual abuse.
How Much Money Can You Get for a Clergy Sexual Abuse Lawsuit?
There is nothing wrong with wondering how much money you can expect to get if you bring a successful sexual abuse lawsuit against a church. Being a plaintiff in a sexual abuse case can be emotionally draining and difficult. Before putting yourself through this ordeal, it is reasonable to wonder what the jury payouts and settlements amounts are in clergy abuse lawsuits.  Because how much money you might expect to get may guide whether it will be worth it for you.
The good news is that clergy sexual abuse lawsuits have a high potential settlement value. The average settlement in recent sexual abuse cases against the Catholic Church is around $300,000 – $400,000. To date, Catholic dioceses in the U.S. have paid over $3 billion in compensation to sexual abuse victims. In many cases, a group of sexual abuse cases are consolidated, and then the church agrees to some global settlement.
The Archdioceses of Los Angles agreed to a $660 million payout to settle a group of clergy abuse cases. Each individual victim in the Los Angles clergy abuse case received $1.3 million, which was the highest average settlement for any group of abuse cases.  Is the average settlement amount in that case on the high end?  It is. But that type of settlement compensation payout is not out of reach for many victims of clergy abuse.
Settlements & Verdicts in Clergy Sexual Abuse Cases
2021 Pennsylvania – $19,200,000 Settlement:  These claims were against the Catholic Diocese in Pittsburgh. The Feinberg Group reported that it received 369 claims. Of the 297 claims deemed eligible, 21 claimants did not respond to settlement offers. Fifty-two more refused the settlement.  The remaining 224 claimants agreed to settlements. These clergy abuse claims only averaged about $86,000 per victim.
2020 Ohio – $1,000,000 Settlement: plaintiff alleged that a priest sexually abused him six times while attending a Catholic high school. He suffered from depression and post-traumatic stress disorder.
2019 Florida – $4,500,000 Verdict: A United Methodist Church elder, who was also a mental health counselor, sexually abused a woman during counseling sessions. She hired a clergy abuse lawyer and filed a negligent supervision claim against the Florida Conference of the United Methodist Church. A jury awarded $4,500,000.
2018 Montana – $34,960,000 Verdict: Jehovah's Witness congregation member sexually abused his plaintiffs when they were children over a 13-years.  Just awful. The two women alleged that the congregation's decision to internally handle the matter rather than contact authorities allowed the abuse to continue. It is such a common theme in these cases – granting a known child molester the opportunity to molest more children.
2018 Oregon – $800,000 Verdict: plaintiff alleged that a youth pastor sexually molested him when he was 13. He hired a clergy abuse attorney who filed a lawsuit that alleged that he abused his position to coerce him into sexual acts. The man claimed vicarious liability against the youth pastor's church. The church denied liability. It argued that the youth pastor's actions occurred outside the scope of employment.
2016 Washington – $9,100,000 Settlement: Eight women alleged that a former Catholic priest sexually abused them over forty years ago when they were children. The priest abused six of them in one parish and two in another. They claimed that the then-Archbishop of Seattle transferred him to unsuspecting parishes despite possessing documented accounts of his abuse. The average individual settlement amount over $1 million was in part the result of the awfulness of sending this priest off to molest more children.
FAQs: Clergy Sexual Abuse Lawsuits
Can I sue the church if I was sexually abused as a child?
If you were the victim of clergy abuse as a child, you might still be able to sue the church for that abuse if your state has expanded the statute of limitations on sexual abuse lawsuits. Again, Maryland is poised to change its limits.  If your state has not lifted or extended the statute of limitations on clergy abuse claims, then it may be too late to bring a lawsuit.
How much has the Catholic Church paid to sexual abuse victims?
So far the Roman Catholic Church has paid over $3.2 billion in compensation to victims of clergy sexual abuse in the U.S.
Is there a statute of limitations on clergy sexual abuse lawsuits?
There is a statute of limitations on bringing a lawsuit for clergy sexual abuse, but 15 states have recently revised these laws to allow victims of child sexual abuse to bring civil claims years after the fact.
Can you sue a priest or pastor for sexual abuse?
Yes. If you (or your child) were sexually abused by a priest, pastor, or clergymen, you can bring a civil tort lawsuit against them. The problem, however, is that most clergymen do not have substantial financial assets so if you sue an individual priest and get a $500,000 award against him you probably will have no hope of actually collecting any money. If you want to get any money you need to bring a claim against the church.
What is the average settlement for clergy abuse?
Based on reported settlement amounts in prior sexual abuse cases against the Catholic Church and a few other religious institutions, the average individual settlement amount for a clergy sexual abuse lawsuit is between $300,000 to $400,000.
Contact Miller & Zois About Your Clergy Sexual Abuse Case
We are currently seeking new cases from individuals who were sexually abused by a priest, pastor, or other individual connected to or employed by a church. If you were the victim of abuse, call us today for a free, confidential consultation.