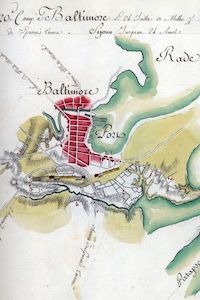 Maryland has a long and successful maritime history. Ships have been transporting people and materials up and down the Chesapeake Bay and its tributary rivers since Maryland's earliest colonial days. The city of Baltimore exists because of the maritime industry and its deep natural harbor.
The maritime and shipping industry continues to be a major part of Maryland's economy even today. The Port of Baltimore is the largest specialized ("roll-off") cargo terminal in the U.S. Over 30 million tons of cargo and 700,000 vehicles come through Baltimore's port each year. The port has also become a major hub for the cruise ship industry, with thousands of cruise passengers disembarking every year. In addition to all this commercial activity, the Chesapeake hosts a rapidly growing volume of recreational maritime activity.
The net result of all this is a constant stream of maritime activity and traffic on Maryland's waterways. All year round, ships of all types and sizes can be found go up and down the Chesapeake and sailing into and out of Baltimore and other ports. This level of activity invariably leads to a large number of accidents and injuries. When accidents happen on the water or ports, they are not governed by a special body of law called maritime or admiralty law. This page will look at personal injury claims under U.S. maritime laws.
About Admiralty & Maritime Law
Maritime law (also known as admiralty law) is a unique and separate body of federal law that governs just about everything involving activities on "navigable bodies of water" in the U.S. Navigable waters include any bay, river, or waterway that is connected to the ocean or supports commerce between the states. Maritime law in the U.S. is comprised of a fluid mix of federal statutes and federal and state case law decisions.
When are Personal Injury Cases Subject to Maritime Law?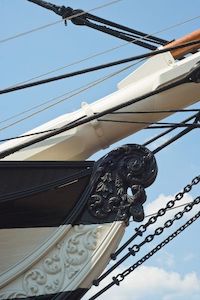 Before getting into the details of how personal injury claims are treated under maritime law, we need to address the threshold question of what makes a personal injury case fall under maritime law jurisdiction.
A personal injury tort claim will fall under federal maritime jurisdiction when 2 key elements are present:
The accident takes place in a maritime locality; and
The tort occurs in connection with a maritime activity
An accident takes place in a "maritime locality" if it occurs in the oceans (or seas) or any "navigable waterway." A navigable waterway basically includes any river, bay, or waterway that can be used to transport goods or passengers in international or interstate commerce. This includes almost all rivers in the U.S, except those too small or shallow to be navigable. The great lakes are covered but landlocked lakes within a single state are excluded. Map of navigable waterways in Maryland.
The 2nd element requires that the tort occurs in connection with a traditional "maritime activity." This is sometimes referred to as the "maritime nexus" requirement. A maritime activity essentially includes any type of work or recreational activity that directly or involves maritime commerce or could directly impact maritime commerce on navigable waterways.
The type of accidents and personal injury cases that might be subject to federal maritime law include:
Boat collisions and accidents (commercial or recreational)
Ferry accidents
Fishing accidents
Injuries to cruise ship passengers
Boat charter injuries
Jet ski accidents
What Happens if a Personal Injury Cases Falls Under Maritime Law?
When a personal injury case is subject to federal maritime law, it will be governed by different substantive and procedural laws than an ordinary tort case. For the most part, the rules and laws under maritime law are more advantageous to the plaintiff.
For starters, federal courts have concurrent jurisdiction over all maritime cases. This means that the plaintiff in a maritime personal injury case will have a choice of venue between state court and federal court. It is very unlikely, however, that a tort plaintiff would ever choose to file in federal court. Federal courts are generally a much less favorable venue for personal injury plaintiffs compared to state courts. This is absolutely true in Maryland. Moreover, if you bring a maritime tort case in federal court there is no right to a jury trial.
When personal injury cases fall under maritime law the plaintiff's negligence claims and the amount of damages they are entitled to will be determined by maritime law rather than state tort law. Maritime tort law offers plaintiffs 2 key advantages over Maryland state law:
No Caps on Damages: Maryland law imposes maximum limits or "caps" on the amount of non-economic (i.e., "pain and suffering") damages that a tort plaintiff can be awarded. Maryland's damages cap can often prevent an accident victim from getting full and fair compensation for their injuries. When a personal injury case falls under maritime law, however, state law caps on damages are not applicable. This means plaintiffs in maritime personal injury cases have no limit on the amount of pain & suffering damages they can be awarded.
No Contributory Negligence Rule: Maryland is one of only 5 states that continues to apply the old rule of contributory negligence in personal injury cases. Under this harsh rule, if a plaintiff's own negligence contributes in ANY way to the accident (even if it only contributes 5%) then they are barred from recovering any damages for their injuries. Under this rule, if a plaintiff is 10% at fault and the defendant is 90% at-fault, the plaintiff gets nothing. Personal injury claims under maritime law are not subject to this harsh rule. Instead, maritime tort law applies the modern rule of "comparative negligence." Under comparative negligence, a plaintiff's share of the fault simply reduces the amount of damages they can recover. So if the plaintiff is 10% at fault, their damages will be reduced by 10.
Maryland Maritime Personal Injury Lawyers
The Maryland personal injury lawyers at Miller & Zois have a track record of success in maritime tort claims. If you have a personal injury case that might fall under maritime law, contact us today at 800-883-8082 or contact us online.