A personal injury lawyer is an attorney who specializes in using the civil legal system to get financial compensation for clients who are seriously injured by someone else's negligence. A personal injury attorney can help victims navigate the system and get full and fair compensation for their loss.
If you are seriously injured or disabled because someone else was negligent, it is only natural to want to hold the person responsible and make yourself whole again. You know you can't accomplish that on your own so you want to hire a good personal injury lawyer. But how exactly do you find a GOOD personal injury lawyer?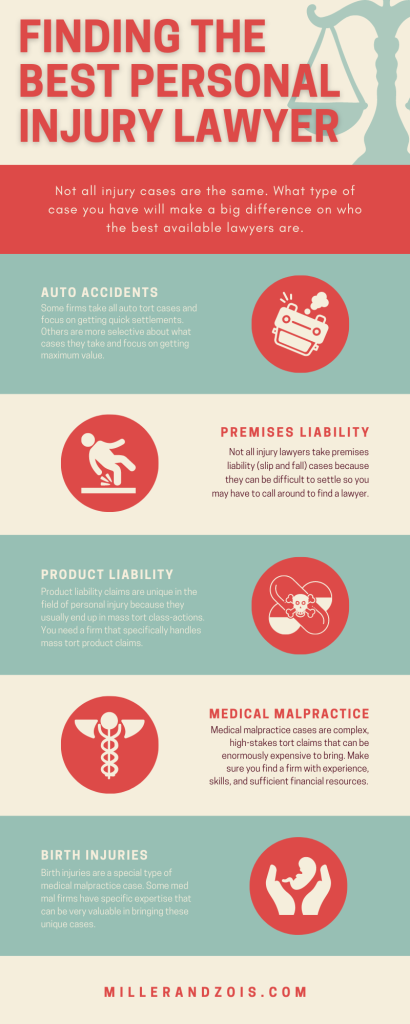 The American legal field is literally inundated with personal injury lawyers (or lawyers who sometimes do personal injury work) and there is intense competition to locate and sign-up injured victims. Most personal injury lawyers or firms rely heavily on some form of assertive marketing such as media ads or internet marketing. A brief internet search will yield pages and pages of listings for injury lawyers in your area.
The challenge is how to sort through these various options to choose the best lawyer for your specific case. On this page, we give you a step-by-step guide on how to find the best personal injury lawyer for your case.
Identify Potential Candidates
The first phase of hiring a lawyer for a personal injury case (or for any other type of legal matter) is always going to involve generating a field of potential candidates. Before you decide who is best for you, you need to figure out who is available to choose from. There are 3 keys to success when identifying potential candidates: (1) know your case (2) know what to look for in a lawyer, and (3) read reviews and testimonials.
Know Your Case
In order to find the right lawyer, you need to understand exactly what type of case you have. Not all personal injury cases are the same and what type of injury case you have will make a big difference on who the best available lawyers are. Personal injury cases can be classified into several different types of categories:
a) Auto Accident
b) Premises Liability (slip and fall)
c) Product Liability
d) Medical Malpractice
Each of these types of cases are somewhat different and require slightly different skill sets from a lawyer.
(a) Auto Accident Lawyers
Auto accidents are the most common type of personal injury case because roadway collisions happen so frequently. Pretty much all personal injury lawyers handle some amount of auto tort cases, but some firms handle a very high volume of auto cases. These firms/lawyers are often referred to as "settlement mills" because they tend to focus on getting quick settlements and moving on to the next case. Settlement-focused attorneys are good if you want to turn your accident into a quick payout, but they often leave money on the table.
Other injury lawyers are more selective about auto accident cases. These lawyers will handle a lower volume of auto cases and focus on getting maximum value in each case, even if that means taking a case to trial. If you go with one of these lawyers, it will probably take longer to get a payout but you may end up with more money in the end.
(b) Premises Liability Lawyers
Premises liability cases involve suing a property owner when a hazardous condition on their property results in an injury. These are commonly referred to as "slip and fall" cases because a customer slipping on a wet floor in a store is the classic example of a slip and fall case.
Unlike auto accidents, not all personal injury lawyers will take standard slip and fall cases. The reason many injury attorneys turn away slip and fall cases is that they can be difficult to settle and they often do not involve serious injuries which makes them less valuable. High-stakes premises liability cases (i.e., where someone dies or gets permanently injured) are a different story. This doesn't mean you won't be able to find a lawyer to take your slip and fall case, just be prepared to come up with a longer list of candidates.
(c) Product Liability Lawyers
Product liability cases involve claims by people who have been injured by defective medical devices, dangerous prescription drugs, hazardous materials, or other harmful products. Product liability cases are somewhat unique in the field of personal injury because most product claims end up as part of a "mass tort" in which hundreds or thousands of other plaintiffs are filing identical lawsuits involving the same product.
Many personal injury lawyers don't really handle mass tort product liability cases because they involve a much different process than a normal personal injury case. Getting compensation for someone who has a mass tort product claim often takes years and requires a unique administrative structure that a lot of injury lawyers simply don't have and are not interested in. If you have a product liability you will need to look for lawyers that specifically handle those cases.
(d) Medical Malpractice Lawyers
Medical malpractice cases are the most complex and challenging types of personal injury cases. Medical malpractice cases have the highest potential settlement value (the average malpractice settlement is around $1.1 million) but they also require a significant financial investment on the part of the attorney. Bringing a typical malpractice case can cost the lawyer $50,000 or even $100,000 in expenses (mostly for expert witness fees). If the case is not successful, the lawyer loses this investment. In addition to the heavy price tag, malpractice claims can be challenging to litigate because they involve complex medical issues and require numerous expert witnesses to support them. Most personal injury lawyers will take medical malpractice cases, but they are more selective about the cases they take on.
Know What to Look For in a Lawyer
To generate a field of potential candidates you will need some type of selection criteria to differentiate who does and does not make your list. Below is a list of the basic factors to look for when identifying a good lawyer.
Experience: there is no substitute for experience and it is a critical component of success for a personal injury lawyer. You want to find a lawyer who has handled cases just like yours before in the past so they can apply prior lessons and strategies. This doesn't mean you need to hire the oldest lawyer out there with 4 decades of experience. But if you hire someone young make sure they work at a firm with older, more experienced attorneys who can guide them.
Reputation: you want to find a lawyer who has a very good reputation, particularly among other lawyers. This can be tricky because all lawyers with a bad reputation tend not to advertise that fact publicly. It may take a bit of internet research to truly assess a lawyer's reputation, or you may want to ask other lawyers what they think about your candidate.
Prior Results: if a lawyer has enjoyed success in prior cases it is a good indication that he or she will have
similar success in your case. You may need to do some research on this, however, because most lawyers don't advertise about cases they've lost.
Reviews and Testimonials
The best way to learn about a personal injury lawyer is by hearing feedback from former clients. You can find reviews and testimonials from former clients in several places including the lawyer's website, google business reviews, or comments on social media.
Testimonials published on the lawyer's website are obviously going to be highly curated and overly positive, but this doesn't make them worthless. Comments and reviews about a lawyer on social media are obviously going to be less filtered, but possibly harder to find. Google business reviews are probably the best source of objective feedback from former clients. Just do a google search for the lawyer or firm and click on the stars under the business listing. Although reading prior client reviews can be a good source of intel on a lawyer, just be wary of overly negative reviews. Even the best personal injury lawyer can't make every client happy, and some people are never happy no matter what the outcome.
Screen Your Candidates
Using the criteria discussed above you should develop a list of potential candidates. The easiest way to do this is by doing a google search. Once you have a list of candidates you need to start out by contacting each of them and going thru their intake screening process to find out if they are interested in taking your case.
Your experience with this part of the process will vary significantly depending on what type of case you have. If you have an auto accident case involving fairly significant injuries, almost everyone you call will be willing to take your case without much consideration.
If you have a slip and fall case with only moderate injuries you may get turned down by a lot of lawyers you call. The best personal injury lawyers in Maryland are unlikely to touch that type of case (we wouldn't, honestly).  Finally, if you have a complex medical malpractice case this process could be much more involved and take longer as most lawyers will want to collect your medical records and review your claim before deciding whether to take your case or not.
Initial Consultation
The next step in the process involves an initial consultation with your candidates. If you get a lawyer to schedule a consultation with you it means that they are already interested in taking your case. This makes the consultation like an interview process in which you are the company doing the hiring.
Just like an employer would do during a job interview, you should be prepared to ask the lawyer certain questions during this meeting. Some useful questions to ask during the initial consultation include:
Have you ever handled a case similar to his before? If so, how many and what were the results? (Don't be afraid to ask for explanations about bad results)
Do you focus on any particular type of injury case?
When does the statute of limitations expire on my claim?
How long do you think it will take to resolve my case?
Who will be assigned to work on my and what will their responsibilities be?
How will I be kept informed about the status of my case?
What do you think the chances of success will be in my case?
In addition to asking these interview-type questions, make sure you give the lawyer all of the relevant information and details related to your case.
Choose the Best Lawyer for You
At the end of the day, one of the things that matters the most when it comes to hiring the best lawyer is finding someone you feel comfortable with and who you relate to personally. If you go through the screening process outlined above, anyone you meet with should presumably meet the basic criteria established and be an acceptable choice. This means when you get down to the final decision you can just go with whoever you liked to most or felt the most comfortable with.