On this page, our Maryland wrongful death lawyers look at the settlement amounts for death cases in Maryland. Our attorneys cover the basics of what a wrongful death lawsuit is, the compensation payouts that can be recovered for wrongful death in our state, and how much money these lawsuits are usually worth in terms of settlement compensation or a jury payout.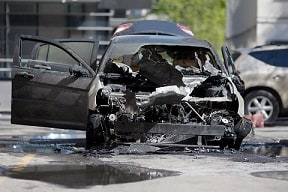 About Wrongful Death Lawsuits in Maryland
When a person's death is the result of medical negligence, a motor vehicle accident, a workplace accident, or another wrongful act in Maryland, the deceased person's family is entitled to financial compensation. A wrongful death action allows grieving family members to recover financially from the emotional loss, economic loss, and expenses associated with their loved one's death.
What Damages Can My Family Recover for Wrongful Death?
Surviving parents, children, and spouses can recover monetary damages, including:
Economic damages
Medical expenses
Lost wages/loss of financial support
Funeral expenses
Legal fees
Noneconomic damages
Loss of consortium (loss of companionship, advice, counsel, care, etc.)
Anguish, pain, and suffering
Punitive damages (if there are criminal charges)
But how much are these damages worth? And how much money should you expect from your wrongful death suit?
What Is the Average Value of Wrongful Death Actions?
Every case has unique circumstances that make it hard to predict what the value of your case will be simply by looking at averages. That said, the average fatal accident or malpractice claim for…
an adult man is $4.1 million ($1.4 million median),
for an adult woman is $3.1 million ($1.4 million median),
for a minor male is $4.3 million ($2 million median),
for minor girls is $3.4 million ($1.5 million median),
and, for adults over 65, is $1.3 million.
Are There Limits on How Much Money for a Wrongful Death Settlement in Maryland?
Maryland's cap on pain and suffering damages limits the value of cases to less than the average of what a jury might give. If a jury awards $10 million in pain and suffering, for example, that verdict would be reduced to between $680,000 and $2 million, depending on the details of the case and the year of the fatality.
Maryland Wrongful Death Settlements and Verdicts
The average settlement or verdict in Maryland traffic accident death claims amounts to $500,000. The average value decreases when considering settled cases because there are numerous car accident death cases where the insurance policies aren't sufficient to cover the loss.
In contrast, truck accidents, premises liability, and medical malpractice cases usually have enough insurance coverage to pay any verdict or settlement amount. However, other types of claims can present more of a challenge. In such cases, the most crucial legal work involves searching for insurance coverage in unexpected places.
Our wrongful death lawyers provide below a compilation of verdicts and settlements from past wrongful death lawsuits. It is important to note that your lawsuit's outcome may not necessarily align with these cases due to the numerous variables involved. Nonetheless, this information can serve as a helpful resource to give you an idea of what to expect in your wrongful death claim.
By understanding the average settlement amounts and examining past cases, you can better prepare for the legal process and potential outcomes. Remember that each case is unique, and your attorney will work diligently to maximize your settlement while navigating the complexities of insurance coverage and negotiations with other parties involved.
2022, Maryland: $850,000 Settlement.  A man is killed after an Encompass-insured driver runs a red light, collides with another vehicle, and subsequently enters a parking lot where the victim is working as a paver. We represented the man's surviving wife. Our lawyers were able to find insurance coverage beyond the at-fault driver's $100,000 policy.  The challenge in maximizing our client's settlement amount in this heartbreaking case involved identifying all relevant insurance policies applicable to the situation and then negotiating a settlement amount, not only with the insurance company but also by reaching an agreement with the other victims of the crash on the distribution of the funds.
2020, Maryland: $1,355,772 Verdict – A 60-something man underwent a discectomy and fusion to his cervical spine. This is an extremely common procedure. The neurosurgeon severed a vertebral artery. Following the procedure, the man suffered a stroke. He never regained consciousness and died two days later. His son alleged that the neurosurgeon's negligence caused his death. His wrongful death lawsuit claimed he used improper surgical techniques and failed to protect his father's arteries. The neurosurgeon denied the claims. A Baltimore City jury awarded $1,355,772.
2019, Maryland: $2,582,529 Verdict – 56-year-old female dies from advanced breast cancer after a prior mammogram and ultrasound testing was interpreted as normal. A subsequent mammogram revealed the cancer, but by that time it was too late. Her family brings wrongful death action against Advanced Radiology for negligently failing to diagnose cancer in the first mammogram. A jury in Baltimore County awards $5.2 million.
2018, Maryland: $10,000,000 Verdict – At the hospital, the victim receives a risky drug that he does not need, resulting in his death. The hospital declined to settle, and at trial, a jury awards $10 million. Miller & Zois handled this case.
2018, Virginia: $150,000 Settlement – Three drivers, all insured by State Farm, get into an accident. In the collision, a pedestrian is killed. The pedestrian's estate brings wrongful death claims against State Farm. The insurance company settles for $150,000.
2018, Maryland: $273,026 Verdict – A 56-year-old man living in a nursing home has a host of very serious health problems, including a history of problematic swallowing. He chokes to death while eating. His estate sues the doctors for malpractice, alleging that they were negligent in not putting the decedent on a soft food diet in light of his medical history. The defendants denied wrongdoing and the case went to trial. The jury awards $273K in damages, mostly for loss of services to his wife.
The small amount of the award is probably because that the decedent was in extremely poor health and probably would not have lived much longer.
2017, Maryland: $465,000 Verdict – A middle-aged male dies after his kidney cancer goes undiagnosed and spreads to his lungs and bones. His estate sues Advanced Radiology for medical malpractice, alleging that its radiologists failed to report two masses on the decedent's kidney which resulted in delayed diagnosis and treatment. The defendants deny that they did anything wrong, but the jury ultimately awards $465,000. The low amount of the award is probably because a timely diagnosis would have increased the decedent's chance of survival but not guaranteed it.
2017, Utah: $3,000,000 Verdict A man goes to a clinic with abdominal pain and is diagnosed with constipation. He returns a second time with the same complaint and receives the same diagnosis. No heart tests are administered. Four days after the second visit, he dies from aortic dissection. The man's wife is awarded $3 million by a jury.
2017, Maryland: $1,650,000 Settlement – In this case, our client's son runs out of gas on the side of the road. A friend delivers gas to him near his stranded vehicle, but on his walk back to the car, a distracted truck driver drifts into the shoulder and kills him. Miller & Zois handled this case.
2016, Maryland: $1,500,000 Settlement – The 20-year-old victim is preparing to change a flat tire and is killed when a truck drives off the road and hits him. Miller & Zois represented the young victim's mother in this case.
2016, Maryland: $3,900,000 Verdict – A 28-year-old male has a heart attack and dies from atherosclerotic cardiovascular disease. Before his death, the decedent had consulted with the defendant cardiologist on multiple occasions but was never diagnosed with any cardiac condition despite chest pain and numerous risk factors. His estate sues the cardiologist for malpractice, alleging that the doctor failed to perform a complete and appropriate workup, including a stress test. The jury awards $3.9 million in damages, later reduced by the Court to $882K.
2016, Maryland: $451,956 Verdict – An older woman undergoes hip replacement surgery at the defendant hospital, GBMC. After the surgery, she begins to experience numbness, tingling, sensory changes, and weakness in her legs. Her condition worsens until she is unable to move her feet and legs. She reportedly is not sent for an MRI until hours later, which reveals a hematoma at the site of her epidural block. By that time, it is too late to save her life. Her estate sues GBMC and the anesthesiologist for negligent post-operative care. The jury awards $450K.
2016, Virginia: $1,400,000 Settlement – The decedent's lung cancer goes undiagnosed for thirteen months. When the cancer is finally diagnosed, it is no longer treatable, resulting in the patient's death. The defendant radiologist had seen lesions on his lung in an x-ray but failed to diagnose the cancer. The defendant's malpractice insurer settles for $1.4 million.
2015, West Virginia: $3,250,000 Settlement – A Maryland resident loses his wife after she miscarries their child. The woman, a medical doctor herself, presented to the emergency room with an infection that went untreated, causing her death. Miller & Zois handled this case.
More Information
Hire an Experienced Wrongful Death Lawyer in Maryland
If you have lost a family member due to a wrongful act or as a result of negligence, we are truly sorry for your loss. You have a legal right to compensation.
At Miller & Zois, our wrongful death lawyers are experienced in winning wrongful death settlements and verdicts for surviving family members. Many attorneys make this claim.  Our lawyers back it up with a track record of success in death cases.
For a free initial consultation of your lawsuit, contact our wrongful death attorneys today by calling (800) 553-8082 or by filling out our online form.