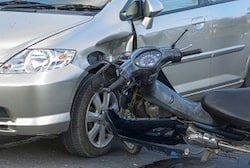 Our unsafe lane change lawyers represent victims throughout Maryland in improper lane change insurance claims where the victim suffered serious injuries or was killed.
Have you been injured in an accident caused when you or another vehicle departed from a lane of traffic? These types of crashes occur with regular frequency throughout the country and often result in serious injuries and even fatalities. As motor vehicle switches from a roadway or lane, they often fail to take into account the other drivers on the road. The result is that drivers in adjacent lanes are routinely cut off at high rates of speed. This can be extremely dangerous.
This article will address:
The most severe risks of unsafe lane changes
The most dangerous types of improper lane change cases our law firm sees
Example of settlement and verdicts in "failure to stay in lane" cases
Lane Change Car Accidents
Lane change car accidents are two-vehicle accident crashes that occur when one car encroaches into the lane of another when both are traveling on the same path.
So a lane departure crash is essentially a non-intersection crash that occurs after a vehicle crosses an edge line or a centerline, or exits from the lane or road they were traveling in. These often occur on highways or main roads where motorists are traveling at an accelerated rate of speed.
Due to those higher rates of speed, the impact of collisions can cause serious injuries. Our unsafe lane change lawyers see many lane change crashes that lead to serious injury and wrongful death lawsuits.
Lane position errors are often measured by our lawyers' accident reconstructionist experts in car accident cases in terms of lane exceedances (i.e., the extent of the drift across the line between the current lane and the next lane. In the absence of actual lane crossings, our experts look at the lateral position in terms of distance from the center of the lane or the side lane line-markings.
Much of this comes down to inattentive driving, particularly the kinds of distractions of modern technology. The studies on this back up what we intuitively expect. Greater lane deviation was observed for dialing while driving as compared to tasks involving listening, talking, or mental processing. In another study, researchers found that for difficult driving tasks, a mobile telephone task significantly affected the drivers' lateral position. There is also data showing that cell phone-related tasks made drivers drive closer to the right lane line. This puts pedestrians at great risk in improper lane change cases.
The statistics underscore the toll that these crashes take on us. Frequently lane changes are dangerous because there are too many chances to make a mistake – and if you are changing lanes that frequently, you are probably driving too aggressively. Failure to stay in your own lane on the road causes nearly 17,000 deaths a year. This is about 51 percent of the fatal crashes in the United States each year. The worst of these, of course, are head-on collisions caused by the failure to keep lane integrity. These accidents can happen in many different, although equally devastating, ways.
When Are Lane Change Crashes the Most Lethal?
Other than head-on crashes, there are many types of cases our attorneys regularly see that cause the victim the greatest risk of permanent injury or death:
Driver changes lanes without looking or accounting for blind spots on the main road, cutting off the driver in the adjacent lane and causing a rear-end accident or hitting the other vehicle laterally
Driver almost misses his exit on a two-lane highway and suddenly crosses over to the right lane at the last minute, sideswiping a vehicle in the adjacent lane.
Driver swerves into an adjacent lane, causing a motorist in that lane to swerve to avoid a collision, thereby colliding with the concrete shoulder of the road.
You also have to remember how important the speed of the vehicles can be. At 60 miles an hour, a lane change for a tractor-trailer requires 374 feet, at 65 miles an hour it takes 399 feet, and at 70 miles it takes 425 feet. The time to execute the lane change changes dramatically as your speed increases.
Example Lane Change Car Accident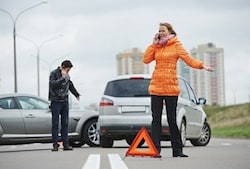 Jake is heading home at night on the highway from his new girlfriend's house. He has never driven back from there before, but he trusts his navigation to direct him. He turns his navigation on as he travels down I-495 and, seeing on his navigation map that the exit he will be taking is not coming up for close to 18 miles, he turns up the music and relaxes. He becomes so relaxed that he completely forgets about his navigation altogether. And forgets that it is not plugged into the charger!
After about 15 minutes of blasting music and otherwise relaxing as he drives down the night highway, Jake reaches for his navigation device to see how much longer he has until he is supposed to exit. As he looks down, he immediately realizes the navigation device has been turned off.
Quickly, he presses the "On" button and waits for the device to power up, but to no avail. He can now see that it is not charged. He reaches for the charger in the middle console, but he can't seem to find it. "Uh oh," he thinks as he realizes he has no clue how to get home.
In a slight state of panic, Jake tries to recall the exit that his navigation device has told him he would be getting off. Was it Exit 19 or Exit 16? He can't remember. As he almost passes Exit 16, he is all of a sudden sure that Exit 16 is the right exit. Desperate to get home, he cuts across three lanes of traffic to catch Exit 16 before it is too late. As he does, he hears loud honks and sees the flash of headlights, followed by a loud thud. Jake has just been rear-ended by John, who did not have time to stop.
John is severely injured and taken to the hospital where he is treated for multiple back and neck fractures. It is Jake, we would argue, who is responsible for this accident and John's injuries. If it weren't for Jake's careless and negligent choices behind the wheel, John would have never been injured.
Sample Verdicts and Settlements in Lane Departure Cases
Here are some examples of jury awards and settlement compensation amounts for victims in cases where the negligence was the failure to stay in the proper lane. Does this show the settlement amount you can expect for an unsafe lane change claim? No. Every case is different. These examples just give you some context for the types of jury payout and insurance settlements that are possible.
2022, Pennsylvania: $15,000 Arbitration Award. A man was sideswiped. The impact pushed his vehicle into a guard rail. The man suffered a concussion, cervical herniations, lumbar protrusions, and lumbar and cervical sprains. He developed post-concussion syndrome. The man alleged negligence against the at-fault driver. She claimed he failed to make a safe lane change, yield the right-of-way, and maintain an appropriate lookout. Following arbitration, the woman received $15,000.
2021, Connecticut: $26,850 Verdict. A woman and her son were sideswiped. They both suffered spinal strains and post-traumatic headaches. The woman alleged negligence against the at-fault driver. She claimed he failed to use his turn signals to indicate a lane change and maintain an appropriate lookout. The jury awarded $26,850.
2021, Louisiana: $169,300 Verdict. Three men were sideswiped. They suffered multiple knee, lumbar, and cervical injuries. The men alleged negligence against the at-fault driver. They claimed she made an unsafe left turn, failed to control her vehicle, failed to yield the right-of-way, and excessively sped. The jury awarded $169,300.
2021, California: $708,000 Verdict. A man was sideswiped. The impact pushed his vehicle into a fire hydrant. The man suffered a right leg contusion and the aggravation of his pre-existing cervical and lumbar injuries. He underwent a cervical discectomy and a lumbar microdiscectomy. The man alleged negligence against the at-fault driver. He claimed he unsafely changed lanes and failed to maintain a proper lookout. The jury awarded $708,000.
2021, California: $554,287 Verdict. A motorcyclist traveled along a state highway. He was struck by a truck. The man suffered severe injuries. He alleged negligence against the truck driver. The man claimed he failed to use his turn signals before changing lanes. A jury awarded $554,287. Getting a Lawyer for Your Claim
Lane departure crashes can cause serious injuries. If you have been injured in this sort of accident, you should contact the attorneys at Miller & Zois who can help you evaluate your claim and patiently explain the legal process to you. Don't hesitate to contact us at 800-553-8082 or get a free case evaluation online.