Our bicycle accident lawyers handle bike accident cases in Maryland. We handle bicycle accident wrongful death and catastrophic injury cases throughout the country. Our law firm has won millions for our clients in verdicts and settlement compensation payouts in bike accident cases in Maryland.
Many of our lawyers regularly bike. Maryland offers amazing options for bicyclists. The Appalachian Trail, the Baltimore Waterfront Promenade, Gunpowder Falls State Park, the Baltimore-Washington Trail, and countless others offer some of the best bike paths on the Mid-Atlantic. Our clients are rarely injured on bike paths. They are usually on a road, following the rules of the road, and getting hit by the driver of a car or truck that was not paying attention.
If you are a regular cyclist or one of the 50,000 people injured in bicycle accidents every year, you know that drivers and even pedestrians often struggle to see bicyclists to avoid a collision. Then you throw in poorly kept roadways and paths and dogs trying to chase you down… riding a bike in some areas of Maryland can be like navigating a minefield.
Most bicycle accident cases in Maryland are not personal injury claims. Over 500,000 bicyclists visit emergency rooms with injuries every year in the U.S. with over 1,000 deaths. Approximately 59% of all bicycle accidents are simple falls that do not involve collisions with any physical objects. But there are too many bike accident cases where the motor vehicle driver just did not give proper time and attention to the bike.
Compensation in Maryland Bike Accidents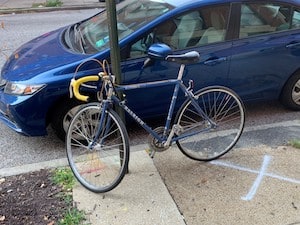 If you have sustained serious injuries or if you lost a family member because of a wrongful death in a bike crash, you may be eligible for compensation from the party or his insurance company. In Maryland, the damages you can receive are:
Past and future medical bills (including those already paid by insurance)
Past and future lost wages
Funeral expenses
Pain and suffering
In most of our cases, the biggest element of damages is pain and suffering. Why? Because in serious injury and death cases, the most serious harm is the physical and mental suffering, not the medical bills and lost wages.
Sample Bike Accident Verdicts
Below is a list of bike accident settlements and verdicts in and out of Maryland. First, a few thoughts on these payouts. Serious bike accident cases usually settle out-of-court. The bike accident lawsuits that do go to trial are generally smaller cases.
Our law firm also settles most of its bike accident cases and most of its cases in general. That said, we don't settle for less and every major insurance company in Maryland knows this.
Why do we publish these? While two bike claims are never the same, the lessons learned about the value of cases inform the value of new cases. This is more so with the type of injury than the type of accident. But both are instructive.
That said, these verdicts and settlements need to be swallowed with a grain of salt. No two cases are alike. The results of one case do not predict the results of another. Nor does the fact that a lawyer has a history of getting great verdicts mean they will continue to do so in the future.
Another thing to keep in mind is the importance of venue. We would like to think that juries give equal justice across Maryland. But they don't. The value of a case in Baltimore is substantially more than the exact same case on the Eastern Shore.
With that introduction, here are some examples of bike accident compensation awards:
2020, Louisiana: $11,929,722 Verdict: A 58-year-old mentally handicapped cyclist was T-boned. He suffered multiple fractures, a shoulder dislocation, a torn rotator cuff, a head laceration. The man also suffered a traumatic brain injury that left him with depression, memory loss, and headaches. Because of his permanent injuries, he could no longer work. The man also required ongoing medical care. He alleged that the motorist's negligent driving caused his permanent injuries. The defense contested the man's brain injury. After a two-week trial, the jury awarded him $11,929,722.
2020, Massachusetts: $150,000 Verdict: A 56-year-old cyclist was struck head-on. She suffered an L5 herniation and a lumbar sprain with radiculopathy. The woman initially underwent chiropractic therapy. She then underwent an L5-S1 fusion. Despite her treatments, the woman was left with 12 percent whole body impairment. She claimed that her residual pain affected her daily activities. The woman alleged that the motorist's negligent driving caused her permanent injuries. She claimed he excessively sped and failed to control his vehicle. The defense denied liability. They argued that she was comparatively negligent for failing to use the bike lane. The jury found the motorist 100 percent at fault. They awarded the woman $150,000.
2020, New York: $200,000 Verdict: A 63-year-old cyclist was rear-ended. He suffered multiple disc herniations, bulges, and trauma. The man also suffered a left shoulder tear, a left thumb sprain, and residual headaches. He underwent chiropractic treatments, physical therapy, and epidural injections. The man claimed residual pain and limited range of motion. His injuries affected his ability to work as a photographer. The man alleged that the motorist's negligent driving caused these permanent injuries. A jury awarded $200,000.
2019, Baltimore City, Maryland: $74,725 Verdict: A cyclist was struck by an underinsured motorist. He suffered physical and mental injuries. The man settled with the motorist for her $100,000 policy. He then hired a Maryland bicycle accident lawyer and filed a UIM claim with his insurer, State Farm, who denied it. The man filed suit, alleging that State Farm breached the contract. A Baltimore City jury awarded only $74,725, less than the settlement with the tortfeasor. So in a case like this, the plaintiff gets to keep the $100,000 settlement even though the jury awarded much less.
2019, Florida: $13,550,592 Verdict: A cyclist was rear-ended. The impact caused him to hit the motorist's windshield. The man died from blunt trauma later that day. His wife alleged that the motorist's negligence caused his death. She claimed she was using her phone before striking her husband. The motorist denied liability. She argued comparative negligence. The jury found the motorist 100 negligent and awarded $13,550,592.
2018, Washington: $200,000 Settlement: A 39-year-old cyclist was sideswiped. He suffered teeth fractures, a concussion, and post-traumatic stress disorder. He underwent two crowns and a root canal. The man also sought counseling for his PTSD. He alleged that the motorist's negligence caused his injuries. He claimed he failed to yield the right-of-way and check for cyclists before crossing the bike lane. This case settled for $200,000.
2017, Baltimore City, Maryland: $500,000 Verdict: A 46-year-old cyclist was T-boned. He suffered facial trauma and forehead scarring. The man alleged that the motorist's negligent left turn caused these injuries. He settle
d for their $50,000 policy limit. He then filed a claim against Liberty Mutual, his UIM insurer. Liberty Mutual denied the claim. The man hired a Baltimore bicycle accident attorney and filed suit. The jury awarded $500,000.
2016, Washington: $400,000 Settlement: A 45-year-old cyclist was T-boned. He suffered a leg fracture. The man underwent the removal of his pre-existing plates and screws. His leg was left permanently deformed. He also experienced chronic leg pain and numbness. The man alleged that the motorist's failure to yield the right-of-way caused his permanent injuries. He also made a vicarious liability claim against her employer, the City of Seattle. This case settled for $400,000.
2015, Illinois: $8,000,000 Settlement: A 16-year-old cyclist was struck by a vehicle being pursued by police. He died at the scene. The boy's parents alleged negligence against the pursuing officers. They argued that their engagement in a high-speed pursuit caused their son's death. They claimed that all parties involved in the pursuit excessively sped. The family also claimed that the pursued driver was not a suspect. Their police procedures expert testified that these circumstances did not necessitate a high-speed pursuit. The Cook County Sheriff's Department denied negligence. They argued that they followed standard procedures. This case settled for $8,000,000.
2014, New York: $800,000 Settlement: A 53-year-old cyclist was rear-ended. He suffered a concussion, facial lacerations, a knee contusion, and a collapsed lung. The man also fractured his left ankle, vertebrae, right clavicle, pelvis, pubic bone, and sacrum. He sustained a concussion that left him with depression, dizziness, hearing impairments, and post-concussion syndrome. The man was also left with residual pain, a left ankle deformity, limited range of motion to his ankle, and walking impairments. He alleged that the motorist's negligence caused his injuries. The man claimed he drove while intoxicated and excessively sped. This case settled for $800,000.
2013, Baltimore County, Maryland: $90,000 Verdict: Plaintiff, a doctor, and three others, are traveling in a straight line on Cold Bottom in Sparks, Baltimore County. They were approached by the defendant in an SUV. Though never striking the bikers, Defendant traveled so unsafely close that he startled the men, causing the plaintiff to fall from his bike and sustain injury. He sustained a concussion. The hard part of this case? Our client had no memory of the crash. Plaintiff hired Miller & Zois and filed a bike accident lawsuit against the driver and the owner of the vehicle. The defendant claimed that the plaintiff was wobbling on the bike as he approached and that the plaintiff was the cause of his injuries. The case, tried on liability only, resulted initially in a hung jury. Our lawyers did not quit. A second trial resulted in a plaintiff's verdict and an agreed-upon damages cap of $90,000. Miller & Zois handled this case.
2013, Ohio: $24,653 Verdict: A 71-year-old man was riding his bicycle on the sidewalk of Ridge Road. As he approached its intersection with Snow Road, he was struck by a minivan that was attempting to make a left turn into the center lane. The man was taken by ambulance to Parma Hospital and was treated for a left shoulder contusion and a torn rotator cuff. He sued the driver of the minivan for motor vehicle negligence, claiming that he was in the crosswalk and had the right of way; that the defendant had failed to yield. The defendant denied liability, arguing that she had lawfully entered the intersection and appropriately established her lane of travel. Defendant claimed that the plaintiff had ridden his bike into her vehicle and failed to maintain a proper lookout while attempting to use the crosswalk. The arguments continued to a Cuyahoga County Court where a jury found on behalf of the plaintiff. They awarded him $24,652.66 in damages.
2013, Virginia: $100,000 Settlement: A young woman was leaving her job as a waitress one evening. As she was riding her bicycle home, she approached the intersection of River and Bridgeway Road. Unfortunately, she was struck by an SUV the moment she reached the intersection. The force was so strong that her body hit the windshield and she fell to the ground. The driver of the vehicle did not bother to stop and help the woman and merely drove away as if nothing had happened. The 24-years-old cyclist died at the scene. The driver turned himself in the next day tot he police. He claimed that he was under the impression that he hit a deer. (That did not sell. He was charged and given a three-year sentence for hit-and-run.) The cyclist's family filed a wrongful death lawsuit. While the defendant did not argue that he struck the plaintiff, he claimed that he did not see her as he approached her. Plaintiff's counsel pointed out that the decedent's bike was equipped with not only red reflectors and a flashing red light on the back, but also large white headlights in the front. Defendant's insurance company, GEICO, agreed to settle for $100,000.
2013, North Carolina: $45,000 Settlement: A local college student was riding his bike along a roadway in Mount Pleasant. As he began to approach the intersection, he saw that the roadway went from single lane to two-lane traffic, with the right lane marked for right-turning vehicles only. He shifted over into the right lane and saw a vehicle driving alongside him, approaching the same intersection in the left lane. As he approached the intersection, the vehicle made a sudden right turn and collided with the young man. He was transported to an emergency room where he was treated for a fracture of the left elbow. Shortly thereafter he received open reduction surgery on the injured elbow and had to undergo post-operative physical therapy. He sued the driver claiming he had cut off the plaintiff. Plaintiff claimed that he chose to move to the right lane because there was no designated bike lane and felt staying to the right would prevent any potential impeding of traffic. At the time of the accident, the right lane was marked by construction cones. Plaintiff's counsel claimed that the municipal government indicated that the cones had been placed to prevent traffic from turning in the right lane, while defense counsel noted that a police officer had reported that the traffic cones were placed to prevent all traffic in the right lane. Several weeks before the scheduled trial date, the parties agreed to settle in the amount of $45,000.
2011, Maryland: $30,493 Verdict: A 53-year-old man was riding his bicycle during his lunch break in the right lane of a two-lane roadway in Howard County. Without warning, a vehicle began backing out of a private driveway, causing the man to slam into the rear of the vehicle. The man was hospitalized for two days where he was treated for three fractured ribs, a fractured collarbone, and a fractured pelvis. He sued the driver and his insurance company, Allstate, for failing to make a proper observation of her surroundings before backing out of the driveway. The defendant denied liability, claiming the plaintiff failed to yield to her turning vehicle. T
hey brought their cases before a Howard County jury who awarded the plaintiff $30,493.
You can also find some interesting statistics on the chances of winning two-wheel – bicycle and motorcycle – injury cases here.
What Is the Average Settlement Compensation Payout for a Bicycle Accident Case Maryland?
The average settlement amount for a bicycle accident case in Maryland will vary depending mainly on the severity of the plaintiff's injuries.
In our Maryland bike accident lawyers experience, we estimate for minor injuries the average bicycle case value will be around $17,000-$30,000. A bicycle case with moderate injuries will have an average value of $55,000-$200,000. A case involving the most serious injuries will be worth over $200,000. All of this is somewhat dependent on the amount of available insurance coverage.
Can I Win a Bicycle Accident on the Sidewalk Claim?
There is no question that a disproportionate number of bicycle-motor vehicle collisions occur on sidewalks. The statistics on this risk led the Maryland legislature to pass § 21-1103 of the Transportation Article:
Driving prohibited. – Except as provided in subsection (b), (c), or (d) of this section, a person may not drive any vehicle on a sidewalk or sidewalk area unless it is a permanent or authorized temporary driveway.
Exceptions – Bicycles, play vehicles, etc. –

For the purposes of this subsection, "bicycle" does not include "moped", as defined in § 11-134.1 of this article.
Where allowed by local ordinance, a person may ride a bicycle, play vehicle, or unicycle on a sidewalk or sidewalk area.
In a place where a person may ride a bicycle on a sidewalk or sidewalk area, a person may also ride a bicycle from the curb or edge of the roadway in or through a crosswalk to the opposite curb or edge of the roadway.

Exceptions – Special vehicles of individuals with disabilities persons. – Unless prohibited by local ordinance, an individual with a disability may use a special vehicle other than a wheelchair on sidewalks or sidewalk areas.
Use of wheelchair on sidewalks. – An individual may use wheelchair sidewalks or sidewalk areas in accordance with § 21-501.1 of this title.
Is this law frequently enforced? Of course not. Baltimore City police could watch 1,000 bikes go down the sidewalk and would not move a muscle. But that does not change the fact that under Maryland law, the violation of a statute can be at least some evidence of negligence.
So back to the original question, can you win a sidewalk bicycle accident case in Maryland? You can. The burden is still on the defendant to show contributory negligence. But these types of bicycle accident cases in Maryland can be a battle.
Can I Win a Bicycle Accident Case When I Was Driving Against Traffic?
Wrong-way sidewalk bicyclists are at particular risk because they enter the point of conflict from an unexpected direction, just as they would on the roadway. Md. Code Ann., Transp. § 21-1202 (2002) provides that a person operating a bicycle is subject to all the duties required of the driver of a vehicle by the traffic laws. So bicycles are not permitted to ride against traffic in Maryland.
As a result, these are tough cases to win. But they can be won if there are compelling facts.
How Much Settlement Compensation Will I Get in a Typical Bike Accident Case?
We give some estimates above but our lawyers do not have statistics for the average bicycle accident settlement in Maryland. You can use the sample settlements and verdicts we provide along with our estimates to give you some idea of the likely range of a settlement amount in your case. But ultimately, you need a bike accident attorney to review your case to really give you an average estimated settlement payout.
You can also look at settlement statistics based on the type of injury you have which is probably a better barometer of settlement value.
What Are the Key Bike Accident Laws in Maryland?
The rules of the road governing bicycles in Maryland are found in the Transportation Article, Title 21, Subtitle 12. Below are some of the key points of law in Maryland regarding bicycles.
Bicycles are considered vehicles under Maryland traffic laws, with rights-of-way and duties to obey traffic signals just like motorists.
Drivers have a duty to maintain a safe distance when passing bicycles, which is a minimum of at least three feet.
Bicycles always have the right-of-way over cars making turns, which must yield to bicycles.
Bicycles are NOT allowed on roads where the speed limit is over 50 MPH.
Bicycles on the road must ride on the right side as close as possible to the edge.
A person may not ride a bicycle while wearing earphones or similar devices that limit hearing.
Get a Maryland Bicycle Accident Attorney
Our law firm handles only serious injury and wrongful death claims for plaintiffs who need serious legal representation. If you want a Maryland bicycle accident lawyer who will fight to maximize your compensation payout, call 800.553.8082 or get a free online consultation.