One of the things that make truck accident cases unique is the complex laws that big trucks are subject to.
On this page, our truck accident lawyers discuss the laws and regulations that apply to commercial trucking and how they can impact the outcome of truck accident cases in certain situations.
Keep in mind that commercial trucking law includes an intricate mix of both federal laws and regulations that apply to "interstate trucking" and Maryland state laws and regulations covering "intrastate trucking."
Federal Motor Carrier Safety Regulations (FMCSR)
As the number of vehicles on the road rapidly started to expand during the 1920s, public roads started to become dangerous. In 1935, in response to the growing number of serious and fatal car and truck accidents in the United States, Congress passed the Motor Carrier Act.
The Act created the Bureau of Motor Carriers of the Interstate Commerce Commission (the "ICC"). Incredibly, for better and for worse, this law and the bureaucratic framework it created remains to keep truck drivers safe – and us safe from them.
It was not a perfect law and still is not. Commercial trucks are still too unsafe and are causing too many deaths a year. But this is the law, and lawyers handling truck crash claims need to understand this law to understand the truck driver's legal obligations in liability dispute cases and to understand the insurance issues in these cases to maximize the available insurance, which is often crucial in making severe injury and wrongful death truck accident claims.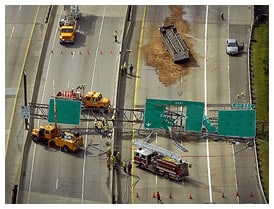 The ICC promulgates and enforces safety regulations for the commercial trucking industry. The safety regulations developed by the ICC are called the Federal Motor Carrier Safety Regulations (FMCSR).
These regulations are found in the Code of Federal Regulations. The FMCSR states that the purpose of these regulations is to "help reduce or prevent truck and bus accidents, fatalities, and injuries by requiring drivers to have a single commercial motor vehicle driver's license and by disqualifying drivers who operate commercial motor vehicles in an unsafe manner." See 49 CFR 383.1(a).
Again, the licensing process is far from perfect. There are still too many truck drivers on the road with commercial trucking licenses that should not have them.
The FMCSR covers virtually every possible aspect of operating a big rig truck, including:
Driver drug testing requirements
Standards for Commercial Driver Licenses
Insurance and financial responsibility requirements
Driver qualifications
Safe operation of commercial vehicles
Maximum hours of service for drivers
Inspection, maintenance, and repair of vehicles
The FMCSR regulations can occasionally come into play in truck accident tort cases.
Federal Motor Carrier Safety Administration (FMCSA)
The Federal Motor Carrier Safety Administration (FMCSA) was established in 2000 as part of the Motor Carrier Safety Improvement Act of 1999.
The FMCSA collects data on commercial trucking accidents and safety and then uses that data to develop new or amended trucking regulations.
The FMCSA is also tasked with overseeing the national enforcement of trucking safety regulations through collaboration with various state and federal agencies. FMCSA's primary program is Compliance, Safety Accountability (CSA).
The goal of the CSA program is to monitor safety performance through crash investigations, roadside inspections, and the issuance of noncompliance citations. The agency uses complex analytical algorithms to help identify noncompliance and unsafe trucking companies. This enables them to target their enforcement efforts.
These regulations/requirements include:
Hours of Service (HOS) Regulations
These rules are enforced by the Federal Motor Carrier Safety Administration (FMCSA) and govern how many hours a truck driver can be on duty and behind the wheel. They include provisions for daily and weekly maximums, as well as required rest periods.
Commercial Driver's License (CDL) Requirements
To operate a commercial motor vehicle (CMV), drivers must have a CDL. The requirements for obtaining a CDL are federally mandated but administered by each state.
Drug and Alcohol Testing
The Department of Transportation (DOT) requires that truck drivers undergo drug and alcohol testing to help ensure they are not operating vehicles under the influence.
Vehicle Maintenance and Inspection
Trucks must be regularly inspected and maintained according to federal standards, and drivers must complete pre-trip inspections.
Load Securement
There are federal regulations on how cargo must be secured on trucks to prevent it from causing accidents or littering roadways.
Safety Fitness Standard
The FMCSA uses a safety fitness standard to determine whether a motor carrier can operate. This includes compliance with all regulations, as well as performance during inspections and crash investigations.
Electronic Logging Devices (ELD)
The FMCSA requires using ELDs by many commercial drivers to more accurately track and share records of duty status (RODS).
Maryland Commercial Driving Laws
Maryland truck accident lawyers need to be familiar with Title 49, Parts 350 to 399 of the FMCSR that deal specifically with commercial trucks.
While the trucking industry was deregulated substantially in the last 20 years, and the licensing and monitoring of professional truck drivers is now handled on the state level, the FMCSR continues to provide safety standards by which professional truck drivers and motor carriers are required to follow in the operation of commercial motor vehicles.
The FMCSR standards apply to all interstate trucking operations in the United States, including Maryland.
For intrastate trucking (trucks operating only in Maryland), Maryland has adopted virtually some of the FMCSR regulations with change; specifically, Parts 382, 390-393, and 395-399 have been incorporated by reference into Maryland law with only minor exceptions (such as Part 391 exception for farmers transporting by truck farm products within 150 miles of the farm).
Here are some areas of trucking that Maryland regulates:
Requirements for a Commercial Driver's License in Maryland: While Maryland aligns with the federal standards for commercial driver's licenses, the state has implemented some additional mandates. For instance, background checks are compulsory for all CDL applicants in Maryland.
Regulations on Hours of Service in Maryland: In Maryland, the rules governing hours of service closely mirror those set at the federal level, with a few state-specific variations. Notably, Maryland permits truck operators to drive for a maximum of 12 hours on certain days under specific conditions.
Hazardous Materials Regulations in Maryland: The state of Maryland has embraced the federal regulations concerning the transportation of hazardous materials. Additionally, Maryland imposes extra requirements, such as the necessity for truck drivers hauling hazardous substances to secure a distinct state-issued permit.
More Information