The commercial trucking industry in the U.S. is highly decentralized compared to other industries. While there are big national companies like J.B. Hunt Transport, Swift Transportation or YRC Freight, mid-sized regional companies and small local companies account for over half of the total market. In certain areas, mid-sized regional trucking companies may be a much more common sight on the roads than larger national companies.
In this page we will look at some of the bigger regional trucking companies in Maryland and the Mid-Atlantic region. While these companies have smaller fleets and fewer drivers compared to the big guys, their trucks tend to stay more local. The end result is that drivers in Maryland, DC or Virginia may actually be more likely to get in an accident with a truck from one of these regional companies as opposed to the large national companies.
Cowan Systems

With 1,700 trucks, 4,000 trailers and almost 1,800 professional drivers, Cowan Systems is the largest trucking company in Maryland and the Mid-Atlantic region. The green C of the Cowan logo is probably very familiar to anyone who drives on the Washington or Baltimore beltways. Cowan was launched in 1994 and it is based in Baltimore.
Cowan is a less than truckload (LTL) carrier, so it only transports cargos that are smaller than an entire shipping container. Cowan trucks cover short to medium length routes in the Mid-Atlantic area. Like most mid-sized trucking companies, Cowan is not known as a driver training company. It mainly hires established, experienced CDL drivers.
Cowan has a good reputation in the trucking industry and they are legitimately concerned about driver safety. However, with 178 million miles traveled each year, accidents are unavoidable. Between May 2018 and May 2020, Cowan Systems trucks were in involved in 54 accidents resulting in serious injury and at least 1 accident resulting in a fatality.
Roadrunner Freight

Roadrunner Freight is actually based in the Midwest, but it has a large trucking hub in Baltimore which gives it a major presence in the Mid-Atlantic. Roadrunner has over 1,000 trucks in its fleet and just as many company drivers. They specialize in less than truckload shipping and transport. Roadrunner's primary areas of operation are southeastern Pennsylvania, central Maryland, and the DC area. This makes Roadrunner trucks a common sight on I-95 and I-70. Roadrunner does not have a driver training program and most of its drivers are experienced. They use both company drivers as well as some independent owner operators.
Ritter Transport

Ritter Transport (formerly Semi-Express) is a small to mid-sized carrier with its main base of operations in Laurel, MD. Ritter Transport provides less than truckload service for local shippers and distributors on both a long term contract basis and clients with occasional or intermittent needs. Ritter Transport focuses almost exclusively on short distance route service in the Maryland and DC area.
Ritter Transportation hires better, more experienced drivers compared to large national companies. This is because commercial driving jobs at local, short haul trucking companies like Ritter are highly desirable because of the lifestyle benefits they can offer. Still, Ritter Transportation trucks get in their fair share of accidents.
Evan Transportation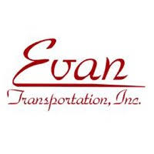 Evan Transportation is a Baltimore based trucking and transport company with a fleet of 600 trailers. Evan Transportation focuses on providing full truckload and less than truckload service directly out of the Baltimore piers and rail ramps. From the port of Baltimore Evan Transportation trucks deliver cargo all over the Mid-Atlantic states, including Maryland, Virginia, West Virginia, Delaware, Pennsylvania and New Jersey.
Evan Transportation does not have a large staff of company drivers. Instead, Evan Transportation uses independent owner operators who hook up to Evan trailers. This means that Evan Transportation may not always have direct liability in accident cases.
Marino Transportation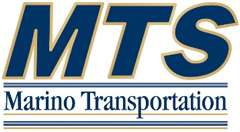 Marino Transportation is a Baltimore trucking company that provides mainly full truckload service in the Mid-Atlantic region. Marino transports building materials and liquid asphalt on a contract basis. Mario trucks take loads directly from refineries, warehouses, or manufacturing plants in the Baltimore area and deliver them to buyers across the region. Mario is one of the area's leaders in flatbed truck service.
Mario Transportation mainly employs company drivers but also uses independent contractors. This means that the company will usually have direct liability in accident cases.
Contact Miller & Zois About Truck Accident Cases
If you have a potential accident case against one of these regional trucking companies, or any other big truck company, getting the right lawyer is very important. Big truck cases are different than regular auto accident cases. They are more complex and challenging and many personal injury lawyers are not qualified to handle them. Miller & Zois has a track record of success in big truck accident cases. Our lawyers can help you get the most for your accident claim. Call us today for a free consultation.