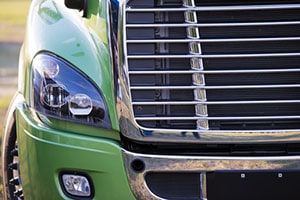 YRC Freight is a leading commercial trucking and transport company with its headquarters in Overland Park, Kansas. YRC Freight was formed from the merger of Yellow Transportation and Roadway Express. YRC is one of the largest trucking companies in the United States with a fleet of 8,400 trucks and 11,000 drivers logging an annual average of over 500 million miles. The ratio of drivers to trucks makes YRC Freight somewhat unique from others in the industry. All of YRC Freight's trucks are driving by YRC professional drivers.
YRC Freight is an LTL (Less Than Truckload) carrier. Within the transportation and shipping industry LTL carriers like YRC occupy a middle ground. Full truckload carriers specialize in transporting entire trailer loads for individual clients. In other words, clients who have a high enough volume of freight to ship it by the trailer. At the other end of the shipping spectrum are parcel carriers such as UPS and FedEx who ship on an individual parcel basis. LTL carriers such as YRC Freight are somewhere between Full truckload and parcel carriers. This basically means that YRC Freight will transport half a trailer full of freight for commercial volume clients.
YRC Freight trucks are involved in average of about 275-300 auto accidents each year. Employee reviews on indeed.com suggest that YRC Freight has a mediocre reputation with a fast-paced, high-pressure environment for drivers. Truck drivers at YRC Freight appear to be paid less than drivers at other companies. The average annual salary for YRC drivers is only $54,000, which is below the national average. That being said YRC employs union drivers so the salaries are based on the negotiated contract with the driver's union. YRC Freight claims that its drivers and employees are "among the safest in the industry" based on data kept by the Federal Motor Carrier Safety Administration.
Truck Accident Lawsuits Against YRC Freight
Unlike other trucking companies, YRC Freight does not lease out its trucks. This means that all YRC Trucks on the road are being operating by drivers employed by YRC Freight. So anytime a YRC Freight truck is involved in an accident the company has direct liability for the negligence of its driver.
YRC Freight has only been named as a defendant in Maryland auto accident cases 3 times. This low number is not surprising for several reasons. First, YRC Freight is a relatively new company formed only a few years ago by the merger of Roadway Express and Yellow Transportation. Both of these prior entities were named as a defendants in numerous Maryland lawsuits prior to the merger. The other reason that YRC Freight has not been sued in Maryland that often is because YRC has only been involved in a handful of reported auto accidents in Maryland in the last few years. Between 2014 and 2016 YRC Freight was only involved in 9 reported crashes in Maryland. It is interesting to note, however, that all 3 of the lawsuits against YRC Freight in Maryland were apparently settled very quickly. YRC Freight is not special in this regard. When you show a trucking company you are serious by filing suit against them (and having a history of verdicts and settlements in truck accident cases), the usually offer the fair value of the case and sometimes more.
YRC Freight Accident Claims may Have Higher Value
In most auto accident claims liability is clear and the only issue is how much compensation the plaintiff should get for his or her injuries. The level of compensation is supposed to be based on the nature and extent of the actual injuries – e.g., a permanently fractured spine has a higher value than a sore neck. The reality, however, is that juries also take into consideration who the defendant is when awarding damages in accident cases. When the defendant is a large national trucking company like YRC Freight juries tend to have less sympathy and award significantly higher damages. Moreover, like all trucking companies YRC Freight carriers a lot of insurance. Taken together these factors give YRC Freight a lot of motivation to settle accident cases which usually means a higher bottom line amount.
What is the Average Settlement Value for YRC Freight Truck Accident Cases?
The typical settlement value in a serious truck accident cases involving a big trucking company like YRC Freight is around $75,000 to $110,000. The average jury award in accident cases against big trucking companies is $500,000. The settlement value of your case will depend largely on the type and severity of your injuries.
Do YRC Freight Truck Drivers Have a High Accident Rate?
No. YRC Freight truck drivers have a slightly lower accident rate per mile compared to other trucking companies of similar size. YRC Freight truck drivers average about 300 auto accident each year.
Is YRC Freight Hard to Deal with on Accident Claims?
In our experience, big trucking companies like YRC Freight are easier to deal with on accident claims compared to personal auto carriers like GEICO or State Farm. YRC Freight is now using a third-party claims adjuster, Sedgwick, to handle all of its truck accident injury claims. Sedgwick is more favorable to deal with than other 3rd party adjusters, but you may have to file a lawsuit in order to get a fair settlement offer.
What Lawyers Does YRC Freight Use in Maryland?
YRC Freight has not been sued in many auto tort cases in Maryland. This is partly because YRC is a relatively new company formed after the merger of 2 predecessor companies (Yellow Transportation and Roadway Express). It appears that YRC may use the insurance defense firm of DeHay & Elliston to handle its Maryland claims.
What Other Companies Does YRC Freight Own or Operate?
YRC Freight is now one of the largest trucking companies in the world. Major U.S. subsidiaries of YRC include recognizable names such as Holland, New Penn, and Reddaway.
Call Miller & Zois About YRC Freight Accident Claims
If you or someone you care for has been harmed by the negligence of a YRC Freight truck, contact Miller & Zois at 800-553-8082 or click here for a free online consultation.