This page is about truck accident lawsuits involving Crete Carrier.   Our truck accident lawyers look at this company,  lawsuits against it, and give some thoughts on accessing expected settlement payouts. Our lawyers handle wrongful death and injury claims against Crete Carrier all over the country.
Crete Carrier
Crete began as a local transportation provider but expanded its services over the years to become one of the largest privately owned trucking companies in the United States. Crete is based in Nebraska, but most of the 485 crashes that Crete trucks have caused in the past two years occurred in the South and Mid-Atlantic regions of the United States. In Maryland alone, nine Crete vehicles were involved in traffic accidents from 2012-2017.
Crete Carrier operates several divisions:
Crete Carrier: Primarily serves the dry van truckload segment.
Shaffer Trucking: Focused on temperature-sensitive freight and refrigerated trucking.
Hunt Transportation: Specializes in flatbed and specialized freight.
Faster Is Better?
Crete increased the cruise control maximum from 62 mph to 65 in 2017. The purpose is to deliver goods faster. This allows Crete to make more money. Will three miles an hour difference cost lives? If you are as big as Crete, it very well might.
Not All Bad
But Crete isn't necessarily a bad company. In fact, it has a fairly positive reputation among truck drivers. Crete does not let its trucks wear down. the average age of a Crete truck is less than two years old. This is impressive. But at a certain point, safety is just a numbers game. As the 14th most prolific trucking company in North America, with 5,243 drivers covering more than five million miles per year, Crete is bound to cause a few accidents. Bad drivers cause some of these accidents. The trucking industry is undergoing a major shortage of labor. In desperate times, some companies might be tempted to relax their hiring standards. More commonly, tractor-trailer accidents are exactly that – accidents.
Trucking companies are compelled by increasingly demanding delivery schedules and limited by the driver shortage. As a result, trucking company managers push their drivers to spend more hours on the road with fewer breaks. Even the best truck drivers are more easily distracted when they're over-tired. Ultimately, Crete Carrier Corporation is responsible for the damages caused by their employees and vehicles. This is true whether an accident resulted from a bad driver or bad driving conditions,
Crete Carrier Corporation is a transportation and logistics company based in Lincoln, Nebraska, specializing in the trucking industry. Here are some key points about Crete Carrier:
Why Do Crete Truck Accident Cases Have a Higher Settlement Value?
Most vehicle accident cases do not involve a significant liability dispute, so the real conflict is over the settlement value of the injuries. In an ideal world, this would mean the
identity of the defendant should make no difference to the jury. The jury, instead, would focus on determining the proper amount of money damages that would make the victim whole. But in the real world, the defendant can make a difference. Suits against a big company with deep pockets tend to result in larger jury awards than suits against sympathetic grandmothers or timid teenage drivers. Because few people have particularly warm feelings toward Crete, even among those who admire the company, juries are unlikely to act empathetically toward Crete. This levels the playing field for victims. Therefore, the trial payout of a personal injury claim tends to be higher with Crete and other big trucking companies.
Because Crete trucks are capable of causing more damage than passenger cars, Crete claims adjusters can also have a positive impact on settlement compensation value. Crete claims adjuster, accustomed to dealing with the larger dollar amounts that accompany big, heavy tractor-trailer accidents, can be biased toward assessing large compensatory damages.
What Else is Different About a Claim Against Crete?
Due to the complicated tangle of state and federal regulations regarding trucking companies, lawyers who regularly handle car accident cases are not necessarily qualified to handle a truck accident case against Crete. For example, a good truck accident attorney should know about the accident-related data that is often required to be stored. Most tractor-trailers are equipped with instruments that can measure speed, airbag employment, and many other data points from the time of a crash. These data can help ascertain whether Crete was at fault for the collision if your attorney knows where to look and how to use them.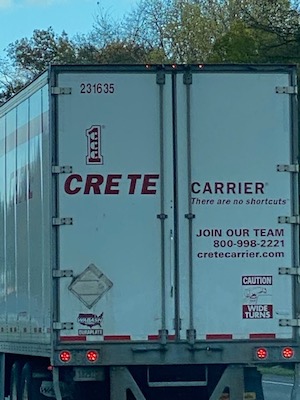 Sample Settlements and Verdicts Against Crete
Our website has a variety of tools to help victims understand the possible trial or settlement value of their truck accident claim. The average settlement value for the same type of accident, or even more telling, the same type of injury can be a particularly predictive statistic. Samples of settlements and verdicts for claims against Crete, listed below, may not be particularly helpful for determining the value of a future case. But in very limited and general terms, they can paint a picture of how settlement and trial value depend on jurisdiction, severity of injury, and extent of economic loss.
2010, Georgia, $85,000 Verdict. After the plaintiff tractor-trailer driver slowed for traffic, a Crete tractor-trailer driver failed to brake in time and drove into and on top of the plaintiff's tractor-trailer. The plaintiff says he suffered serious injuries as a result of the accident. The court awarded a $85,000 verdict but concluded that the plaintiff had not presented enough convincing evidence to support an award of punitive damages.
2010, Nebraska, $1,000,000 Settlement. In this wrongful death case, a 43-year-old female was killed when her vehicle was hit broadside by the front of a Crete tractor-trailer. The Crete tractor-trailer driver had been traveling on an interstate when he moved into the right lane, not seeing a slow-moving Army vehicle in front of him even though he was in an area of unobstructed vision. At the last minute, the Crete driver saw the Army vehicle and was forced to make a sudden lane change to avoid a collision, lost control of his tractor-trailer, and flew across the grass median. The front of the Crete tractor-trailer struck the driver's side of the plaintiff's vehicle at a high rate of speed, ripping the plaintiff's vehicle in half lengthwise. The decedent woman survived the collision but died soon thereafter, and her husband and daughter survived her.
2010, Indiana, $1,050,000 Verdict. After swerving to avoid colliding with a Crete tractor-trailer, the plaintiff's driver lost control of his vehicle and crossed the center median. As a result of the crash, the plaintiff suffered a closed head injury, lumbar disc herniations that required surgery, and head lacerations. The Crete driver allegedly operated the tractor-trailer in a negligent manner under rainy weather conditions, driving at an excessive speed and failing to maintain control of the truck.
2010, New Jersey, $275,000 Settlement. A 38-year-old man was killed when his vehicle struck an illegally parked Crete tractor-trailer. The man is survived by his wife and their three minor children, and a plaintiff's expert estimated the man's total income loss at $2,382,458 based on a lost work life expectancy of 22.35 years.
2007, Indiana, $630,000 Verdict. After his vehicle was rear-ended by a Crete tractor-trailer on a city street, the 45-year-old male plaintiff suffered disc damage with radiating pain and numbness. The Crete driver was allegedly operating his truck in a negligent manner, failed to keep a proper lookout, and drove too fast without enough stopping distance.
2006, Illinois, $700,712 Verdict. The 54-year-old male plaintiff suffered carpal tunnel syndrome in his right wrist that required surgery and tendon damage in his arm when his vehicle was rear-ended by a Crete tractor-trailer on a city street. The Crete driver allegedly failed to keep a proper lookout and drove at an excessive speed. The plaintiff was awarded $625,712 for past lost wages and $75,000 for pain and suffering.
2006, Illinois, $4,002,490 Verdict. The plaintiff suffered multiple spinal fractures, crush injuries to his chest, and a broken collarbone, shoulder blade, and wrist as a result of a hit-and-run accident with a Crete tractor-trailer. When driving during snowy and slippery road conditions, the plaintiff's vehicle was rear-ended by a Crete tractor-trailer as it was attempting to change lanes. The plaintiff's vehicle skidded, traveled across a grassy field, rolled several times, and the plaintiff was ejected 30 feet from his vehicle. The Crete driver left the scene, but a witness identified the Crete logo. The plaintiff was placed on a ventilator for more than a month, he developed respiratory distress, renal failure, joint strictures, and bedsores, and was kept in a medically induced coma and paralyzed so he would not fight the ventilator. When the plaintiff was brought out of his coma, he was unable to walk, had severely limited arm motion, and lost sight in his right eye.
Common Truck Accident Defendants
We see a lot of claims against a lot of different trucking companies. Here is a look at the rest of the major players in Maryland.
Hiring a Personal Injury Lawyer to Help You
Our law firm is based in Maryland. Most of the truck collision cases we handle are in the Baltimore-Washington area, but we handle significant injury cases throughout the entire country. If you have been harmed in an accident with a Crete truck and want to consider a lawsuit or a claim for an out-of-court settlement, call one of our lawyers at 800-553-8082 or click here for a free no obligation Internet consultation.