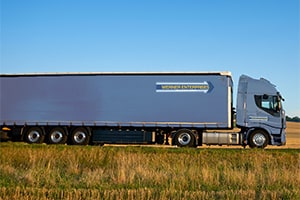 Although Werner Enterprises, based on its annual mileage, does not crack the top five trucking companies, like UPS, FedEx, Swift, Schneider, or J.B. Hunt, Werner drivers do cover many more miles per year than the drivers employed by other trucking companies. As of 2023, FMCSA data shows that Werner's 10,533 drivers cover an average of 82,078 miles per driver – at least 10,000 miles more than drivers for the top-five trucking companies. By comparison, UPS only averages around 28,187 miles per driver, nearly 70,000 miles less than Werner.
Sure, with so many vehicles on the road, every trucking company is responsible for its share of accidents. At a certain point, tractor-trailer crashes may result from the large number of rigs in use rather than the quality of the drivers. But Werner's truck accidents may also result from more aggressive driving practices. Between August 2021 and August 2023, Werner truck drivers were involved in 22 fatal accidents and 253 accidents that resulted in serious injury.
In truth, despite its extreme statistics, Werner is not necessarily a bad company. Like any trucking organization, Werner is bound to hire a bad driver from time to time. And Werner is responsible for the pain, harms, and losses from the accidents caused by any driver under their employment. But Werner drivers, like the truck drivers working for any other company, are stressed by a larger transportation system that demands fast deliveries, which can cause distraction and excess speeds.
Consumers are pushing for more goods to be delivered to their homes and brick-and-mortar retail locations, and increasing demand consequently pushes trucking companies to put more drivers on the road. But regardless of the reason, if a Werner employee is at fault for a crash, Werner is liable for the resulting injuries and fatalities.
---
Werner Trucking News & Updates:
August 2023: Werner Enterprises Inc. has requested the Texas Supreme Court to overturn a $116 million jury award, asserting that lower courts wrongly held them and their driver accountable for a 2014 accident on Interstate 20. The collision resulted in the death of a child and paralyzed another child after their vehicle slid on ice into Ali's lane. Werner contends that the court mistakenly blamed the truck driver for not slowing down or leaving the highway, even though he reacted promptly to the unforeseen incident. The company believes that such rulings place an unreasonable expectation on drivers to anticipate every potential accident. Despite a 2018 Houston jury's verdict, which later increased to $116 million, Werner emphasizes that it should not be held directly liable. They are urging the Texas Supreme Court to adopt a specific "admission rule" and reconsider the verdict.
---
Why Werner Accident Cases Have a Higher Settlement Value
Because Werner trucks are bigger and heavier than passenger cars, they are capable of causing more damage. Werner claims adjusters, being used to handling the more significant dollar amounts involved in tractor-trailer accident claims, can have a productive impact on settlement value.
The jury's lack of personal sympathies toward a big company like Werner can also help to raise settlement value. Although vehicle accident cases usually result in conflict over the precise settlement value of the injuries rather than a liability dispute, the defendant should be of no consequence to the jury's decision.
But in reality, the identity of the defendant does make a difference. When a defendant is a person like a kind-looking grandmother, the jury is more likely to feel empathetic toward her and unconsciously decide on a smaller award. Conversely, a jury is unlikely to feel empathetic toward a large company like Werner, even if they positively perceive the company or its services. Therefore, the trial value of a personal injury claim is typically higher against Werner, leading to a greater settlement value.
What Else is Different About a Claim Against Werner?
Even a lawyer accustomed to handling car accident cases may not necessarily be qualified to handle a tractor-trailer accident case against Werner. Trucking accidents involve many more variables, like state and federal regulations or data collection instruments, than the average car accident case. Commercial vehicles are equipped with modern electronic instruments to collect information about the rig's speed, airbag deployment, braking, and other data points during a crash. This data can help ascertain whether Werner was at fault for the crash if the attorney knows where to look and how to incorporate the data into the trial.
Sample Settlements Amounts and Jury Payouts Involving Werner Trucks
Our website is home to several helpful tools to aid victims in understanding the potential ranges of the settlement value of their claims. The settlement value for similar types of injuries, or to a certain extent, similar types of accidents, can be a helpful metric. We include statistics for the average trial or settlement value for many of these different variables.
Additionally, examples of settlements and verdicts against Werner are listed below. Although these cases are more limited in their usefulness to new claims against Werner, they can give you a feel for how the settlement value of a case can change depending on jurisdiction, the severity of injuries, and economic loss caused by those injuries or death.
2023 Texas, $90,000,000 Verdict: A 7-year-old boy lost his life, and a 12-year-old girl was left paralyzed when their vehicle spiraled out of control, crossed the highway median, and violently collided with a Werner big rig. Werner defended itself from the family's lawsuit arguing that their driver could not have possibly anticipated the victims' vehicle losing control and crossing into his lane. However, the plaintiffs argued that the truck driver, due to his excessively high speed on the highway, should have anticipated the risk of a collision, particularly if another vehicle strayed into the wrong lane. The jury sided with the plaintiffs, granting a hefty $90 million award, a decision that was narrowly upheld by the Fourteenth Court of Appeals, despite contention among the judges. It's anticipated that the Texas Supreme Court may take up this case for review.
2019 New Mexico, $12,500,000 Verdict: In this wrongful death case, Werner's driver had just completed driver training school when he crossed four lanes of t
raffic and a paved median and collided head-on with the decedent vehicle. The driver was shown to be unqualified, and plaintiffs alleged that Werner's policy of putting unqualified drivers behind the wheel without proper training and supervision resulted in the decedent's death. A jury awarded $12.4 million in damages.
2018, Texas, $89,700,000 Verdict.  A family is traveling eastbound on 1-20 in a Ford pickup truck. The driver loses control of the vehicle and slid across the grassy median into the westbound lanes and directly into the path of an oncoming Werner tractor-trailer. Wait? What?  It was a student driver who was not even given a CB and was driving way too fast in icy conditions.  So the case was that the accident could have easily been avoided.  And the family was destroyed.  A seven-year-old boy was killed, and his sister suffered catastrophic brain injuries.  The mother and another brother were severely hurt.   In 2019, Werner filed an appeal contending the plaintffs' lawyers employed a "try the company, not the driver strategy to prejudice the jury with irrelevant evidence."
2016, California, $10,770.598 Verdict. The 55-year-old male plaintiff, his 56-year-old wife, and his 17-year-old son were injured when a Werner tractor-trailer pulled out from the shoulder of the road and collided with their vehicle, forcing them off the road. The plaintiff suffered traumatic injuries to his cervical spine and underwent cervical disc replacement surgery and a subsequent cervical fusion surgery. He suffers residual pain and loss of range of motion.
2012, Florida, $920,000 Verdict. The adult male motorist plaintiff suffered lumbar disc damage at levels L4-L5 and L5-S1, resulting in permanent injuries after a Werner tractor-trailer struck his motor vehicle. The plaintiff's spouse claimed lost consortium but received no award.
2010, Georgia, $248,000 Verdict. The 48-year-old female plaintiff, having been rear-ended by another vehicle after a Werner tractor-trailer rear-ended it, suffered lumbar facet joint inflammation and a lumbar strain.
2009, Connecticut, $450,000 Verdict. A Werner tractor-trailer moved from to the center lane into the right lane and collided with the plaintiff's vehicle. As a result, the plaintiff suffered C5-6 disc herniation with compression of the spinal cord, cervical myelopathy, cervical facet syndrome, bilateral carpal tunnel syndrome, ulnar neuropathy, lumbar and cervical strain/sprain, and injuries to her right wrist, right thumb, forearm, and chest.
2009, Florida, $2,950,000 Verdict. A Werner driver stopped his tractor-trailer so that it was blocking two lanes of traffic. Another vehicle, unable to stop in time or maneuver out of the way, collided with the tractor-trailer. The vehicle driver suffered fatal injuries as a result of the crash.
2008, Virginia, $7,953,827 Verdict. Due to a three-vehicle collision, the plaintiff sustained a rib injury and a traumatic brain injury that reportedly limited her cognitive, behavioral, and emotional functioning. Halfway into changing lanes, another vehicle struck a Werner tractor-trailer in the front bumper. The vehicle spun and collided with the plaintiff's vehicle, causing it to flip three times before it came to rest on its side.
2007, Oklahoma, $3,200,000 Verdict. A Werner tractor-trailer trainee driver and her instructor attempted a U-turn on a highway, blocking traffic so that the semi did not reflect the plaintiff's headlights, and a collision ensued. As a result of the crash, the plaintiff sustained a comminuted, compound, displaced fracture and deformity of the lower right leg, right biceps tear, right jaw lacerations, facial abrasions, bruises to the neck, back, lower back, chest, left knee, left arm and hand, and tear in the medial meniscus of the right knee. The jury found the defendants 75 percent negligent and the plaintiff 25 percent negligent.
Hiring a Personal Injury Lawyer to Help You
Our law firm is based in Maryland. Our lawyers handle many severe injury and wrongful death truck accident cases. Most of the Werner truck collision cases we see are in Maryland in the Baltimore-Washington area, but we handle significant injury cases throughout the entire country. If you have been harmed in an accident with a Werner truck and want to consider a lawsuit or a claim for an out-of-court settlement, call one of our lawyers at 800-553-8082 or click here for a free no-obligation Internet consultation.