Penske Truck Claims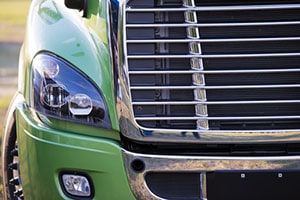 Penske is a global trucking and transportation company with over $25 billion in annual revenues and more than 50,000 employees. Yellow Penske trucks are a very common sight on U.S. highways. This is because Penske is one of the largest truck rental and truck leasing companies in the country. Penske trucks are part of 3 subsidiaries: Penske Truck Rental; Penske Truck Leasing and Penske Logistics.
Penske Truck Rental owns a massive fleet of moving trucks that are available for short-term rent by do-it-yourself movers or by professional movers. Penske Truck Leasing owns a fleet of over 27,000 and employs over 11,000 professional drivers. The fleet and its drivers are leased out to commercial clients who want to outsource their transportation operations. Penske Logistics offers yet another level of transportation outsourcing to clients who want to contract out the administrative aspect of their shipping and transportation business.
What makes Penske different from other, similar companies is the size of its commercial lease fleet and professional driver corps. Ryder Truck Rental has a slightly larger fleet of 33,000 trucks but only employs about 500 professional drivers compared to the 11,000 drivers working for Penske.
Since 2012 Penske Truck Leasing was involved in a total of 2713 reported vehicle accidents across the U.S. Fatalities resulted in 13 of these Penske Truck Leasing crashes. It is surprising there are not more, honestly.
Within the trucking and transportation industry Penske appears to be comparatively well regarded. Employment reviews for Penske on Indeed.com were generally positive resulting in a total satisfaction rating of 3.6. A number of individual reviews by former Penske drivers praised the company for its focus on safety and training but complained that drivers were often overworked. Penske definitely seems to pay some of its professional drivers well while others are not. According to salary statistics on Indeed.com, Regional Drivers for Penske make an average annual salary of $67,000. Delivery Drivers earn about half that. But industry standards, this is a fairly reasonable wage. So Penske does not cause a lot of accidents because it is a bad company. Penske causes a lot of accidents because it has a lot of trucks on the road.
Only a limited number of truck the Penske fleet appear to be equipped with advanced safety features. Penske Truck Leasing offers "Class 8" trucks that have various safety features such as Collision Mitigation Systems (CMS); Air Disc Brakes (ADB); and lane departure warnings. But these safety features are not standard and they cost extra.
Auto Accident Lawsuits Against Penske
When a Penske truck is involved in an auto accident, Penske Truck Leasing or another Penske subsidiary may or may not be an appropriate defendant in the case. In some cases the Penske truck might simply be a short-term rental. In that situation the driver is not a Penske employee is probably separately insured by a third party. In this particular situation, Penske may not have any direct liability for the accident even if the driver of the Penske truck was clearly at fault. In other cases driver might actually be an employee of Penske operating under a lease contract. Penske Truck Leasing does employ over 11,000 professional drivers to service its fleet of leased trucks. In these situations Penske will be liable for accidents caused by its professional drivers.
Penske gets sued in Maryland auto accident cases about 6-10 times every year. In 2017 Penske Truck Leasing was named as a defendant in 8 auto accident cases. In at least 3 of those cases Penske was dismissed as a defendant fairly early – presumably because the Penske truck turned out to be a rental and the driver was not a Penske employee. 2 of the 8 cases appear to have been settled and dismissed within a few months. The remaining 3 cases are still open. Cases filed against Penske in 2016 followed a very similar pattern. A total of 7 auto accident cases were filed against Penske in 2016. All but one of the 7 cases are now closed with the one open case (Morrow v. Penske Truck Leasing, et al.) scheduled for trial in Baltimore County (2019 update: this was a defense verdict for Penske). We have not gone back and updated this for 2019 but the guess is that the numbers are similar.
Verdicts & Settlements Involving Penske
Broussard v. Penske (Louisiana 2018): A housekeeper was rear-ended at a red light by a Freightliner truck leased by Penske. She suffered an exacerbation of a prior knee injury that pushed her to a total knee replacement surgery. She also had cervical disc bulges at C5-6 and C6-7. The defendants argued it was a low impact collision and that she had a prior knee injury. The jury disagreed, awarding $223,168.92 against the defendants. The plaintiff's husband was also awarded $10,000 for against the defendants on his claim for loss of his wife's services and/or consortium.
Ames v. Penske Truck Leasing: (Florida 2015): Plaintiff was awarded $267,000 in damages for injuries when his car was struck by another driver operating a Penske truck.
Jackson v. Cox, et al.: (Texas 2014): Plaintiff was driving on 2 lane highway alongside the defendant. Defendant was employed by Penske Truck Leasing as a regional driver and was operating a Penske truck. Defendant suddenly changed lanes without signaling and ran the plaintiff off the road. Case was settled by Penske for $10,000.
Wilson v. GAF Bldg. Mat., et al.: (New Jersey 2011): Defendant driver was an independent contractor operating a Penske truck that was leased to a local building materials company. Defendant got in an accident after making an unsafe lane change. The building materials company was forced to indemnify Penske pursuant to its contract and the case was settled for $300,000.
The take-home message here is that Penske is not racing to the courthouse steps to take cases to a jury. There are remarkable few verdicts out there involving a company that has a lot of employees and trucks. Are they going to make a huge offer out of the gate? Maybe not. But if you keep applying pressure and show you are ready for trial, the likelihood is you are going to get a reasonable out-of-court settlement from Penske.
What is the Average Settlement Value for Penske Truck Accident Cases?
The average value of a settlement in a serious truck accident case involving a big trucking company like Penske is around $75,000 to $110,000. The average jury award in accident cases against large commercial trucking companies is $500,000. The settlement value of your specific case will depend largely on how seriously you were injured.
Do Penske Truck Drivers Have a Bad Accident Record?
No. Penske is better known as a truck rental company, but it does have 11,000 professional company drivers. Penske truck drivers have a slightly lower accident rate per mile compared to other trucking companies of similar size.
Are Penske Trucks Equipped with Advanced Safety Features?
Very few trucks in Penske's fleet appear to be fully equipped with all the most advanced safety features. Only the very top end trucks in the Penske fleet currently have key safety advancements such as Collision Mitigation Systems and lane departure warnings.
If You Get in an Accident with a Penske Truck Who Should You Sue?
To be on the safe side you should probably include Penske as a defendant. However, many Penske trucks are rentals so if you get in an accident with one of them chances are the driver is not a Penske employee and the accident will be covered by the driver's own separate insurance.
Contact Miller & Zois About Penske Auto Accidents
If you or someone you know was injured in an accident with a Penske truck, contact Miller & Zois at 800-553-8082 or click here for a free online consultation.