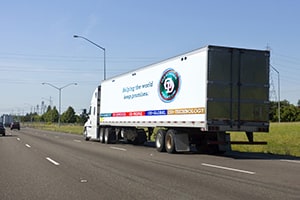 By all measures, Old Dominion is growing in trucking prominence, with a steadily increasing market share and freight tonnage per year. But for a company that still barely cracks the top ten in annual mileage for North American carriers, its crash statistics are relatively high. Truck accident data from the Federal Motor Carrier Safety Administration shows that between April 2018 and April 2020 Old Dominion truck drivers were involved in a total of 722 accidents. 22 of these resulted in a fatality and 211 of Old Dominion's accidents caused serious injury to one or more occupant.
Despite the frightening statistics, Old Dominion isn't necessarily a bad company. Sure, Old Dominion's employment reviews are mixed at best, with some employees citing poor management or unfavorable work hours, but Old Dominion's unhappy drivers are in good company. A vast majority of for-hire carriers have a hard time retaining experienced drivers, due to the unavoidable pressures of trucking. Many drivers, when they get older or want to settle down with their family, move on to private carriers or become their own boss as owner-operators. The stressful motor transport lifestyle not only causes high rates of driver turnover at companies like Old Dominion, it also results in a large number of tractor-trailer collisions.
Why Old Dominion Accident Cases Have a Higher Settlement Value
Big rigs are obviously a lot larger and heavier than the average vehicle, and as such they are capable of causing more damage. Because Old Dominion claims adjusters deal with these greater damages, and thus greater dollar amounts, on a regular basis, their bias can have a productive impact on settlement value.
Within the trial itself, Old Dominion's status as a large company can help raise settlement value. Jurors are supposed to be unencumbered by sympathy. But, oftentimes they will agree on a lesser trial value against an individual defendant, like a teary-eyed seventeen year old who just got his license, and a higher value against a big, impersonal company like Old Dominion. Since tractor-trailer accidents usually result in a battle over the settlement value of the injuries caused by an accident, rather than a debate about who was responsible for the accident, the identity of the defendant shouldn't impact the jury's decision. In practice, the defendant can make a big difference. Especially when the defendant is a company with deep pockets, the trial value of a personal injury claim can be much higher, leading to a higher settlement value as well.
What Else is Different About a Claim Against Old Dominion?
Many lawyers handle car accident cases, but not all of them are qualified to handle truck accident cases against a carrier like Old Dominion. There are many more legal variables in tractor-trailer cases, like the plethora of state and federal regulations specifically applying to big rigs. There are also specialized instruments carried onboard most rigs that are designed to collect and save information about the speed, airbag deployment, braking, and other data points from a tractor-trailer at the time of a collision. Plaintiff attorneys can use this data along with tractor-trailer-specific regulations to help the victims of truck crashes, as long as they know where to find them.
What is the Average Settlement Value for Old Dominion Truck Accident Cases?
The average settlement value in serious accident cases involving big trucking companies like Old Dominion is around $75,000 to $110,000. The average jury award in big truck accident cases is $500,000. The settlement value of a specific case will depend largely on the type and severity of the plaintiff's injuries.
Do Old Dominion Truck Drivers Have a High Accident Rate?
Old Dominion's truck drivers have a somewhat higher accident rate when compared to other trucking companies of similar size based on annual mileage. Old Dominion truck drivers average about 105 serious injury and 11 fatal accidents each year.
Is Old Dominion Hard to Deal with on Accident Claims?
In our experience, big trucking companies like Old Dominion are fairly easy to deal with on accident claims, especially when compared to personal auto carriers like Nationwide or State Farm. Adjusters for big transportation companies like Old Dominion are less likely to get into disputes about liability and they are used to dealing with large dollar amount so they tend to make more reasonable settlement offers.
What Defense Counsel Does Old Dominion Use in Maryland?
Old Dominion gets sued in auto tort cases in Maryland a few times each year. In all of these truck accident cases Old Dominion has been defended by the Baltimore firm of Franklin & Prokopik. Franklin & Prokopik is one of the leading insurance defense firms in Baltimore with experience handling big truck accident cases.
Sample Settlements and Verdicts Against Old Dominion
On our website you can find a variety of tools to help predict the potential settlement value of a claim. Claims with the same type of injury are usually the most predictive metric, but looking at claims from similar accidents can also be useful. Listed below, you can also find cases that have been filed against Old Dominion in the past. These examples may be more limited in their ability to determine the potential value of your case, but they may help you gain a better understanding of how settlement value is dependent on jurisdiction, severity of the injuries, or the economic loss caused by injury or death.
2019 Texas – $161,455 Settlement: Plaintiff driver and his passenger were rear-ended by an Old Dominion truck when they came to a stop for traffic. Plaintiff and passenger alleged various injuries and sought damage for medical expenses, lost wages, physical impairment and disfigurement of a permanent nature. Initially Old Dominion denied liability and asserted contributory negligence defense, but ultimately they agreed to settle the case for $161k.
2014, Louisiana, $3,500,000 Settlement. The plaintiff, and adult male tractor-trailer driver, was struck by an Old Dominion tractor trailer when the Old Dominion driver disregarded a stop sign at an intersection and attempted a left turn into the plaintiff's path of travel. The accident caused the plaintiff to suffer torn spinal ligaments, a torn rotator cuff, arm and leg pain and numbness, and multiple herniated discs in the cervical and lumbar regions of his spine which compressed and damaged his spinal cord.
2010, Michigan, $425,000 Settlement. A 46-year-old male died after he was struck by an Old Dominion tractor-trailer. The man was survived by his spouse and two children, and his plaintiff alleged that the Old Dominion driver failed to keep a proper lookout, failed to yield the pedestrian right-of-way, and drove at an excessive speed.
2010, California, $1,830,000 Verdict. The family of plaintiffs were occupants of a vehicle rear-ended by an Old Dominion tractor-trailer. Altogether, three of the plaintiffs suffered injuries including concussion, back pain, lacerations, abrasions, neck pain and stiffness, and post-traumatic stress disorder.
2005, Florida, $60,000 Verdict. Two vehicles were racing on an interstate. After passing the plaintiff's vehicle, one of the racing vehicles skidded across traffic before entering the median and overturning. The plaintiff was forced to slam on her breaks, and the Old Dominion tractor-trailer behind her, unable to stop in time, collided with her vehicle.
2004, Florida, $5,500,000 Settlement. In this wrongful death case, a woman approached a slowing line of traffic and was struck by an Old Dominion tractor-trailer, traveling in excess of sixty miles per hour, when its driver changed lanes without applying the breaks. The woman's vehicle was pushed off the roadway and into a stand of trees. She was partially ejected from the vehicle and died at the scene.
Hiring a Personal Injury Lawyer to Help You
Our law firm is based in Maryland. Most of the truck collision cases we handle are in the Baltimore-Washington area, but we handle significant injury cases throughout the entire country. If you have been harmed in an accident with an Old Dominion truck and want to consider a lawsuit or a claim for an out-of-court settlement, call one of our lawyers at 800-553-8082 or click here for a free no obligation Internet consultation.