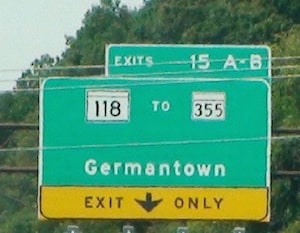 Serious injury cases in Germantown end up before Montgomery County juries. How does someone determine the relative settlement and trial value of personal injury cases in Montgomery County?
It is fair to call Montgomery County a middle-of-the-road jurisdiction for plaintiffs, in terms of, how generous the juries are when it comes to awarding damage in personal injury cases. Baltimore City and Prince George's County are far more generous jurisdictions versus the northern counties of Maryland or counties on the Eastern Shore.
Largely, that is how most personal injury lawyers in Maryland determine where to file a claim. Typically, Baltimore City and Prince George's County are the top jurisdictions to file a personal injury matter. The rural counties, typically counties on the shore and in the north and the west are in the lowest tier (arguably along with Howard County).
Most of the other counties such as Baltimore County, Anne Arundel County, and Frederick County are largely the same, in awarding damages in personal injury cases. The difference in the jurisdiction you might pick – assuming you have a choice – depends on the specific facts of the case.
Demographics
The population of Germantown has been booming since the 1980s. The municipality had a population of around 10,000 in 1980 according to that year's Census. According to the 2010 Census, that number has increased dramatically, with approximately 90,000 people currently taking up residence there. Like most communities surrounding the Washington D.C. beltway, Germantown residents enjoy a higher median salary than most of the county, with the average household earning $81,525. The median house/condo value is $310,300, which is a step up from the Maryland average of $279,900.
Germantown is a fairly diverse municipality. African Americans make up around 22% of the population, while Asian and Hispanic individuals make up another 40% of the population. Considering that 90% of Germantown residents have completed high school and another 47% have a Bachelor's Degree or higher, Germantown is also a well educated municipality. In fact, two of the most common occupations of Germantown residents are computer specialist and engineer.
Lawsuits in Germantown and Montgomery County
A case arising from Germantown would be filed in Montgomery County Court, which has an expedited process for getting tort cases to trial. This is typically used for less serious cases, while complex medical malpractice cases or more complex tort cases may proceed slower to facilitate discovery.
Regardless, the Montgomery County Court system usually orders ADR (Alternative Dispute Resolution) in these types of cases. ADR, or mediation/arbitration, is a way for the parties to meet in a non-adversarial proceeding and to hopefully come to a settlement. Courts typically order ADR hoping that the parties will settle, which removes the case from the court system. If this mediation does not produce a settlement, the trial will usually go on as scheduled, which is different than most jurisdictions in Maryland. While this certainly makes it easier to schedule witnesses and experts, the parties must make sure they are ready to go when the trial date comes in Montgomery County.
Germantown Verdicts and Settlements
Below we have pulled some settlements and verdicts in personal injury cases that have some connection to Germantown. This is not an impressive list but none are these are particularly serious injury cases. As always, use caution in trying to use these cases alone to try to calculate the value of your claim, particularly if you have a serious injury or wrongful death claim. No two cases are alike and these cases do not accurate predict the value of cases that sound substantially similar, often because the details in the medical records and the strength of the doctors' testimony at trial varies widely.
2014, Montgomery County: $56,496 Verdict: A woman is driving when she enters the intersection of Great Seneca Highway and Cottage Drive in Germantown. She is struck by another car, suffering back injuries and jaw misalignment. She sues, seeking damages over the insured's policy limit of $50,000. The defendant admits fault, but contests the damages. The jury awards $56,496.
2014, Montgomery County: $35,000 Settlement: Our client was traveling west on Germantown Road and another vehicle traveling east on Germantown Road made a left hand turn in front of her. She was treated for soft tissue injuries at Suburban Hospital and received follow-up care at Kaiser. She incurred a little over $11,000 in medical bills. The case settled for $35,000.
2011, Montgomery County: $48,020 Verdict: A man is driving his truck when he stops at a red light. Suddenly, his truck is rear-ended, causing back, shoulder, and hip pain. He requires hospitalization and surgery, prompting him to sue the other driver. The defendant alleged that the crash did not result in the plaintiff's back injuries. The jury awarded $48,020 for past and future medical expenses and lost wages.
2011, Montgomery County: $54,076 Verdict: The plaintiff was driving on I-270 close to Germantown when a driver turns in front of him. The impact causes severe knee injuries and the other driver is uninsured. The plaintiff sues their own insurance carrier for uninsured motorist benefits. They dispute the cause of the injury, but the jury awards the plaintiff $54,076.
2011, Montgomery County: $10,096 Verdict: A painter was crossing an intersection when another driver runs a red light and crashes into him. The painter refuses medical care at the scene, knowing he will be unable to afford it. He sustains an ankle injury and sues the other driver accordingly. The defendant alleges that there was not substantial damage, but merely soft tissue injuries. The jury awards the plaintiff $10,096.
Hiring a Germantown Personal Injury Lawyer for Your Case
Our law firm is not based in Germantown. One of our partners is from Germantown, graduating from Seneca Valley High School. But, more importantly, we have earned millions of dollars for clients in car accidents and medical malpractice cases in Montgomery County. If you have been hurt of have lost a loved one, call us at 800-553-8082 or get a free online consultation.