Suburban Hospital is located in Bethesda (Montgomery County), Maryland. The hospital opened its doors in 1943. Suburban is a non-profit hospital, but a non-profit that is big business: its total revenue is about $400 million.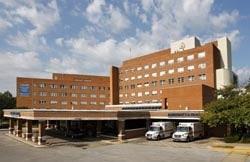 In 2009, Suburban merged with Johns Hopkins Hospital, essentially converting this Montgomery County hospital into a Hopkins subsidiary. It is expected that Hopkins resources will finally bring about long-awaited expansion plans for the hospital. Suburban named a new president, Jacqueline Schultz, who took over the hospital on August 15, 2016.
This hospital provides a variety of services, including emergency and trauma medicine, cancer, orthopedic, cardiology, and senior care. It has 233 beds and over 500 nurses. In 2019, there were over 45,000 emergency room visits and more than 14,000 hospital admissions. Total patient revenue for 2019 was just $338 million. Suburban is pushing their robotic surgery options, pitching it as a way to minimize scarring and shorten recovery times. They are performing robotic surgery in the areas of gynecology and urology, in particular. Suburban uses the da Vinci Surgical System, which is new to medicine and sounds great… but has a track record of problems and lawsuits. [Learn more here.]
Where To File Suburban Hospital Medical Malpractice Lawsuits
Because the hospital is located in Montgomery County, the majority of Suburban Hospital medical malpractice cases are filed in the Montgomery County Circuit Court. Montgomery County is generally viewed as one of the more conservative jurisdictions, but it is an efficient court and cases move quickly toward trials.
In the right medical malpractice case, though, jurors in Montgomery County are as appalled by medical negligence as jurors anywhere else. Certainly, some of the doctors who practice at Suburban also have offices in other jurisdictions, including Prince George's County.
So in some case, venue is appropriate in P.G. County, which is thought to be a more advantageous jurisdiction for plaintiffs. This is a successful motion we won to keep venue in Prince George County against another Montgomery County hospital – Washington Adventist Hospital. So, while there is no doubt that most cases against Suburban are going to be in Montgomery County, it is important to review all of the facts to determine the appropriate venue for the case.
To serve Suburban Hospital, you would serve:
Suburban Hospital Healthcare System
8600 Old Georgetown Road
Bethesda, Maryland 20814
Serve On:
Tresa Fitch, Resident Agent
Suburban Hospital
8600 Old Germantown Road
Bethesda, Maryland 20814
Suburban Hospital's Defense Team
As part of the Johns Hopkins Medicine group of hospitals, Suburban Hospital is often defended in medical malpractice lawsuits by attorneys from the Annapolis law firm of Wharton, Levin, Ehrmantraut & Klein (often Daniel C. Costello).
One oft-used tactic in these medical malpractice cases has been that plaintiffs' experts must be familiar with the standard of care required by a hospital in the same or similar community as the defendant hospital. This is called the "locality rule." The reality of the locality rule is that virtually every hospital must live up to the same standards – doctors are trained in identical fashion in medical schools around the county, and hospitals are accredited by the same governing body. But, particularly when plaintiffs' experts are from out-of-state (it is notoriously difficult to get a doctor to testify about the happening of malpractice in his own backyard), it may be difficult for those experts to have an innate knowledge of the hospital that they are testifying against. Well-prepared plaintiffs' counsel routinely wins these motions.
Ordering Records from Suburban Hospital
Every medical negligence case begins with a review of the medical records. We have reviewed many potential claims that appear on the surface to be clear-cut cases of malpractice, only to see reasonable explanations for the care once they have reviewed the medical records. On the other hand, occasionally, what appears to be a questionable case, can later become much stronger after reviewing what the doctors did – or did not do – for the patient.
To collect medical records from Suburban Hospital, send correspondence to:
Attention: Medical Records Department

8600 Old Georgetown Road

Bethesda, Maryland 20814
What is the Average Settlement Value of a Suburban Hospital Malpractice Case?
The typical settlement value of a medical malpractice case against Suburban hospital is around $500,000 to $700,000. This is slightly above the national average for settlements in hospital malpractice cases, which is $425,000. The average value of a jury verdict in a Suburban malpractice case is also higher than the national average for verdicts in hospital malpractice cases, which is just over $1 million.
What are My Chances of Winning a Malpractice Case Against Suburban Hospital?
3 out of every 4 plaintiffs who file bring a medical malpractice case against Suburban Hospital end up getting some money either in a settlement or a jury verdict. The chances of winning or getting a settlement in a hospital malpractice case are higher than cases against doctors or other healthcare professionals. Hospitals, like Suburban, are much more motivated to settle valid medical malpractice cases compared to individual doctors. Unlike doctors, Suburban does not get benefit from jury sympathy and they prefer to avoid the bad press associated with big malpractice verdicts.
Does Suburban Get Sued for Malpractice Frequently?
Yes. Suburban is one of the biggest hospitals in Montgomery County with around $500 million in annual revenues. Suburban (which is now part of the Johns Hopkins network) gets named as a defendant in a handful of Maryland medical malpractice lawsuits every year. The most common types of medical malpractice claims against Suburban hospital include: surgical error, misdiagnosis and birth injury.
What Impacts the Value of a Suburban Hospital Malpractice Case?
The primary factor that drives the potential settlement value of a malpractice case against Suburban Hospital is how badly the victim was injured. If the medical negligence at Suburban results in serious, life altering injuries, the case will have a much higher settlement value.
What Maryland Defense Lawyers Does Suburban Use?
When Suburban hospital gets sued for medical malpractice in Maryland they are almost always defended by the Annapolis law firm of Wharton, Levin, Ehrmantraut & Klein.
Contact Us
If you believe that you have a medical malpractice lawsuit against a health care facility, contact our med mal lawyers at 1.800.553.8082, or send us a free internet request for consultation.
Lawsuits or Reported Opinions in Maryland Involving Suburban Hospital
Riddle v. Suburban Hospital (2019): failure to treat patient's sleep apnea which results in patient's death
Portillo v. Suburban Hospital (2019): failure to properly place endographs during surgery which resulted in patient's death
Davis v. Suburban Hospital (2019): failure to provide adequate treatment for amputated leg
Mastro v. Suburban (2018): alleging the failure to monitor a patient caused her to suffocate
Knox-Hicks v. Suburban Hospital (2018): failure to intubate wrongful death claim
Anonymous v. Suburban Hospital (2017): this is an endotracheal tube placement wrongful death lawsuit filed by Miller & Zois
Hahn v. Suburban Hospital, 54 Md. App. 685 (1983)
Martinez v. Lopez, 54 Md. App. 414 (1983)
Suburban Hospital v. Hadary, 22 Md. App. 186 (1974)
Suburban Hospital Association, Inc. v. Mewhinney, 230 Md. 480 (1963)