Mastro v. Suburban Hospital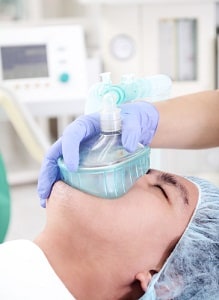 This wrongful death claim was filed in Montgomery County after a woman suffocated in her hospital bed. It was filed in Health Claims Arbitration on February 12, 2018, and it is the 74th medical malpractice case filed in Maryland this year.
Summary of Plaintiff's Allegations
A woman was taken to Suburban Hospital's emergency room in an ambulance. She had a high temperature, high blood pressure, and high pulse rate. At the intensive care unit, she was additionally documented as having aspiration pneumonia, a high heart pulse rate, low hydration levels, and a very high white blood cell count.
In spite of these serious symptoms, the woman was transferred to a room with only local monitoring of her pulse rate and a BiPap mask (ventilation device).
The failure to adequately monitor was a critical mistake because the woman was a virtual paraplegic, unable to move her arms and legs and unable to communicate. With her BiPap mask still on, the woman choked to death exactly one month after she arrived at the hospital.
Additional Comments on this Suffocation Wrongful Death Lawsuit
This is a tragic story. But this lawsuit seems like an uphill battle unless the medical records are stronger than the Complaint. But it is hard to say without a more detailed complaint or an expert report. The reality is that this woman was in the hospital for many weeks. The chief complaint was that she was not in ICU when she died. Okay. But exactly why did she die and what specifically should the doctors have done and how would that have kept her alive? There had better be an expert to answer these questions.
Let's just throw this out there. In medical malpractice cases in Maryland, every lawyer we know that regularly handles these cases fronts the cost of experts and other costs at no risk to the client. If you are the client and you are paying for the costs, you should question whether this is worthwhile to pursue and why you were not able to find a lawyer who would take on that risk.
A BiPAP is an acronym for Bilevel Positive Airway Pressure and functions like a CPAP machine. A BiPAP is sort of a noninvasive ventilator that helps push the air through for people with sleep apnea but can also be used for anyone who needs an extra push to get the air through.
In 2021, lawsuits are being filed arguing that Philips is responsible for respiratory and other injuries as a result of their defective CPAP machine for sleep apnea.
Jurisdiction
Defendants
Suburban Hospital Healthcare System, Inc.
Hospitals Where Patient was Treated
Negligence
Failing to take adequate proper medical precautions.
Failing to regularly monitor vital signs.
Failing to timely respond to evidence of serious and life-threatening medical conditions.
Failing to adequately diagnose and treat the woman's conditions in a timely manner.
Specific Counts Pled
Medical Negligence: The woman suffered extensive dehydration and mucus intensity that ultimately resulted in her suffocation and death as a result of the defendant's negligence.
Survival Action: Prior to her death, the woman sustained economic damages and suffered conscious pain, emotional trauma, and distress as a result of the defendant's negligence.
Wrongful Death
Getting a Lawyer for Your Malpractice Claim
Have you suffered a hospital injury due to the negligence of a doctor? Miller & Zois can help you. Call us at 800-553-8082 and speak to one of our medical malpractice attorneys who can help you or get an online case review.
More Malpractice Claim Information