The Philips CPAP recall lawyers at Miller & Zois are reviewing sleep apnea machine cases from users of the Philips CPAP, or BiPAP sleep apnea machines in all 50 states.
If you have used a Philips sleep apnea machine for six months or longer and have been diagnosed with
a respiratory condition (e.g., pulmonary fibrosis),
lung damage,
or cancer,
you may be entitled to significant financial compensation.
You can get a free consultation for a Philips CPAP recall class action lawsuit anywhere in the United States at 800-553-8082. You can also get a free case evaluation online.
Our CPAP machine lawyers work on a contingency fee. So our attorneys only get a fee if you get a verdict or a settlement compensation payout.
This page provides information and updates on
the new Philips CPAP lawsuit
the latest updates on the CPAP class action, and
potential settlement compensation amounts in these new CPAP machine lawsuits.
September 18, 2023 Update: 
The CPAP recall class action MDL grew significantly over the summer. Around Memorial Day there we barely 500 pending cases in the MDL. As of this week there are not 716 pending cases in the MDL and the monthly new case volume has increased for the last 5 months.
September 7, 2023 Update:
Philips has reached an agreement to pay at nearly $500 million to resolve a portion of the litigation stemming from the 2021 sleep apnea machine recall.
Our law firm is in these CPAP lawsuits involving injuries and wrongful death lawsuits. This CPAP settlement was just for economic loss.  But it is a positive sign of things to come.   Philips has been saying the plan is to settle these claims this year and the personal injury claims next year and we seem on path to do that.
We think the CPAP settlement could be very large.  Philips seems to know it has liabiliyt.  Industry analysts agree, projecting that Philips could potentially face settlement amounts reaching up to $4.5 billion for personal injury claims linked to the recalled devices.
September 1, 2023 Update:
The deadline for CPAP plaintiffs in the MDL to file motions seeking to get their cases out of the MDL and back to state court expired yesterday. Leading up to that deadline, however, only a small handful of plaintiffs sought to get out. What does this mean? Its hard to say, but it could be an indication that the plaintiffs feel confident that the MDL will end in a good outcome.
August 18, 2023 Update: 
A new CPAP wrongful death lawsuit –  Morey v. Philips North America LLC et al. – was filed in California state court in Sacramento by a woman who claims that her husband died as a result of cancer from the polyester-based polyurethane foam ("PE-PUR" foam) that was in these recalled devices. Yesterday, Phillips sought to move the case to federal court with the anticipation that it will be transferred to the CPAP class action lawsuit in Pittsburgh.
August 15, 2023 Update: 
There are now 698 cases pending in the CPAP recall class action MDL against Philips. Over the last 30 days, only 25 new CPAP lawsuits were transferred into the MDL. That is 100 fewer new cases than we saw the previous month. The new case volume should pick up as the summer ends.
August 2, 2023 Update:
A new Case Management Order was recently issued to revise some of the scheduling deadlines in the CPAP recall MDL. The new deadlines make it very clear that this MDL could drag on for quite some time. The deadline for Daubert challenges to admissibility of expert testimony is not until August 2024, with the tentative date for the Daubert hearing in February 2025.
July 18, 2023 Update: 
In the first month since the Tepezza hearing damage lawsuits were consolidated into a new class action MDL, only 1 new case was added. That brings the total number of pending cases up to 42. This sort of slow start is very typical for new class action MDLs in the first few months after they are created. By the end of this year the monthly volume of new Tepezza cases will likely increase significantly.
July 16, 2023 Update: 
The upcoming status conferences planned for July 20, 2023, will be conducted through videoconferencing. The court will provide the videoconferencing link via email to the plaintiffs' liaison counsel and the lead counsel representing each defendant.
July 12, 2023 Update: 
We do not talk much about the medical monitoring CPAP lawsuits. Our CPAP lawyers are only handling injury and wrongful death claims as opposed to victims seeking future medical treatment to monitor whether they have developed problems.
In an effort to dismiss claims that request medical monitoring for users of recalled breathing machines, Philips RS North America told a federal court yesterday that the complaint in the multidistrict litigation failed to prove that the plaintiffs were exposed to toxins from the foam insulation of the devices or suffered injuries necessitating long-term monitoring. During the second day of arguments, Philips' attorneys contended that the "medical monitoring" complaint was speculative regarding the long-term health effects of the degrading sound-insulating foam in the CPAP and BiPAP machines and ventilators. They also argued that the complaint didn't lay out a specific plan needed to monitor those allegedly exposed for early detection of future illnesses.
This litigation is part of a larger MDL class action that is, as most of you know, centered in Pittsburgh. The suits related to the alleged product defects and Philips' alleged mishandling of the machine recalls were divided into different tracks for complaints over economic losses, personal injuries, and those seeking long-term medical monitoring for the development of future diseases.
You do not want to root against the medical monitoring defendants.  But will less money for them mean more money for wrongful death and injury plaintiffs?  Probably.
July 1, 2023 Update: Our CPAP lawyers often are contacted by Canadians looking to join the CPAP class action lawsuit.  We cannot help them, unfortunately.  But we now know a national class action commenced in St. John's, Newfoundland for alleging harm due to toxic foam in CPAP and BIPAP machines.  If you are a CPAP lawyer in Canada handling these claims, reach out to us and give us your information so we can pass it along to victims there.
June 16, 2023 Update: 30 new CPAP injury lawsuits were added to the class action MDL last month. There are now 548 cases pending in the CPAP recall MDL. At the start of the year, there were 358. The relatively low number of cases is the direct result of claims registration programs implemented by Philips early on in the litigation.
June 1, 2023 Update: If you are considering bringing a claim or lawsuit for injuries caused by a recalled CPAP device, you may need to act before June 14, 2023, or it could be too late.  This date marks two years since Philips first announced the CPAP recall. That is significant because the recall notice arguably starts the clock rolling on any statute of limitations period applicable to CPAP injury claims. Any potential CPAP plaintiff who lives in a state with a 2-year statute of limitations period could be too late if they file or register a claim after that two year anniversary.  Some exceptions – most notably, the discovery rule – could extend the deadline to file for some victims. But you always want to bring a claim as soon as possible to avoid any possible defense arguments that your deadline to file a lawsuit has passed.
May 16, 2023 Update: From March 15 to April 15, 64 new CPAP recall lawsuits were added to the MDL. That marked the highest monthly volume of new cases since the start of the litigation, and it seemed like it might be the start of a new trend. So far, however, the new trend has not materialized. Over the last 30-day period, only 13 new CPAP cases were added to the MDL, leaving the current total at 518.
May 12, 2023 Update: Philips played fast and loose with the safety of his CPAP safety.  That was not a one-off for Phillips as we continue to see. The SEC has announced that Philips will pay a $62 million settlement to resolve allegations that it breached the Foreign Corrupt Practices Act through its sales practices of medical equipment in China. Philips indicated that the settlement pertains to "irregularities in the medical device industry" in China from 2014 to 2019, and for this, it had set aside funds in the fourth quarter of the previous year.
May 10, 2023 Update: The last few months has brought a significant increase in the volume of new CPAP recall lawsuits being filed in the class action MDL.
This is partly due to the end of the Philips claims registration program and partly due to new procedural rules making it easier for new plaintiffs to file directly in the MDL. An example of one of these recent CPAP cases is the case of Deidra Jackson Holmes v. Koninklijke Philips N.V., et al, which was filed on May 9, 2023.
The case was filed directly in the MDL using the Short Form Complaint. Jackson is a New York resident who used a Philips DreamStation CPAP device. Jackson alleges that her use of the recalled CPAP machine caused her to develop multiple myeloma, pulmonary damage, and sinus infections requiring surgery.
April 25, 2023 Update: Royal Philips, the parent company of Philips Respironics, has reserved and additional $630 million on top of the $1 billion it has already set aside to resolve lawsuits related to the recall of its CPAP machines.
The funds will be used to settle economic damage lawsuits filed by CPAP users who did not claim to have suffered physical injuries. This is just for the reimbursement for the cost of the machines and medical monitoring for potential future side effects that may arise from exposure to the toxic foam.
We report on April 1st (below) that , Philips CEO Roy Jakobs said he expected to settle individual personal injury and wrongful death lawsuit next year if not this year. Our thinking is the more money Philips sets aside for the economic injury lawsuits, the more money it will have to pay fair CPAP settlement amounts when it comes time.
April 14, 2023 Update: Philips issues a statement today disagreeing with where the FDA says Philips is with the recall. Philips says that 2.2 million respiratory devices it has repaired or replaced in the recall are currently being used by patients in the United States.  This statementcontradicts the FDA's statement yesterday that the number of devices replaced by the company was "considerably less" than the 2.46 million indicated on the company's website.
April 10, 2023 Update: Phillips continues to struggle with the Dreamstation CPAP and BiPAP. The FDA has announced that Philips Respironics is recalling certain refurbished DreamStation CPAP and BiPAP machines due to the risk of delivering inaccurate or insufficient therapy.
These are machines that have been presumably fixed after the recall. The FDA has classified this as a Class I recall, which is the most serious type of recall, indicating that using these devices could potentially result in severe injuries or even death. Philips says they have not received any reports of patient harm related to this issue.
April 1, 2023 Update:  Phillips expects a CPAP settlement this year… but not that kind of CPAP settlement. Philips faces thousands of plaintiffs in consumer class action and injury and wrongful death cases. Phillps CEO Roy Jakobs is hopeful that the company will reach a settlement with those seeking reimbursement in consumer class action lawsuits in the coming months But a settlement with those seeking damages for injuries is not expected until next year, as this process is more complicated. But he left the door open to offering settlements for those claims in 2023.  Philips is also aiming to reach a settlement with the FDA in the first half of this year and has stated that it will complete the repair-and-replace program for the recalled devices this year.
March 9, 2023 Update: Plaintiffs' response to Philips' motion to dismiss points out the obvious. The defendants' motion to dismiss the Master Complaint and Short Form Complaints in the MDL ignore that they were agreed upon by all parties and implemented to efficiently handle the large number of personal injury cases in the MDL.
Judges in the MDL get this and have historically allowed plaintiffs' claims to go forward with leniency.  The response also points out that defendants have the burden of proofing preemption  products marketed through §510(k) backdoor clearance, rather than the demanding PMA process, are not entitled to the benefit of express preemption.
March 4, 2023 Update: Defendants have filed a motion to dismiss the CPAP lawsuits that has virtually no chance of success. They claim that the Master Complaint and Master Short Form Complaint are structurally and substantively defective and must be dismissed for several reasons.
First, they fail to allege facts necessary to state plausible claims. Secondly, they claim – absurdly – that any duty of disclosure that Respironics had was owed to the plaintiffs' physicians, not to the plaintiffs as the end-users. Thirdly, certain claims are impliedly preempted by federal law. Fourthly, some claims are subsumed by the states' product liability acts. Fifthly, they claim plaintiffs' breach of warranty claims fail as a matter of law. Finally, in the one plausible argument in the batch, they contend Plaintiffs' medical monitoring cause of action must be dismissed in states that do not recognize this cause of action.
Their request is to dismiss the lawsuit. But in the unlikely chance the court were to grant the plaintiffs' motion, the judge would almost certainly grant the plaintiffs leave to amend, which makes the entire effort mostly a waste of trees.
February 21 2023: 62 new cases were added to the Philips CPAP recall class action litigation in the last month. This MDL only averaged 9 new cases a month last year. We have been expecting this uptick in new case filings ever since the claim registration program ended a few months ago and this is a trend that is probably going to continue throughout the rest of this year. There are now 420 pending cases in the MDL and we think that number will go over 1,000 before the end of 2023.
February 14, 2023:  Last week, the FDA released updated data on adverse event reports the agency has received in connection to recalled Philips CPAP and BiPAP devices. According to the updated report, another 8,000 new adverse health incident reports related to the recalled CPAP devices have been received by the agency in the last three months.
That brings the total number of CPAP-related adverse event reports up to 98,000. Even more concerning, however, is that the number of CPAP-related deaths reported to the FDA is now 350, with 90 new fatalities reported since November.
January 30, 2023: Today Philips announced that it will be cutting over 6,000 jobs in an effort to get back to profitability moving forward. The personal healthcare device company has been struggling since it announced a sweeping recall of millions of CPAP devices.
January 29, 2023: Lawyers for both sides in the CPAP recall MDL submitted very different case management proposals to Judge Conti at the monthly status conference this week.
The plans look very different.  The plaintiffs want a trial date to push these cases toward verdicts and a global settlement.  So plaintiffs propose to finish discovery in time for the first bellwether test trial to happen in mid-2024. By contrast, the defense is pushing for a schedule that would not see a bellwether trial happen until 2025 at the earliest, possibly even 2026.
January 18, 2023: Only three new CPAP recall lawsuits were added to the Philips CPAP class action MDL over the last month. That leaves the total number of active cases in the MDL at 358.
But that statistic is wildly misleading.  Thousands of CPAP lawsuits are parked on the claims registry.
January 10, 2023 Update: The MDL continues to move forward. The judge issued a new order last week governing electronic discovery.
January 4, 2023 Update: One of the last CPAP recall lawsuits filed in 2022 was the case of Braverman v. Koninklike Philips N.V. (22-cv-7927). It is one of the first CPAP suits to allege the inhalation of the toxic foam particles caused mouth and tongue cancer.
The plaintiff, a Long Island resident, used two different recalled Philips CPAP devices every night for his sleep apnea. After years of continuously using the machines, Braverman began to suffer "continuous bouts of mouth cancer" and was later diagnosed with tongue cancer also.
His Phillips lawsuit contends that his cancer was caused by chronic exposure to the toxic foam particles in his CPAP devices.
January 2, 2023 Update: Over a year after the Philips CPAP recall MDL was established, the Western District of Pennsylvania has finally published a webpage for the MDL. The new Philips CPAP MDL-3014 page features an extensive index of documents, including all Court Orders in this class action and a schedule for monthly status conferences.
December 25, 2022 Update: Philps continues to rely on "independent" studies to convince itself that it did not harm as many people as many medical experts believe it has.
December 21, 2022 Update: Philips has filed a motion to dismiss the consumer class action case in which 110 individuals and ten companies are seeking economic damages on behalf of all others who purchased the recalled CPAP devices. In the motion, Philips argues that the named plaintiffs lack standing because Philips offered to repair or replace their recalled devices for free; therefore, they cannot show that they suffered any harm. In response, the plaintiffs claim that they would never have purchased the machines in the first place if they had known the danger.
December 5, 2022 Update: The FDA warned about new problems with Philips ventilators that were part of the massive CPAP recall. Following the recall, the Philips 100/200 Trilogy ventilators removed the toxic PE-PUR foam and replaced it with a new type of non-toxic silicone foam. The FDA is warning that these replacement silicone foam inserts are causing their own safety problems, including detaching and blocking the user's airways. This is just the most recent in a seemingly endless stream of missteps by Philips over the last two years.  
December 1, 2022 Update: The New York Times reported that the Justice Department is currently negotiating the terms of a consent decree with Philips. The consent decree would require Philips to take responsibility for its failure in handling the problem with the sound abatement foam that led to the massive CPAP recall last year. The decree would also force Philips to outline clear steps that it would take to avoid similar issues in the future. The consent decree reflects the serious concerns that have arisen after an FDA investigation into the CPAP recall revealed that Philips knew about the issues with the foam in the devices for years but did nothing about it.  
November 20, 2022 Update: the FDA issued updated information on Medical Device Reports related to the Philips CPAP and BiPAP devices that were recalled in June 2021. According to the updated report, the number of adverse health incident reports related to the recalled CPAP devices is now over 90,000. More alarming, however, is that a total of 260 deaths have now been linked to inhaling particles from the toxic PE-PUR foam in the CPAP machines. There are currently only 346 CPAP recall lawsuits pending in the MDL, but thousands more remain unfiled after entering into a tolling agreement with Philips at the start of the litigation.
October 28, 2022 Update: Philips was forced to issue yet another CPAP-related recall last month after discovering that magnets in the face masks of certain Philips CPAP devices were causing pacemakers and other nearby medical devices to malfunction. Now the FDA has classified the CPAP face mask magnet recall as a Class I, the most severe level of recall indicating that the issue could result in serious injury or death. Fourteen complaints involving "serious injury" have already been received by the FDA.
October 25, 2022 Update: As if on cue from yesterday's update, Royal Philips NV announced it cut 4,000 jobs. A new CEO, Roy Jakobs, hopes to get Philips back on track.
October 24, 2022 Update: The most significant risk to plaintiffs in this litigation might be bankruptcy. Philips is worth less than $12 billion. But if you sold off Philips in pieces, it would be worth more than $12 billion. Why? Because that $12 billion bakes in the litigation risk which devalues the company.
October 21, Update: SoClean Inc. recently filed an amended complaint in its lawsuit accusing Philips of making false statements to place blame for the massive CPAP recall on the SoClean ozone machines that were used to disinfect CPAP devices. The newly amended complaint contains a wealth of new factual allegations against Philips based on information obtained through discovery in the CPAP Recall MDL. Among other things, SoClean cites the internal documents indicating that Philips was aware of the design flaw with its foam 7 years before the CPAP recall.
October 16, 2022 Update: Thousands of individuals who claim they were injured by recalled Philips CPAP machines are expected to file cases in the CPAP recall class action lawsuit over the next few months. To make this large influx of new case filings more efficient, the MDL Judge recently issued an order requiring all new plaintiffs to use the court-approved Short Form Complaint when filing. Short complaint forms are common in MDL class action lawsuits and they help streamline the process of bulk lawsuit filings.
October 2, 2022 Update: A new claim registry has been established in the Philips CPAP class action lawsuit to replace the current system of tolling agreements. The claim registry will permit prospective CPAP plaintiffs to formally register their product liability claim against Philips without actually filing a lawsuit.
Claim registry systems like this are common in mass tort MDLs and a similar system was used in the Zantac cancer litigation. The registry allows claimants to toll the statute of limitations on their claim without having to file suit. It also gives the MDL Court and the parties more valuable information about the scope and size of the potential plaintiff field.
September 18, 2022 Update: More bad news for CPAP manufacturer Philips. In a recent press release from the Department of Justice, it was announced that the embattled CPAP maker recently agreed to pay a $24 million settlement to the U.S. Government to resolve claims that it was engaged in an illegal kickback scheme.
According to allegations in a whistleblower complaint against Philips, the company was paying illegal kickbacks to incentivize medical equipment suppliers to submit insurance claims for Philips CPAP and other breathing devices. These types of kickback schemes are illegal because they defraud federal Medicare and Medicaid programs.
It underscores the theme CPAP lawyers and the FDA have seen from the beginning: Philips does not play by the same rules as everyone else.
September 1, 2022 Update: A little more than a year after issuing a massive recall covering millions of CPAP and BiPAP machines, Philips was forced to issue yet another major recall of other CPAP devices this week. This time, the recall can after it was discovered that a plastic component in the device was incompatible and potentially releasing carcinogenic chemicals into the user's airways.
August 21, 2022 Update: This week, the FDA's public update notice on the Philips CPAP recall underscores the human misery from these defective CPAPs continues. The notice disclosed that between May 1, 2022, and July 31, 2022, the FDA received over 48,000 adverse event reports, including 44 reported deaths, associated with the breakdown of the PE-PUR foam in the recalled Philips CPAP devices.
Since April 2021, a total of 168 Philips CPAP-related deaths have been reported to the FDA. Meanwhile, as of August 15, 2022, there were 323 pending CPAP lawsuits in the Philips MDL. That number could not be more misleading. Thousands of additional CPAP claimants have entered into tolling agreements and registered claims instead of filing cases.
August 4, 2022 Update: The judge in the Philips CPAP class action lawsuit has scheduled a "science day" for September 1st. In the MDL process, a science day is supposed to give lawyers for both sides the opportunity to make presentations to educate the Court about complicated scientific issues that are in dispute in the litigation.
The parties will submit proposals to Court on August 18 for how the science day should be handled. Science days are a frequent occurrence in MDLs involving product liability claims.
July 7, 2022 Update: There is a new Case Management Order in the CPAP class action lawsuit that gives lawyers on both sides the ability to begin pretrial discovery. Judge Conti sets out the initial discovery plan in the litigation which is what is needed to get in position for a CPAP settlement. So now real work begins to get the CPAP litigation moving and to find the documents that show that Philip's mistakes caused the injuries, pain, and suffering, and death endured by so many victims and their families.
July 1, 2022 Update: Philips must have a new public relations firm. Earlier this week, Philips attempted to do some damage control by issuing a report on updated results for testing the potential safety hazard of sound abatement foam in its recalled CPAP devices. The announcement suggests that this preliminary testing indicates that CPAP users were not exposed to unsafe levels of toxic VOC chemicals.
The announcement is highly misleading because the testing cited by Philips was only performed on new machines. The CPAP devices which posed a safety risk were used machines that had been subjected to repeated cleaning, causing their sound abatement foam to degrade and release harmful chemicals. So Phillips ignored the foundation behind every CPAP lawsuit that has been filed. VOC emissions for used CPAP devices were not tested, which makes these results essentially meaningless.
June 27, 2022 Update: Judge Conti recently issued a preliminary discovery plan that establishes a series of initial deadlines for the CPAP class action lawsuit. The judge wants joint proposals on plaintiff fact sheets and implementation procedures by July 8, 2022. This involves written questions for plaintiffs to answer. The judge also wants proposals on deposition protocols (August 15th) and a written discovery plan (September 9th).
June 21, 2022 Update: The case against Philips keeps getting stronger. Internal documents obtained through discovery in the CPAP class action lawsuit show that Philips was on notice about the problem with the sound abatement foam in their CPAP devices for at least three years before the company initiated a safety recall.
In April 2018, a mechanical engineer at Philips sent an email to a supplier stating that the sound foam (which contains toxic chemicals) was shedding and causing users to inhale foam particles. In the email, the Philips engineer noted that "this is not a good situation for our users." What would a responsible company do with this information? Philips did nothing. This email will help plaintiffs' CPAP attorneys show that Philips negligently ignored a known safety hazard with its CPAP devices.
June 10, 2022 Update: Philips is still struggling. Last week, Philips announced that it was recalling over 60,000 of its V60 and V60 Plus ventilators (breathing devices mostly used in hospitals). The recall is related to problems with the electrical power system that can cause the ventilators to suddenly shut down without sounding any type of alert or warning alarm. Several injuries and at least one death have already been reported as a result of this defect.
June 9, 2022 Update: Last week, the judge in the Philips CPAP Recall MDL issued Pretrial Order #16 that formally appoints retired Magistrate Judge Diane M. Welsh as a Settlement Mediator, as agreed by the parties. This is not necessarily an indication that Philips is looking to move forward on a CPAP settlement, although an early settlement would be in Philips's interest. Rule 16.1 of the Local Rules for the Western District of Pennsylvania obligates parties in complex litigation matters to participate in Court-sponsored alternative dispute resolution options. The recent appointment of Judge Welsh as Settlement Mediator is simply part of the parties' compliance with this ADR process and the mediation will most likely lead to no early progress on a CPAP settlement.
June 2, 2022 Update: Philips admitted to a "steep increase" in the number of complaints received associated with foam degradation in a company statement last week. There have been more than 20,000 Medical Device Reports (MDRs) related to foam degradation in the last year. Philips is hinting at how it will defend CPAP lawsuits, contending in its statement that the big problem with PE-PUR foam degradation is ozone cleaners that are not approved cleaning agents. It is also pushing a new study in the European Respiratory Journal that concludes that CPAP therapy using Philips Respironics devices is not associated with a greater risk of cancer. It is important to keep in mind the study Philips is so excited about states that it does not "allow for definitive conclusions to be drawn regarding the impact of PR devices on cancer risk."
May 25, 2022 Update: Out of necessity, the FDA has been heavily involved in the Philips CPAP machine recall since it was first announced last year. The FDA recently released data indicating that the agency has received over 21,000 reports of adverse health involving Philips CPAP devices in the last year (April 2021 to April 2022). Health problems reported to the FDA in connection with the Philips DreamStation and other recalled CPAP machines have included cancer, pneumonia, respiratory problems, and various other conditions. The FDA has also received reports of 124 fatalities that are reportedly connected to the toxic foam that was used in the recalled CPAP machines. The 124 deaths are a larger number than I think even CPAP lawyers expected. This gives us a good indication of the scope of the potential product liability lawsuits that Philips will be defending in the CPAP class action lawsuit.
May 17, 2022 Update: Since the start of May, 14 new Philips CPAP recall product liability lawsuits have been filed. The number of new CPAP product liability case filings is expected to increase dramatically. But few CPAP lawyers are filing lawsuits through the ordinary process. There are another estimated 60,000 CPAP recall lawsuits that have been filed on the administrative docket. We will learn more about the number of filed CPAP lawsuits at the next monthly status conference in two days.
May 10, 2022 Update: When the CPAP lawsuit began, we did not see many CPAP wrongful death lawsuits. That has changed of late both in terms of the CPAP lawsuits we are seeing and the victims that are calling our lawyers. An example wrongful death CPAP recall lawsuit was recently filed. The lawsuit was filed by Oregon residents against Philips and Wm. T. Burnett & Co, a Baltimore-based company that manufactured the toxic sound abatement foam in the Philips CPAP machines.
The man alleges that his wife was starting using a Philips DreamStation CPAP device in 2018 at the instruction of her doctor. She used the CPAP machine every night. Less than two years later, she was diagnosed with Stage 4 lung cancer. The wrongful death lawsuit claims that her lung cancer was directly caused by her inhalation of toxic foam particles from the DreamStation machine over a two-year. The Shiffler case was filed in federal court in Utah and, like every CPAP recall lawsuit filed in federal court, will be transferred into the CPAP class action in the Western District of Pennsylvania.
May 4, 2022 Update: The FDA is considering requiring Philips to offer to refund the purchase price of the CPAP machines subject to the recall. This would be an extraordinary step that underscores how frustrated the FDA is with Phillips.
May 3, 2022 Update: As the science as to what injuries this defective CPAP can cause tells us that CPAP lawyers may have initially overlooked: skin cancer. A claim of skin cancer around the part of the face where the CPAP mask is worn may make for a particularly strong CPAP lawsuit.
May 2, 2022 Update: The U.S. Department of Justice recently issued a subpoena to Philips seeking information about the CPAP recall, according to a recent report from the Wall Street Journal. The subpoena is an indication that the DOJ is doing some type of investigation into the CPAP recall and that things could get a lot worse for Philips.
Meanwhile, the CPAP class action litigation is moving forward with attorneys on both sides preparing for an upcoming status conference with the judge. CPAP lawsuits continue to be filed administratively (as our lawyers explain below) and lawsuits continue to get transferred from their home districts to Judge Conti in Pennsylvania.
March 24, 2022 Update: Philips can't seem to get anything right these days when it comes to breathing machines. Less than one year after recalling 15 million CPAP and BiPAP devices because they were causing users to inhale toxic carcinogens while they slept, Philips is now recalling hundreds of hospital ventilators because a defective adhesive in the machines may cause them to suddenly stop working.
March 22, 2022 Update: As our lawyers mentioned in the last update, the FDA sent Philips a letter notifying the company that its efforts to notify consumers about the health risks associated with the recalled CPAP and BiPAP devices have been wholly inadequate.
In response, the FDA has stepped in and issued a "notice order" requiring Philips to provide appropriate notice of the CPAP recall to users and healthcare professionals under the supervision of the FDA.
March 14, 2022 Update: The FDA expressed concern today that Philip's first-come, first-served replacement strategy may put patients who need a CPAP at risk. So many patients are calling our CPAP lawyers complaining about the fear they have of not having a safe CPAP.
March 12, 2022 Update: This week, the FDA sends one of the harshest letters our lawyers have ever seen to a medical device maker. The FDA complains that the CPAP recall has been completely inadequate and Philips has done a poor job of notifying patients of the recall. This awful news may have an unlikely side effect of helping victims in the CPAP recall class action lawsuit. As things go from bad to worse, Philips is probably more likely to offer victims reasonable settlement amounts to put this litigation behind them.
March 5, 2022 Update: Users of recalled Philips CPAP machines who are thinking about filing a CPAP lawsuit can now preserve their rights by entering into a tolling agreement with Philips. This week, the judge in the Philips CPAP MDL approved a tolling agreement. Prospective plaintiffs who sign and register a tolling agreement can preserve their right to file suit against Philips even after the applicable statute of limitations on their claim expires.
March 1, 2022 Update: The disastrous Philips CPAP recall is getting attention from politicians. Senator Richard Blumenthal and Connecticut's Attorney General William Tong are calling on the FDA called on the FDA to intervene to make sure that products like the Philips CPAP never make it to market and to make sure that Philips rights the ship of this botched recall.
February 25, Update: Judge Flowers placed 33 CPAP recall lawyers in leadership positions to spearhead this litigation. This is a big step in pushing the CPAP lawsuits forward.
About CPAP and BiPAP Machines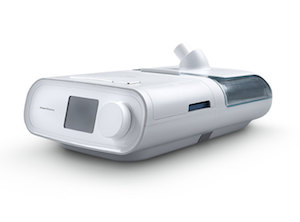 Sleep apnea is a common condition in which breathing may become very shallow or temporarily stop when a person sleeps at night. This can cause a host of health problems ranging from headaches and fatigue to hypertension, heart attack, and stroke.
Continuous Positive Airway Pressure (CPAP) therapy is the standard form of treatment for sleep apnea. In CPAP therapy, a machine delivers positive airflow through a mask over the nose and mouth.
This creates enough inward pressure to prevent the person's airway from collapsing during breathing at night. Other types of sleep apnea machines include Bilevel Positive Airway Pressure (BiPAP) and Automatic Positive Airway Pressure (APAP) machines.
CPAP is a continuous positive air pressure treatment. The positive air pressure keeps the airway open and assists the patient with breathing. CPAP includes the use of a mask over the nose and mouth while the patient sleeps. CPAP treatment forces air into the airway when there is an obstruction and prevents respiratory depression.
A CPAP is that working correctly is a great medical device. CPAP is the most effective treatment for sleep apnea, even when compared to surgery. In terms of reducing a patient's sleep apnea (as measured by the apnea/hypopnea index), CPAP is successful in the vast majority of patients.
So the demand for CPAP machines has risen dramatically in recent years. Not surprisingly, Covid-19 sparked greater demand for CPAP machines. Philips brought in $6 billion in revenue in 2020 for CPAP sales.
CPAPs generally work as intended. This machine is the standard treatment option for obstructive sleep apnea and can often reverse the consequences of sleep apnea.
The CPAP safety recall has a flood of lawsuits against Philips by device users who claim that they suffered adverse health consequences from the defective machines. A new "class-action" has been formed for consolidated handling of the CPAP recall product liability lawsuits. For victims, the MDL class action is a path to bring a CPAP lawsuit with relative ease.
Philips DreamStation CPAP Machines
Philips is a medical device and equipment company that manufactures a variety of sleep apnea machines, including CPAP and BiPAP devices. Philips's main line of CPAP devices is sold under the "DreamStation" brand name. This line of products includes the original DreamStation CPAP machine and the travel-sized DreamStation Go. These are wildly profitable for medical device companies.
All of Philip's DreamStation CPAP and BiPAP machines use a special type of polyester polyurethane foam called PE-PUR. The PE-PUR foam is used for sound abatement to make the DreamStation CPAP machines run quieter.
Safety Recall of DreamStation CPAP Machines
On June 14, 2021, Philips publicly announced a mass safety recall of 14 models of CPAP and BiPAP breathing machines, including the DreamStation line.
According to Philips, the 2021 CPAP recall was prompted by the discovery that the PE-PUR sound foam in the machines may break down and get inhaled or ingested by users. The PE-PUR foam contains volatile organic compounds ("VOCs") that are carcinogenic and toxic to internal organs.
The problem with PE-PUR foam is Polyester polyurethane is easily broken down by heat, sunlight, sunlight, moisture, microbial, fungal attack, and even oxygen. So if, for example, your machine was exposed to high humidity or temperatures, you are at greater risk of this recall.
In most personal injury lawsuits like these, the defendant vigorously denies that the product was defective. But in this case, Philips Respironics readily acknowledges that inhalation of the PE-PUR foam by CPAP machine users could cause serious and even life-threatening damage to the respiratory system.
In an announcement entitled "Clinical information for physicians," Philips identifies the following health risks from PE-PUR foam inhalation or ingestion:
Irritation and airway inflammation (particularly acute in patients with underlying lung or cardiopulmonary conditions)
Headaches and dizziness
Chest pressure and sinus infection
Toxic and "carcinogenic effects"
Damage to the kidney, liver, and other organs
PHILIPS CPAP RECALL LIST

| | | |
| --- | --- | --- |
| DreamStation ASV | DreamStation ST | AVAPS |
| SystemOne ASV4 | C Series ASV | OmniLab Advanced Plus |
| SystemOne (Q Series) | DreamStation CPAP | DreamStation Auto CPAP |
| DreamStation BiPAP | DreamStation Go | Dorma 400 |
| Dorma 500 CPAP | REMStar SE Auto CPAP | Trilogy 100 and 200 |
| Garbin Plus | Aeris | LifeVent |
| A-Series BiPAP | | |
Philips CPAP Lawsuit
The safety recall of the DreamStation and other CPAP devices has already prompted CPAP lawyers to file lawsuits for people who used these devices and suffered adverse health consequences. More CPAP recall lawsuits are expected to follow because there is evidence that Philips was fully aware of the health risks and defects associated with the PE-PUR foam and failed to warn consumers.
The CPAP lawsuit claims that recalled machines have polyester-based polyurethane sound abatement foam that may degrade or off-gas under certain circumstances, including when cleaned with ozone, or in high humidity and high-temperature environments.
This places CPAP users at risk for a host of maladies, including various inflammatory responses, headaches, asthma, vital organ damage, and toxic carcinogenic effects that would include cancer.
Philips Has Admitted Many CPAP Lawsuit Allegations
In most mass tort cases, the hard part is proving that the product causes injury. That will not be a problem in the CPAP lawsuit. Philips was aware of the problems with foam inhalation in its sleep apnea machines for a long time before it eventually issued its safety notice and recall in June 2021.
Philips has already conceded that the foam in these CPAP machines emits harmful chemicals, including,
Toluene Diamine
Toluene Diisocyanate
Diethylene Glycol
Philips further admits that "based on lab testing and evaluations, it may be possible that these potential health risks could result in a wide range of potential patient impact, from transient potential injuries, symptoms, and complications, as well as a possibly serious injury which can be life-threatening or cause permanent impairment, or require medical intervention to preclude permanent impairment." The FDA adds that "black debris from the foam or certain chemicals released into the device's air pathway may be inhaled or swallowed by the person using the device."
Before we start congratulating Philips for being so forthcoming, Philips did not make a public safety announcement until April 2021. The recall did not come until June 2021. Even users sensed a problem. CPAP patients have been complaining for years about "black particles" in their lungs and similar issues.
One variable for risk is a high level of carcinogen exposure is the age and usage of the CPAP machine. Because the foam appears to degenerate over time. What is unclear to CPAP lawyers at this point is whether that degeneration comes from the passage of time or machine usage (or both).
Jurors Will Be Angry at How Long Philips Waited to Come Clean
What is even more troubling, is that Philips appears to have deliberately delayed the timing of its recall. Why? It seems the delay may have been to coincide with the release of its "next-generation" sleep apnea products that do not have the foam inhalation problem.
In other words, Philips waited to tell consumers its existing products were dangerous until it had a new "safe" product to replace them. Keep in mind, that ResMed CPAP machines are not subject to a recall. So there was a clear safe CPAP alternative available. This will make jurors angry and punitive damages are in play in CPAP lawsuits.
Do You Qualify for a CPAP Sleep Apnea Machine Lawsuit?
The defective medical device lawyers at Miller & Zois are currently seeking new CPAP machine cases from individuals who used one of the recalled Philips sleep machines and suffered adverse health consequences.
Specifically, we are seeking individuals who meet the following basic qualifying criteria for filing a Philips CPAP lawsuit:
You used one of the recalled CPAP, BiPAP, or other Philips sleep apnea machines (see table above for a list of recalled devices) every night for at least 6 months or longer.
After using the recalled CPAP machine for at least 6 months, you suffered any of the following adverse health conditions:

Pulmonary fibrosis or any other injury involving your respiratory system or diagnosis with a respiratory condition.
Damage to your liver or kidney.
Diagnosis with lung cancer, kidney cancer, liver cancer, or any other type of cancer.
What Is the Deadline to File a CPAP Recall Lawsuit?
Philips CPAP lawsuits must be filed before the statute of limitations ("SOL") for the claim expires. The applicable SOL deadline varies by state and can be anywhere from one to six years.
The statute of limitations for a CPAP or BiPAP device lawsuit may start on June 14, 2021, when Philips announced the CPAP recall. The statute of limitations varies by state. So if your state has a two-year SOL, your deadline for filing a lawsuit may be June 14, 2023.
The rules governing deadlines to sue have scores of exceptions. These statutes of limitations exceptions may shorten or extend your obligation to file a CPAP lawsuit or provide notice of your intention to do so. So you want to talk to a CPAP lawyer to verify the deadline to file a lawsuit for your claim.
How Much Settlement Compensation for Philips CPAP Machine Lawsuits?
Lawyers are still at the beginning stages of the CPAP sleep apnea machine recall litigation. So speculation about settlement amounts in the Philips CPAP recall lawsuits is premature. Also, the injuries vary wildly in these cases. The most serious CPAP injuries are likely to be cancer, organ damage, and respiratory problems.
For CPAP cancer lawsuits, the average settlement compensation payouts should at least be between $100,000 and $500,000 with the trial value being significantly higher if liability can be established. The expected average settlement amounts for the respiratory issue would be less but the compensation will be closely tied to the severity of the injury.
The plaintiffs' lawyers sought an MDL class action, asking the U.S. Judicial Panel on Multidistrict Litigation to consolidate all federal court CPAP claims in federal court in Pennsylvania.
Philips conceded and MDL class action is appropriate but argued that the cases should be consolidated in Massachusetts. Why? Philips is based in Massachusetts so it appears to be looking for some home cooking. Ultimately, the Western District of Pennsylvania was the choice. The CPAP machines in this recall were manufactured in Pennsylvania and Philips RS North America LLC is also located in Pennsylvania. So our CPAP lawyers expected a Pennsylvania judge to preside over the litigation.
There is no question that the certification of a CPAP MDL class action increased the likelihood of a global Philips CPAP settlement.
Video discussing CPAP settlement amounts

CPAP Machine Recall Lawsuits – Answers to Your Questions
Below are answers to some commonly asked questions about the safety recall of the Philips CPAP sleep apnea machines and related lawsuits.
What Sleep Apnea Machines Were Recalled?
All CPAP and BiPAP sleep apnea machines manufactured by Philips before 2020 were recalled. These include brands such as DreamStation and REMStar. See above for a complete list of recalled devices.
Why Were Philips Sleep Apnea Machines Recalled?
Philips recalled almost all of its CPAP and BiPAP sleep apnea machines because they contained polyurethane foam (PE-PUR) and particles of the foam were being inhaled by users of the machine. Inhalation of this foam can cause cancer and serious respiratory conditions.
Do I Qualify for a CPAP Machine Recall Lawsuit?
Anyone who used one of the recalled sleep apnea machines and was subsequently diagnosed with pulmonary fibrosis, other respiratory health problems, or cancer may be able to file a lawsuit against Philips and receive financial compensation.
Which Cancers Likely Qualify for a CPAP Recall Lawsuit?
Lawyers and scientists will be working hard in the Philips CPAP recall lawsuits to link specific types of cancer to these sleep apnea machines. It is early in the CPAP litigation. So far, these are the cancers our lawyers suspect could be caused by CPAP via PE-PUR:
Breast cancer
Brain cancer
Lymphatic cancer (including non-Hodgkin's)
Leukemia
Bladder cancer
Prostate cancer
Liver cancer
Testicular cancer
Multiple myeloma
Hematopoietic cancer (immune cell)
Lung cancer (and lung injuries generally)
Thyroid cancer
Nasal cancer
Stomach cancer
Acute Respiratory Distress System (ARDS)
Papillary carcinoma
Reactive Airway Disease (RAD)
Heart Attack
Heart Failure
Chemical Poisoning
Pleural Effusion
Example CPAP Lawsuit
Mark Edwards of New York became one of the most recent plaintiffs to join the ongoing CPAP recall lawsuit against Philips. Edwards filed a CPAP recall lawsuit on November 4, 202, in the Eastern District of New York. It was, as all of these federal claims are, transferred into the CPAP Recall MDL in Pennsylvania.
In his Philips CPAP lawsuit, Edwards alleges that he purchased a DreamStation CPAP device in 2014 and he used the machine every night for his sleep apnea until Philips announced the recall in June 2021. Edwards claims that as a result of inhaling foam particles from his DreamStation device, he developed a tumor in his throat along with Chronic Obstructive Pulmonary Disease.
Edwards is one of the first CPAP suits where the victim alleges actual physical injuries and tort claims as opposed to consumer fraud. The potential settlement amounts in these cases are exponentially higher.
Contact Our CPAP Machine Lawyers Today
The CPAP recall litigation is exploding in 2023. Our lawyers are talking to victims about lawsuits against Philips who were exposed to this toxic PE-PUR sound abatement foam. Many attorneys were skeptical that the CPAP recall lawsuit would deliver for victims. But the strength of the case and the plaintiffs' lawyers' ability to connect the defective polyester polyurethane foam (PE-PUR) seems to get stronger by the day.
If you meet the qualifying criteria, our attorneys want to talk to you about your potential CPAP machine lawsuit against Philips seeking substantial financial compensation at trial or a settlement payout.
Call our CPAP lawyers today at 800-553-8082 or reach out to us online to see if you qualify. We are contingency fee lawyers so we are only paid if you get a verdict or settlement.