If you were exposed to Paraquat and have been diagnosed with Parkinson's disease, you may be entitled to file a Paraquat lawsuit and get financial compensation. Our Paraquat lawyers are reviewing new lawsuits for victims of Parkinson's disease in all 50 states.
This page explains the Paraquat class action litigation and how to join it. Our attorneys give the latest updates on the Paraquat class action lawsuit. Our lawyers project settlement amounts in this litigation so victims better understand what the compensation could be.
Our attorneys update this page regularly. Bookmark and come back to get the latest news, updates, and information on the Paraquat lawsuit.
---
PARAQUAT LAWSUIT UPDATES:
September 18, 2023: The number of pending cases in the Paraquat class action MDL is now up to 4,752, making it the 11th biggest consolidated mass tort currently pending. At the start of this summer, there were only 3,700 pending Paraquat cases, so 1,000 new plaintiffs have been added since then.

September 6, 2023: Chief Judge Rosenstengel ordered the parties to present closing briefs summarizing their positions following the four-day Daubert hearing last month by September 8, 2023.

August 31, 2o23: The first bellwether test trial in the Paraquat class action MDL was supposed to happen this October. Last week, however, Judge Rosenstengel issued an Order cancelling the trial date to allow additional time for supplemental briefing on the Daubert challenges. This is not a positive development for the plaintiffs. First, it pushes back the trial date which is always a key to forcing the defendants to settle. Second, the fact the judge was willing to cancel the date suggests that she might seriously be considering excluded some of the expert testimony presented by the plaintiffs.

August 21, 2023:  Yesterday marked the commencement of the pivotal Daubert hearing in Illinois concerning the Paraquat litigation. Plaintiffs assert that Paraquat causes particular cell death and tissue damage characteristic of Parkinson's disease. The spotlight is on the expert epidemiologist, Dr. Martin Wells. His scientific credibility is under scrutiny. Dr. Wells, central to the victims' case, has analyzed previous studies and concluded that Paraquat likely plays a significant role in causing Parkinson's, more so than other factors.

However, Chevron and Syngenta contest this. They criticize not only Dr. Wells but also experts Anthony Lang and Peter Spencer for their approach. They highlight that Dr. Wells has faced exclusions in prior testimonies. Their stance revolves around the belief that Parkinson's primarily results from genetic factors, emphasizing that numerous studies don't identify the pesticide as a certain cause. The hearing will resume today and is scheduled until the 24th.

From the outset, we've believed this hearing to be a linchpin in the litigation. Neither Chevron nor Syngenta would risk these lawsuits progressing to trial. A victory in this hearing could lead to reasonable settlements, while a defeat could spell disaster. The stakes couldn't be higher.

August 16, 2023: The upcoming hearing regarding the Daubert motions will begin at 3 p.m. EST on August 21, 2023, and end on August 24, 2023. The proceedings will be accessible remotely via phone conference. Lawyers, the press, and victims can listen to the conference by phone if they cannot attend physically.

August 15, 2023: The MDL case count is now in 4,454, up from 4,306 last month and 1,703 at the same time last year.

August 4, 2023: Most of our updates involve the Paraquat MDL class action. But there is a thriving state court class action type Paraquat lawsuit in Pennsylvania that has over 300 plaintiffs.

One thing is for sure: the defendants really do not want to try a case in Philadelphia. So they are arguing that the approximately 100 out-of-state plaintiffs who have filed in Pennsylvania state court cannot sue them there.

The problem they have with this argument is a new U.S. Supreme Court ruling upholding the state's consent by registration statute.

August 1, 2023: The Judge in the Paraquat MDL is going to rule very soon on whether the scientific causation evidence linking Paraquat to Parkinson's disease is reliable enough to be admissible in court.

Both sides have submitted their Daubert motions and last week Judge Rosenstengel issued an Order setting a major hearing on the motion for August 21, 2023.

The Judge is requiring the plaintiffs' key expert witness, Dr. Martin Wells, to appear at the hearing and provide testimony that will be used to help make a decision on the admissibility issues.

After the hearing, Judge Rosenstengel is allowing the parties to submit closing briefs by September 8, 2023. We should get a ruling on this critical issue by the end of the year.

July 18, 2023: Over the last month, 223 new Paraquat lawsuits were transferred into the class action MDL, bringing the total pending case count up to 4,306. This is slightly below the monthly average of new cases that we have seen in this litigation for the last 16 months, and it could indicate the start of the slow down in new filings.

July 1, 2023: Defendants Syngenta and Chevron claim to have identified 611 questionable claims in the MDL. Chief U.S. District Judge Nancy Rosenstengel that such a list be compiled.  The defendants argue – and certainly, they are not entirely wrong – that some claims lack evidentiary basis and were filed based on targeted advertising campaigns and lead generators.

This is true in any large piece of litigation in 2023. But it is very unlikely that anywhere near 611 claims are not viable.

At some point, whether the defendants like it or not, we will get past the nonsense and a jury will decide the heart of the matter: does Paraquat cause Parkinson's disease?   Our Paraquat lawyers believe Syngenta and Chevron will not like the answer.

If these defendants have the strength of their conviction, we will find out in October when the first bellwether is set to go to trial.

June 16, 2023: 353 new Paraquat lawsuits were added to the class action MDL last month. That pushes the total number of pending cases past 4,000 and marks the 2nd time this year that we have seen over 300 new cases in a single month. Around 1,700 Paraquat cases have been added since the start of the year.

June 12, 2023: Chevron and Syngenta AG moved last week for summary judgment in the MDL. The companies contend that plaintiffs' allegations, which link Paraquat to Parkinson's disease, lack the necessary scientific backing, claiming no peer-reviewed studies affirm this claim. If successful, this would lead to the dismissal of 3,700 claims in the Paraquat class action lawsuit.

Chevron and Syngenta argue that the plaintiffs' design-defect claims against them should be dismissed as Paraquat is an integral ingredient of the products in question, not a choice in design.

Furthermore, they assert that even if the allegations were shifted to a failure-to-warn theory, such claims would be preempted by federal law due to the EPA's stance that there is no established causal link between paraquat and Parkinson's disease.

Chevron also claims it is entitled to summary judgment as its predecessor exited the Paraquat market by 1986, while Syngenta states certain claims against it are time-barred.

The chance this motion succeeds is extremely low.

June 1, 2023: Early indications are that the continuing flood of new Paraquat lawsuits being filed in the class action MDL won't be slowing down anytime soon. Paraquat has been the fastest growing mass tort for the last 16 months, averaging around 200 new cases in the MDL each month. At the start of this year, however, we saw a brief slowdown in the volume of new monthly cases, prompting speculation that the litigation was at the end of its growth phase. That down tick has sharply reversed over the last 2 months and last month we saw a record high of 511 new cases. We could see a similar number of new cases this month. The MDL docket shows that hundreds of new cases have been transferred just in the last 10 days.

May 20, 2023: Chief Judge Rosenstengel recently issued a stern mandate in response to allegations surrounding improper actions involving deceased plaintiffs in ongoing multidistrict litigation. This directive was a response to the defendants' motion in February alleging some attorneys filed suits and submitted documents on behalf of deceased plaintiffs which undeniably happened.  This is not as bad as it sounds…  but it is not good.  So the court is putting in new requirements on plaintiffs' lawyers that might be the best thing for everyone and could help lead to an earlier settlement.

So the judge will trust plaintiffs' lawyers a little bit less.  Victims' Parquat lawyers are now required to certify several details pertaining to their clients, such as the current living status of the plaintiff, the counsel's communication with the plaintiff or the appointed representative of a deceased plaintiff's estate, and the date of the plaintiff's death.  The inability to provide this certification may lead to case dismissal. The court will also be evaluating cases that appear to be built upon dubious theories of proof. Referring to the voluntary dismissal of two cases due to evidentiary issues, the Judge highlighted her concern about cases presenting implausible liability theories. Consequently, all involved parties are instructed to identify such cases for potential dismissal. If defendants identify cases that seem unviable, they are to file a motion detailing these cases by June 20, 2023, offering plaintiffs an opportunity to respond.

Why could this punishment be a blessing in disguise?  Because defendants will be more comforatable offering reasonable Parquat settlement amounts when they trust the integrity of the inventory of lawsuits that have been filed.

May 15, 2023: There is certainly no sign of a slowdown in the volume of new Paraquat Parkinson's diseases cases being filed. Over the last month, 511 new cases were added to the Paraquat class action MDL, pushing the total case count to 3,730. That is the higest monthly volume of new cases since last year.

May 5, 2023: Are victims still filing new Paraquat lawsuits?  They are.  Yesterday, a Connecticut man filed a lawsuit directly in the MDL class action alleging his use of Paraqaut caused his Parkinson's disease.

May 3, 2023: Yesterday we talked about a Daubert hearing.  What is a Daubert hearing? A Daubert hearing is a pre-trial proceeding in U.S. federal court where a judge evaluates the admissibility of expert witness testimony based on the scientific validity and reliability of the methods used by the expert.  In this case, the big issue is general causation – is the science there to show Paraquat exposure causes Parkinson's disease.

During a Daubert hearing, the judge acts as a gatekeeper, determining whether the expert's testimony is based on scientifically valid and reliable methods and is relevant to the issues in the case. The judge may consider several factors, including whether the expert's methods have been tested, subjected to peer review, and have a known error rate, and whether the methods are generally accepted within the relevant scientific community.

Daubert hearings are terrifying for plaintiffs' lawyers because losing a Daubert hearing may mean all the cases are dismissed.  But the science in the Paraquat lawsuits is extremely strong.

May 2, 2023: Defense lawyers want to eliminate or limit plaintiffs' expert because that is their only chance to win.  But they are having little luck. The court has denied last week Defendants' Motion to Strike the Supplemental Expert Report of Dr. David A. Mortensen and Related Deposition Testimony, as the Special Master has informed the court that the defendants intend to address any remaining issues regarding Dr. Mortensen's report and testimony in their Daubert briefing. The pending motion was deemed moot and Defendants were instructed to raise any remaining issues related to Dr. Mortensen in accordance with the briefing schedule set forth in Case Management Order No. 17

April 29, 2023:  The MDL judge set new deadlines in prepartion for the first Paraquat lawsuit to go to trial later this year:

Summary judgment and Daubert motions must be filed by June 6, 2023
Responses to summary judgment and Daubert motions must be filed by July 10, 2023.
Replies regarding summary judgment and Daubert motions must be filed by July 28, 2023
Daubert hearing  and hearing for motions for summary judgment on August 21, 2023

April 27, 2023: Last month, we reported on a motion by Chevron and Syngenta to strike the rebuttal expert report of Martin T. Wells. The court denied this motion, finding that the report appropriately responds to the opinions and critiques of the Defendants' experts. The scheduled deposition of Dr. Wells for rebuttal will now proceed as planned. The court also ordered the parties to submit a proposed Case Management Order by April 19, 2023, outlining agreed-upon deadlines for the filing of summary judgment and Daubert motions, as well as any guidelines and limitations for these motions.

April 10, 2023: In addition to the Paraquat class action MDL pending in the federal court system, over 200 Paraquat lawsuits in Pennsylvania state courts have been consolidated into a state version of an MDL in Philadelphia. Recently, the judge presiding over the Paraquat class action in Pennsylvania ruled that new incoming plaintiffs can utilize a Short Form Complaint. The new SFC is very similar to the one being used in the federal Paraquat MDL.

March 27, 2023: As we continue to move forward toward the opening bellwether test trial in the Paraquat class action, the defense is now taking aim at another one of the plaintiffs' expert witnesses. Last week, lawyers for Syngenta filed a motion seeking to exclude testimony from the plaintiffs' expert statistician Martin Wells. Wells will testify that he performed a "meta-analysis" of various epidemiological studies and determined that the evidence supports a connection between Parkinson's disease and exposure to Paraquat. In moving to exclude his testimony, however, Syngenta claims that Wells cherry picked studies for analysis that would support his conclusion. The plaintiffs will get an opportunity to file a response in opposition and the motion will be resolved along with other motions to exclude prior to the bellwether trial.

March 16, 2023: Another 277 new cases were added to the Paraquat class action MDL over the last 30 days. This marks the second month in row of above average new case totals for the Paraquat class action and brings the total number of pending cases in the MDL up to 2,998.

March 1, 2023: As the first bellwether trial date in July inches closer, the parties in the Paraquat class action have begun battling over the admissibility of key expert witness testimony that the plaintiffs will use at trial to show the link between Paraquat and Parkinson's disease.

Most recently, the defendants have move to strike a supplemental expert report from David Mortensen. Mortensen is a professor of plant ecology at Penn State University and he is one of the plaintiffs key expert witnesses.

A month after Mortensen's deposition was take and 3 months after the deadline for expert reports had passed, the plaintiffs submitted a supplemental expert report from Mortensen following up on issues that arose during his deposition.

The defense lawyers immediately cried foul and moved to strike the supplemental report as untimely. The defense filed a reply in support of its motion last week and the issue should be ruled on soon.   


February 17, 2023: The Paraquat class action lawsuit has consistently averaged almost 200 new cases a month last year. But it started off in 2023 last month with just 69 new cases, the lowest monthly total since the start of the MDL.  But this month, saw a record high with 300 new Paraquat cases added to the MDL. That brings the total number of cases in the Paraquat class action up to 2,721.

February 2, 2023: Plaintiffs in the Paraquat MDL recently filed a motion seeking to compel a third-party scientific consulting company, Exponent Inc., to produce certain documents related to work it did for Syngenta relating to the potential health hazards of Paraquat. Exponent refuses to provide documents in response to a prior subpoena, asserting various boilerplate objections.

This week, Syngenta and Exponent filed responses opposing the motion to compel. The level of resistance to the product of these documents suggests that they could be very damaging to the defense position on causation and knowledge on the part of Syngenta.  Or it could just be defense lawyers being reflexively difficult.  It is hard to know sometimes.

January 17, 2023: Only 69 new cases were added to the Paraquat class action MDL over the last month, bringing the current total case count up to 2,352.

This is a significant downtick considering the Paraquat MDL averaged over 200 new cases a month last year. However, the MDL docket indicates that well over 200 new member cases have been opened over the last 30 days, so the number of new cases in the next monthly total will likely be very high.

If you are a plaintiff, you are perfectly fine with this litigation staying relatively small.  Paraquat settlement amounts are expected to be high.  It would be hard for the defendants to pay on these lawsuits if it was as large as 3M or Camp Lejeune. But the Paraquat is a tiny fraction of the size of those cases. This makes it easier to resolve the suits without completely disrupting their profitability.  This creates an opportunity for plaintiffs to get paid more and faster.

January 2, 2023: The Paraquat class action lawsuit increased in 2022, adding an average of over 200 new cases per month.

As we head into 2023, many wonder whether this pace will start slowing down.  The MDL docket reflects that over 150 new Paraquat Parkinson's disease lawsuits have been filed in the MDL in just the last two weeks alone.  But our expectation is still that this will slow down considerably in 2023 as we focus on the first trial and hopefully a global Paraquat settlement.  

December 23, 2022: The first Paraquat bellwether test trial in the federal MDL has been postponed yet again. Last week, MDL Judge Nancy Rosenstengel issued an Order postponing the opening bellwether trial to October 2023.

Initially, the first Paraquat bellwether trial was supposed to happen in November 2022. But some unforeseen circumstances have prompted multiple postponements recently. The most recent postponement came after depositions of expert witnesses were delayed past the deadline. 

These types of litigation delays are commonplace in mass tort litigation.  But that is little consolation for victims frustrated with delayed justice.  Imminent trial dates spawn settlements in any civil case but especially in the Paraquat litigation.  It is hard to find a plaintiffs' mass tort lawyer who does not have high hopes for this litigation.

December 17, 2022: 2022 has been a year of explosive growth for the Paraquat class action MDL. At the start of the year, there were only 482 Paraquat Parkinson's disease lawsuits pending in the MDL.

As of December 15, 2022, there are 2352 pending cases, meaning the size of the Paraquat MDL has increased by 390% this year. There appear to be no signs of a slowdown on the immediate horizon, as the recent MDL docket suggests we could see another 300 new cases added over the next monthly period.

November 1, 2022: As we continue to inch closer toward the start of the bellwether trials (now pushed back to July 2023), the flood of new Paraquat Parkinson's disease lawsuits over the last six months has continued.

Nearly 100 new Paraquat lawsuits have been transferred into the MDL in just the last two weeks alone. Meanwhile, the disputes between Paraquat lawyers on both sides over pretrial discovery issues continue. After the Special Master issued her report and recommendations, both sides filed responses objecting (in part).

October 1, 2022: In August 2021, the EPA granted interim approval for Paraquat to allow the controversial herbicide to remain available to authorized applicators while the agency continued its detailed assessment of the product's health risks.

In response, however, a non-profit foundation filed a lawsuit in federal court challenging the validity of the agency's decision. Now the EPA is asking the Court in that case to allow a voluntary remand which would give the EPA a chance to "reconsider" the risk-benefit analysis underlying its interim approval decision instead of having to defend the decision in court.

September 15, 2022: For a small class action lawsuit, the Paraquat litigation is getting big.

Over the last 30-day period (August 15 – September 15), the number of Paraquat Parkinson's disease lawsuits pending in the Paraquat MDL increased by 222, bringing the total number of cases on the docket up to 1,925. About a dozen cases were remanded back to state court during this time frame, so the actual number of new cases transferred in is even higher than 222.

The Paraquat class action rules allow plaintiffs from across the country to file their lawsuit directly in the MDL using the master pleading forms. So it is difficult to track what districts these new cases are coming from on the docket.

The rapid growth of the Paraquat lawsuit recently prompted the MDL judge to postpone the initial bellwether trial and expand the pool of bellwether discovery cases.

September 1, 2022: The Paraquat MDL Judge has selected a group of 20 additional cases from the Paraquat class action lawsuit for limited fact discovery. The list was randomly generated out of more than 1,700 currently pending cases. The Order requires that depositions of the plaintiffs in each of these cases must be concluded within 60 days, and a report summarizing the plaintiff's testimony must be provided to the Court. More developed discovery in these suits will help lawyers on both sides get a better feel for the inventory of Paraquat lawsuits to help better determine settlement amounts.

Meanwhile, the recent flood of new incoming Paraquat claims continues. Over the last two weeks, around 200 new Paraquat plaintiffs have been added to the MDL. The MDL class action judge cited the rising number of cases as one reason the order required additional plaintiff depositions.

August 29, 2022: Bad news. The first bellwether test trial in the Paraquat class action MDL was supposed to start in November 2022, with a second test trial to follow in March 2023.

Unfortunately, this trial date is getting pushed back. MDL Judge Nancy Rosenstengel issued a Case Management Order (CMO No.15) on Tuesday, canceling these dates and rescheduling the first bellwether trial for July 2023. In her Order, Judge Rosenstengel indicated that she allowed additional discovery time.

This is bad news because the best leverage for getting a defendant to offer reasonable settlement amounts is when a trial date is close. So this sets the Paraquat class action lawsuit back six months. But most lawyers representing victims in this litigation become more bullish on the viability of Paraquat lawsuits with each passing day.

(The latest Paraquat update in 2023 is that the trial dates are pushed back to October.)

August 15, 2022: Last month, 255 new cases were transferred into the MDL, the highest number of new cases in a month since the start of the Paraquat Parkinson's class action lawsuit. This brings the total number of Paraquat cases pending in the MDL to 1,703.

August 1, 2022: In terms of new case filings, the federal Paraquat lawsuit continues to be one of the hottest mass tort class action MDLs on the board. Between May 16 and June 15, 142 new Paraquat lawsuits were filed or transferred into the MDL, bringing the current number of plaintiffs at the mid-month count up to 1,292.

In the 12 days since that last monthly count, another 54 new Paraquat Parkinson's disease lawsuits have been filed and transferred into the MDL. During the previous 30-day period, we saw 168 Paraquat lawsuits added to the Paraquat MDL-3004.

In the last eight months, the Paraquat class action lawsuit has been averaging over 120 new Paraquat Parkinson's disease lawsuits each month. The influx of new cases in the Paraquat class action lawsuit has been consistent and not marked by the up-and-down fluctuations we have seen in other mass torts.

June 10, 2022: The judge presiding over the Paraquat class action lawsuit continues to push the parties toward a Paraquat trial this fall. The judge issued a discovery schedule extending many of the previous deadlines in the Court's initial scheduling order. Under the new order, the deadline for completion of fact discovery and medical examinations in the six bellwether trial cases will be July 25, 2022. This extension became necessary after the number of fact witnesses identified by the plaintiffs' Paraquat lawyers extended initial estimates, a concern we raised in our May 6, 2022, update below. However, the short and limited extension ensures that the bellwether trials remain on schedule.

May 16, 2022 Update: The Paraquat lawsuit is growing at an increasing rate. There are now 1,153 claims pending in the Paraquat class action lawsuit. The first week of May 2022 saw 57 new Paraquat Parkinson's disease lawsuits added to the Paraquat MDL in Illinois, making it the highest number of new Paraquat lawsuits filed or transferred into the MDL in a single week. The second week of May saw another 35 new cases opened in the Paraquat MDL, the second-highest weekly volume.

May 11, 2022 Update: Bayer suffered a loss in the Roundup cases yesterday that will significantly impact the Paraquat lawsuit. In the Roundup litigation, Bayer was pursuing an appeal to the Supreme Court arguing that Roundup cancer lawsuits were preempted by the federal law governing pesticides. So if Bayer won that appeal, the defendants in the Paraquat Parkinson's disease lawsuit could piggyback on that same argument and argue all Parquat claims should be preempted by federal law.

The Biden administration filed a brief yesterday urging the Court to reject this argument and stating that "approval of labeling that does not warn about chronic risks does not by itself preempt a state-law requirement." The Supreme Court had asked the Biden administration for their opinion before deciding whether to consider the appeal. This should effectively end any hope Bayer had of winning this argument. This will take a big arrow out of the defendants' quiver in the Paraquat lawsuits. Paraquat is also a pesticide governed by the same federal law. If the SCOTUS rejects Bayer's preemption argument, it will also preclude Chevron and Syngenta from pursuing the same legal argument in the Paraquat litigation.

May 6, 2022 Update: Victims want their Paraquat settlement money sooner rather than later. A key to that is keeping our trial date in November 2022. Trial dates in lawsuits like Paraquat are expected to lead to a large verdict that will drive settlement payouts or a settlement that will spawn other Paraquat settlements. So it is not good news that there is some reason to fear if that date will hold. (Update: the trial keeps getting pushed back, now December 2023.)

Judge Nancy J. Rosenstengel suspended the May 16, 2022 deadline to complete fact discovery and medical examinations for the Paraquat lawsuit slated for full workup for trial. The judge is likely frustrated/annoyed that the defendants have named 16 additional fact witnesses and plaintiffs' Paraquat lawyers have named 121 more fact witnesses, many of whom have not been identified by name.

Hopefully, the parties can find a path to get what needs to get done to get at least one case ready for a November 15, 2022 trial.

May 2, 2022 Update: The MDL judge in the Paraquat class action lawsuit has selected a group of six Paraquat lawsuits for the opening round of bellwether trials scheduled for the start of fall. The parties had previously picked a group of sixteen Paraquat claims. The attorneys began some limited pre-trial fact discovery to learn more about the specifics of these claims. Then lawyers for each side gave the judge a list ranking the sixteen cases in the order they would prefer as bellwether trials. The judge then picked out six cases from this group of sixteen. Lawyers are now vigorously conducting fact and expert pre-trial discovery to prepare these cases for trial.

April 14, 2022 Update: In the last two weeks, 44 new Paraquat lawsuits have been transferred into the MDL. At this rate, April 2022 would have the highest volume month yet for new filings. The parties submitted their class action bellwether selections to the Paraquat MDL judge last week. But those selections have yet to be made public.

April 1, 2022 Update: The monthly status conference in the Paraquat MDL will be held today, April 1, 2022, before Judge Nancy Rosenstengel. The agenda will include an update on the size of the litigation with a summary of new cases added to the MDL over the last month. The details regarding the upcoming bellwether trial selection process will also be up for discussion with Judge Rosenstengel.

March 21, 2022 Update: The Paraquat Parkinson's disease class action lawsuit continues to press forward. A pool of 16 cases has been identified for the first round of bellwether trials (8 plaintiff selections and eight defense picks). Fact discovery in these initial class action bellwether lawsuits will be concluded by the end of this month. Last week, the MDL Judge issued an order giving the parties until April 8, 2022, to submit a preference ranking of their 5 case selections to assist the court in scheduling the opening trials.

March 16, 2022 Update: There are now 875 Paraquat lawsuits in the MDL class action. This pesticide litigation has a much lower volume of victims than the Roundup lawsuits. This is relevant because fewer plaintiffs may ultimately mean higher Paraquat settlement amounts for victims. Why? It is easier for defendants like Chevron and Syngenta to offer reasonable individual settlement compensation payouts to victims when the overall settlement payout does not overwhelm the company's balance sheet.

March 3, 2022 Update: The judge in the Paraquat class action lawsuits ruled on several motions to dismiss previously filed by the defendants. Judge Rosenstengel ruled that the plaintiffs' public nuisance and Minnesota consumer protection were invalid and properly dismissed. That is no big deal. The remaining claims asserted by the plaintiffs in the Paraquat exposure lawsuit are allowed to move forward. Notably, Paraquat plaintiffs won on the statute of limitations/statute of repose issues that worried some Paraquat lawyers.

This clears the way for the opening round of bellwether trials in the MDL in 10 months. The first Paraquat lawsuit will go to trial on November 15, 2022. Pretrial discovery is going well for plaintiffs. So there is a strong possibility the defendants will offer reasonable settlements for Parkinson's disease plaintiffs before that first trial.

February 10, 2022 Update: As the Paraquat class action continues to grow, the MDL judge handed the plaintiffs' Paraquat lawyers a victory Tuesday in a minor discovery battle. The plaintiffs' lawyers were seeking transcripts of depositions from Syngenta corporate witnesses from a prior case in Illinois state court. The defense attorneys' objected based on privilege, which is a genuinely ridiculous argument. Yesterday, Judge Rosenstengel rejected the argument and ordered that the transcripts be produced.

It is a minor victory because it was expected. But, as our lawyers discuss below, the speculation is that the confidential settlement amounts in the Parkinson's disease Paraquat lawsuits in Illinois state court were very high. If this is correct, getting all the pretrial discoveries in that those pesticide claims may go a long way to large payouts for victims in the MDL class action.

February 4, 2022 Update: Over a dozen new paraquat lawsuits were filed yesterday in the Southern District of Illinois by plaintiffs who developed Parkinson's disease from occupational Paraquat exposure. The complaints name Syngenta Crop Protection LLC, Syngenta AG, and Chevron U.S.A. Inc. as defendants and assert the same general causes of action seen in previous paraquat cases (e.g., negligence and strict liability based on failure to warn). Paraquat lawyers have different ideas as to whether state or federal court is the most advantageous venue for victims of this pesticide.

February 1, 2022 Update: A group of 16 cases in the Paraquat class action was selected for the first round of bellwether test trials which will begin in November of this year. The plaintiffs selected eight of the cases, and the defense picked eight. Four out of the 16 will be picked for a trial. The MDL class action judge in this herbicide lawsuit ordered that all discovery be completed by June 17. So the lawyers have some work to do. Fact discovery is now fully underway in these 16 bellwether discovery cases, and plaintiff depositions are being taken over the next few weeks.

January 21, 2022 Update: There are now 589 Paraquat lawsuits in the MDL. That is up 107 since December, underscoring the increased pace of the Paraquat litigation.

A motion to dismiss was filed by the defense last month, arguing that certain cases were time-barred under the applicable statute of limitations. Plaintiffs opposed that motion arguing that the concealment of the dangers of Paraquat extended the applicable limitations period. This week, the MDL judge set a deadline of Monday, January 10, 2022, for the defendants to submit replies in support of their motion.

January 15, 2022 Update: Syngenta and Chevron settled a Paraquat lawsuit last year for a dozen or so plaintiffs with Parkinson's Disease in Hoffmann v. Syngenta Crop Protection, LLC. The settlement amount was confidential. But the word on the street is that there were large settlement amounts for the plaintiffs. Syngenta and Chevron desperately want to keep the amount of that Paraquat settlement and the testimony in those weed-killer lawsuits confidential. So these defendants have withheld some deposition transcripts in the class action. The plaintiffs' Paraquat lawyers seek relief from the court to order the defendants to produce these depositions.

December 20, 2021 Update: A few weeks ago, the Parkinson's disease Paraquat MDL class action judge issued a case management order. This order set key protocols and procedures for selecting the first pool of potential bellwether trial cases. Every judge in an MDL class action lawsuit does it differently. For the Paraquat lawsuits, an initial pool of 16 bellwether Zantac lawsuits will have eight cases picked by plaintiffs' lawyers and eight lawsuits selected by the defense lawyers. The Paraquat cases chosen must meet specific eligibility criteria to be selected.

Paraquat lawyers will have until March 31, 2022, to conduct fact discovery in the cases. This involves interrogatories, depositions, the production of documents, and other pre-trial discovery.

Based on the results of that fact discovery process, each side will get to strike two Paraquat lawsuits from the pool. The remaining lawsuits will then engage in expert discovery. This involves the medical doctor who will testify whether the victim's Paraquat exposure caused Parkinson's disease. The twelve remaining claims will be scheduled for the opening round of bellwether Paraquat trials beginning March 2023.

Getting a trial date in the Paraquat Parkinson's class action is critical to pushing the defendant to offer reasonable settlement amounts to resolve these claims.

December 4, 2021 Update: There are now 319 lawsuits pending in the Paraquat MDL. The MDL class action judge recently issued an order requiring all incoming Paraquat plaintiffs to complete a Plaintiff's Assessment Questionnaire (PAQ). The PAQ is like a preliminary discovery request that requires each plaintiff who alleges Parkinson's disease from Paraquat exposure to provide certain documents and answer a series of questions regarding their work and medical history and detailing their alleged exposure to Paraquat.]

November 11, 2021 Update: Plaintiffs' lawyers owe the court a response to the Defendants' motions to dismiss that argues some cases filed in the Paraquat class action are time-barred because of the statutes of limitation and arguments that some of the Parkinson's disease lawsuits fail to adequately state a claim. The plaintiffs' attorneys' response was due on December 13, 2021. Our Paraquat lawyers would be surprised if the court dismissed any individual lawsuits in the Paraquat class action.

October 1, 2021 Update: Our Paraquat lawyers have two new updates of interest.

First, despite calls to ban the use of paraquat in the U.S., in July, the EPA re-approved the controversial herbicide for use by licensed farmers. In September 2021, a collection of public interest groups filed a petition in the 9th Circuit Court of Appeals seeking to overturn the EPA's decision. If the petition is successful, there could be a Paraquat ban or even a Paraquat recall in the U.S.

A French research study published in September 2021 found that paraquat exposure in pregnant women can cause a type of prenatal neurodevelopmental toxicity similar to Parkinson's Disease. This is the first study to link paraquat exposure to prenatal health defects. This could become a big deal in the Paraquat lawsuits if children are also victims.]

Defendants timely filed motions to dismiss, arguing that many cases in this MDL are partially or fully time-barred by statutes of limitation and repose, that the public nuisance claims filed by some Plaintiffs fail to state a claim, and that Plaintiffs' warranty and consumer protection claims must be dismissed for a variety of reasons specific to state law.

August 19, 2021 Update: Last month, MDL class action District Court Judge Nancy Rosenstengel held an initial conference with the plaintiff and defense counsels. She announced that she would set a schedule that will timely ensure that these Paraquat lawsuits go to trial. The court anticipates that the first Paraquat/Parkinson's Disease bellwether jury trial will begin on November 15, 2022. It also scheduled the final pretrial conference for October 27, 2022.

This may not feel like soon to victims eager for a settlement. But for plaintiffs' Paraquat lawyers, it is good news to get a trial date because it is the first big step towards getting victims the settlement compensation amount they deserve.
What Is Paraquat?
Paraquat (paraquat dichloride) is a highlyextremely toxic chemical used to kill weeds, grass, and other unwanted vegetation. It is applied by spraying. Despite being banned in many countries, Paraquat is one of the world's most widely used industrial herbicides.
Paraquat is legal in the U.S., but the Environmental Protection Agency (EPA), classifies it as a "restricted use" chemical. This means that Paraquat can only be bought and used by commercially licensed users (primarily commercial farmers).
The Paraquat herbicide has been around since the early 1960s. The use of Paraquat has rapidly increased over the last 20 years because weeds have become resistant to other products. Paraquat is the most commonly used type of restricted-use herbicide in the U.S. Paraquat comes in liquid form and is sprayed onto crops in various ways. Paraquat has a bright blue color and a distinctive odor.
Paraquat herbicides are manufactured and sold under several brands or product trade names. Gramoxone is the most common trade name for Paraquat. Gramoxone is manufactured by Syngenta, a global agrochemical company based in Switzerland.
The Paraquat lawsuit is reminiscent of the Roundup cancer lawsuit, a very successful litigation for victims. (Eerily, they both have similarities to Agent Orange.) They are both used as non-selective herbicides. With Roundup, the injury is not Parkinson's disease but cancer.
These products contain Paraquat:
Gramoxone
Ortho-Paraquat
Devour
Blanco
Paraquat Concentrate
Helmquat 3SL
Bonedry
Cyclone SL 2.0
Firestorm
Para-Shot 3.0
Paraquat Is Extremely Toxic
Paraquat is an extremely toxic chemical that is highly poisonous if ingested. Paraquat has been used commercially in the U.S. since 1964. The health risks associated with Paraquat – most notably the risk that exposure causes Parkinson's disease – have led 32 countries to ban the chemical entirely.
How toxic is Paraquat? In 2023, we are told just about everything is toxic. So let's put Paraquat's toxicity in context. If you take one sip of Paraquat, it will kill you 70% of the time. That tells you a lot.
So what other harm can this toxic chemical cause? Over the last 12 years, a growing body of scientific research has established that normal occupational exposure to Paraquat can cause Parkinson's Disease.
Parkinson's Disease is a neurologic disorder in which the deterioration of specific cells in the brain gradually impairs the brain's ability to control motor functions in the body. Symptoms of Parkinson's include impaired movement, tremors, lack of balance, and muscle stiffness.
As one of the defendants, Chevron, readily admits, there are over 1,000 articles in the medical literature discussing Paraquat's toxicity on animals and humans. The Parkinson's disease link came later. One of the first studies showing a link between Paraquat exposure and Parkinson's Disease was published in the American Journal of Epidemiology in 2009.
The study found that individuals who lived within 1600 feet of areas where Paraquat was regularly sprayed had a heightened risk of Parkinson's Disease. The results of a more comprehensive study were published in 2011. This study concluded that there was a "strong association" between Paraquat exposure and Parkinson's disease.
These first two studies faced sharp criticism over study techniques and reliability because they were not "controlled" studies. In 2014, however, these doubts were put to rest when five separate case-controlled studies were published in the Annual Review of Pharmacology and Toxicology.
These studies confirmed that exposure to Paraquat resulted in a greater risk of Parkinson's disease. This eventually prompted the EPA to announce in 2016 that it was conducting its safety review of Paraquat.
On March 24, 2021, Greenpeace published "The Paraquat Papers." This piece details the history of attempts by Syngenta and its predecessor, Imperial Chemical Industries (ICI), to conceal Gramoxone's risks from the public. Allegedly, ICI claimed to have added the emetic PP796 in Paraquat products to prevent fatal poisoning.
Despite this claim, internal company documents revealed that it failed to do this. It also revealed the company knew of this problem. ICI continued to assert PP796's effectiveness publicly. Additional documents suggest that it mischaracterized the addition of PP796 to keep Gramoxone on the market.
Jon Heylings, a former Syngenta toxicologist, also reported on the low PP796 levels in Gramoxone. He warned that the emetic levels were insufficient to induce vomiting in individuals who swallowed the "minimal lethal dose."
Heylings claimed that a former toxicologist for Imperial Chemical Industries (ICI), Syngenta's predecessor, manipulated data to incorrectly suggest that humans were ten times as sensitive to PP796 than the other three animals researchers used in tests.
He reported these issues to his superiors in several memos. Heylings argued that the former toxicologist's data "misled" the business. He advised that higher PP796 doses would reduce the paraquat poisoning fatality rate.
Nonetheless, ICI ignored Heylings' concerns. The PP796 levels in Gramoxone became the United Nations Food and Agricultural Organization's standard for paraquat-based weed killers.
PP796 and Paraquat: the accidental swallowing of Paraquat is a whole different issue but it may have caused the deaths of thousands of people worldwide
Paraquat mice study on inhaling Paraquat and the loss of smell, which underscores the toxicity with limited exposures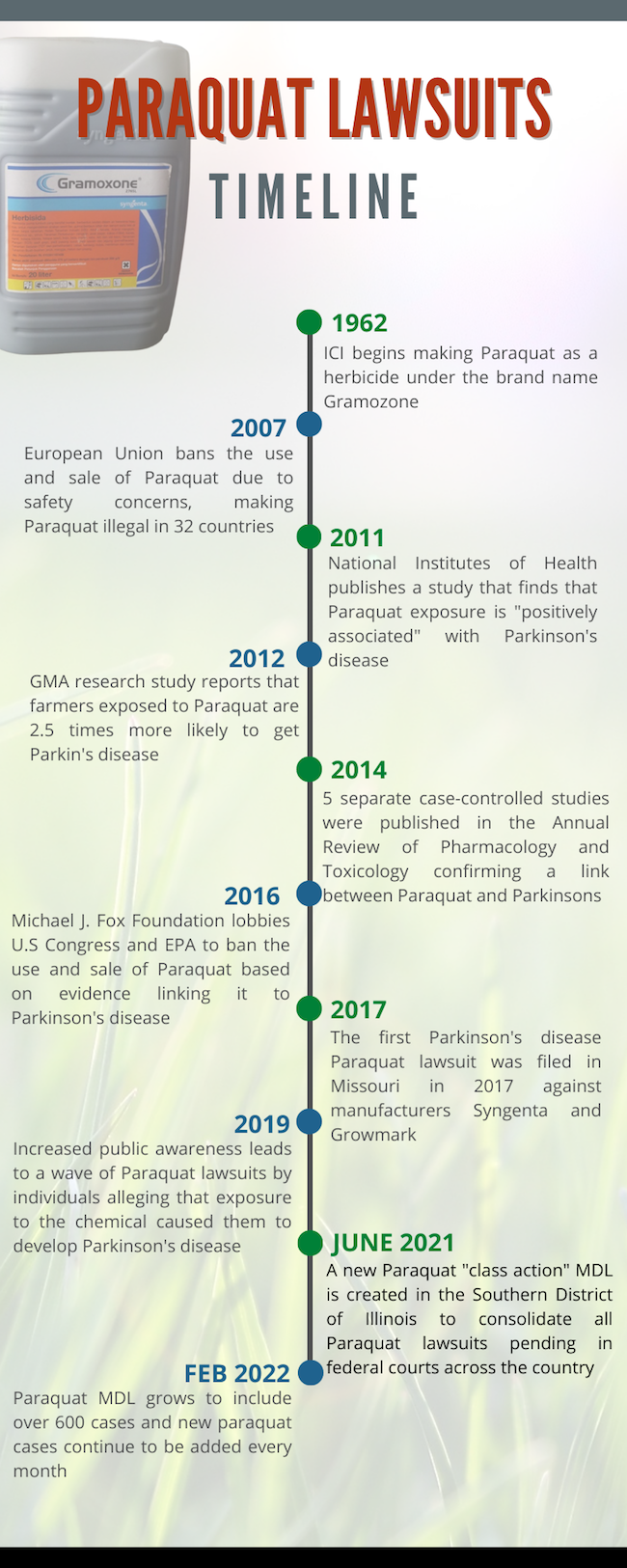 Parkinson's Disease
Parkinson's disease is a progressive neurodegenerative disorder of the brain that alters the central nervous system's ability to control movement. This can lead to motor symptoms such as tremors, slowed movement, freezing of gait, slurred voice, poor balance, muscle spasms, and stooped posture.
Unfortunately, we do not have a cure for Parkinson's disease to slow or stop the progression of this insidious disease. There are medications to relieve the symptoms. But many have side effects that cause more disruption than the disease.
Paraquat is believed to cause Parkinson's disease because it causes oxidative stress. Paraquat kills plants by creating oxidative stress that causes the degeneration and death of plant cells.
Scientists know that oxidative stress causes the death of dopaminergic neurons in the substantia nigra pars compacta ("SNpc") in the human brain. This impacts dopamine production. Dopamine is the chemical that transmits motor signals from the brain throughout the body.
So the same oxidation stress that makes Paraquat toxic to plant cells also makes Paraquat toxic to nerve dopaminergic neurons. So it makes sense that Paraquat exposure would increase the risk of Parkinson's disease.
Paraquat Lawsuit
The link between Paraquat and Parkinson's Disease may have been known to manufacturers for years. But it was never publicly disclosed. This means that companies who manufactured and sold Paraquat can be held liable for selling a dangerous product without proper warnings. There are also Paraquat drifter lawsuits for victims who lived near farms and were exposed to high levels of Paraquat. Will these drifter Paraquat lawsuits be more difficult? Absolutely. But they can be won.
Individuals who used or were exposed to Paraquat and subsequently diagnosed with Parkinson's may be entitled to significant financial compensation. As we discuss below, our lawyers think the settlement amount in the Paraquat lawsuits will be high.
The first Parkinson's disease Paraquat lawsuit was filed in Missouri in 2017 against Syngenta, the Swiss-headquartered, Chinese-owned agrochemical company that now makes the drug, and Growmark (another company that makes Paraquat products).
The plaintiffs in the lawsuit included farm owners and agricultural laborers who either applied to Paraquat or worked on farms where Paraquat was used and later developed Parkinson's disease. Several other similar Paraquat weed killer lawsuits have been filed in other states since then.
There is now a Paraquat class action MDL. This means all Parkinson's disease lawsuits in federal court will be consolidated under one judge in what is called an MDL.
When is the first Paraquat trial? As our Paraquat lawyers talk about in the August 20, 2022, update above, there will be a trial in July 2022. Attorneys on both sides are in the discovery phase of the Paraquat litigation.
The best case scenario is that this first Paraquat lawsuit never goes to trial and there is a global settlement in which all Parkinson's disease plaintiffs receive an agreed-upon settlement payout.
What Is the Average Settlement for a Paraquat Lawsuit?
The first Paraquat trial is six months away. There have not been any settlements yet outside of the Illinois lawsuits that were filed long before the Paraquat class action lawsuit.
Based on settlements payouts in prior cases involving similar claims and injuries – and, frankly, the speculation about the settlement amounts in the Illinois lawsuits – our lawyers believe the average per person Paraquat lawsuit settlement in the highest settlement tier could yield a compensation payout between $250,000 and $600,000 (our attorneys increased our projected Paraquat settlement compensation amounts in 2022 – twice – based on what we have seen and from talking to other Paraquat lawyers because the cases are going very well). Almost certainly, there will be individual settlements above that range.
Our Paraquat lawyers have revised our expected average settlement amounts as this litigation has progressed. These are very good cases for the plaintiffs with what our attorneys believe have a high probability of a successful settlement or jury payout.
How Many Parkinson's Disease Paraquat Lawsuits Have Been Filed?
As of  December 2022, there were over 2,300 Paraquat Parkinson's disease lawsuits pending in federal courts and approximately another 200 or so in state courts. The number of claims in the Paraquat class action lawsuit will continue to increase.  Our law firm is increasingly getting calls from victims who had Paraquat exposure and have now developed Parkinson's disease. But we do not expect the litigation to grow in 2023 as it has in 2022.
How Do I Know if I Was Exposed to Paraquat?
In the U.S., Paraquat is only legal for use by licensed applicators (commercial farmers). This means that you would only be exposed to Paraquat if you worked on a farm or lived near a farm where the herbicide Paraquat was applied.
Who Is Being Sued for Paraquat?
The central defendants in the Parkinson's disease lawsuits have been Syngenta (a Swiss agrichemical company), and Chevron Phillips Chemical Co. Syngenta is the current manufacturer of paraquat, and Chevron Phillips makes and sells Gramoxone (which contains paraquat) in the U.S.
What Do I Have to Do to Bring a Parkinson's Disease Paraquat Lawsuit?
It is little for a victim to do except have a lawyer file a Paraquat lawsuit for you and wait and hope these Parkinson's disease lawsuits yield a global settlement amount. When you bring a Paraquat lawsuit, you do have to fill out some paperwork. For many, your efforts will be limited to this questionnaire. Otherwise, there is not much for victims need to do except let the Paraquat lawyers fight for a fair settlement.
Example Paraquat Lawsuit
Let's talk about a recent Paraquat lawsuit that is somewhat typical.
David Culpepper of Calhoun County, Florida, became one of the most recent plaintiffs to join the ongoing Paraquat litigation. Culpepper filed a Paraquat product liability lawsuit against Syngenta and Chevron. Culpepper filed his Paraquat lawsuit directly in the Parkinson's class action MDL in the Southern District of Illinois rather than filing in Florida and having the case transferred into the MDL.
Culpepper alleges that he was occupationally exposed to Paraquat when he worked as a farmer in Calhoun County, FL, from the 1970s to the 1980s. During these ten years as a farmer, Culpepper alleges that he experienced regular and direct Paraquat exposure when he mixed and applied it to crops and from direct contact with sprayed plants. In addition to his ten years of occupational exposure, Culpepper's home since 1956 is surrounded by farms where Paraquat is used. So he has both occupational exposure and drifter exposure.
Culpepper was diagnosed with Parkinson's disease in September 2019. His lawsuit alleges that he developed Parkinson's disease due to his prolonged exposure to Paraquat. Culpepper's Paraquat Parkinson's lawsuit asserts that the defendants knew or should have known that Paraquat was toxic and could cause neurological injuries.
Culpepper's Paraquat suit asserts causes of action for failure to warn, defective design, general negligence, breach of warranty, and punitive damages.
Contact Us to File Your Paraquat Lawsuit
One million Americans have Parkinson's disease. If even 10% of these Parkinson's cases are from Paraquat, that is 100,000 possible plaintiffs. Given the severity of Parkinson's disease, we expect to continue to see more lawsuits filed.
The Paraquat attorneys at Miller & Zois are currently seeking new Paraquat cases. If you used or were exposed to Paraquat and you have been formally diagnosed with Parkinson's Disease, you may have a valid Paraquat lawsuit.
Contact a Paraquat lawyer today to see if you qualify for a Paraquat Parkinson's lawsuit. You can reach us at 800-553-8082. You can also contact us online for a free consultation.