This page is about the class action talcum powder lawsuit. Our attorneys provide the latest news and updates in the talcum powder litigation.
Our talc powder lawyers also discuss the expected settlement amounts victims can expect for compensation and when these lawsuits should resolve.
If you have a baby powder lawsuit to file, don't delay. You may risk missing out on a settlement payout or jury verdict. Call our attorneys today at 800-553-8082 or fill out his quick and free case evaluation form.
March 22, 2023 Update

Johnson & Johnson's bankruptcy subsidiary, LTL Management, has failed to win a reconsideration of its bankruptcy case from the Third Circuit Court of Appeals. Today, the court upheld its January ruling that LTL's bankruptcy was improper. J&J announced today its intention to ask the Third Circuit to pause the ruling for an appeal to the Supreme Court.

March 16, 2023 Update

7 new cases were added to the Talcum powder class action MDL over the last month, bringing the total number of pending cases up to 37,522. This is significant because it marks the first time that new cases have been added to the MDL in over 14 months. New talc lawsuits had been frozen by the automatic stay that took effect when J&J implemented its Texas 2-step bankruptcy strategy. 

February 23, 2023 Update

Congressmen Steve Cohen (D-Ten.) is calling for a federal investigation into the healthcare costs associated with Johnson & Johnson talcum powder products. In a letter to the U.S. Government Accountability Office (GAO) Rep. Cohen claimed that J&J knew for years that asbestos in its talc products was harmful but did nothing about it. Cohen wants the investigation to determine how much federal tax dollars have been spent on healthcare claims related to talcum powder injuries.

February 17, 2023 Update

For the last 14 months, new talcum powder lawsuits against J&J and its subsidiaries have – maddeningly – been barred because of the automatic bankruptcy stay. The automatic stay is part of the bankruptcy law that protects debtors from being sued while the bankruptcy is still pending. This stay has been in place in the talc litigation since J&J launched its controversial bankruptcy strategy a little over one year ago.

Now that the 3rd Circuit has rejected that strategy, the bankruptcy will be formally dismissed in the next few days, ending the automatic stay, and new talc lawsuits can be filed once again. On Monday, a judge in California confirmed this will be the new reality soon. The court ruled that a talc case involving a 24-year-old with terminal cancer could proceed to trial.

February 15, 2023 Update

Yesterday in New Jersey, U.S. Bankruptcy Judge Michael Kaplan stated that he plans to dismiss the bankruptcy case in response to the 3rd U.S. Circuit Court of Appeals ruling. When the Circuit mandate is issued, he will "issue an order dismissing the case," Kaplan said during today's hearing.  J&J has asked the full 3rd Circuit to hear the case, which would delay the process.  But this is probably unlikely.

February 3, 2023 Update

As the baby powder class action lawsuit gets revved up to spring back into action, there is a new judge.  Judge Freda L. Wolfson announced her retirement this week. The MDL panel is replacing Judge Wolfson with Judge Michael A. Shipp, who was nominated to the federal bench in 2012.

January 30, 2023 Update

Today the 3rd Circuit Court of Appeals rejected J&J's controversial attempt to spin off thousands of talcum powder claims into bankruptcy.  The appellate court dismissed the chapter 11 bankruptcy filed by the subsidiary entity J&J created to assume the mounting talc liabilities. J&J's stock dropped 3% on the news. This major win for plaintiffs will have far-reaching implications for other mass torts.  

If you are a plaintiff in the talc litigation, this ruling means you are more likely to get more money and faster.

Here is the opinion.

January 2, 2922 Update

The Third Circuit Court of Appeals in Philadelphia heard oral arguments late last year from victims' lawyers challenging the validity of J&J's bankruptcy. As most of you know, J&J created a new corporate entity called LTL Management, transferred all of the talc liabilities to it, and then LTL prompted filed bankruptcy two days later.

The issue for the 3rd Circuit is whether this was permissible, or whether the bankruptcy spin-off was filed in bad faith and should be dismissed. The panel of judges hit J&J's attorney with many tough questions that led to some hard-to-swallow answers. The court expressed concern that allowing this would spark a wave of similar bankruptcy filings by financially solvent companies looking to shed litigation liabilities.

The larger point, underscored by the U.S. Trustee who is involved because of the bankruptcy, is that this was never the intention of Congress when devising the Bankruptcy Code that companies who are making a profit and doing quite well could spin off a division and put claims of just one type of creditor – talcum powder victims, in this case – into bankruptcy.  Similarly, some in Congress have criticized J&J's efforts to "manipulate bankruptcy laws to evade accountability" from juries. 

The Trustee points out that this is not the first Chapter 11 case to use bankruptcy as a sword to keep lawsuits away from juries, it may be the "first to consider directly whether such a strategy is consistent with the provisions and purposes of the Bankruptcy Code." Regardless of Texas law, it is not.

Reading the tea leaves of judges' questions can be a fool's errand. And, indeed, J&J's lawyer came prepared for everything the defendants threw at him.  But it is hard not to have some hope after this hearing. Hopefully, we will get a ruling soon to help talc and mass tort victims everywhere.

August 12, 2022 Update

Johnson & Johnson announced that it will no longer sell products containing talcum powder by the end of 2022. J&J has raised eyebrows selling talc products internationally but discontinuing distribution in the U.S. and Canada. Now any remaining baby powder products will be transitioned from talcum to cornstarch by 2023.

The announcement comes as J&J continues its effort to force a resolution of thousands of talcum powder cancer lawsuits in bankruptcy. The Third Circuit Court of Appeals is set to decide an appeal later this year that will determine whether J&J can continue with this approach.

August 3, 2022 Update

Oral argument for the appeal to the 3rd Circuit challenging J&J talcum powder bankruptcy filing has been set for Thursday, September 22, 2022. This significant hearing has implications for the talcum powder class action lawsuit and every MDL mass tort in the country. The outcome of this appeal has taken on additional significance as 3M recently implemented a similar strategy to handle the 3M earplug class action in bankruptcy.

The hearing is next month. But the wheels of justice move slowly. Our lawyers would expect a decision on the appeal before the end of 2022. Either side could decide to appeal the decision to the Supreme Court. This could lead to more delays, but a win for plaintiffs could lead to J&J throwing in the towel and offering reasonable settlement amounts to victims. In this case, it could be another six months before we get a final resolution.

July 28, 2022 Update

Could a settlement be in the works in the talcum powder ovarian cancer class action lawsuit? Probably not. But maybe. Yesterday, the judge overseeing the controversial J&J talcum powder bankruptcy proceeding appointed a well-known independent expert to provide a settlement value assessment of the pending talcum powder claims to facilitate settlement negotiations.

The expert appointed by the bankruptcy court is Kenneth Feinberg, a prominent mass tort mediator who was most recently achieved a successful $11 billion settlement in the Roundup litigation. The bankruptcy judge did not set a specific deadline, but asked Feinberg to submit a valuation report "before the weather turns cold."

July 20, 2022 Update

The appeal of J&J's talcum powder bankruptcy remains pending. In the meantime, the talc powder class action lawsuit plaintiffs have filed a motion asking the bankruptcy judge to allow them to submit their own, competing proposal for settlement compensation payouts for claimants if the bankruptcy is allowed.

Under the current process, only J&J will get to submit a compensation proposal for approval by the bankruptcy judge. The talc plaintiffs are simply asking Bankruptcy Court Judge Michael Kaplan to allow them to participate in the process by submitting a different plan for his consideration.

The selection and approval of any compensation plan will ultimately be within Judge Kaplan's sole discretion. Of course, we are hoping that Third Circuit overturns all this bankruptcy nonsense and we can get back to trying to reach fair settlement amounts in the baby powder lawsuits for victims using the same process for justice used in mass tort lawsuits.

July 15, 2022 Update

There are now 37,514 talcum powder lawsuits pending in the MDL class action. No matter how this bankruptcy appeal goes, this litigation continues to grow, and victims will demand reasonable settlement amounts to resolve their lawsuits.

July 4, 2022 Update:

The talcum powder plaintiffs are pursuing an appeal to the Third Circuit challenging J&J's effort to resolve its talc settlement responsibilities through a bankruptcy proceeding. Yesterday, lawyers for the talcum plaintiffs filed their initial appeal brief with the Third Circuit. J&J lawyers will have 30 days to file their reply brief, and we could get oral arguments scheduled sometime around October. A decision before the end of the year is certainly possible, but it could be longer. Our talcum powder lawyers struggle to imagine a scenario where the Third Circuit approves this bankruptcy.

June 20, 2022 Update:

For months, Judge Michael Kaplan, the bankruptcy judge presiding over J&J's latest effort to resolve the 38,000 pending talcum powder claims, has allowed the automatic bankruptcy stay to continue protecting J&J from further claims.

Judge Kaplan kept the stay in place to allow J&J and the plaintiffs to negotiate a global settlement of the talcum powder cases within the bankruptcy proceeding.

At the most recent status conference, Judge Kaplan expressed frustration that the settlement negotiations are not progressing. He also indicated that he might partially lift the stay to allow a bellwether talcum powder lawsuit to go to trial. The hope is that allowing the bellwether trials (or at least threatening to allow them) will help facilitate the settlement discussions.

Judge Kaplan also joked about how the Third Circuit overturning his decision to allow J&J's Chapter 11 might not be such a bad thing. Joking aside, our talcum powder lawyers still believe there is a good chance of this happening. This would take talcum powder settlements out of bankruptcy court and back to being decided by a jury if a settlement cannot be reached.

April 21, 2022 Update:

A federal bankruptcy judge is allowing Johnson & Johnson's insane bankruptcy plan to pay the smaller settlement amounts to victims. This decision will be appealed, and the litigation will continue. But this is a tough pill to swallow, and Congress is already discussing legislation to overturn this decision.

February 22, 2022 Update:

While the baby powder lawsuits hang in abeyance, waiting to hear a bankruptcy judge's ruling on J&J's controversial bankruptcy plan, a consumer watchdog group is publicly calling for the company to voluntarily withdraw its talcum powder products from international markets. J&J has already pulled its talcum powder products from the U.S. and Canada shelves.

February 9, 2022 Update:

By the end of February, a federal bankruptcy court will decide whether J&J will be permitted to use its highly controversial bankruptcy strategy to curtail the company's future liability for the talcum powder lawsuits. J&J's plan, known as a "Texas two-step," seeks to resolve 38,000 pending talcum powder claims by transferring liability for those claims into a spin-off entity with only $2 billion in assets and having that entity file for bankruptcy. A ruling from the bankruptcy judge on whether J&J will be permitted to move forward with this is expected this month.

January 3, 2022 Update:

This is a big year in the talc powder litigation. Last month, U.S. Trustee's office went on record objecting to J&J's using legal powerhouse Jones Day as bankruptcy counsel, citing the lawyers' representation of J&J in the baby powder ovarian cancer lawsuits. Our talcum powder lawyers continue to predict this bankruptcy gambit fails. But it remains to be seen how it will play out.

December 14, 2021 Update:

It is sometimes easy to forget that individual states are also plaintiffs in the talcum powder lawsuits against Johnson & Johnson. Yesterday, the United States Supreme Court rejected J&J's argument that a lawsuit filed by the state of Mississippi should be dismissed.

The Mississippi lawsuit is grounded in the same underlying facts as the baby powder lawsuits filed by individual victims: the failure to warn women of the risk of ovarian cancer with talcum powder violated state law.

October 14, 2021 Update:

There has been a recent flurry of talcum powder verdicts. J&J has recently scored some victories in talc trials. The last four talc trials have resulted in three defense verdicts and one $26.5 million verdicts for the plaintiff.

So we have lost 3 out of 4? Right. But turn the kaleidoscope. The average compensation payout for talc powder victims is $4.4 million (the St. Louis defense verdict had three plaintiffs – so $26.5 million divided by 6). That changes how you look at the won-loss record, right? J&J has to bake that into the cake when calculating settlement amounts for future talcum powder lawsuits.

In August, a California jury awarded $26.5 million to a plaintiff in a talc case against J&J. This was not ovarian cancer but mesothelioma after two decades of baby powder exposure. A series of losses in talc trials around the country have since followed this initial victory.

Earlier this month, three plaintiffs lost a J&J baby powder trial in St. Louis (in the same courthouse that awarded $4.7 billion in a talc case three years ago).

The following week, a six-week jury trial in a talcum powder case in Philadelphia resulted in another surprising defense verdict in favor of J&J.

Most recently, a jury in conservative Richmond County Georgia handed J&J yet another defense victory in a talc baby powder cancer lawsuit.

Currently, the state court cases are speeding past the MDL lawsuits with upcoming trials in Florida, California, and New Jersey. So more baby powder verdicts are coming, and these verdicts will be relevant to the calculation of settlement amounts in the talcum powder lawsuits in the future.

September 27, 2021 Update: 35,779 talcum powder lawsuits are 35,779 talcum powder lawsuits filed in the MDL class action. This litigation is still growing. Call a talc powder lawyer today if you think talc baby powder might be linked to your ovarian cancer. Call us or call someone else. But you do not want the statute of limitation to pass and lose your rights to bring a lawsuit against Johnson and Johnson in the future.

Disappointingly, plaintiffs lost Johnson & Johnson baby powder ovarian cancer lawsuit in Philadelphia state court last week in the Kleiner case after a six-week trial. Three plaintiffs also lost another J&J baby powder lawsuit in St. Louis last week (in the same courthouse that awarded $4.7 billion in a talc case three years ago. So that is three talc powder losses for victims in 2021 and two in the last week.

There is another case in trial right now in a Georgia state court that will hopefully yield a better outcome. Right now, the state court cases are speeding past the MDL lawsuits with upcoming trials in Florida, California, and New Jersey.

September 2021 Update: In the latest ongoing talc trial (this one in St. Clair County, Illinois), the trial judge held defendant Johnson & Johnson in contempt after one of the company's top executives, Dr. Susan Nichols, refused to appear in court for cross-examination after testifying for the defense. The judge struck Nicolson's testimony from the record and allow the plaintiffs to instruct the jury on what would have been established on cross-exam. But, ultimately, J&J did win the trial. The jury found that talc powder did not cause the victim's death.

July 2021 Update: The latest count of talcum powder lawsuits in the MDL class action is 34,090. This is the second-largest MDL class action in the country today. The J&J baby powder settlement that our lawyers discuss below will reduce the number of outstanding cases. But new talc lawsuits are being filed every week.

June 2021 Update: New Supreme Court decision will likely increase settlement compensation in the talcum powder lawsuit. See the update below.

May 2021 Update: Things are happening fast in the talcum powder lawsuits and there is still time to hire a lawyer and bring a claim. A massive $100 million settlement for about 1,000 ovarian cancer lawsuits has been reached between Johnson & Johnson and plaintiffs' talcum powder lawyers. More recently, J&J announced it was earmarking $4 billion to cover the anticipated cost of the talcum powder lawsuits (see more below). Our talcum powder lawyers will continue to update this page with new settlement information on the talc powder lawsuits. Come back to this page for more updates and the latest news.
Talcum Powder and Ovarian Cancer
Mainly in China, Talc is mined from the ground like copper or gold. Baby powder is 99% talc. Shower to Shower is about 50% talc.
Approximately 24,000 women get ovarian cancer every year in the United States. Sadly, 14,000 women die a year of cancer.
As women apply talcum powder products around their genital area, specks of talcum can travel into the ovaries from the fallopian tubes. This is called transmigration. These dangerous talc particles can remain lodged in a woman's ovaries for years.
It is alleged that talcum remains trapped in a woman's ovaries and leads to the growth of ovarian cancer cells. More troubling is the evidence that suggests that Johnson & Johnson was aware of peer-reviewed medical journal studies dating back 25 years ago that concluded that 10% of all ovarian cancer diagnoses per year were related to genital talc.
Take a breath and digest this. With COVID, we have become more immune to death statistics. But the allegation is that J&J knew that 1,400 women were dying of their product and similar products and did absolutely nothing. The company never told the government or the FDA. Because this is a cosmetic product, the FDA did not require proof of safety to put and keep talc on the market.
So the foundation of the Johnson & Johnson talc lawsuit is that they knew they were selling a product that contained a cancer-causing agent and were aware of this for decades and put blinders on, and did not warn their customers of the grave risks of the product.
Many but not all studies have found that talcum powder does increase the risk of developing ovarian cancer but as much as 20% to 30%. Are the talcum powder ovarian cancer studies perfect and unanimous? They are not. But there is increasing evidence that women should avoid talcum powder because of its link to ovarian cancer. That is the premise of the class action talcum powder lawsuit.
Talcum powder's relationship with ovarian cancer is not a recent discovery. The studies date back to 1971. Despite the numerous studies over more than four decades, talcum baby powder manufacturers have deemed the research inconclusive.
More importantly, the manufacturers have not provided notice of talcum powder's severe side effects on this feminine hygiene product. This omission has been the spark of recent litigation that has led to some stunning verdicts in these Johnson and Johnson lawsuits.
The latest updates on the science of talcum powder lawsuits
Talcum Powder Lawsuits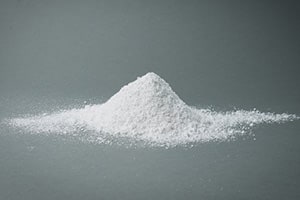 The first talcum powder product liability lawsuit: A woman is diagnosed with ovarian cancer. She is just 49 years old. Before her diagnosis, the woman had dusted Johnson & Johnson baby powder between her legs every day for 30 years. The baby powder contains talc as one of its ingredients.
Multiple doctors found talc particles embedded in cancerous tissues removed from the woman's body. The woman filed a lawsuit against Johnson & Johnson in South Dakota District Court. Her suit alleged that talc from the Johnson & Johnson baby powder had caused her cancer and contended that Johnson & Johnson should have warned about the link between talc and ovarian cancer on its products' labels.
The court did not say that talc was the cause of the woman's cancer. However, the court said there was enough evidence supporting the link between talc and ovarian cancer to require Johnson & Johnson to warn women about the risk. That is what these cases are about, the failure to warn of the risk that they knew about.
That is it. If J&J had warned of the dangers of ovarian cancer, our lawyers are not writing the page, these talc powder ovarian cancer lawsuits are never been filed, and thousands of women would not have died of ovarian cancer.
Now to put this in context, you need to understand this next point. For over ten years, talc was shipped to J&J with a warning that the product could cause ovarian cancer. So J&J could have passed along the warning and let women decide for themselves.
This ruling busted the door open for future Johnson and Johnson talcum powder ovarian cancer lawsuits.
July 2018, Missouri: $4.7 Billion Verdict (for 22 victims): A group of cases tried together results in a stunning $4.7 billion jury verdict. This landmark verdict was later reduced to a still whopping $2.1 billion.
August 2017, California: $417 Million Verdict: A medical receptionist who developed ovarian cancer alleged Johnson's Baby Powder caused her injury. A Los Angeles jury awarded her $417 million. In this case, the treating doctor testified to the causal relationship between baby powder in ovarian cancer.
February 2016, Missouri: $72 Million Verdict: A woman dies of Stage 3 ovarian cancer at 62. The woman had used Johnson & Johnson baby powder for 35 years. The woman's son brought a lawsuit against Johnson & Johnson. He claimed that talc contributed to his mother's cancer. He also claimed that Johnson & Johnson violated that standard of care by not putting a warning about the link between talc and ovarian cancer on its label. The jury ordered Johnson & Johnson, the woman's family, $72 million. What is startling is that only $10 million was for actual damages. The other $62 million was for punitive damages- $1 million for every year of the woman's life.
May 2016, Missouri: $55 Million Verdict: Very similar to the Missouri case. A woman is diagnosed with ovarian cancer at age 62. She used Johnson & Johnson's talc-based products for almost 40 years. She sued Johnson & Johnson, and a jury awarded her $55 million. Of the payout money awarded, $5 million was in compensation, and $50 million was in punitive damages. Large punitive damages awards send a loud message to J&J and its shareholders.
Not every jury has given a compensation payout. The Nora Daniels case in particular was a tough blow. Plaintiffs' lawyers have taken three cases to trial in 2021 and lost every one. But one colossal verdict turns all of that around. If the next verdict is $40 million, what does the average talcum powder verdict look like in 2022?
The big verdicts and the stunning amounts of money that were awarded are why these cases still have, we believe, the prospect for great settlement amounts of verdicts both in the MDL and in class action lawsuits in state courts such as California, Florida, Georgia, New Jersey Illinois, and even in Canada.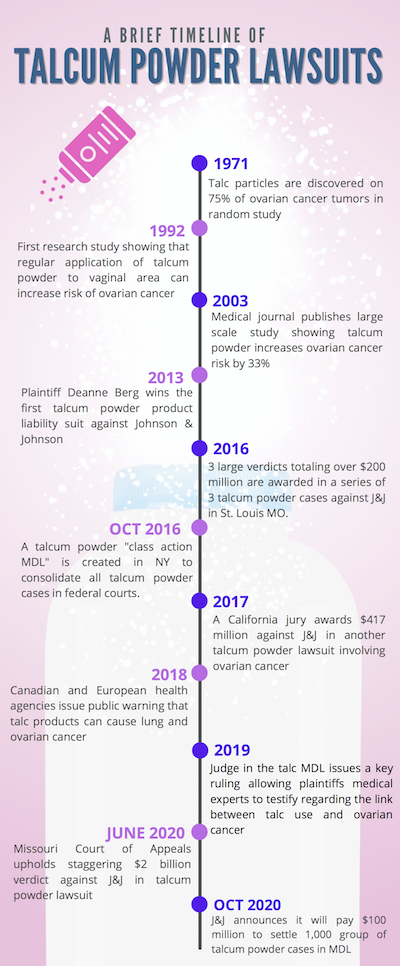 Do these verdicts mean the settlement value of your potential talcum powder lawsuit is between $55 million and $72 million? No, the expected settlements in even the best cases will be much lower than that.
But these verdicts underscore the obvious: these baby powder cancer claims have real value. If you believe your ovarian cancer may have been caused by talc, you should contact a talc powder attorney immediately.
J&J Sets Aside $4 Billion for Talc Lawsuits
In February 2021, Johnson & Johnson filed a statement with the SEC, which disclosed that the company has set aside a staggering $3.9 billion to cover the anticipated cost of settling the talcum powder lawsuits. Just a few months ago, J&J publicly stated that they were only planning to set aside $2 billion for the anticipated cost of settling the talcum powder litigation.
Shortly after this announcement, however, J&J suffered another setback when a court in New York affirmed a $120,000,000 verdict in a baby powder case. This came right on the heels of a massive $2,120,000,000 (yes, that's what $2 billion looks like in decimal format) verdict in a Missouri case that J&J is currently challenging on appeal.
J&J's decision to earmark $4 billion for the talcum powder lawsuits is significant for two reasons. First, it gives us some idea of how much the eventual settlement value of these cases might be. Four billion dollars would be less than half as much as Bayer recently paid to settle the Roundup lawsuits, but there are more individual claims in the talcum litigation.
Second, the fact that J&J is disclosing this set aside in its SEC filing indicates that they are planning to finalize a settlement of the talcum litigation in the next 12 months.
What Are the Talcum Powder Lawsuits About?
Several scientific studies have shown that talc, the active ingredient in talcum powder products such as Baby Powder, Shower to Shower, and Talc Powder, can cause ovarian cancer in some women.
Thousands of ladies who developed ovarian cancer after extended use of talcum powder are now suing the manufacturer, Johnson & Johnson, alleging that it knew about the dangers of talc and failed to warn them.
What Is the Current Status of the Talcum Powder Lawsuits?
The talcum powder class action MDL lawsuits against Johnson & Johnson (and other manufacturers) are ongoing. So far, over 37,000 individual talcum powder lawsuits have been filed across the country and consolidated into the Talcum Powder MDL.
In October 2020. Johnson & Johnson announced that it has agreed to pay $100 million to settle 1,000 cases. This is a big deal. More bulk settlements from J&J were expected to follow, but the bankruptcy our lawyers discuss above has slowed settlement negotiations.
Why settle cases for a $100,000 average per person settlement amount? J&J likely wants to settle the weaker cases and victims who need a settlement check now. Then, they hope to publicize the settlements to decrease settlement expectations in the minds of the remaining victim and their lawyers. This has been the strategy in many other MDL class action lawsuits.
Is it Too Late to File a Talcum Powder Lawsuit?
It is not too late to file your talcum powder lawsuit. If you regularly used talcum powder products for one year or longer and you have been diagnosed with ovarian cancer within the last three years (or the statute of limitations in your state), you may have a valid talcum powder lawsuit.
Although the talcum powder litigation has been going on for a long time and some cases have already been settled, it is not too late to file your talc lawsuit.
What Is the Expect Settlement Amounts for a Talcum Powder Lawsuit?
It is too early to accurately predict the average settlement compensation of a talcum powder lawsuit. Johnson & Johnson paid $100,000,000 to settle a group of 1,000 cases.
Again, this works out to an average of about $100,000 per case. The value of a mass tort case rarely goes down with subsequent settlements. So the likely average talcum powder settlement amount for the remaining talc cancer lawsuits may be higher.  Our prediction?  More than double that number.
Who Qualifies to File a Talcum Powder Lawsuit?
Our law firm is currently accepting new talcum powder cases from anyone who meets the following initial criteria:
You used a Johnson & Johnson talcum powder product (Baby Powder or Shower-to-Shower) regularly for at least one year; and
You have been diagnosed with ovarian cancer, endometroid ovarian cancer, or mesothelioma sometime in the last three years.
What is the current status of the talcum powder litigation in February 2023?
Following the ruling by the 3rd Circuit Court of Appeals which rejected J&J's controversial bankruptcy strategy, the automatic stay on the talcum powder litigation has been lifted. This means that new talcum powder lawsuits can now be filed and pending cases can move forward.
Will there be a talcum powder settlement in 2023?
Now that the 3rd Circuit has rejected J&J plan to offload the talc liabilities into bankruptcy, the possibility of a global settlement deal with all of the talcum powder plaintiffs is once again on the table. What remains to be seen is whether J&J will pursue an appeal of the 3rd Circuit decision to the U.S. Supreme Court. If that happens it could delay any settlement negotiations for a year or more.
Talc Powder U.S. Supreme Court Opinion
In 2018, one of the first significant talc cases went to trial in St. Louis County, Missouri. The result was a stunning $4.7 billion verdict split between a group of 22 individual plaintiffs. The jury based its verdict on findings that J&J's talc product contained asbestos and that asbestos caused the plaintiff's ovarian cancer.
The verdict made headlines around the country and changed the tone of the talc litigation moving forward. It helped grease the wheels for the big J&J settlement.
Verdict Cut in Half
J&J defiantly claimed that the verdict was not legally valid and vowed to fight it on appeal. Two years later, in 2020, J&J scored a partial victory in this effort when it got the Missouri Supreme Court to toss the verdicts for two out of the 22 plaintiffs. This ruling on appeal also reduced the total amount of the verdict down to $2 billion.
Supreme Court Refuses to Hear Appeal
After getting the Missouri verdict cut in half, J&J's defense lawyers were still not satisfied and sought to appeal the decision of the Missouri high court to the United States Supreme Court. Lawyers for J&J filed what is known as a petition for a writ of certiorari, which laid out their legal arguments and why the highest court in the country should agree to hear the case.
In its SCOTUS petition, J&J characterized the state court proceedings as flawed and unfair. Specifically, J&J's lawyers claimed that the state trial court should never have allowed 22 plaintiffs to proceed in a mass consolidated jury trial.
They also argued that the punitive damages awarded violated constitutional due process. Finally, the lawyers for J&J claimed that certain out-of-state plaintiffs should not have been allowed to adjudicate their cases in Missouri because they did not have sufficient contact with the state.
In response, lawyers for the plaintiffs rejected J&J's arguments about the fundamental unfairness of trying the cases in a mass group. In their view, the appeal was without merit and did not merit the court's attention.
In June 2021, the Supreme Court issued an order rejecting J&J's cert petition, which means the $2 billion Missouri verdict will stand. As is customary when the Supreme Court declines a cert petition, no written explanation was issued.
Two justices, Samuel Alito and Brett Kavanaugh recused themselves from the Court's deliberations due to ethical conflicts. Justice Alito felt he was conflicted because he owns $50,000 worth of stock in Johnson & Johnson (a stock that the talc litigation has negatively impacted). Justice Kavanaugh removed himself because his father was the former president of a trade association engaged in pro-talc lobbying efforts.
Getting a Talc Powder Lawyer to Bring Your Lawsuit
If you have been holding off bringing a talc powder cancer lawsuit, you must act now because the statute of limitations may soon pass. There are no upfront costs and no fee or cost if you do not receive compensation. You don't need a talc powder lawyer near you. This is a national litigation and our law firm is handling talc powder cases for ladies with ovarian cancer from baby powder all over the country.
So call our attorneys today. It is free. You are not committing to anything by calling. But you should learn about your options and make a choice. Call our lawyers at 800-553-8082 and find out if you might be eligible for a settlement check in this litigation. You can also reach us by filling out this free case evaluation form.
Talc Baby Powder Medical Literature
Talc baby powder lawsuits and settlements will be won on the science demonstrating that talc causes ovarian cancer. Here are some key studies that are at issue in this litigation.
TALC Verdicts
YEAR
STATE
INJURY TYPE
VERDICT
2006
NJ
Mesothelioma
$3.35 million
2015
CAL
Mesothelioma
$13 million
2016
Mesothelioma
$18 million
2016
MO
Ovarian Cancer
$72 million
(reversed on appeal)
2016
CAL
Ovarian Cancer
$70 million
2016
MO
Ovarian
$55 million
2017
CAL
Mesothelioma
$22 million
2017
CAL
Ovarian
$417 million
(new trial pending)
2018
MO
Mesothelioma
$117 million
2018
Mesothelioma
$1.5 million
(settlement)
2019
NY
Ovarian
$325 million
(reduced to $120 million)
2019
MO
Ovarian
(6 plaintiffs)
$4.7 billion
(reduced to $2.12 billion)
2019
NJ
Mesothelioma
(3 plaintiffs)
$37.2 million
2019
CAL
Mesothelioma
$30 million
2020
MULTIPLE
Ovarian
$100 million for 1,000 cases
(bulk settlement)
JUL 20211
IL
Ovarian
DEFENSE VERDICT
AUG 20212
CAL
Mesothelioma
$26.5 million
SEP 20213
MO
Ovarian
(3 plaintiffs)
DEFENSE VERDICT
SEP 20214
PA
Ovarian
DEFENSE VERDICT
1 Cadagin v. Johnson & Johnson, No. 18-CV-1821 (Ill. Cir. Ct., St. Clair Cty.).
2 Prudencio v. Johnson & Johnson, et al., Alameda County Cir. Ct. (Cal)
3 Forrest v. Johnson & Johnson, et al., No. 1522-CC00419-02 (Mo. Cir. Ct., St. Louis Cty.)
4 Kleiner v. Johnson & Johnson Consumer Inc., No. 2:21-cv-03366 (Ct. Com. Pl., Phila. Cty.).
Get a Talcum Baby Powder Lawyer to Fight for You in 2023
If you have a baby powder lawsuit to file, it may not be too late to bring a claim. Our lawyers will fight to find a path to a fair settlement amount or jury payout for you. Act now to make your claim for a settlement payout or jury award. Call our baby powder lawyers today at 800-553-8082 or fill out his quick and free case evaluation form.